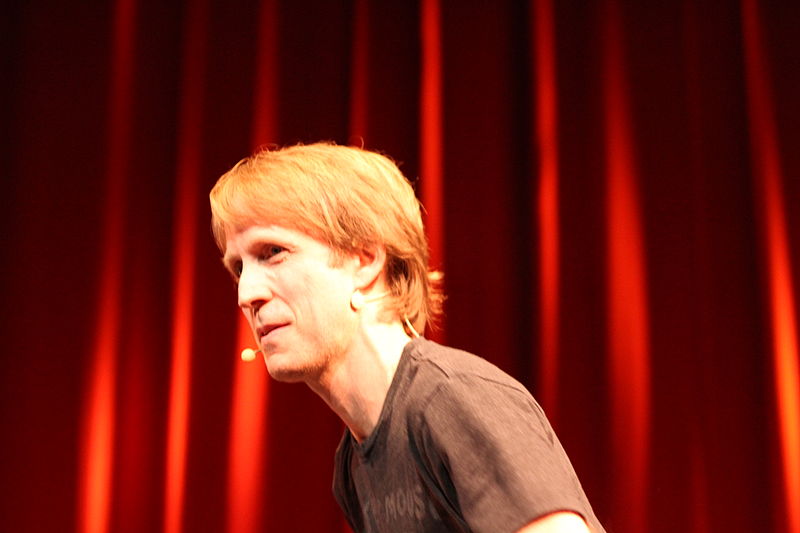 James Arnold Taylor
Born:
July 22, 1969
Age:
53
Birthplace:
Santa Barbara, California, U.S.
Popularity:

Please login to contact James Arnold Taylor...
Biography
James Arnold Taylor (born July 22, 1969) is an American voice actor, known for portraying Ratchet in the Ratchet & Clank franchise; the main character Tidus in Final Fantasy X; and Obi-Wan Kenobi in the Star Wars animated features such as Star Wars: The Clone Wars and the franchise's video games.
Taylor was born and raised in Santa Barbara, California.[
citation needed
] He has been voice acting since 1995, first appearing in the Japanese game
Emit
.
He has been an active member of the voice acting community since, appearing in numerous roles, including Ratchet in the Ratchet & Clank video game series and Tidus from Final Fantasy X. He also voiced Fred Flintstone in commercials from 2005 up to 2011, following the death of Henry Corden.
Taylor is a long-time comic book and Star Wars fan. He is married to Allison Taylor. Together they have one daughter named Lydia. In 2013, he published the book JAT 365: 365 Inspirations for the Pursuit of Your Dreams.
Read more...
Filmography
Voice-over roles
Film
List of voice performances in feature films

| Year | Title | Role | Notes | Source |
| --- | --- | --- | --- | --- |
| 2007 | TMNT | Leonardo | | [1] |
| 2012 | Foodfight! | Doctor Si Nustrix | Limited theatrical release | [1] |
| 2017 | Animal Crackers | Buffalo Bob | Limited theatrical release | |
| 2018 | Teen Titans Go! To the Movies | Fake Slade Actor | Character is identified as Shia LaBeouf within the film | |
List of voice performances in direct-to-video and television films

| Year | Title | Role | Notes | Source |
| --- | --- | --- | --- | --- |
| 2001 | The King of Queens | Voice of Nicolas Cage | | |
| 2003 | Atlantis: Milo's Return | Milo Thatch | | [1] |
| 2003 | The Animatrix | Ash, Raul, additional voices | | |
| 2005 | Nausicaä of the Valley of the Wind | Muzu | | |
| 2006 | Ultimate Avengers 2 | Bucky | | |
| 2007 | Superman: Doomsday | Mayor of Metropolis | | [1] |
| 2008 | Justice League: The New Frontier | Captain Cold | | [1] |
| 2008 | Star Wars: The Clone Wars | Obi-Wan Kenobi, additional voices | | [1] |
| 2008 | The Goldilocks and the 3 Bears Show | Cricket 2, Weasel 2, Pig Classmate 3 | | [1] |
| 2009 | Bionicle: The Legend Reborn | Berix, Vastus | | |
| 2010 | The Drawn Together Movie: The Movie! | Wooldoor Sockbat, Jew Producer | | |
| 2010 | Gnomes and Trolls: The Secret Chamber | Slim, Prickles, Hilda, Spike | | [1] |
| 2011 | Green Lantern: Emerald Knights | Tomar-Re | | [1] |
| 2011 | Batman: The Dark Knight Returns | Mr. Hudson, Spud, additional voices | | [1] |
| 2015 | Lego DC Comics Super Heroes: Justice League vs. Bizarro League | The Flash, Desaad | | [1][2][3] |
| 2015 | Lego DC Comics Super Heroes: Justice League: Attack of the Legion of Doom | The Flash, General Lane | | |
| 2015 | Robo-Dog | Robo-Dog | Voice role | |
| 2016 | Lego DC Comics Super Heroes: Justice League: Cosmic Clash | The Flash | | [4] |
| 2016 | Ratchet & Clank | Ratchet | | |
| 2016 | Lego Scooby-Doo! Haunted Hollywood | Chet Brickton, Narrator | | |
| 2018 | Lego DC Comics Super Heroes: The Flash | The Flash | | |
Animation
List of voice performances in animation

| Year | Series | Role | Notes | Source |
| --- | --- | --- | --- | --- |
| 1993-98 | Animaniacs | Additional voices | | |
| 1995-97 | Freakazoid! | Additional voices | | |
| 1995-98 | Pinky and the Brain | Additional voices | | |
| 1995-2002 | The Sylvester and Tweety Mysteries | Additional voices | | |
| 1997 | Johnny Bravo | Various characters | | [1] |
| 1998-2001 | Histeria! | Additional voices | | |
| 1999-2001 | Detention | Additional voices | | |
| 1999-2002 | The New Woody Woodpecker Show | Louie the Mongrel | | |
| 2000 | Poochini's Yard | Additional voices | | |
| 2000 | Dinozaurs | Dino Kenty | | |
| 2002 | Whatever Happened to Robot Jones? | Boy 3, Boy 6, Cool Kid | | |
| 2002 | ¡Mucha Lucha! | Kid Wombat | | |
| 2003-06 | What's New, Scooby-Doo? | Prince Al-Fimer, Zombie Son, Burr Baston, Moto X Guy #2, Owen DeCassle, Steve Fortescu, Sonny Les Matines, Guy L'Avorton, Shawn, Frankie Martin, Dr. Laslow Ostwald, Tad, additional voices | | |
| 2003 | The Powerpuff Girls | Kid #3, Kid #5, Triplet #3, Brian Larsen | Episode: "Save Mojo/Substitute Creature" | |
| 2003-05 | Teen Titans | Overload (first appearance only), Cash | Episode: "Car Trouble" | |
| 2003-05 | Star Wars: Clone Wars | Obi-Wan Kenobi | Doubles Ewan McGregor | |
| 2003-08 | Codename: Kids Next Door | King Sandy, Knight #2, Eggbert, others | | |
| 2004 | Static Shock | Eddie Felson, Speedwarp | | [1] |
| 2004-06 | The Grim Adventures of Billy & Mandy | Various characters | | |
| 2004 | The Fairly OddParents | Crash Nebula, Sprig Speevak | Episode: "Crash Nebula" | [1] |
| 2004 | Justice League Unlimited | Private, Robber | Episode: "Hawk and Dove" | [1] |
| 2004-07 | Danny Phantom | Walker | | [1] |
| 2004 | Game Over | Various characters | | [1] |
| 2004-08 | Drawn Together | Wooldoor Sockbat, Jew Producer | | |
| 2005 | The Buzz on Maggie | Additional voices | | |
| 2005 | My Life as a Teenage Robot | Kenny, Oblivious Guy, Customer #4 | Episode: "Love 'Em or Leash 'Em/Teen Team Time" | |
| 2005 | Stroker and Hoop | Ron Howard, Answering Machine Guy | | [1] |
| 2005-14 | Johnny Test | Johnny Test, Hank Anchorman, The Principal, Mr. Mittens, Bee Keeper, Dark Vegan, others | | [1] |
| 2005-07 | A.T.O.M. | Axel Manning, Sebastian Manning, Tilian | Main cast; 52 episodes | [1] |
| 2005-06 | The Boondocks | Crew Member, Ganstalicious Fan, Officer Frank | | |
| 2006-07 | Celebrity Deathmatch | Johnny Depp, Christian Bale | Voice double | |
| 2006-08 | Legion of Super Heroes | Mekt Ranzz/Lightning Lord, Color Kid, Ultra Boy, Porcupine Pete | | |
| 2006 | The Zimmer Twins | Edgar Zimmer | All episodes | [1] |
| 2007 | Afro Samurai | Yashichi | Episode: "The Dream Reader" | [1] |
| 2008-09 | The Spectacular Spider-Man | Harry Osborn, Frederick Foswell/Patch | | [1] |
| 2008 | Ben 10: Alien Force | Raff, Attendant #1 | Episode: "X = Ben + 2" | [1] |
| 2008-11 | Batman: The Brave and the Bold | Green Arrow, Blue Bowman, Guy Gardner, Major Disaster, Wotan, Nabu, Mark Desmond, Arges, Leslie "Rocky" Davis, Alpha-Red, G.I. Robot, Jace | | [1] |
| 2008-13 | Star Wars: The Clone Wars | Obi-Wan Kenobi, Plo Koon, Rako Hardeen, others | | |
| 2010 | Big Time Rush | Regional Manager Taylor | Episode: "Big Time Demos" | |
| 2010-12 | Scooby-Doo! Mystery Incorporated | Rung Laddernton, George Avcados, Randy | | |
| 2010 | G.I. Joe: Renegades | Sherriff Terry, Matty, Russel Clemens | | [1] |
| 2011 | Ben 10: Ultimate Alien | Kolar, Announcer, Brannigan | | |
| 2011 | ThunderCats | Old Emrick, Khamai | Episode: "Song of the Petalars" | [1] |
| 2011 | T.U.F.F. Puppy | Biff | Episode: "Dog Save the Queen" | |
| 2011-13 | Young Justice | Barry Allen/The Flash, Burton Thompson, Nathaniel Tryon/Neutron, Topo, Atlantean Guard #2 | | [1] |
| 2012 | Kaijudo: Rise of the Duel Masters | King Tritonus | | |
| 2013 | Beware the Batman | William Benjamin, Officer Dunbrowski, Subway Conductor | | [1] |
| 2013-15 | Hulk and the Agents of S.M.A.S.H. | Leader, Blastaar, Triton, Human Torch, others | | [1] |
| 2014 | Star Wars Rebels | Obi-Wan Kenobi | Episode: "Spark of Rebellion" | [5] |
| 2014 | Lego DC Comics: Batman Be-Leaguered | The Flash | | [6] |
| 2014 | We Wish You a Merry Walrus | Roofhowse | | [1][7] |
| 2015 | Penn Zero: Part-Time Hero | Additional voices | | [8] |
| 2015 | Clarence | Camden's Dad | Episode: "Where the Wild Chads Are" | |
| 2015 | Ultimate Spider-Man: Web Warriors | Triton, Molten Man | | [1] |
| 2015 | Guardians of the Galaxy | Cosmo, Yondu | | |
| 2016 | SpongeBob SquarePants | Nick Fishkins and the isopod | Episode: "Sold!" | |
| 2017 | The Loud House | Fritz | Episode: "Suite and Sour" | |
| 2017 | Billy Dilley's Super-Duper Subterranean Summer | Count Wretcher | | |
Video games
List of voice performances in video games
Year
Title
Role
Notes
Source
1995
Emit
Mr. Voice
Japanese-only release
1999
Destrega
Tieme, Various Soldiers
2001
Atlantis: The Lost Empire
Milo Thatch
PlayStation version
2001
Final Fantasy X
Tidus
[1]
2002
The Lord of the Rings: The Fellowship of the Ring
Pippin, additional voices
[1]
2002
Monsters, Inc.
Monster 2, Monster 9
2003
Enter the Matrix
Additional voices
2003
Crimson Skies: High Road to Revenge
Sheriff, DeCarlo, Cajun, Red Skull
[1]
2003
Ratchet & Clank: Going Commando
Ratchet, New Ager, Hypnotist Head 1
[1]
2003
Final Fantasy X-2
Tidus, Shuyin
[1]
2004
James Bond 007: Everything or Nothing
Jack Mason/Agent 003
2004
Shrek 2
Gingerbread Man, Prince Charming, Wolf, Bricks
[1]
2004
Syphon Filter: The Omega Strain
Gabe Logan
2004
Spider-Man 2
Mysterio
[1]
2004
Tales of Symphonia
Lord Yggdrasill, Gnome
[1]
2004
Hot Shots Golf Fore!
Ratchet
2004
Ratchet & Clank: Up Your Arsenal
Ratchet, Maxmillian, TV voice
[1]
2004
EverQuest II
Venekar, Deebo Turnlin, Guard Mizzonozzle
2004
Vampire: The Masquerade - Bloodlines
Vandal, Julius
2005
Star Wars Episode III: Revenge of the Sith
Obi-Wan Kenobi
[1]
2005
Charlie and the Chocolate Factory
Willy Wonka
Doubles Johnny Depp
[1]
2005
X-Men Legends II: Rise of Apocalypse
Iceman, Sugarman
[1]
2005
Ultimate Spider-Man
Electro
2005
Jak X: Combat Racing
Ratchet
2005
Ratchet: Deadlocked
Ratchet
[1]
2005
Shrek SuperSlam
Humpty Dumpty, Prince Charming
[1]
2005
Star Wars: Battlefront II
Obi-Wan Kenobi
[1]
2005
Kingdom of Paradise
Eigen, Kirin Shihan
2006
24: The Game
Additional voices
2006
Syphon Filter: Dark Mirror
Gabe Logan
2006
Kingdom Hearts II
Captain Jack Sparrow
Doubles Johnny Depp
[1]
2006
Pirates of the Caribbean: Dead Man's Chest
Captain Jack Sparrow
Doubles Johnny Depp
2006
Marvel: Ultimate Alliance
Bulldozer, Iceman, Lizard, Mysterio
2006
Spider-Man: Battle for New York
Spider-Man
2006
Shrek Smash n' Crash Racing
Prince Charming, Humpty Dumpty
[9]
2007
Ratchet & Clank: Size Matters
Ratchet, Security Guard
2007
TMNT
Leonardo
2007
Shrek the Third
Artie, Prince Charming, Gnome
2007
Hot Shots Tennis
Kent
2007
Spider-Man: Friend or Foe
Spider-Man
2007
Syphon Filter: Logan's Shadow
Gabe Logan
2007
Ratchet & Clank Future: Tools of Destruction
Ratchet
2008
Secret Agent Clank
Ratchet
2008
Ratchet & Clank Future: Quest for Booty
Ratchet
2008
Lego Batman: The Videogame
Robin, Nightwing
2009
Transformers: Revenge of the Fallen
The Fallen
2009
Ice Age: Dawn of the Dinosaurs
Crash
2009
Dissidia Final Fantasy
Tidus
2009
Star Wars Battlefront: Elite Squadron
Obi-Wan Kenobi, Ferroda
2009
Star Wars: The Clone Wars - Republic Heroes
Obi-Wan Kenobi, Plo Koon
[10]
2009
Ratchet & Clank Future: A Crack in Time
Ratchet, Dan Johnson (skin only)
2010
Final Fantasy XIII
Cocoon Inhabitants
2010
Resonance of Fate
Victor
2010
How to Train Your Dragon
Hiccup Horrendous Haddock III, Fishlegs Ingerman
2010
Valkyria Chronicles II
Shop Clerk
2010
Kingdom Hearts: Birth by Sleep
The Prince
2010
Spider-Man: Shattered Dimensions
Additional voices
2010
Back to the Future: The Game
Young Emmett 'Doc' Brown
2011
Dissidia 012 Final Fantasy
Tidus
2011
Lego Star Wars III: The Clone Wars
Obi Wan Kenobi, Plo Koon
2011
PlayStation Move Heroes
Ratchet
2011
Ratchet & Clank: All 4 One
2012
Kinect Star Wars
Darth Kern, Obi-Wan Kenobi, Gold 6
2012
Marvel Avengers: Battle for Earth
Spider-Man, Magneto, Thor
2012
PlayStation All-Stars Battle Royale
Ratchet
2012
Ratchet & Clank: Full Frontal Assault
2013
Ratchet & Clank: Into the Nexus
2012, 2014
Ratchet & Clank Collection
Going Commando and Up Your Arsenal
2013
Lego Marvel Super Heroes
Professor X, Silver Surfer, Spider-Man, Superior Spider-Man, Winter Soldier, Ant Man
2014
The Lego Movie Videogame
Additional voices
2014
Final Fantasy X/X-2 HD Remaster
Tidus
Audio drama ('Final Fantasy X -Will-') as an extra ending
2014
Skylanders: Trap Team
Various characters
Grouped under Voice Actors
[11]
2014
Kingdom Hearts HD 2.5 ReMIX
Captain Jack Sparrow, The Prince
Doubles Johnny Depp
II: Final Mix and Birth By Sleep Final Mix HD cutscenes archive footage
[1]
2015
Infinite Crisis
Nightmare Robin
[12]
2015
Disney Infinity 3.0
Obi-Wan Kenobi, Plo Koon, TD-54
[13]
2015
Transformers: Devastation
Menasor, Seeker 1
2016
Ratchet & Clank (2016)
Ratchet
2016
World of Final Fantasy
Tidus
[1]
2017
Star Wars Battlefront 2
Obi-wan Kenobi
2018
Dissidia Final Fantasy NT
Tidus
[1]
2018
Super Bomberman R
Ratchet
PlayStation 4 version
[14]
2018
Marvel Powers United VR
Iceman, Magneto
[1]
2018
Mobius Final Fantasy
Tidus
[15]
Live-action appearances
List of acting performances and appearances in television and film

| Year | Title | Role | Notes | Source |
| --- | --- | --- | --- | --- |
| 2001 | The Comedy Team of Pete & James | Himself | Documentary | |
| 2013 | I Know That Voice | Himself | Documentary | |
[ Source: Wikipedia ]