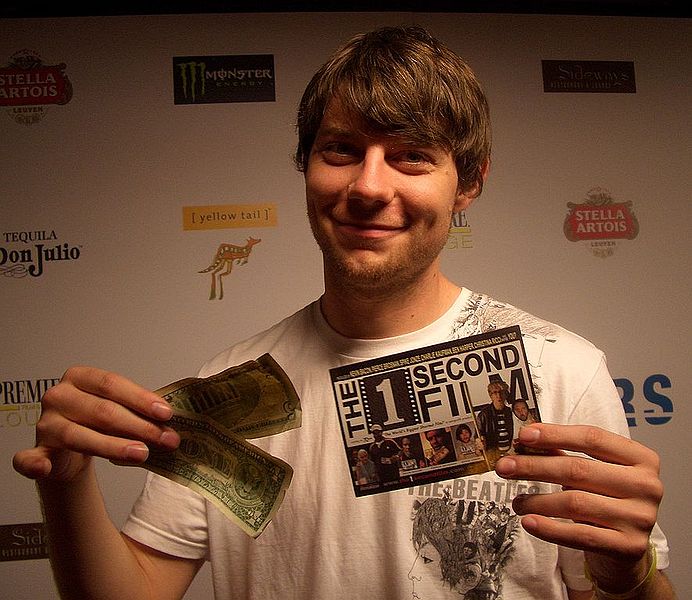 Patrick Fugit
Birth name:
Patrick Raymond Fugit
Born:
October 27, 1982
Age:
41
Birthplace:
Salt Lake City, Utah, U.S.
Popularity:

Please login to contact Patrick Fugit...
Biography
Patrick Raymond Fugit (/ˈfjuːɡɪt/;[1] born October 27, 1982) is an American actor, known for his roles in the films Almost Famous (2000), White Oleander (2002), Saved! (2004) and Wristcutters: A Love Story (2007). Since 2016[update], he has starred in the Cinemax series Outcast.
Fugit was born in Salt Lake City, Utah. His mother, Jan Clark-Fugit, is a dance teacher, and his father, Bruce, is an electrical engineer.[2][3] Fugit is the oldest of three children, he has a younger sister and a younger brother. Fugit attended East High School, where he was diagnosed with ADHD. Fugit appeared in a school production of
The Twelve Dancing Princesses
as the shoemaker, while he was at grade seven. He has been a skateboarder since he was fifteen.[3]
Read more...
Career
Fugit and his best friend, David Fetzer, formed a folk/rock band "Mushman", in which Fugit plays the guitar and sometimes sings. Fugit studies flamenco guitar, which he played on the Cavedoll song "MAYDAY" and his song "Brennan's Theme" for the ending scene in Wristcutters: A Love Story. Fugit played a young rock-fan-turned-reporter in Cameron Crowe's Almost Famous and claimed that his knowledge of 1970s rock music was nil ("I actually thought Led Zeppelin was one person"). Fugit played a sweetly geeky, aspiring comic book artist in White Oleander (2002) and a naive drug addict in the indie dark comedy Spun (2003). His next film, Saved! (2004), was a satirical look at the religious right in high school. Fugit's character was originally a surfer, but it changed into a skateboarder due to his skateboarding experience.[4] Fugit starred in The Amateurs and played Evra Von in Cirque du Freak: The Vampire's Assistant (2009).[5] In 2016, he joined the cast of Cinemax's television series Outcast.
Filmography
Film

| Year | Title | Role | Notes |
| --- | --- | --- | --- |
| 2000 | Almost Famous | William Miller | |
| 2002 | Spun | Frisbee | |
| 2002 | White Oleander | Paul Trout | |
| 2004 | Saved! | Patrick Wheeler | |
| 2004 | Dead Birds | Sam | |
| 2005 | The Amateurs | Emmett Orwin | Alternative title: The Moguls |
| 2006 | Wristcutters: A Love Story | Zia | |
| 2006 | Bickford Shmeckler's Cool Ideas | Bickford Shmeckler | |
| 2007 | The Good Life | Andrew | |
| 2009 | Horsemen | Cory | |
| 2009 | Cirque du Freak: The Vampire's Assistant | Evra the Snake Boy | |
| 2011 | We Bought a Zoo | Robin Jones | |
| 2012 | Thanks for Sharing | Danny | |
| 2013 | Reckless | David Harrison | |
| 2014 | Gone Girl | Officer James Gilpin | |
| 2014 | The List | Alex | |
| 2015 | Queen of Earth | Rich | |
| 2018 | First Man | Elliot See | |
Television
Year
Title
Role
Notes
1997-98
Touched by an Angel
Boy #1 / Joey
2 episodes
1998
Legion of Fire: Killer Ants!
Scott Blount
Television film
2001
MADtv
William Miller
Episode: 6.19
2003
ER
Sean Simmons
3 episodes
2005
Everything You Want
Customer
Television film
Alternative title: Love Surreal
2006
House
Jack Walters
Episode: "Whac-A-Mole"
2011
Cinema Verite
Alan Raymond
Television film
2016-2018
Outcast
Kyle Barnes
Main role
Nominated - Fangoria Chainsaw Award for Best TV Actor (2017)[6]
[ Source: Wikipedia ]