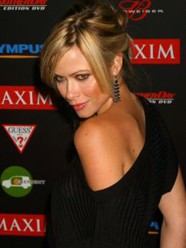 Jennifer Sky
Birth name:
Jennifer Wacha
Born:
October 13, 1976
Age:
45
Birthplace:
Jensen Beach, Florida, U.S.
Popularity:

Please login to contact Jennifer Sky...
Biography
Jennifer Sky (born Jennifer Wacha; October 13, 1976) is an American actress. She is known for her role as Sarah Webber in General Hospital (1997-1998) and Cleopatra, the title character in the campy science fiction series Cleopatra 2525.
Sky was raised in Jensen Beach, Florida. At 15, she was offered two months of summer modeling in Japan.[1] She left for New York City at the age of 17 to study acting under the tutelage of several acclaimed acting coaches, and became well-versed in the Meisner technique of acting. She has a sister Katie. Sky married Alex Band of The Calling on July 25, 2004, but the couple divorced in 2009.
On September 10, 2013, the New York Times published an op-ed from Sky, entitled My Life as a Warrior Princess, in which she compared the terrible working conditions she experienced as a teenage fashion model with the much superior working conditions she experienced as an actor.[2] She described how inspirational she found her work on the show Xena: Warrior Princess.
Read more...
Fashion label
Sky, Katie and her former sister-in-law, Taryn Band, created the fashion label Vanitas of California.[citation needed]
Career
She has appeared as a regular cast member on such TV shows as General Hospital, Xena: Warrior Princess, Cleopatra 2525, Fastlane, CSI: Miami, and in guest roles on Charmed and Buffy the Vampire Slayer.
She was ranked #90 on the Maxim Hot 100 Women of 2003.[3] She has written for her hometown newspaper, The Stuart News. She is featured in the opinion section. According to her October 2010 column in the News, she has suffered from severe health problems and now lives and studies in New York City.[4]
In February 2014, she posted a video to YouTube[5] in which she describes the emotional, professional and sexual mistreatment she feels she has suffered over the course of her career. In the video, Sky denounces the fashion model industry and calls on viewers to fight for the creation of labor unions for models, stricter regulations on the employment of children, and an end to what she describes as the systematic abuses of the industry.
Filmography
Film
| Year | Title | Role | Notes |
| --- | --- | --- | --- |
| 2001 | Trigger Happy | Jane | |
| 2001 | Shallow Hal | Nightclub Goer #2 | |
| 2002 | Shop Club | Tina | |
| 2002 | My Little Eye | Charlie | |
| 2003 | Fish Without a Bicycle | Hot Girl | |
| 2004 | Never Die Alone | Janet | |
| 2005 | The Helix... Loaded | Lola | |
| 2008 | Meet Market | Courtney | |
| 2010 | Somewhere | Pretty Girl at Loud Table (uncredited) | |
Television
| Year | Title | Role | Notes |
| --- | --- | --- | --- |
| 1994 | SeaQuest DSV | Shop Girl | Episode: "Sympathy for the Deep" |
| 1993 | Emerald Cove | Lisa Foxworth | TV series |
| 1996 | Our Son, the Matchmaker | Judy Adams | TV film |
| 1997 | Buffy the Vampire Slayer | Heidi Barrie | Episode: "The Pack" |
| 1997 | Pacific Blue | Bree Hopkins | Episode: "Rumplestiltskin" |
| 1997-1998 | General Hospital | Sarah Webber | TV series |
| 1998 | Sins of the City | Callie | Episode: "Blind Eye for Hire" |
| 1999 | Xena: Warrior Princess | Amarice | Recurring role (6 episodes) |
| 2000-2001 | Cleopatra 2525 | Cleopatra 'Cleo' | Main role (28 episodes) |
| 2002 | Boomtown | Laura / Vanessa Griggs | Episode: "Possession" |
| 2002 | CSI: Crime Scene Investigation | Matilda | Episode: "Abra Cadaver" |
| 2002 | Fastlane | Cassidy Shaw | Episode: "Pilot" |
| 2003 | Fastlane | Cassidy Shaw | Episode: "Slippery Slope" |
| 2003 | Columbo | Vanessa Galper | Episode: "Columbo Likes the Nightlife" |
| 2003 | Charmed | Mabel Stillman | Episode: "The Power of Three Blondes" |
| 2003 | Dragnet | Melissa Edgar | Episode: "The Magic Bullet" |
| 2004 | CSI: Miami | Cookie Devine / Sara Piper | Episode: "Innocent" |
| 2005 | CSI: Miami | Sara Piper | Episode: "Game Over" |
[ Source: Wikipedia ]