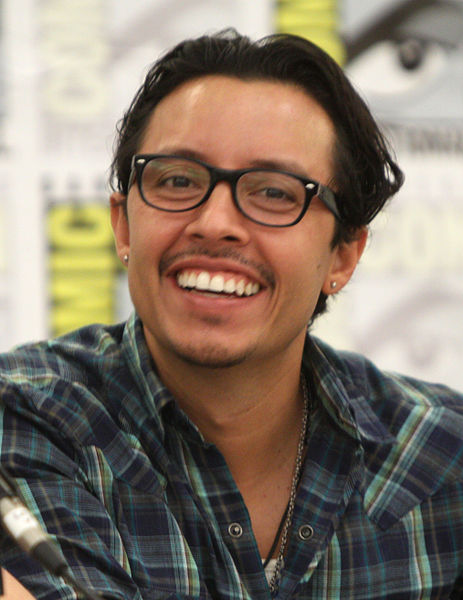 Efren Ramirez
Born:
October 2, 1973
Age:
50
Birthplace:
Los Angeles, California, United States
Popularity:

Please login to contact Efren Ramirez...
Biography
Efrain Antonio Ramírez[1] (born October 2, 1973)[2][non-primary source needed] is an American actor and DJ, best known for playing Pedro Sánchez in the 2004 indie film Napoleon Dynamite. He later reprised his role in the 2012 animated series of the same name.
Ramírez was born in Los Angeles, California, to Mexican and Salvadoran parents. He has four brothers, one of whom is his identical twin Carlos.[3]
Read more...
Career
Ramirez has starred in a number of films, including Napoleon Dynamite as Pedro Sánchez, Employee of the Month with Dane Cook, Jessica Simpson, and Dax Shepard, Crank and Crank: High Voltage with Jason Statham, Searching for Mickey Fish with Daniel Baldwin, All You've Got with Ciara, and HBO's Walkout and made cameos in Nacho Libre and Mr. & Mrs. Smith. In 2009, Efren starred in the comedy American Summer with Matthew Lillard as well as appearing as a contestant on MTV's Celebrity Rap Superstar. On July 14, 2008 Sierra Mist released a series of commercials aimed at multicultural consumers in which Efren stars. The first being named "Wedding Girl" followed by "Mannequin Man" and an online spot, "The Whiner," which will be posted at the Sierra Mist dedicated site, RefreshYourMind.com
Soon after the success of Napoleon Dynamite, the music group G. Love and Special Sauce asked Efren to appear in their music video "Booty Call". He also played Ashlee Simpson's boyfriend in the music video for her 2005 song "Boyfriend". Ramírez made a cameo appearance in a 2005 episode of ABC's George López wearing a T-shirt similar to the shirt Jon Heder wears in Napoleon Dynamite that reads, "Vote For Pedro". In 2007 Ramírez appeared as the judge for an acting challenge on Cycle 8 of America's Next Top Model.
Ramírez made several cameos throughout his career. In King Cobra, he portrayed a teenager playing a game of hide-and-seek with his girlfriend (portrayed by Ramirez's wife Iyari Limon). They later end up as prey for the title antagonist. In the music video for Sleazy, Pedro appears as a cameo and lip syncs André 3000's verse.[4]
He co-founded Powerhouse Pictures Entertainment, LLC with Chris Barrett, and they co-authored the book Direct Your Own Life: How To Be A Star in Any Field You Choose being published on June 10, 2008 through Kaplan Publishing.
Personal life
In 1998, Efren married actress Iyari Limon. The marriage was later annulled.[5]
Ramírez is also a popular DJ,[6] who has performed worldwide and toured in over 50 cities across 5 continents. His sets include a variety of music, from hip hop, funk, disco, to hard house. His production company "Nocturnal Rampage" throws a recurring rave event every summer in Austin.[5]
Filmography
Film
Year
Film
Role
Other notes
1994
Tammy and the T-Rex
Pizza Boy
1995
Jury Duty
Pirate Pete's employee
1996
Kazaam
Carlos
1998
Melting Pot
Miguel Álvarez
1999
King Cobra
Teen Boy
Direct-to-video release
2000
Rave
Bookie
2001
Delivering Milo
Street Hustler
Uncredited role
2004
Napoleon Dynamite
Pedro Sánchez
Just Hustle
Street Connection
2006
Tomorrow's Yesterday
Ron
Gettin' Some Jail Time
Pico
Crank
Kaylo
Employee of the Month
Jorge
2007
Moola
Hector
Crossing the Heart
Jesus
2009
Ratko: The Dictator's Son
Ratko Volvic
American Summer
Hector
Gamer
DJ Twist
Crank: High Voltage
Venus/Kaylo
2010
When in Rome
Juan
Uncredited role
2011
The Pool Boys
Hector
2012
Casa de Mi Padre
Esteban
2014
School Dance
El Matador
2015
Endgame
Mr. Alvarado
2016
Varsity Punks
Coach Menlo
Middle School: The Worst Years of My Life
Gus
2017
Trafficked
Enrique
Mad Families
Rolando
Television
Year
Title
Role
Notes
1996
Relativity
Xavier
Episode: "No Job Too Small"
1997
Dangerous Minds
Nutty
Episode: "The Feminine Mystique"
Nothing Sacred
Guillermo
Episode: "A Bloody Miracle"
1999
Ryan Caulfield: Year One
Juan
Episode: "Nocturnal Radius"
Chicken Soup for the Soul
Paco
Episode: "Paco Come Home"
2000
Missing Pieces
Renaldo
TV film
2000, 2001
Boston Public
Amaad Wilkens
Episodes: "Chapter Six", "Chapter Twenty-Two"
Even Stevens
Scrub Patrol
Episodes: "Scrub Day", "Easy Crier"
2003
Judging Amy
Ricky Diaz
Episode: "Picture of Perfect"
ER
Jimmy
Episode: "Death and Taxes"
2004
The District
Fernando Guttierez
Episode: "Ten Thirty-Three"
2005
George Lopez
The new class treasurer (parody of Pedro Sánchez)
Episode: "George's Extreme Makeover-Holmes Edition"
Robot Chicken
Pedro Sanchez/Domino's Pizzaman
Voice role
Episode: "The Black Cherry"
2006
Walkout
Bobby Verdugo
HBO TV film
All You've Got
Carlos
MTV TV film
MADtv
Various roles
Episode: 12.3
2007
El Tigre: The Adventures of Manny Rivera
El Cucharón
Voice Role
Episode: "The Bride of Puma Loco"
American Dad!
Paco
Episode: "American Dream Factory"
Celebrity Rap Superstar
Himself
Scrubs
"Caramel Bear" Ricky
Episode: "My Growing Pains"
2010
Eastbound & Down
Catuey
Season 2
2012
Napoleon Dynamite
Pedro Sánchez
Voice role
2015
Constantine
Julio
Episode: "The Saint of Last Resorts: Part 2"
2016
Bordertown
Ruiz Gonzalez
Voice role
Deadbeat
Morgue Ghost
Season 2
[ Source: Wikipedia ]