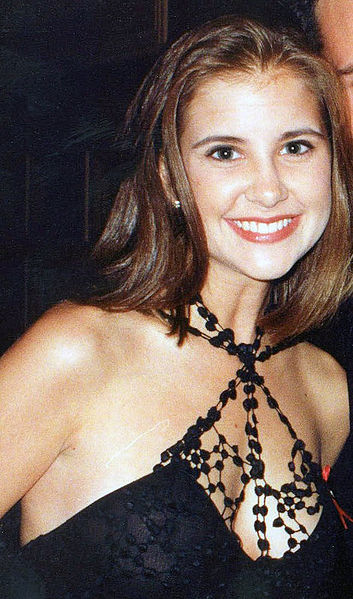 Kellie Martin
Birth name:
Kellie Noelle Martin
Born:
October 16, 1975
Age:
48
Birthplace:
Riverside, California, U.S.
Popularity:

Please login to contact Kellie Martin...
Biography
Kellie Noelle Martin (born October 16, 1975)[1] is an American television actress. She is known for her roles as Rebecca "Becca" Thatcher in Life Goes On (1989-1993), Christy Huddleston in Christy (1994-1995), Lucy Knight on ER (1998-2000), Samantha Kinsey in Mystery Woman (2003-2007), and as Hailey Dean in the Hailey Dean Mystery series (2016-present).
Martin was born in Riverside, California, U.S., the daughter of Debbie (Jett), a kindergarten teacher, and
Doug Martin
, a department store buyer and retail executive.[2]
She began her acting career at age seven, when her aunt, who was a nanny for actor Michael Landon's children, helped her land a guest spot on the Landon- produced series Father Murphy. At the age of eleven, she was a contestant during Young People's Week on Card Sharks.[3]
Read more...
Career
Early years
Martin had a recurring role on season three of Valerie's Family: The Hogans (1987-88). She also contributed the voice of Daphne Blake on the animated series A Pup Named Scooby-Doo in 1988-91. In 1989, Martin began the role of Rebecca "Becca" Thacher on the family drama Life Goes On, which ran on ABC for four seasons. She also played the role of Emily in 1989's Troop Beverly Hills, starring Shelley Long.
1990s
From 1991 to 1995, Martin supplied the voice of Molly Tasmanian Devil on Taz-Mania. In 1993, she played Sherry in Matinee, and made a guest appearance as Cleo Walker on an episode of seaQuest DSV, titled "Brothers and Sisters".
In 1994, she starred on her own series, Christy[4]. In 1994, she starred on the Lifetime movie A Friend to Die For. In 1995, she starred on The Face on the Milk Carton, a TV film based on the book by Caroline Cooney about a teenager who finds out she was kidnapped from her real family 13 years prior and had been raised by the parents of her kidnapper. She was in A Goofy Movie as the voice of Roxanne, Max's love interest.
In 1996, Martin starred as deaf abuse-victim Laura Keyes on Lifetime's TV movie After the Silence (or Breaking Through). She starred in a made for TV movie Hidden in Silence (Lifetime Television). From 1998-2000, Martin appeared on the medical drama ER as medical student Lucy Knight. Martin was still going to Yale at the time and postponed her education so that she could join the cast.[5]
2000s
In 2003, Martin starred in Mystery Woman, a Hallmark Channel movie about the owner of a mystery bookshop who solves actual crimes. From 2005 to 2007, she made ten more Mystery Woman movies for Hallmark, two of which she directed. Also in 2003, Martin had a supporting role on the comedic film Malibu's Most Wanted.
In 2006, Martin starred in the Lifetime movie Live Once, Die Twice, followed by No Brother of Mine in 2007. Also in 2007, Martin provided the voice for the adult-version of Barbara Gordon on "Artifacts", an episode of The Batman.
In 2009, Martin was a guest on Grey's Anatomy, episode "No Good at Saying Sorry." She also guest starred in the Ghost Whisperer episode "Stage Fright" as Cally O'Keefe. More recently, she has guest starred on the Private Practice episode "The Way We Were".
In 2012, Martin played Army Captain Nicole Galassini on the Lifetime Network television series Army Wives[6].
In 2016, Martin began starring in a new Hallmark Movies & Mysteries Channel show Hailey Dean Mystery as the protagonist Hailey Dean who is a former prosecutor turned therapist and solves mysteries. The Hailey Dean Mysteries are based on characters from Nancy Grace's New York Times best-selling series of Hailey Dean mystery books.[7]
In 2017, Martin played police officer Kimberly Leahy in seven episodes of the TBS comedy series The Guest Book.
Personal life
Martin graduated from Yale University[8] in 2001 with a degree in art history. She was a member of Saybrook College. She married Keith Christian on May 15, 1999 in his hometown of Polson, Montana. They have two daughters.[9] [10][11]
Martin owns and operates her own toy store ROMPstore.com and has authored a novel, Madam: A Novel of New Orleans from Plume.[12]
Filmography
Television
Year
Title
Role
Notes
1982
Father Murphy
Flossie
Episode: "Sweet Sixteen"
1984
Highway to Heaven
Lisa Ratchett
Episode: "Another Song for Christmas"
1985
The Canterville Ghost
Unknown
Movie
1986
Wonderful World of Disney
Linda / Veronica
"Help Wanted: Kids", "The Richest Cat in the World"
Dallas
Brenda Crane
Episode: "J.R. Rising"
Life With Lucy
Patty
2 episodes
Potato Head Kids
Lolly
Voice role
1987-88
My Two Dads
Rebecca
2 episodes
The Hogan Family
Tracy Nash
5 episodes
1988
thirtysomething
Robin Kramer
2 episodes
The Tracey Ullman Show
Kari
Episode: "2.21"
Fantastic Max
Additional voices
3 episodes
ABC Weekend Specials
Karen
Episode: "Runaway Ralph"
Superman
Unknown
Episode: "The Birthday Party"
Secret Witness
Jennie Thomas
movie
1988-91
A Pup Named Scooby-Doo
Daphne Blake
27 episodes
1989
Charles in Charge
Heather Curtis
Episode: "Adam See, Adam Do"
Mr. Belvedere
Miriam
Episode: "The Election"
Baywatch
Chelsea Carroll
Episode: "Panic at Malibu Pier"
1989-93
Life Goes On
Rebecca 'Becca' Thacher
Main role (83 episodes)
1991-95
Taz-Mania
Molly Tazmanian Devil
22 episodes
1993
SeaQuest DSV
Cleo Walker
Episode: "Brothers and Sisters"
ABC Afterschool Specials
Samantha Wheeler
Episode: "Montana Crossroads"
1994
Aladdin
Sadira
4 episodes
Christy
Christy Huddleston
CBS movie
A Friend to Die For
Angela Delvecchio
NBC movie
1994-95
Christy
Christy Huddleston
20 episodes
1995
If Someone Had Known
Katie Liner
NBC movie
The Face on the Milk Carton
Jennifer Sands / Janie Jessmon
CBS movie
Her Hidden Truth
Billie Calhoun
NBC movie
1996
Hidden in Silence
Fusia Podgorska
Lifetime movie
Her Last Chance
Alex Saxen
NBC movie
Breaking Through
Laura Keyes
ABC movie
1997
On the Edge of Innocence
Zoe Taylor
NBC movie
Crisis Center
Kathy Goodman
6 episodes
1998
About Sarah
Mary Beth McCaffrey
CBS movie
1998-2000
ER
Lucy Knight
Main role (36 episodes)
The Powerpuff Girls
Additional Voices
16 episodes
2001
Man in the Kitchen
Unknown
ABC movie
2002
Fiona
Det. Fiona Fitzgerald
Movie
2003
Mystery Woman
Samantha Kinsey
Hallmark movie
Law & Order: Special Victims Unit
Melinda Granville
Episode: "Tragedy"
2005
Mystery Woman: Mystery Weekend
Samantha Kinsey
Hallmark movie
Mystery Woman: Snapshot
Samantha Kinsey
Hallmark movie
Mystery Woman: Sing Me a Murder
Samantha Kinsey
Hallmark movie
Mystery Woman: Vision of a Murder
Samantha Kinsey
Hallmark movie
Mystery Woman: Game Time
Samantha Kinsey
Hallmark movie
2006
Mystery Woman: At First Sight
Samantha Kinsey
Hallmark movie
Live Once, Die Twice
Nicole Lauker
Movie
Mystery Woman: Wild West Mystery
Samantha Kinsey
Hallmark movie
Mystery Woman: Oh Baby
Samantha Kinsey
Hallmark movie
Mystery Woman: Redemption
Samantha Kinsey
Hallmark movie
2007
The Batman
Barbara Gordon / Oracle (voice)
Episode: "Artifacts"
Mystery Woman: In the Shadows
Samantha Kinsey
Hallmark movie
No Brother of Mine
Nina St. Clair
Hallmark movie
2009
Ghost Whisperer
Cally O'Keefe
Episode: "Stage Fright"
Grey's Anatomy
Julie Zelman
Episode: "No Good at Saying Sorry"
Private Practice
Michelle Larsen
Episode: "The Way We Were"
2010
Drop Dead Diva
Joan Feiner
Episode: "Senti-Mental Journey"
The Jensen Project
Claire Thompson
NBC movie
2011
Smooch
Gwen Cole
Hallmark movie
2012
Army Wives
Army Captain Nicole Galassini
8 episodes
I Married Who?
Jordan Grady
Hallmark movie
2013
The Christmas Ornament
Kathy
Hallmark movie
2014
Dear Viola
Katherine
Movie
Mad Men
Carolyn Glaspie
Episode: "Waterloo"
Satisfaction
Jennifer
Episode: "...Through Self Discovery"
2015
So You Said Yes
Annabelle Blanche
Hallmark movie
Hello, It's Me
Annie
Hallmark movie
2016
Hailey Dean Mystery: Murder, With Love
Hailey Dean
Hallmark Movies & Mysteries movie[13]
2017
Hailey Dean Mystery: Deadly Estate
Hailey Dean
Hallmark Movies & Mysteries movie
Hailey Dean Mystery: Dating Is Murder
Hailey Dean
Hallmark Movies & Mysteries movie
The Guest Book
Officer Kimberly Leahy
Main role
Film
Year
Title
Role
Notes
1986
Jumpin' Jack Flash
Kristi Carlson
Body Slam
Missy Roberts
1988
Doin' Time on Planet Earth
Sheila
1989
Troop Beverly Hills
Emily Coleman
The Flamingo Kid
Lauren Brody
Short film
1993
Matinee
Sherry
1995
A Goofy Movie
Roxanne
Voice role
2001
All You Need
Beth Sabistan Starnes
2003
Malibu's Most Wanted
Jen
2004
Open House
Debbie Delaney
Mickey's Twice Upon a Christmas
Mona/Additional Voices
Voice role
2005
Thru the Moebius Strip
Allana
Voice role
Awards and nominations
Year
Association
Category
Nominated work
Result
1990
Young Artist Awards
Best Young Actress Starring in a Television Series
Life Goes On
Won
1991
Young Artist Awards
Best Young Actress Starring in a Television Series
Life Goes On
Won
1992
Young Artist Awards
Best Young Actress Starring in a Television Series
Life Goes On
Nominated
Viewers for Quality Television
Best Supporting Actress in a Quality Drama Series
Life Goes On
Won
1993
Emmy Awards
Outstanding Supporting Actress in a Drama Series[14]
Life Goes On
Nominated
1999
Screen Actors Guild
Outstanding Performance by an Ensemble in a Drama Series
ER
Won
2000
Screen Actors Guild
Outstanding Performance by an Ensemble in a Drama Series
ER
Nominated
Screen Actors Guild
Outstanding Performance by an Ensemble in a Drama Series
ER
Nominated
[ Source: Wikipedia ]