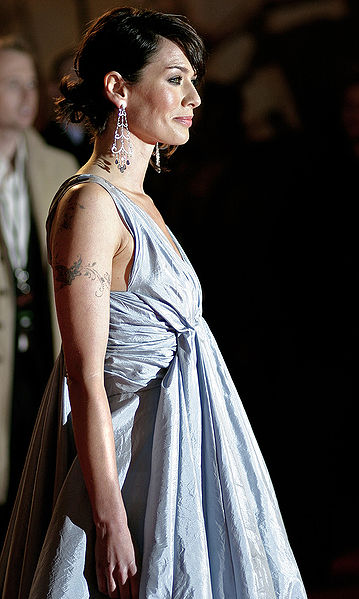 Lena Headey
Birth name:
Lena Kathren Headey
Born:
October 3, 1973
Age:
50
Birthplace:
Hamilton, Bermuda
Popularity:

Please login to contact Lena Headey...
Biography
Lena Kathren Headey (/ˈliːnə ˈhiːdi/ LEE-nə HEE-dee; born 3 October 1973)[1] is a Bermuda-born English actress and voice actress. She is best known for her portrayal of Cersei Lannister on HBO's Game of Thrones (2011-present), and for playing Sarah Connor on the television series Terminator: The Sarah Connor Chronicles (2008-09). For the former, she has received four Primetime Emmy Award nominations and a Golden Globe nomination. In 2017, Headey became one of the highest paid actors on television, earning up to £2 million per episode of Game of Thrones.[2][3]
Headey made her debut in the 1992 film Waterland. She continued to work steadily in films and on British television throughout the decade, before finding fame with her lead performances in a succession of fantasy and action-adventure features, such as The Brothers Grimm (2005), 300 (2007) and its sequel (2014), Tell-Tale (2009), and Dredd (2012). Her other film credits include The Remains of the Day (1992), The Jungle Book (1994), Face; Mrs Dalloway (1997), The Man with Rain in His Shoes (1998), Onegin (1999), Gossip; Aberdeen (2000), The Parole Officer (2001), Ripley's Game (2002), The Cave; Imagine Me & You (2005), St Trinian's (2007), The Broken; The Red Baron (2008), The Purge (2013), The Adventurer: The Curse of the Midas Box; Low Down (2014), Zipper (2015), and Thumper (2017).
Headey has provided voices for the role-playing video game Risen (2009) and the video game tie-in film Kingsglaive: Final Fantasy XV (2016), as well as the animated series' Danger Mouse (2015-17) and Trollhunters (2017-18).
Headey was born in Hamilton, Bermuda, to English parents, Sue and John Headey.[1] Her father, a Yorkshire police officer, was stationed there at the time. She has one younger brother, Tim.[4] The family moved to Somerset when she was five, and then to Highburton, near Huddersfield, West Yorkshire, when Headey was 11.[5] As a child, she took ballet lessons, before being told to stop.[6]
Headey had her first experience of acting when she was a pupil at Shelley College; she was noticed at age 17, when performing in a school production at the Royal National Theatre, and was picked for a role in the 1992 film Waterland.[7]
Read more...
Career
1990s: Debut and early roles
At the age of 17, Headey performed in a one-off show and afterwards a casting agent took a photo and asked her to audition. Later, she got a supporting role in the drama Waterland, in which she had the opportunity to work with actors who had been in the business several years before her. She had a small role in The Remains of the Day, which came out in 1993 and received eight Academy Awards nominations.
She played Katherine in Disney's The Jungle Book, released in 1994. The film had positive reviews and earned nearly $44 million in the United States. Headey, alongside her co-stars received favourable reviews with James Berardinelli praising their "solid performances".[8] On the set of The Jungle Book, she met her boyfriend of nine years, actor Jason Flemyng.[citation needed]
After a number of film roles, she appeared opposite Vanessa Redgrave in the 1997 romantic drama Mrs Dalloway. Headey landed a supporting role in a higher-profile film titled Onegin, which starred Ralph Fiennes and Liv Tyler. The following year, she had the starring role in the drama Aberdeen. Headey received several good reviews for her performance in the film.[citation needed] She also had roles in 2000's Gossip and 2001's The Parole Officer.
She received the Silver Iris Award for Best Actress at the 2001 Brussels European Film Festival for her role in Aberdeen. In 2002, she had a role in the mystery drama Possession alongside Gwyneth Paltrow and Aaron Eckhart.
2000s: Rise to prominence
Headey at the
300
London premiere, 2007
Headey co-starred with Matt Damon and Heath Ledger in Terry Gilliam's The Brothers Grimm, which was released in August 2005. The film received mixed reviews. In an interview Headey spoke about her character in the film: "I loved the fact that she was a tomboy. That is what attracted me to her, that she wasn't this predictable female character in this big film. You meet her and she is masking who she is. I loved that her environment dictated who she is. She lives and grows up and survives in the forest. Terry and I talked about how her instincts are almost animalistic and she can see 360 degrees around her. She is aware of what is going on. That is how she is grounded. She is of the earth".[9]
In 2005, she starred with actress Piper Perabo in the films The Cave and Imagine Me & You. The Cave was not well received by critics[10] and did poorly at the box office.[11]
The romantic comedy-drama Imagine Me & You received a limited release and earned positive reviews. Critics praised Headey's performance as a lesbian in the film; Mick LaSalle from the San Francisco Chronicle stated that the actress "has a forthright, irresistible appeal and a face and especially a smile that suggest intelligence, integrity and lots of fun".[12]
Headey played Queen Gorgo in Zack Snyder's 300. Headey had to do nude scenes in the film. "It's always weird the thought of taking your clothes off in front of 20 people and then to have it projected in front of many more", she told IndieLondon during an interview. "I think it was necessary because we only get that scene to establish their relationship. It is a very obvious moment but I think it does it in quite a beautiful way."[13]
Headey at the 2007 Scream Awards
In addition to her film work, Headey starred in Fox's Terminator: The Sarah Connor Chronicles, a television spin-off of James Cameron's popular Terminator franchise. Headey played Sarah Connor from January 2008 to April 2009. The show ran for 31 episodes in two seasons until its cancellation in May 2009. Variety praised "Headey's gritty performance as Sarah - managing to be smart, resourceful and tough, yet melancholy and vulnerable as well" and that the Chronicles "continue to deliver", getting "considerable mileage out of the constant peril" facing the characters.[14] She was nominated twice for the Saturn Award for Best Actress on Television for the role.
Headey has also appeared in a number of independent films, such as The Red Baron, a biographical film of the legendary World War I fighter pilot Manfred von Richthofen, in which she appeared alongside Matthias Schweighöfer and Joseph Fiennes.[15] Her character was the love interest Käte Otersdorf, a nurse who may or may not have had a romance with Richthofen in real life.[16] She also appeared as the stuffy Miss Dickinson in the 2007 release of the St. Trinian's series. She starred in the Ridley Scott produced Tell-Tale, a film based on the short story "The Tell-Tale Heart" by Edgar Allan Poe. The movie went straight to DVD on 25 May 2008.[17]
In 2008, Headey starred in the horror film The Broken. The film was directed by Academy Award-nominated Sean Ellis.[18] The film was about "a woman who suspects she's being followed around London by a murderous doppelganger".[19] The Broken was screened at the midnight portion of the 2008 Sundance Film Festival, and generally got average reviews. Some critics praised Headey's performance, including Kim Koynar of Cinematical who wrote that Headey "largely carries the film, and does so quite ably".[20]
Headey was cast in the lead part in another horror film titled Laid to Rest, which was first screened in 2008. However, the film went straight to video on 21 April 2009 and earned mixed reviews. Critic Mark H. Harris for About.com stated that the film "has a great look and boasts an impressive cast," referring to both Headey and co-star Thomas Dekker.[21] Headey had a part in a short film called The Devil's Wedding. She provided her voice for an episode of the Cartoon Network TV series The Super Hero Squad Show playing Black Widow and Mystique.
2010s: Mainstream success
Since its premiere in April 2011, Headey has portrayed queen regent Cersei Lannister on the HBO series Game of Thrones, based on George R. R. Martin's A Song of Ice and Fire series of novels.[22] Headey was cast in the role after her friend and eventual co-star, Peter Dinklage, suggested her casting to producers.[23] Her performance as the ruthless queen has received critical acclaim.[24][25][26] In 2011, she was nominated for a Scream Award in the category of Best Fantasy Actress for the role.[27] Headey was nominated for an Emmy Award for Outstanding Supporting Actress in a Drama Series for portraying Cersei in 2014,[28][29] 2015[30] and 2016.
Headey made a guest appearance in the television show White Collar in the episode "Taking Account" in which she played the role of Sally. In 2012, she appeared in the 3D action science-fiction film Dredd alongside Karl Urban and Olivia Thirlby. Her character is Madeline Madrigal (Ma-Ma), the leader of a drug dealing gang, and the project's primary villain.[31] Dredd is a film adaptation of 2000 AD character Judge Dredd.[32] The film was directed by Pete Travis with a script by Alex Garland.[33] In May and June 2012, Lena filmed the fantasy adventure film The Adventurer: The Curse of the Midas Box throughout South West England, playing the role of Monica. The film was released in 2014.[34]
She joined again with Ethan Hawke to co-star in The Purge, a "micro-budget" horror film, which opened on 7 June 2013 at number one position in the United States, grossing over $US36 million over the weekend.[35]
In 2013, Headey was cast as Jocelyn Fray in The Mortal Instruments: City of Bones opposite Lily Collins and Jamie Campbell Bower. The film never received a sequel, and Headey will not reprise her role in the Freeform TV series Shadowhunters.
Following the success of 300, Headey reprised her role as Queen Gorgo in the 2014 sequel, 300: Rise of an Empire.
Headey appeared in the 2014 biographical film Low Down, a film which detailed the life of jazz pianist Joe Albany, as well as playing the wife of Patrick Wilson's character in Zipper in 2015. In July 2015, it was reported that Headey would voice Jeopardy Mouse in Danger Mouse, a reboot of the 1981 TV series of the same name, which was broadcast on CBBC in late 2015. Headey stated that "I wanted to do it because it was pure nostalgia for me. I have children now and it's just a treat to be involved in something that you loved as a kid and be able to share it. Those moments as an actor that come along once in a while are not to be missed."[36] She appeared alongside Alexander Armstrong as Danger Mouse and Stephen Fry as Colonel K.[37]
In 2016, Headey co-starred in the horror film Pride and Prejudice and Zombies, opposite her former Game of Thrones, Century and The Contractor co-star Charles Dance.
In 2017, Headey provided the voiceover for Mercedes A-Class television advertisement and Morgana in Trollhunters.
Public image
She has appeared on the covers of TV Guide, G3, Sunday Mirror and Germany's Filmstar. She ranked No. 64 on the Maxim magazine Hot 100 of 2007 list. She was listed at No. 4, No. 10 and No. 3 in AfterEllen's list of the Hot 100 in 2007, 2008 and 2009, respectively.[38]
Personal life
She married musician Peter Loughran in May 2007.[39] Headey and Loughran have a son, Wylie Loughran, who was born on 31 March 2010.[40] She has spoken about suffering from postnatal depression following Wylie's birth.[41] Headey and Loughran separated in 2011, and she filed for divorce in the Los Angeles County Superior Court on 20 July 2012.[39] The divorce was finalised on 26 December 2013.[42]
She was linked to Game of Thrones co-star Jerome Flynn; however, the relationship reportedly ended badly some time before March 2014, resulting in the two being kept apart on set.[43]
On 10 July 2015, she gave birth to her second child, a daughter named Teddy, with director Dan Cadan (her childhood friend, who also worked with Headey on his short film The Devil's Wedding).[44] The pair are reportedly engaged with plans to marry in summer 2018.[45][needs update]
Headey has been close friends with actress Piper Perabo since they starred together in the 2005 films The Cave and Imagine Me & You.[46] Headey is also good friends with her Game of Thrones co-stars Pedro Pascal and Peter Dinklage, the latter of whom first suggested to producers on Game of Thrones that she be cast as Cersei Lannister.[23]
Headey was a vegetarian; however, in a 2011 interview she stated she now eats meat again, albeit rarely.[47]
Headey has a number of tattoos. Her tattoos include a large floral design on her back[48] as well as a Pema Chödrön quote on her ribs.[49] She told Esquire that "I love tattoos. I find it calming."[50] Her tattoos often require covering when Headey works, although she has stated, "you can usually get away with it by keeping your clothes on."[50]
Activism
Headey has campaigned on behalf of animal rights.[51] In 2008, she spoke out against animal abuse in an advertisement for animal welfare group PETA.[52]
Headey supports the LGBT rights organisation NOH8,[53] and in April 2015 appeared on a T-shirt designed by them and sold through Represent.com to raise funds for the cause.[54]
Filmography
Main article: Lena Headey filmography
Awards and nominations
Year
Award
Category
Work
Result
Ref.
2001
Silver Iris Award
Best Actress
Aberdeen
Won
2007
MTV Movie Award
Best Breakthrough Performance
300
Nominated
[55]
Teen Choice Award
Choice Movie Actress: Action Adventure
Nominated
2008
Saturn Award
Best Supporting Actress
Nominated
Best Actress on Television
Terminator: The Sarah Connor Chronicles
Nominated
Scream Award
Best Science Fiction Actress
Nominated
SFX Award
Best Television Actress
Nominated
2009
Saturn Award
Best Actress on Television
Nominated
Scream Award
Best Science Fiction Actress
Nominated
2011
Portal Award
Best Actress on Television
Game of Thrones
Nominated
[56]
Scream Award
Best Fantasy Actress
Nominated
[57]
Best Ensemble
Nominated
[57]
Screen Actors Guild Award
Outstanding Performance by an Ensemble in a Drama Series
Nominated
[58]
Women's Image Network Award
Actress Drama Series
Nominated
[59]
2012
EWwy Award
Best Supporting Actress, Drama
Won
[60]
Gold Derby Awards
Best Drama Supporting Actress
Nominated
[61]
Golden Nymph Award
Outstanding Actress in a Drama Series
Nominated
[62]
Portal Award
Best Actress on Television
Won
[63]
SFX Award
Best Television Actress
Nominated
[64]
Saturn Award
Best Actress on Television
Nominated
2013
Screen Actors Guild Award
Outstanding Performance by an Ensemble in a Drama Series
Nominated
[65]
2014
Gold Derby TV Awards
Best Drama Supporting Actress
Nominated
[66]
Primetime Emmy Award
Outstanding Supporting Actress in a Drama Series
Nominated
[28][29]
Screen Actors Guild Award
Outstanding Performance by an Ensemble in a Drama Series
Nominated
[67]
Women's Image Network Award
Actress Drama Series
Won
[68]
2015
Empire Award
Empire Hero Award
Won
[69]
Gold Derby TV Awards
Best Drama Supporting Actress
Won
[70]
Primetime Emmy Award
Outstanding Supporting Actress in a Drama Series
Nominated
[30]
Screen Actors Guild Award
Outstanding Performance by an Ensemble in a Drama Series
Nominated
[71]
2016
Gold Derby TV Awards
Best Drama Supporting Actress
Won
[72]
Primetime Emmy Award
Outstanding Supporting Actress in a Drama Series
Nominated
[73]
Critics' Choice Television Award
Best Supporting Actress in a Drama Series
Nominated
[74]
Screen Actors Guild Award
Outstanding Performance by an Ensemble in a Drama Series
Nominated
[75]
Saturn Award
Best Supporting Actress on Television
Nominated
[76]
2017
Golden Globes
Best Supporting Actress - Series, Miniseries or Television Film
Nominated
[77]
Satellite Award
Best Supporting Actress - Series, Miniseries or Television Film
Nominated
[78]
[79]
Saturn Award
Best Actress on Television
Nominated
[80]
Screen Actors Guild Award
Outstanding Performance by an Ensemble in a Drama Series
Nominated
[81]
2018
Saturn Award
Best Actress on Television
Nominated
[82]
Primetime Emmy Award
Outstanding Supporting Actress in a Drama Series
Nominated
[83]
[ Source: Wikipedia ]