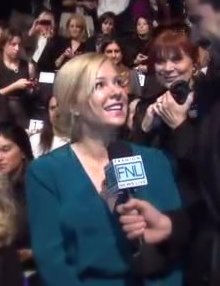 Jennifer Aspen
Born:
October 9, 1973
Age:
50
Birthplace:
Richmond, Virginia, U.S.
Popularity:

Please login to contact Jennifer Aspen...
Biography
Jennifer Aspen (born October 9, 1973) is an American actress, best known for her roles as Daphne Jablonsky in Fox teen drama Party of Five (1998-2000), as Trina Hamilton in ABC family comedy Rodney (2004-2006), as Kendra Giardi in the first season Fox series Glee and as Sharon Peacham on ABC comedy-drama GCB (2012).
Aspen made her debut in 1995, and later began playing guest-starring roles in number of television shows, like
Hope and Gloria
,
Beverly Hills, 90210
and
Married... with Children
. In 1996 she made her film debut with a co-starring role in the family comedy
A Very Brady Sequel
and horror film
Sometimes They Come Back... Again
. She also guest-starred in
Will & Grace
,
Friends
,
Grey's Anatomy
,
Shark
,
Boston Legal
,
The Closer
,
Criminal Minds
,
Supernatural
,
CSI: Crime Scene Investigation
and
Private Practice
.
Aspen had series regular role in the Fox teen drama series Party of Five from 1998 to 2000. In 2001, she starred in the short-lived sitcom Bob Patterson. From 2004 to 2006, she starred in the ABC sitcom Rodney opposite Rodney Carrington. The series was canceled after two seasons. In 2009, she appeared in a recurring role of Fox comedy series Glee, as Kendra Giardi.[1]
In 2011, Aspen was cast as one of leads in ABC comedy series GCB.[2] she starred in show as Sharon Peacham, a former beauty queen who was the envy of all the guys and girls in high school on the, with Leslie Bibb, Kristin Chenoweth, Annie Potts, Miriam Shor and Marisol Nichols.[3] She also appeared in Kristin Chenoweth's music video for I Want Somebody (Bitch About). The series debuted on ABC in mid-season, on March 4, 2012 and was cancelled after single season.[4] She later starred as lead in the independent comedy Nowhere Girl,[5] and appeared in 2013 Lifetime movie, The Wrong Woman.[6]
In 2018, Aspen was cast opposite Amy Adams in the HBO eight-episode miniseries Sharp Objects.[7] Also that year, she was cast as a series regular opposite Annie Ilonzeh in the ABC drama pilot Staties.[8]
Read more...
Personal life
Aspen was born in Richmond, Virginia, and resides in Los Angeles. She attended the UCLA School of Theater, Film and Television, where she received a BA in Theater. She then studied acting at the Beverly Hills Playhouse.[9] Aspen married her longtime boyfriend of nine years, David O'Donnell, on September 3, 2006. She is a practicing Scientologist. Her adopted baby girl, Charlotte Sofia O'Donnell, was born June 10, 2012.[10]
Filmography
Film
| Year | Title | Role | Notes |
| --- | --- | --- | --- |
| 1996 | Sometimes They Come Back... Again | Maria Moore | |
| 1996 | A Very Brady Sequel | Kathy Lawrence | |
| 1996 | The Secret She Carried | Toni | Television film |
| 1997 | The Others | Vicky Myers | |
| 1997 | Changing Habits | Art Store Customer | |
| 1998 | Screwed: A Hollywood Bedtime Story | Susie Felton | |
| 2000 | Some Common Things That Happen to Corpses | Jennifer Oberon | |
| 2001 | See Jane Run | Jennifer | |
| 2001 | Vanilla Sky | Nina | |
| 2004 | L.A. Twister | Mindy | |
| 2004 | The Ranch | Shayna | Television film |
| 2005 | Guy in Row Five | Sarah | |
| 2007 | The Frolic | Leslie Munck | |
| 2007 | Mr. Woodcock | Cindy | |
| 2008 | Struck | Jennifer | |
| 2010 | Melon | Jennifer | |
| 2010 | Unanswered Prayers | Jeanette | Television film |
| 2012 | Girl vs. Monster | Julie Lewis | Television film |
| 2013 | Nowhere Girl | Michelle | |
| 2013 | The Wrong Woman | Alice | Television film |
| 2014 | At the Devil's Door | Lori | |
| 2015 | Holiday Breakup | Mandy | |
| 2015 | His Secret Life | | Television film |
Television
| Year | Title | Role | Notes |
| --- | --- | --- | --- |
| 1995 | Hope and Gloria | Alexis | Episode: "A Fine ROM-ance" |
| 1995 | Beverly Hills, 90210 | Runaway Girl | Episode: "Squash It" |
| 1995 | Married... with Children | Jamie | Episode: "Guess Who's Coming to Breakfast, Lunch and Dinner" |
| 1995 | Step by Step | Pepper | Episode: "Lil Sister Dontcha" |
| 1995 | Too Something | | Episode: "Leg, Lies and Videotape" |
| 1996 | In the House | Mrs. Jones | Episode: "To Die For" |
| 1996 | Brotherly Love | Melanie Marcos | Episode: "Other People" |
| 1996 | Living Single | Irene | Episode: "School's Out Forever" |
| 1996 | Chicago Hope | Tracey White | Episode: "A Day in the Life" |
| 1995-1996 | Weird Science | Sharon | 2 episodes |
| 1997-1998 | Claude's Crib | Julie | Series regular, 10 episodes |
| 1997 | NYPD Blue | Candice | Episode: "Taillight's Last Gleaming" |
| 1997 | Alright Already | Debbie | Episode: "Again with the Sponge Cake" |
| 1998 | The Pretender | Anna Roemer | Episode: "Indy Show" |
| 1998 | House Rules | Terry | Episode: "Twisted Sister" |
| 1998-2000 | Party of Five | Daphne Jablonsky | Series regular, 35 episodes |
| 2000 | FreakyLinks | Vikki | Episode: "Subject: Three Thirteen" |
| 2001 | Bob Patterson | Janet Patterson | Series regular, 10 episodes |
| 2002 | Will & Grace | Sarah | Episode: "Dyeing Is Easy, Comedy Is Hard" |
| 2002 | The Court | Emily | 2 episodes |
| 2002 | The King of Queens | Samantha | Episode: "Flash Photography" |
| 2002 | CSI: Crime Scene Investigation | Mrs. Ramsey | Episode: "Fight Night" |
| 2003 | Friends | Michelle | Episode: "The One Where Monica Sings" |
| 2003 | The Agency | Livia | Episode: "Coventry" |
| 2003 | Karen Sisco | Angie Stoller | Episode: "Dear Derwood..." |
| 2003 | The Lyon's Den | Tara Barrington | 2 episodes |
| 2003 | Line of Fire | Jolene Fleming | Episode: "Mockingbird" |
| 2004 | Come to Papa | Karen | 4 episodes |
| 2004-2006 | Rodney | Trina Hamilton | Series regular, 44 episodes |
| 2006 | Welcome to the Jungle Gym | Annabelle | TV Pilot |
| 2006 | Grey's Anatomy | Elena | Episode: "Don't Stand So Close to Me" |
| 2007 | Shark | April George | Episode: "Starlet Fever" |
| 2007 | Boston Legal | Maureen Fleming | Episode: "The Good Lawyer" |
| 2007 | The Closer | Valerie Henry | 2 episodes |
| 2008 | Family Man | Meg Parker | TV Pilot |
| 2008 | Criminal Minds | Laurie Ann Morris | Episode: "A Higher Power" |
| 2008 | Eli Stone | Dr. Leila Maxford | Episode: "Patience" |
| 2009 | Glee | Kendra Giardi | 4 episodes |
| 2010 | Supernatural | Marcy Ward | Episode: "Weekend at Bobby's" |
| 2010 | CSI: Crime Scene Investigation | Stacy Cano | Episode: "Wild Life" |
| 2011 | Bleep My Dad Says | Mary | Episode: "Goodson Goes Deep" |
| 2011 | Private Practice | Lara | Episode: "Two Steps Back" |
| 2012 | Harry's Law | Tina Stanhope | Episode: "Breaking Points" |
| 2012 | GCB | Sharon Peacham | Series regular, 10 episodes |
| 2013 | Untitled Tad Quill Project | Jennifer | TV Pilot |
| 2013 | Franklin & Bash | Rayanne Gardner | Episode: "By the Numbers" |
| 2013 | Two and a Half Men | Stephanie | Episode: "Clank, Clank, Drunken Skank" |
| 2014 | Damaged Goods | Alexis | TV Pilot |
| 2015 | Scream Queens | Mandy Greenwell | Episode: "Haunted House" |
| 2016 | The Night Shift | Joan Watkins | 2 episodes |
| 2017 | Nicky, Ricky, Dicky & Dawn | Aunt Jackie | Episode: QUADGOALS |
[ Source: Wikipedia ]