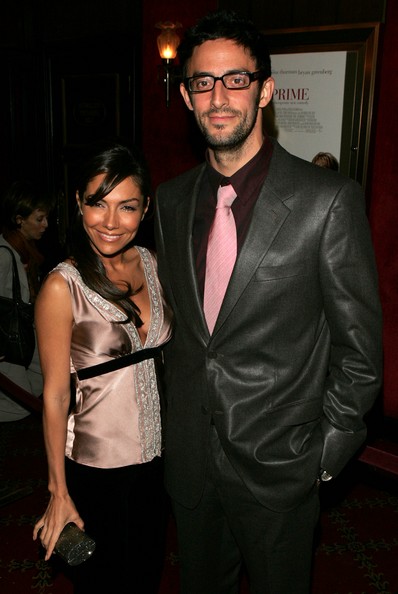 Vanessa Marcil
Born:
October 15, 1968
Age:
55
Birthplace:
Indio, California, U.S.
Popularity:

Please login to contact Vanessa Marcil...
Biography
Vanessa Marcil[2] (/mɑːrˈsɛl/ mar-SEL;[citation needed] born Sally Vanessa Ortiz; October 15, 1968[3]) is an American actress. She is best known for her television roles as Brenda Barrett on General Hospital, Gina Kincaid on Beverly Hills, 90210, and Sam Marquez on Las Vegas.
Marcil, the youngest of four children, was born in Indio, California, to Patricia Marcil, an herbalist, and Peter Ortiz, a contractor and self-made millionaire. Marcil's father is Mexican, and her mother is an American of French and Italian ancestry.[4]
Read more...
Career
Marcil acted in a number of theatre productions before landing the role of Brenda Barrett on the soap opera General Hospital, in 1992. She garnered three Daytime Emmy Award nominations (in 1997, 1998, and 2003) for her portrayal, and won in 2003 as Outstanding Supporting Actress. In February 1998, she was named Outstanding Lead Actress at the Soap Opera Digest Awards.[5]
On June 14, 1993 she appeared in the Prince music video "Poorgoo", which was released officially in very limited numbers. In 1994, she was cast in the Prince music video, "The Most Beautiful Girl in the World", and made People's 50 Most Beautiful list the next year.[6] She made her feature-film debut in the film The Rock (1996), in which she appeared opposite Nicolas Cage, Sean Connery, and Ed Harris.
In 1998, after six years on General Hospital, she left the show to star in the made-for-television movie To Love, Honor and Deceive, and had a recurring guest role on the police drama High Incident, produced by Steven Spielberg. In November 1998, Marcil joined the Beverly Hills, 90210 cast as Gina Kincaid and remained with the show for one-and-a-half seasons. In 1999, she starred in two independent films: Nice Guys Sleep Alone, with Sean O'Bryan, and This Space Between Us, with Jeremy Sisto.
In 2001, she was initially cast to join NYPD Blue's ninth season as a new series regular, Det. Carmen Olivera. However, after her first appearance in "Johnny Got His Gold", the show decided to redo the role and replaced Marcil with Jacqueline Obradors, as Det. Rita Ortiz. Marcil made one more cameo appearance, as Det. Olivera, in the 11th-season episode "Shear Stupidity".
From 2002 to 2003, she returned to General Hospital, as Brenda Barrett, garnering her a Daytime Emmy Award for Outstanding Supporting Actress in 2003. Vanessa later joined the cast of the NBC drama Las Vegas as Sam Marquez, a casino host, where she remained on the show for five seasons until 2008. That same year, she became the host of Lifetime's reality show Blush: The Search for America's Greatest Makeup Artist, as well as making a three-episode guest appearance on the NBC show Lipstick Jungle.
In 2009, she starred in the Hallmark channel movie The Nanny Express and in the Lifetime movie One Hot Summer. In 2010, she was in the web series The Bannen Way and in August 2010 after a seven-year absence, she made her return to General Hospital remaining on the show for a year before her departure from the show in July 2011. Marcil did make a guest appearance in April 2013 to commemorate the show's 50th anniversary.
In 2014, she starred in the Hallmark channel movie Stranded in Paradise, and in 2015, she joined the cast of the Pop reality series Queens of Drama, about the lives of former soap-opera actresses attempting to pitch a pilot for a television network. In 2016, she starred in her latest Hallmark channel movie, The Convenient Groom.
Personal life
Marcil was married to actor Corey Feldman from 1989 to 1993. Marcil and her former Beverly Hills, 90210 castmate Brian Austin Green have a son, Kassius Lijah, born on March 30, 2002.[7] Marcil married actor Carmine Giovinazzo on July 11, 2010, in a private ceremony in New York City.[2][8] In June 2011, the couple announced they were expecting their first child together;[9] however, Marcil suffered a miscarriage, her second that year.[10] Marcil filed for divorce in August 2012 on the basis of irreconcilable differences.[11] The divorce was finalized in March 2013.[12]
In April 2015, Marcil revealed that she had become engaged to a deputy sheriff, whom she refers to as "MC" on social media.[13] On November 13, 2017, Marcil announced she was pregnant yet again. On January 9, 2018, she revealed the baby she was expecting would be a daughter. However, on January 27, the actress released a statement on Instagram, stating she had miscarried for the seventh time.[14][15]
Marcil's father, Peter, died on September 14, 2017.[16]
Filmography
List of film credits

| Year | Title | Role | Notes |
| --- | --- | --- | --- |
| 1996 | The Rock | Carla Pestalozzi | |
| 1997 | 976-WISH | Danielle | |
| 1999 | Nice Guys Sleep Alone | Erin | |
| 2000 | This Space Between Us | Maggie Harty | |
| 2002 | Storm Watch | Tess Woodward | Alternative titles: Virtual Storm, Code Hunter |
List of television credits
Year
Title
Role
Notes

1992-1998
2002-2003
2010-2011
2013

General Hospital
Brenda Barrett
Main role from: September 18, 1992 - September 11, 1998
Main role from: September 4, 2002 - February 19, 2003
Main role from: August 11, 2010 - July 21, 2011
Guest role from: April 2, 2013 - April 23, 2013

1996
To Love, Honor and Deceive
Sydney Carpenter
Television movie; aka. The Protected Wife
1997
High Incident
Kerry Andrews
Episodes: "Hot Wire", "Remote Control"
1998-2000
Beverly Hills, 90210
Gina Kincaid
Main role (Seasons 9-10), 37 episodes
2001
Spin City
Crazy Kara
Episode: "A Shot in the Dark: Part 2"
2001, 2003
NYPD Blue
Detective Carmen Olivera
Episodes: "Johnny Got His Gold", "Shear Stupidity"
2003-2008
Las Vegas
Sam Marquez
Main role, 106 episodes
2004-2005
Crossing Jordan
Sam Marquez
Episodes: "What Happens in Vegas Dies in Boston", "Luck Be a Lady"
2008
Lipstick Jungle
Josie Scotto
3 episodes
2009
The Nanny Express
Kate Hewitt
Television movie (Hallmark)
2009
Without a Trace
Kim Marcus
3 episodes
2009
One Hot Summer
Margarita Silva Santos
Television movie (Lifetime)
2010
The Bannen Way
Madison
Webseries
2012
Hawaii Five-0
Dr. Olivia Victor
Episode: "Wahine'inoloa"
2014
Stranded in Paradise
Tess Nelson
Television movie (Hallmark)
2014
Hell's Kitchen
Herself
Episode 12.4: "17 Chefs Compete"
2016
The Convenient Groom
Dr. Kate Lawrence
Television movie (Hallmark)
2017
The Wrong Mother
Kaylene
Television movie (Lifetime)
2018
Bad Tutor
Kelly
Television movie (Lifetime)
Awards and nominations
| | |
| --- | --- |
| | This section does not cite any sources. Please help improve this section by adding citations to reliable sources. Unsourced material may be challenged and removed. |
Awards and nominations

| Year | Award | Category | Work | Result |
| --- | --- | --- | --- | --- |
| 1994 | Soap Opera Digest Awards | Outstanding Female Newcomer | General Hospital | Nominated |
| 1995 | Soap Opera Digest Awards | Hottest Soap Couple (shared with Maurice Benard) | General Hospital | Nominated |
| 1997 | Daytime Emmy Award | Outstanding Supporting Actress in a Drama Series | General Hospital | Nominated |
| 1997 | Soap Opera Digest Awards | Hottest Female Star | General Hospital | Won |
| 1998 | Soap Opera Digest Awards | Outstanding Lead Actress | General Hospital | Won |
| 1998 | Daytime Emmy Award | Outstanding Supporting Actress in a Drama Series | General Hospital | Nominated |
| 2003 | Soap Opera Digest Awards | Favorite Return | General Hospital | Won |
| 2003 | Daytime Emmy Award | Outstanding Supporting Actress in a Drama Series | General Hospital | Won |
[ Source: Wikipedia ]