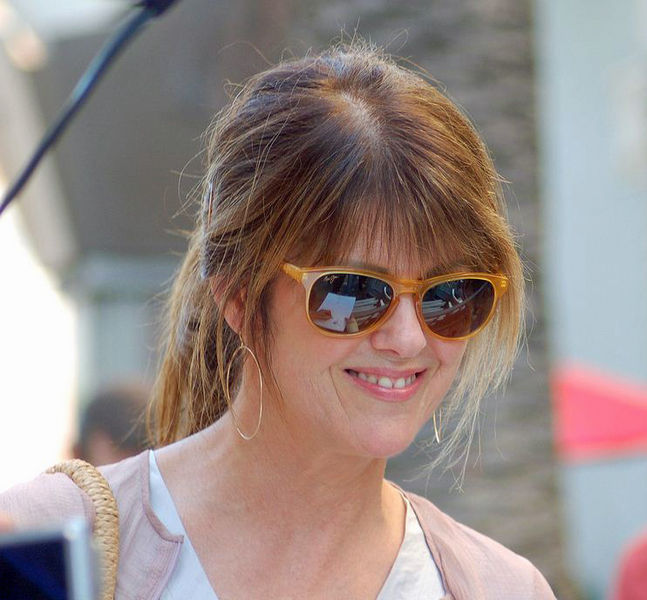 Pam Dawber
Birth name:
Pamela Dawber
Born:
October 18, 1951
Age:
72
Birthplace:
Detroit, Michigan, U.S.
Popularity:

Please login to contact Pam Dawber...
Biography
Pamela Dawber (born October 18, 1951) is an American actress best known for her lead television sitcom roles as Mindy McConnell in Mork & Mindy (1978-1982) and Samantha Russell in My Sister Sam (1986-1988).
Dawber was born in Detroit, Michigan, the older of two daughters of Thelma M. (née Fisher) and Eugene E. Dawber, a commercial artist.[1][2] She went to Reid Elementary School in Goodrich and attended North Farmington High School and Oakland Community College, with the intention of transferring to a four-year college.[3] She deferred her studies at OCC to do some modeling work and eventually dropped out after deciding to go into modeling full-time.
Read more...
Career
Dawber moved to New York City and was initially a fashion model with Wilhelmina Models before switching to acting. She appeared in television commercials (Nair, Underalls, etc.).[4][5]
Dawber screen-tested for the title role in Tabitha, a 1977-1978 situation comedy spun off from Bewitched, which role instead went to Lisa Hartman. However, ABC-TV was favorably enough impressed with her to enroll her in its "talent development" program, which paid its participants until they could find appropriate roles.[citation needed] Garry K. Marshall recruited her from this program.
Breakthrough: Mork & Mindy
Dawber's professional breakthrough came when Marshall chose her, despite her having relatively little acting experience and not having auditioned for the part, as one of the two title characters of the ABC sitcom Mork & Mindy, which ran from 1978 to 1982. She portrayed Mindy McConnell, the comedic foil and eventual love interest for the extraterrestrial Mork from the planet Ork, played by a then-unknown Robin Williams. The show was extremely popular in its debut season, when it averaged at number three in the Nielsen ratings for the year.[6] The only major difficulty for her on set was that she often found it impossible to maintain the proper composure in character in the face of her co-star's hailed comedic talent. Also, pressure came from the TV network to sexualize her character as the series progressed, which Dawber successfully resisted, with Williams's support.
"Savoyard"
Dawber sang in a 1980s Los Angeles Civic Light Opera production of Gilbert & Sullivan's The Pirates of Penzance, based on the Joseph Papp/New York Shakespeare Festival production. Her role, as Mabel, had been played by Linda Ronstadt in the New York run of the show.
My Sister Sam
From 1986 to 1988, Dawber again had the title role in a television series, playing Samantha Russell in the CBS sitcom My Sister Sam, co-starring Rebecca Schaeffer. The series was a success in its first season, but it suffered a massive ratings drop in its second after moving to Saturday night. My Sister Sam left the air in April 1988, with half of the second season's episodes never airing on CBS, but eventually airing (along with all previous episodes) on USA Network.
But tragically, in July of 1989, over a year after the show's cancellation, Schaeffer was shot and killed by Robert John Bardo, an obsessed fan, in front of her apartment. Dawber reported being "devastated" by her former co-star's death.[7] Dawber and her other surviving My Sister Sam co-stars, Joel Brooks, David Naughton and Jenny O'Hara, reunited to film a public service announcement about violence prevention, and Dawber herself became a gun control advocate. With the birth of her second child, she left the industry for family reasons and acted sporadically during the 1990s.
Film work
Although mostly known for her television work, Dawber has starred in several films, including the comedy movie Stay Tuned (1992) with John Ritter and the period movie I'll Remember April (1999), alongside her husband Mark Harmon.
Return to television
In 1997, Dawber starred in the television series Life... and Stuff.[8]
In 2014, she reunited with Robin Williams on his comedy series The Crazy Ones as a love interest of Williams's character.[9][10] But this reunion failed to boost the show's ratings, and it was cancelled shortly afterwards. Williams, already suffering from Lewy body dementia by this time, committed suicide later that year.
Dawber is a national spokeswoman for Big Brothers Big Sisters of America.
Garry K. Marshall, the film-and-television comedy writer-producer-director who, as noted above, had made possible Dawber's professional breakthrough, died in 2016. In that year, Dawber made a guest appearance on The Odd Couple in a tribute episode to Marshall, along with other such Marshall alums as Ron Howard, Garry's own sister Penny Marshall, Cindy Williams, Don Most, Anson Williams and Marion Ross.
Personal life
Dawber married actor Mark Harmon on March 21, 1987, in a private ceremony.[2][11] They have two sons: Sean Thomas Harmon (born April 25, 1988),[12] also an actor, and Ty Christian Harmon (born June 25, 1992).[13] The couple is known to be private about their family life and rarely appear in public together with their children or speak about one another in interviews.
Filmography
Television
| Year | Title | Role | Notes |
| --- | --- | --- | --- |
| 1978 | Sister Terri | Terri | 1 episode |
| 1978-1982 | Mork & Mindy | Mindy McConnell | 94 episodes |
| 1982 | Mork & Mindy/Laverne & Shirley/Fonz Hour | Mindy McConnell (voice) | 14 episodes |
| 1985 | The Twilight Zone | Karen Billings | 1 episode: "But Can She Type?" segment |
| 1986-1988 | My Sister Sam | Samantha "Sam" Russell | 44 episodes |
| 1987 | Faerie Tale Theatre | Pearl | 1 episode: "The Little Mermaid" |
| 1994 | Dream On | Cheryl Castorini | 1 episode: "From Here to Paternity" |
| 1996 | Adventures from the Book of Virtues | Liese (voice) | 1 episode: "Self-Discipline" |
| 1997 | Life... and Stuff | Ronnie Boswell | 5 episodes |
| 1997-1998 | 101 Dalmatians: The Series | Perdy (voice) | 20 episodes |
| 2014 | The Crazy Ones | Lily | 1 episode: "Love Sucks" |
| 2016 | The Odd Couple | Arnette | 1 episode: "Taffy Days" |
Film
| Year | Title | Role | Notes |
| --- | --- | --- | --- |
| 1978 | A Wedding | Tracy Farrell | Feature film |
| 1980 | The Girl, the Gold Watch & Everything | Bonny Lee Beaumont | Television film |
| 1981 | Swan Lake | Princess Odette (voice) | Feature film |
| 1982 | Remembrance of Love | Marcy Rabin | Television film |
| 1983 | Through Naked Eyes | Anne Walsh | Television film |
| 1984 | Last of the Great Survivors | Laura Matthews | Television film |
| 1985 | This Wife for Hire | Marsha Harper | Television film |
| 1985 | Wild Horses | Daryl Reese | Television film |
| 1986 | American Geisha | Gillian Burke | Television film |
| 1988 | Quiet Victory: The Charlie Wedemeyer Story | Lucy Wedemeyer | Television film |
| 1989 | Do You Know the Muffin Man? | Kendra Dollison | Television film |
| 1990 | The Face of Fear | Connie Weaver | Television film |
| 1992 | Stay Tuned | Helen Knable | Feature film |
| 1993 | The Man with Three Wives | Robyn | Television film |
| 1994 | Web of Deception | Ellen Benesch | Television film |
| 1994 | A Child's Cry for Help | Monica Shaw | Television film |
| 1995 | Trail of Tears | Cheryl Harris | Television film |
| 1996 | A Stranger to Love | Andie | Television film |
| 1999 | Don't Look Behind You | Liz Corrigan | Television film |
| 2000 | I'll Remember April | Barbara Cooper | Feature film |
| 2006 | Christa McAuliffe: Reach for the Stars | Herself | Documentary film[14] |
[ Source: Wikipedia ]