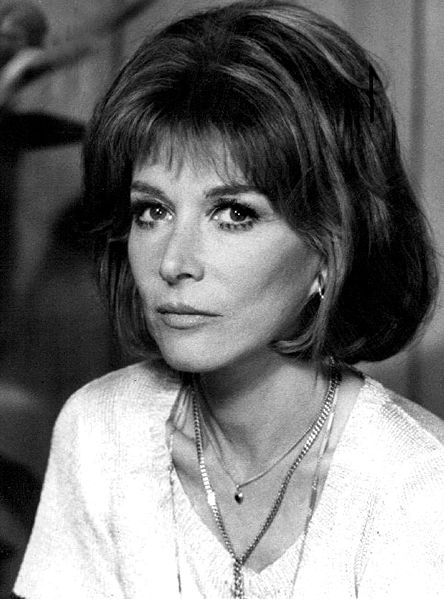 Lee Grant
Birth name:
Lyova Haskell Rosenthal
Born:
October 31, 1926
Age:
97
Birthplace:
New York City, New York, U.S.
Popularity:

Please login to contact Lee Grant...
Biography
Lee Grant (born Lyova Haskell Rosenthal; October 31, during the mid-1920s)[a] is an American actress and film director.
In her 1951 film debut, she played the role of a young shoplifter in William Wyler's Detective Story, co-starring Kirk Douglas and Eleanor Parker. It earned her an Oscar nomination for Best Supporting Actress, along with the Best Actress Award at the 1952 Cannes Film Festival.
In 1952, as she had refused to testify against her husband at the HUAC hearings, she was blacklisted from most acting jobs for the next ten years. She was then only able to find occasional work on the stage or as a teacher during that period. It also contributed to her divorce. After she was removed from the blacklist in 1962, she rebuilt her acting career in films, after which she starred in 71 TV episodes of Peyton Place (1965-1966), followed by lead roles in films such as Valley of the Dolls (1967), In the Heat of the Night (1967), and Shampoo (1975), for which she won her first Oscar. In 1964, she won the Obie Award for Distinguished Performance by an Actress for her performance in The Maids. During her career, she was nominated for the Emmy Award seven times between 1966 and 1993, winning twice.
Lee Grant was born Lyova Haskell Rosenthal[1][2] in Manhattan, the only child of Witia (née Haskell), an actress and teacher, and Abraham W. Rosenthal, a realtor and educator. Her father was born in New York City, to Polish-Jewish immigrants, and her mother was a Russian-Jewish immigrant.[3] The family resided at 706 Riverside Drive, in the Hamilton Heights neighborhood of Manhattan.[4] Her date of birth is October 31, but the year is disputed, with all years ranging from 1925 to 1931 having been given as her year of birth at some point; however, census data, travel manifests, and testimony suggest that she was born in 1925 or 1926, while Grant's stated ages at the time of her professional debut and Oscar nomination indicate she was born in 1927.[a]
She debuted in L'Oracolo at the Metropolitan Opera in 1931[5][6] and later joined the American Ballet as an adolescent.[7] She attended Art Students League of New York, Juilliard School of Music, The High School of Music & Art, and George Washington High School, all in New York City. Grant graduated from high school, and won a scholarship to the Neighborhood Playhouse School of the Theatre, and studied under Sanford Meisner. She subsequently enrolled in Actors Studio in New York.
Read more...
Career
1940s-1950s
Grant had her first stage ballet performance in 1933 at the Metropolitan Opera House.[8] In 1938, in her early teens, she was made a member of the American Ballet, under George Balanchine.[8] As an actress, Grant had her professional stage debut as understudy in Oklahoma in 1944. In 1948, she had her Broadway acting debut in Joy to the World. Grant established herself as a dramatic method actress on and off Broadway, earning praise for her role as a shoplifter in Detective Story in 1949.[9]
She made her film debut two years later in the film version (Detective Story), starring Kirk Douglas, receiving her first Academy Award for Best Supporting Actress nomination, and winning the Best Actress Award at the Cannes Film Festival.[10] She said she enjoyed working under director William Wyler, who helped guide her.[11]
But as quickly as that dream unfolded, her life soon turned into a nightmare... So right when her career should have been blooming, she was banned from working in Hollywood. And that ban lasted for twelve years, a lifetime for an actor.
Robert Osborne, Turner Classic Movies interview[12]
In 1951, she gave an impassioned eulogy at the memorial service for actor J. Edward Bromberg, whose early death, she implied, was caused by the stress of being called before House Un-American Activities Committee (HUAC). After her eulogy was published, she was summoned by the same committee to testify against her husband, playwright Arnold Manoff, but refused. As a result, for the next ten years, her "prime years", as she put it,[13] she was blacklisted and her work in television and movies was limited.[14]
Kirk Douglas, who acted with her in Detective Story, recalled that director Edward Dmytryk, a blacklistee, had first named her husband at the HUAC:
Lee was only a kid, a beautiful young girl with extraordinary talent and a big future. You could see it. She was so good that she earned a Best Supporting Actress nomination for her very first film role. But because Eddie Dmytryk named her husband, Lee Grant was blacklisted before her film career even had a chance to begin. Of course, she refused to testify about the man to whom she was married, and it took years before anyone would hire her for another picture.[15]
Grant appeared in a limited number of stage and television shows during these years. In 1953, she played Rose Peabody on the CBS soap opera, Search for Tomorrow. In the Broadway production of Two for the Seesaw in 1959, she succeeded Anne Bancroft in the lead female role.[16]
1960s
Grant in 1961
By the time her name was finally removed from the blacklist in the early 1960s, she had since been divorced, remarried, and had a young daughter, Dinah. She began re-establishing her television and movie career. In her autobiography, she writes:
Dinah was my grail, my constant; nothing and no one could get between us. Dinah and my need to support her financially, morally, viscerally, and my rage at those who had taken twelve working, acting years from my life, were what motivated me.[17]
Her experience with the blacklist scarred her to such an extent that as late as 2002, she would freeze and go into a "near trance" when anyone asked her about her experiences during the McCarthy period.[18]
Grant's first major achievement, after HUAC officially cleared her, was in the 1960s television series Peyton Place, as Stella Chernak, for which she won an Emmy in 1966. In 1967, Grant appeared in an episode of Mission Impossible, portraying the wife of a U.S. diplomat who goes undercover to discredit a rogue diplomat. That same year, she played the distraught widow of a murder victim in the Oscar-winning In the Heat of the Night. In 1963, she won acclaim for her stage performance in the off-Broadway production of Jean Genet's The Maids.[8][19]
1970s
She received subsequent Academy Award nominations for the dramas The Landlord (1970) and Voyage of the Damned (1976). Her acting range extended into comedy equally well, notably in several roles as an overbearing mother. In Plaza Suite (1971), a comedy directed by Arthur Hiller and written by Neil Simon, she played the harassed mother of a bride, with Walter Matthau as the father. The film was followed by another comedy role as the mother in Portnoy's Complaint (1972).
Also in 1971, she played cold-blooded killer Leslie Williams on the second episode ("Ransom for a Dead Man") of the Peter Falk series Columbo. She would appear with Falk again on Broadway Prisoner of Second Avenue, whose playwright Neil Simon said that his "first and only choice" for the part was Grant, who he said was equally at home with dramatists such as Chekhov or Sidney Kingsley, yet could also be "hilariously funny" when the script called for it, as she was able to portray essential honesty in her acting.[20]
Among her most notable roles was as Warren Beatty's older lover in Shampoo (1975), for which she won an Oscar for Best Supporting Actress. The film received mixed reviews, but was Columbia's biggest hit in the studio's 50-year history.[21] Shampoo was the second film in which Grant acted under director Hal Ashby. Critic Pauline Kael, comparing her in both films, noted Grant "is such a cool-style comedienne that she's in danger of having people say that she's good, as usual."[22] During the filming, however, she did have some serious disagreements with Beatty, who was also the producer, and nearly quit. During one scene, she wanted to play it in a way she felt was more realistic from a woman's perspective, but Beatty disagreed. After thinking about the scene for a few days, she told director Ashby that she could not do it Beatty's way and was quitting. As she was walking out, Beatty stopped her, and asked what was wrong. "I sat down and told him", she said. "He threw up his hands and said, 'Play it your way. What do I know? I'm a man.'"[23]
Grant in 1975
Despite the success of the film, Grant was feeling less secure in Hollywood, as she was then around fifty years old. She writes:
I was becoming my own worst enemy as an actor, traumatized onstage and fixated on staying young so I could keep working in film. A woman of a certain age does not play in movies or TV; we're kicked to the side or out. And I was a woman of a certain age, terrified I'd be found out and unemployed again.[17]
In March 1971, Grant appeared in the Columbo episode "Ransom for a Dead Man"', and was nominated for an Emmy as Outstanding Lead Actress - Miniseries or a Movie. Having been nominated for two performances in the same acting category, she received the award for her other Emmy-nominated performance in the television film, The Neon Ceiling. The only other nominee was Colleen Dewhurst; in Grant's acceptance speech, she wryly noted, "I must thank Colleen Dewhurst since it takes two of me to equal one of her."[citation needed]
During the 1975-76 television season, she starred in the NBC sitcom Fay, which, to her chagrin, was canceled after eight episodes. She made a guest appearance on Empty Nest, in which her daughter Dinah Manoff co-starred. In 1978 she was the lead actress in the sequel, Damien: Omen II.
Grant successfully moved into directing when she directed the stage play, The Stronger, in 1976, written by August Strindberg.
1980s-1990s
In 1980, Grant directed her first film, Tell Me a Riddle, a story about an aging Jewish couple. That debut narrative film was followed by a widely distributed documentary film, "The Willmar 8", which profiled 8 female employees of a bank in Willmar, Minnesota who went on strike to protest pay inequities between male and female bank tellers. She starred a HBO remake of Plaza Suite in 1982, costarring Jerry Orbach, both playing three different characters in three acts. It was filmed before a live audience.[24][25]
Grant at the premiere of
F.I.S.T.
(April 1978)
Actor Bruce Dern, who played alongside her in The Big Town (1987), recalls working with her: "Lee Grant is a fabulous actress. Anytime she works it's a blessing you have her in your movie."[26] She directed several documentary films, including Down and Out in America (1986) which won the Academy Award for Documentary Feature. That same year, she directed Nobody's Child, a television movie starring Marlo Thomas about a woman confined to a mental institution for twenty years.[27] For her direction, Grant became the first female director to win the Directors Guild of America Award.[14]
In 1988, she was awarded the Women in Film Crystal Award for outstanding women who through their endurance and the excellence of their work have helped to expand the role of women within the entertainment industry.[28]
Admiring her directing and acting skill, actress Sissy Spacek agreed to act in Hard Promises (1991) "only to work with Grant", although Grant was later replaced as its director.[29] In 1992, Grant played Dora Cohn, the mother of Roy Cohn in the biographical made-for-TV film Citizen Cohn, which garnered her yet another Primetime Emmy Award nomination.
2000s-present
In 2001, Lee Grant portrayed Louise Bonner in David Lynch's critically acclaimed Mullholland Drive. From 2004 to 2007, Carlin Glynn, Stephen Lang, and Grant served as co-artistic directors for the Actors Studio.[30] In the early 2000s, Grant directed a series of Intimate Portrait episodes for Lifetime Television, that celebrated a diverse range of accomplished women.
In 2013 she returned to the stage, after a nearly forty-year absence, to star in The Gin Game, part of a benefit for improvement programs at the Island Music Guild. Grant played Fonsia Dorsey opposite Frank Buxton as Weller Martin; her daughter Dinah Manoff directed the production.[31]
Filmography
Actress
Year
Film
Role
Notes
1951
Detective Story
Shoplifter
1953-1954
Search for Tomorrow
Rose Peabody #1
1955
Storm Fear
Edna Rogers
1959
Middle of the Night
Marilyn
1963
The Balcony
Carmen
An Affair of the Skin
Katherine McCleod
1964
Pie in the Sky
Suzy
Filmed in 1962, but distribution problems postponed theatrical release until 1964. Retitled "Terror in the City".
The Fugitive
Millie Hallop
episode-"Taps for a Dead War"
1965-1966
Peyton Place
Stella Chernak
appeared in 71 episodes (8/19/1965-3/28/1966)
1967
Divorce American Style
Dede Murphy
In the Heat of the Night
Mrs. Leslie Colbert
Valley of the Dolls
Miriam
The Big Valley
Rosie Williams
1968
Buona Sera, Mrs. Campbell
Fritzie Braddock
Judd, for the Defense
Kay Gould
1969
The Big Bounce
Joanne
Marooned
Celia Pruett
1970
The Landlord
Joyce Enders
There Was a Crooked Man...
Mrs. Bullard
1971
Columbo: Ransom for a Dead Man
Leslie Williams
The Neon Ceiling
Carrie Miller
The Last Generation
archive footage
Plaza Suite
Norma Hubley
1972
Portnoy's Complaint
Sophie Portnoy
1974
The Internecine Project
Jean Robertson
1975
Shampoo
Felicia Karpf
Fay
Fay Stewart
1976
Voyage of the Damned
Lillian Rosen
1977
Airport '77
Karen Wallace
The Spell
Marilyn Matchett
1978
Damien: Omen II
Ann Thorn
The Swarm
Anne MacGregor
The Mafu Cage
Ellen
1979
When You Comin' Back, Red Ryder?
Clarisse Ethridge
1980
Little Miss Marker
The Judge
1981
Charlie Chan and the Curse of the Dragon Queen
Mrs. Lupowitz
The Willmar 8
1982
Visiting Hours
Deborah Ballin
1984
Billions for Boris
Sascha Harris
Constance
Mrs. Barr
Teachers
Dr. Donna Burke
1985
Sanford Meisner: The American Theatre's Best Kept Secret
Herself
Documentary
1987
The Big Town
Ferguson Edwards
1991
Defending Your Life
Lena Foster
1992
Something to Live for: The Alison Gertz Story
Carol Gertz
TV film
Earth and the American Dream
Narrator
Citizen Cohn
Dora Marcus Cohn
1996
It's My Party
Amalia Stark
The Substance of Fire
Cora Cahn
Under Heat
Jane
2000
Dr. T & the Women
Dr. Harper
The Amati Girls
Aunt Spendora
2001
Mulholland Drive
Louise Bonner
2005
The Needs of Kim Stanley
Herself
Going Shopping
Winnie
Director
Year
Production
Notes
1975
For the Use of the Hall
TV film
1976
The Stronger
short subject
1980
Tell Me a Riddle
1981
The Willmar 8
Documentary
1984
A Matter of Sex
TV film
1985
What Sex Am I?
Documentary
ABC Afterschool Special
Cindy Eller: A Modern Fairy Tale (TV episode)
1986
Nobody's Child
TV film - DGA Award
Down and Out in America
Documentary (also narrator)
1989
Staying Together
No Place Like Home
TV film
1994
When Women Kill
Documentary
Seasons of the Heart
TV film
Following Her Heart
TV film
Reunion
TV film
1997
Say It, Fight It, Cure It
TV film
1999
Confronting the Crisis: Childcare in America
TV film
2000
American Masters
Sidney Poitier: One Bright Light
The Loretta Claiborne Story
TV film
2001
The Gun Deadlock
TV film
2004
Biography
Melanie Griffith
2000-2004
Intimate Portrait
43 episodes
2005
... A Father... A Son... Once Upon a Time in Hollywood
TV film
[ Source: Wikipedia ]