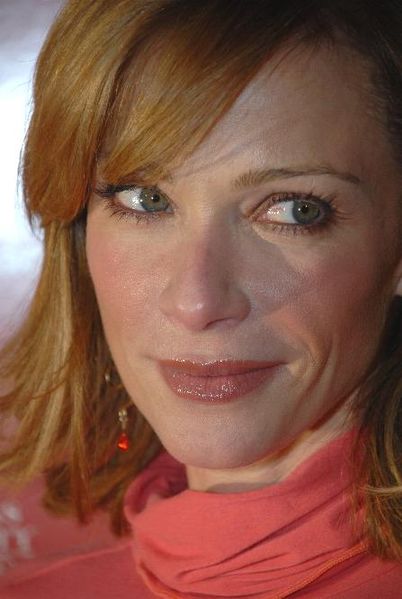 Lauren Holly
Born:
October 28, 1963
Age:
60
Birthplace:
Bristol, Pennsylvania, U.S.
Popularity:

Please login to contact Lauren Holly...
Biography
Lauren Michael Holly (born October 28, 1963) is a Canadian-American actress. She is known for her roles as Deputy Sheriff Maxine Stewart in the television series Picket Fences, Director Jenny Shepard in the series NCIS, and Dr. Betty Rogers on Canadian series Motive; as well as playing Mary Swanson in Dumb and Dumber, Linda Lee in Dragon: The Bruce Lee Story, Darian Smalls in Beautiful Girls, Cindy Rooney in Any Given Sunday, and Gigi in What Women Want.
Holly was born in Bristol, Pennsylvania.[1] Her mother, Michael Ann Holly, is an art historian and the Starr Director of Research and Academic Program at the Sterling and Francine Clark Art Institute,[2] and former professor at Hobart and William Smith Colleges. Her father, Grant Holly, is a screenwriter and professor of literature at Hobart and William Smith Colleges.[3] She has two younger brothers: Nick and Alexander Innes Holly (1977-92). Holly was raised in Geneva, New York, and is a 1981 graduate of Geneva High School, where she was a cheerleader. In 1985, she earned an undergraduate degree in English from Sarah Lawrence College in New York.[4]
Read more...
Career
Holly with
Holly Marie Combs
(left) at the 1993 Emmy Awards
Holly's acting career began at the age of 20 when she appeared as Carla Walicki in two episodes of Hill Street Blues. At age 23, she joined the cast of the ABC television soap opera All My Children as Julie Rand Chandler (1986–1989). She portrayed the comic book character Betty Cooper in the TV movie Archie: To Riverdale and Back Again in 1990.
In 1992, Holly's big break came when she was cast as small-town Deputy Sheriff Maxine Stewart opposite veteran movie actor Tom Skerritt on CBS's Picket Fences for four seasons, appearing in every episode except one. She portrayed Linda Lee Cadwell, the wife of martial artist and actor Bruce Lee, in 1993's Dragon: The Bruce Lee Story. She appeared as Mary Swanson, Lloyd Christmas's love interest, in the 1994 Jim Carrey comedy Dumb and Dumber; a doctor in Sydney Pollack's 1995 remake of Sabrina; and Lieutenant Emily Lake in the 1996 comedy Down Periscope with Kelsey Grammer. She starred in the movie Any Given Sunday (1999).
Holly appeared in the music video for Dixie Chicks' single "Goodbye Earl" (2000). She was a member of the cast of NCIS as Director Jenny Shepard from 2005 to 2008, reuniting with her former Chicago Hope co-stars Mark Harmon and Rocky Carroll. Holly portrayed the "worldly and stunning"[5] lead medical examiner Dr. Betty Rogers, a regular character on the CTV series Motive. In 2014, she was reunited with her Picket Fences co-star, Tom Skerritt, in the movie, Field of Lost Shoes.[6] In 2015, Holly starred in Oz Perkins' horror film The Blackcoat's Daughter.[7] In February 2017, it was announced that Holly had joined Nicholas Gyeney's Seattle-based reality-drama, Ultra Low, set to begin filming the following March.[8]
Personal life
Holly lives in Oakville, Ontario, Canada with her three children; sons Henry, George, and Alexander Holly-Greco. Holly became a Canadian citizen in 2008.[9]
In 1992, Holly, her father Grant, and their families established the "A" Fund at Hobart and William Smith Colleges in memory of her brother, Alexander, about whom Holly said, "He was a boy filled with dreams, hopes, and plans. Although he was only 14 when he died, he had traveled extensively in Europe and Central America, lived in New York City and Los Angeles, and these experiences produced in him a fascination for architecture and archaeology."[10]
Filmography
Film
Year
Title
Role
Notes
1985
Seven Minutes in Heaven
Lisa
1986
Band of the Hand
Nikki
1990
The Adventures of Ford Fairlane
Jazz
1992
Live Wire
Suzie Bryant
1993
Dragon: The Bruce Lee Story
Linda Lee
1994
Dumb and Dumber
Mary Swanson
MTV Movie Award for Best Kiss
1995
Sabrina
Elizabeth Tyson
1996
Beautiful Girls
Darian Smalls
Down Periscope
Lt. Emily Lake
1997
Turbulence
Teri Halloran
A Smile Like Yours
Jennifer Robertson
1998
No Looking Back
Claudia
1999
Entropy
Claire
Any Given Sunday
Cindy Rooney
2000
The Last Producer
Frances Chadway
What Women Want
Gigi
2002
Spirited Away
Chihiro's mother
English dubbed
2004
In Enemy Hands
Mrs. Rachel Travers
2005
The Chumscrubber
Boutique Owner
Down and Derby
Kim Davis
The Godfather of Green Bay
Molly Mahoney
2006
Fatwa
Maggie Davidson
The Pleasure Drivers
Daphne Widesecker
Raising Flagg
Rachel Purdy
2009
The Least Among You
Kate Allison
Crank: High Voltage
Psychiatrist
The Perfect Age of Rock 'n' Roll
Liza Genson
2010
You're So Cupid!
Audrey Valentine
The Final Storm
Gillian Grady
Chasing 3000
Marilyn
2012
Masque
Grace
Short film
2013
Abducted
Suzanne Hollingsworth
Field of Lost Shoes
Mrs. Clinedinst
2014
The Town That Came A-Courtin
Abby Houston
2015
Marshall the Miracle Dog
Susan
Hoovey
Ruth
After the Ball
Elise
2017
The Blackcoat's Daughter
Linda
2017
Dead Shack
Neighbor
TBA
Ultra Low
Herself
Filming
Television
Year
Title
Role
Notes
1984
Hill Street Blues
Carla Walicki
2 episodes
1985
Love Lives On
Tracy
Movie
1986
Spenser: For Hire
Emily Brown
Episode: "Home Is the Hero"
1986-1989
All My Children
Julie Chandler
Unknown episodes
Nominated- Daytime Emmy Award for Outstanding Younger Actress in a Drama Series (1988)
Nominated-Soap Opera Digest Awards for Outstanding Heroine in a Drama Series (1989)
1990
Archie: To Riverdale and Back Again
Betty Cooper
Movie
1990
My Two Dads
Allison Novack
2 episodes
1991
The Antagonists
Kate Ward
Episode: "Con Safos"
1992
Fugitive Among Us
Suzie Bryant
Movie
1992-1996
Picket Fences
Maxine Stewart
87 episodes
Won - Viewers for Quality Television Award for Best Supporting Actress in a Quality Drama Series
Nominated - Screen Actors Guild Award for Outstanding Performance by an Ensemble in a Drama Series
Viewers for Quality Television Award for Best Supporting Actress in a Quality Drama Series
1994
Dangerous Heart
Carol
Movie
1998
Vig
Marybeth
Movie
1999
Fantasy Island
Heather Finn
Episode: "The Real Thing"
1999-2000
Chicago Hope
Dr. Jeremy Hanlon
22 episodes
2001
Destiny
Unknown
Movie
Jackie, Ethel, Joan: The Women of Camelot
Ethel Kennedy
Movie
Nominated - Satellite Award for Best Supporting Actress - Series, Miniseries or Television Film
Becker
Laura
Episode: "The Buddy System"
2002
Providence
Darla Rosario
Episode: "The Heart of the Matter"
King of Texas
Mrs. Rebecca Lear Highsmith
Movie
Living with the Dead
James' Wife
Movie
Santa Jr.
Susan Flynn
Movie
2003
CSI: Miami
Hayley Wilson
Episode: "Grand Prix"
2004
Just Desserts
Grace Carpenter
Movie
Caught in the Act
Jodie Colter
Movie
2005
Bounty Hunters
Tess
Movie
2005-2008
NCIS
NCIS Director Jenny Shepard
Main role (48 episodes)
2009
Leverage
Ms. Tobey Earnshaw
Episode: "The Juror #6 Job"
Before You Say I Do
Mary Brown
Movie
Too Late to Say Goodbye
Heather
Movie
2010
Covert Affairs
Madeline Jarvis
Episode: "Houses of the Holy"
Flashpoint
Jill Hastings
Episode: "Acceptable Risk"
The Town Christmas Forgot
Annie Benson
Movie
Call Me Mrs. Miracle
Lindy Lowe
Movie
2010-2012
The Adventures of Chuck & Friends
Haulie (voice)
14 episodes
2011
Rookie Blue
Superintendent Elaine Peck
Episode: "In Plain View"
2011
Scream of the Banshee
Prof. Isla Whelan
Movie
2012
Lost Girl
Sadie
Episode: "Midnight Lamp"
Alphas
Senator Charlotte Burton
3 episodes
Layover
Suzanne Hollingsworth
Movie
Do No Harm
Dr. Thorne
Movie
2013-2016
Motive
Dr. Betty Rogers
Main role
2015
A Country Wedding
Margaret
Hallmark movie
2016
My Summer Prince
Deidre Kelly
Hallmark movie
2017
Lucifer
Roxie Pagliani
Episode:"Vegas with Some Radish"
2018
Good Witch
Melanie Anderson
Episode: "How To Make A Middleton Quit"
2018
My Perfect Romance
Adele
Movie
[ Source: Wikipedia ]