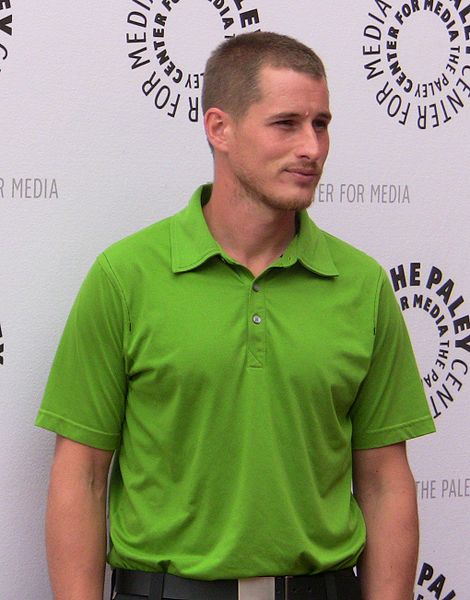 Brendan Fehr
Birth name:
Brendan Jacob Joel Fehr
Born:
October 29, 1977
Age:
43
Birthplace:
New Westminster, British Columbia, Canada
Popularity:

Please login to contact Brendan Fehr...
Biography
Brendan Jacob Joel Fehr (born October 29, 1977) is a Canadian film and television actor, perhaps best known for portraying Michael Guerin in the WB television series Roswell, and for portraying Laboratory Tech Dan Cooper in CSI: Miami. In 2008, Fehr won a Gemini Award for "Hottest Canadian Male TV Star". Fehr also played Dr. Drew Alister on the NBC drama The Night Shift, and Lance Montgomery on Days of Our Lives.
Fehr was born October 29, 1977, in New Westminster, British Columbia, to a mother who worked as a correctional case manager and a father who was a yacht manufacturer.[1][2] He moved to Winnipeg, Manitoba in 1990, and was raised a strict Mennonite.[3] He graduated in 1995 from Mennonite Brethren Collegiate Institute.
Read more...
Career
Fehr has modeled for Levi's, Calvin Klein, Emporio Armani, and DKNY Jeans, and his pictures appeared in magazines. In 1996, he was cast in an early internet soap opera, CR6. Fehr broke into television in 1997 when he was cast in Breaker High. He enjoyed a regular role on the Sci-Fi TV series Roswell from 1999 to 2002. In 2001, Fehr starred in the U2 video "Stuck in a Moment You Can't Get Out Of". He plays a rookie football player named Paul Hewson (Bono's real name), who blows what would have been the game winning kick in an American football game as the ball hit the goal post. Fehr also appeared in Vanessa Carlton's video "Pretty Baby".
In 2008, Fehr starred as Jake Stanton in the ABC mini-series Samurai Girl, and had a recurring role as the character Jared Booth on Bones. In 2011, Fehr played a businessman in A Christmas Kiss and the navigator of a U.S. warship in the movie X-Men First Class. He also guest-starred in two episodes of Nikita (TV series).
In 2014, Fehr began playing the role of Dr. Drew Alister, an Army vet and surgeon at a San Antonio hospital, in the NBC drama The Night Shift. The show was renewed for a fourth season, which took place in 2017.[4]
Personal life
Fehr was in a relationship with, and was engaged briefly to, his Roswell costar and onscreen love interest Majandra Delfino between 2001 and 2003. He currently lives in between Los Angeles, California and Albuquerque, New Mexico with his wife, Jennifer Rowley, whom he married in July 2006. The couple has three daughters: James Olivia (b. March 26, 2008), Ellison Jane (b. January 23, 2011) and Ondine Carda Kitty (b. January 18, 2013).[5]
Filmography
Film
Year
Title
Role
Notes
1998
Hand
Hart
Disturbing Behavior
Brendan - Motor Jock
2000
Christina's House
Eddy Duncan
Final Destination
George Waggner
2001
Kill Me Later
Billy
The Forsaken
Nick
2002
Long Shot
Danny
Edge of Madness
Simon Herron
2003
Biker Boyz
Stuntman
Nemesis Game
Dennis Reveni
2004
Childstar
Chip Metzger
Sugar
Butch
2005
The Long Weekend
Edward 'Ed' Waxman
2006
Comeback Season
Paul
2007
The Fifth Patient
Vince Callow
2008
The Other Side of the Tracks
Josh
2010
Fort McCoy
Sgt. Dominic Rossi
2011
X-Men: First Class
American Soldier aboard Fleet vessel
Communications officer
2012
Silent Night
Deputy Jordan
2012
Roswell FM
Jay Rathbone
2013
Only I
Orion Smith
2013
13 Eerie
Daniel
2014
Guardians of the Galaxy
Rhomann Dey's Partner
Television
Year
Title
Role
Notes
1997
Breaker High
Price Montague
Episode: "Tamara Has Two Faces"
1998
Every Mother's Worst Fear
Alan
TV movie
Night Man
Eric
Episode: "It Came from Out of the Sky"
Perfect Little Angels
Mitch Furress
TV movie
1998, 1999
Millennium
Kevin Galbraith / Nick Carfagna
Episodes: "The Pest House", "Collateral Damage"
1999
The New Addams Family
Sam Sedgwick
Episode: "Wednesday's Crush"
Our Guys: Outrage at Glen Ridge
Barry Bennett
TV movie
1999-2002
Roswell
Michael Guerin
Main role, 61 episodes
2005-2008
CSI: Miami
Dan Cooper
Recurring role, 35 episodes
2008
Samurai Girl
Jake Stanton
Miniseries
2008-2010
Bones
Jared Booth
Recurring role, 5 episodes
2010
The Cutting Edge: Fire and Ice
James McKinsey
TV movie
Ice Quake
Michael Webster
TV movie
CSI: NY
Al Branson
Episode: "Tales from the Undercard"
2011
And Baby Will Fall
David Rose
TV movie
A Christmas Kiss
Adam Hughes
TV movie
2011-2012
Nikita
Steven
Episodes: "Coup de Grace", "Dead Drop"
2012
Adopting Terror
Kevin Anderson
TV movie
2013
Longmire
Greg Collette
Episode: "Carcasses"
2014
House of Secrets
Tyler Jordan
TV movie
2014-2017
The Night Shift
Dr. Drew Alister
Main role
2016-2017
Better Call Saul
Bauer
Episodes: "Fifi", "Mabel"
2016
Real Detective
Detective Mike Ciesinsky
Episode: "Vengeance"
2017
Wynonna Earp
Ewan
Recurring role, 4 episodes
2017
Wrapped Up in Christmas
Ryan McKee
TV movie
2018
Days of Our Lives
Lance Montgomery
TV series
Awards and nominations
Saturn Award
2001: Nominated, "Best Supporting Actor on Television" - Roswell
Gemini Award
2008: Won, "Hottest Canadian Male Star"
Genie Award
2005: Nominated, "Best Performance by an Actor in a Supporting Role"
Teen Choice Awards
2000: Nominated, "Choice Sidekick" - Roswell
2001: Nominated, "Choice Sidekick" - Roswell
[ Source: Wikipedia ]