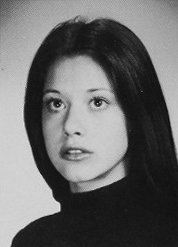 Lorraine Bracco
Born:
October 2, 1954
Age:
67
Birthplace:
Brooklyn, New York, U.S.
Popularity:

Please login to contact Lorraine Bracco...
Biography
Lorraine Bracco (born October 2, 1954)[1] is an American actress. She is best known for her performances as Dr. Jennifer Melfi on the HBO series The Sopranos, and as Karen Friedman Hill in the 1990 Martin Scorsese film Goodfellas, for which she was nominated for the Academy Award for Best Supporting Actress.
Bracco was born in the Brooklyn neighborhood of Bay Ridge. She is the daughter of Eileen (née Molyneux 1926-2010) and Salvatore Bracco, Sr. She has a sister,
Elizabeth Bracco
, and brother, Salvatore Jr. Her mother was from England and met her father during World War II. Eileen came with Salvatore to the United States as a war bride.[2][3] Bracco grew up in Westbury, on Maxwell Drive on Long Island. She graduated from Hicksville High School in 1972. Her father was of Italian descent, while her mother was born in England to French parents.[4][5] Bracco is fluent in English, French and Italian.
Read more...
Career
In 1974, Bracco moved to France, where she became a fashion model for Jean-Paul Gaultier. She lived there for about a decade.[6]
While still modeling, Bracco was approached by Marc Camoletti who offered her a major role in the film adaptation of one of his plays, Duos sur canapé (1979). Bracco did not imagine that she could be an actress and initially refused. She eventually made the film, but found the experience "boring" and her performance "terrible". Nevertheless, she played supporting roles in two other French films "for the money". After a friend of hers had suggested that she might enjoy acting if she took some training, she followed seminars with John Strasberg. Although she loved the lessons, she was still unsure of her talents.[7]
During the 1980s, she also worked as a disc jockey for Radio Luxembourg. She appeared as Paul Guilfoyle's hostage in the first season Crime Story episode, "Hide and Go Thief". Her sister Elizabeth played a hostage in the series pilot. Eventually, Italian director and novelist Lina Wertmüller gave Bracco a small part in the film Camorra. "She dressed me up like an Italian woman of no means. A street woman clad in disheveled clothes, hair unkempt and all that, and threw me on the set. She was so creative. I mean, Lina accentuated my eyes with dark make-up, the way Sophia Loren used to appear in those epic roles in the '60s. And talk about talent. She's so bright and perceptive. I mean, she's just fantastic. And yes, I learned a lot from her. She's a master of her profession, and I've been blessed not only with her, but also with so many masters," recounted Bracco to Daniel Simone during a 2007 interview. The experience inspired Bracco to pursue acting.[6]
Her other films include Someone to Watch Over Me, Riding in Cars with Boys, The Basketball Diaries, Medicine Man, Radio Flyer and Hackers.
Bracco got her big career break when she was offered the role of mobster-wife Karen Hill in Goodfellas, which earned her an Academy Award nomination for Best Supporting Actress and a Golden Globe nomination for Best Supporting Actress - Motion Picture. She won the Los Angeles Film Critics Association Award for Best Supporting Actress and the Chicago Film Critics Association Award for Best Supporting Actress.
Bracco is the owner of Bracco Wines, with association of Straight-Up Brands LLC.[8] Her line of wines was featured on the Season 1 finale of Bravo's show Top Chef in 2006. She appeared as a guest judge for the two-episode finale.[9] She also appeared as a special judge on Top Chef: All Stars in the episode titled "An Offer They Can't Refuse", which featured Italian cuisine.[10] Bracco appeared on a season 6 episode of Throwdown! with Bobby Flay as a guest judge for the ravioli throwdown.[11]
During the audition process for The Sopranos, David Chase wanted her to read for the lead female role of Carmela Soprano. However, Bracco had read the script and was drawn to the part of psychiatrist Dr. Jennifer Melfi. Bracco felt strongly enough about her ability and desire to play this part that she arranged a meeting with David Chase and talked him into letting her have a chance as Dr. Melfi.[12] It netted her three consecutive nominations for Outstanding Lead Actress in a Drama Series at the Emmy Awards in 1999, 2000 and 2001 and at the Golden Globe awards for Best TV Actress in a Drama in 2000, 2001 and 2002. She lost out at the Emmys in 1999 and 2001 and at the Golden Globes in 2000 to her co-star Edie Falco. She was nominated again at the 2007 Emmy Awards for Outstanding Supporting Actress in a Drama Series, thus being pitted against The Sopranos co-star Aida Turturro for the award.
In October 2015, it was announced that Bracco would guest star opposite Adrien Brody on the upcoming Showtime comedy series Dice.[13] She will be starring alongside Luke Goss, Marion Cotillard, Bryce Dallas Howard, Gina Carano, Ronda Rousey, T.J. Miller, Michelle Rodriguez, Dominic Monaghan, Dolph Lundgren and Rachel McAdams in Bravo Two Zero.
Personal life
Bracco married Daniel Guerard in 1979, divorcing in 1982. They have one daughter, Margaux Guerard.[14] She was in a 12-year relationship with actor Harvey Keitel, whom she met while living in Paris. They have one daughter, Stella Keitel (b. 1985). Bracco and Keitel fought a lengthy custody battle over Stella, resulting in Bracco's depression, a loss of acting roles, and $2 million in legal fees.[15][16] She married Edward James Olmos in 1994, divorcing in 2002.[14]
Bracco is a practitioner of Shotokan Karate.[16] In 2015, she authored a self help book To the Fullest: The Clean Up Your Act Plan to Lose Weight, Rejuvenate, and Be the Best You Can Be.[17]
Filmography
Film
Year
Title
Role
Notes
1979
Duos sur canapé
Bubble
1980
What Did I Ever Do to the Good Lord to Deserve
a Wife Who Drinks in Cafes with Men?
(Mais qu'est-ce que j'ai fait au bon Dieu pour avoir une femme
qui boit dans les cafés avec les hommes ?)
Barbara
1981
Fais gaffe à la gaffe!
Margaux
1985
Camorra
(Un complicato intrigo di donne, vicoli e delitti)
(uncredited)
1987
The Pick-Up Artist
Carla
Someone to Watch Over Me
Ellie Keegan
1989
Sing
Miss Lombardo
The Dream Team
Riley
Up to Date
Sheila
Sea of Love
Denice Gruber
Scenes deleted
1990
Goodfellas
Karen Friedman Hill
Chicago Film Critics Association Award for Best Supporting Actress
Los Angeles Film Critics Association Award for Best Supporting Actress
New York Film Critics Circle Award for Best Supporting Actress
Nominated—Academy Award for Best Supporting Actress
Nominated—Golden Globe Award for Best Supporting Actress - Motion Picture
1991
Talent for the Game
Bobbie
Switch
Sheila Faxton
1992
Medicine Man
Dr. Rae Crane
Nominated—Golden Raspberry Award for Worst Actress
Radio Flyer
Mary
Traces of Red
Ellen Schofield
Nominated—Golden Raspberry Award for Worst Actress
1993
Even Cowgirls Get the Blues
Delores Del Ruby
1994
Being Human
Anna
1995
The Basketball Diaries
Mrs. Carroll
Hackers
Margo Wallace
1996
The Liars
(Les Menteurs)
Helene Miller
1997
Silent Cradle
Helen Greg
2000
Ladies Room
Gemma
2001
Riding in Cars with Boys
Mrs. Teresa Donofrio
Tangled
Det. Anne Andersle
2003
Death of a Dynasty
Enchante R&B Singer #2
2005
Crazy for Love
Sheila
2011
Son of Morning
Leda
2012
The Bensonhurst Spelling Bee
Unknown
Short film
2016
Monday Nights at Seven
Damian Robertson
Television
Year
Title
Role
Notes
1980
Commissaire Moulin
Jenny
Episode: "Le transfuge"
1986
Crime Story
Hostage
Episode: "Hide and Go Thief"
1993
Scam
Maggie Rohrer
Television movie
1994
Getting Gotti
Diane Giacalone
Television movie
1996
Reckoning
Kits Maitland
Television movie
1998
The Taking of Pelham One Two Three
Det. Ray
Television movie
1999-2007
The Sopranos
Dr. Jennifer Melfi
69 episodes
Screen Actors Guild Award for Outstanding Performance by an Ensemble in a Drama Series
Nominated—Golden Globe Award for Best Actress - Television Series Drama
Nominated—Primetime Emmy Award for Outstanding Lead Actress in a Drama Series
Nominated—Primetime Emmy Award for Outstanding Supporting Actress in a Drama Series
Nominated—Satellite Award for Best Actress - Television Series Drama
Nominated—Screen Actors Guild Award for Outstanding Performance by a Female Actor in a Drama Series
Nominated—Screen Actors Guild Award for Outstanding Performance by an Ensemble in a Drama Series
2001
Sex in Our Century
Narrator
Television movie
2003
Custody of the Heart
Claire Raphael
Television movie
2005
Law & Order: Trial by Jury
Karla Grizano
Episode: "Vigilante"
2007
Snowglobe
Rose Moreno
Television movie
2008
Long Island Confidential
Norah Larkin
Television movie
Lipstick Jungle
Janice Lasher
2 episodes
2010
Law & Order: Criminal Intent
Halfway House Matron
Episode: "Disciple"
2010-2016
Rizzoli & Isles
Angela Rizzoli
101 episodes
2011
I Married a Mobster
Narrator
10 episodes
2011
Top Chef
Herself/Guest Judge
1 episode
2014
Mulaney
Vaughn
Episode: "Sweet Jane"
2016
Dice
Toni
2 episodes
BoJack Horseman
Dr. Janet (voice)
2 episodes
2017-2018
Blue Bloods
Mayor Margaret Dutton
6 episodes
Awards and nominations
Year
Association
Category
Nominated work
Result
1990
Los Angeles Film Critics Association Awards
Best Supporting Actress
Goodfellas
Nominated
New York Film Critics Circle Awards
Best Supporting Actress
Nominated
1991
Academy Awards
Best Supporting Actress
Nominated
Chicago Film Critics Association Awards
Best Supporting Actress
Won
Golden Globe Awards
Best Supporting Actress - Motion Picture
Nominated
1993
Razzie Awards
Worst Actress
Medicine Man
Nominated
Traces of Red
Nominated
1999
Primetime Emmy Awards
Outstanding Lead Actress in a Drama Series
The Sopranos
Nominated
2000
Golden Globe Awards
Best Actress - Television Series Drama
Nominated
Primetime Emmy Awards
Outstanding Lead Actress in a Drama Series
Nominated
Satellite Awards
Best Actress - Television Series Drama
Nominated
Screen Actors Guild Awards
Outstanding Performance by a Female Actor in a Drama Series
Nominated
Outstanding Performance by an Ensemble in a Drama Series
Won
2001
Golden Globe Awards
Best Actress - Television Series Drama
Nominated
Primetime Emmy Awards
Outstanding Lead Actress in a Drama Series
Nominated
Screen Actors Guild Awards
Outstanding Performance by an Ensemble in a Drama Series
Nominated
2002
Golden Globe Awards
Best Actress - Television Series Drama
Nominated
Screen Actors Guild Awards
Outstanding Performance by a Female Actor in a Drama Series
Nominated
Outstanding Performance by an Ensemble in a Drama Series
Nominated
2003
Outstanding Performance by a Female Actor in a Drama Series
Nominated
Outstanding Performance by an Ensemble in a Drama Series
Nominated
2005
Outstanding Performance by an Ensemble in a Drama Series
Nominated
2007
Primetime Emmy Awards
Outstanding Supporting Actress in a Drama Series
Nominated
Screen Actors Guild Awards
Outstanding Performance by an Ensemble in a Drama Series
Nominated
2008
Monte-Carlo Television Festival
Outstanding Actress - Drama Series
Nominated
Screen Actors Guild Awards
Outstanding Performance by an Ensemble in a Drama Series
Won
Bibliography
On the Couch (Putnam Adult, 2006) ISBN 0-399-15356-X
To the Fullest: The Clean Up Your Act Plan to Lose Weight, Rejuvenate, and Be the Best You Can Be (Rodale Books, 2015) ISBN 0399199608
[ Source: Wikipedia ]