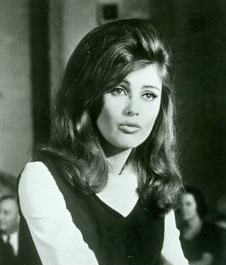 Pamela Tiffin
Birth name:
Pamela Tiffin Wonso
Born:
October 13, 1942
Age:
81
Birthplace:
Oklahoma City, Oklahoma, U.S.
Popularity:

Please login to contact Pamela Tiffin...
Biography
Pamela Tiffin Wonso (born October 13, 1942), better known as Pamela Tiffin, is a retired American film actress.
Tiffin was born in Oklahoma City of Russian and British ancestry, [1] but grew up in Chicago, where she achieved success as a teen model. She attended Hunter College and moved to New York. Soon she was discovered by Hollywood producer Hal Wallis and cast in a film version of the play
Summer and Smoke
by playwright Tennessee Williams.
Tiffin then starred opposite screen legend James Cagney in the comedy One, Two, Three, directed by Billy Wilder. She won a Golden Globe nomination for this film as well as for Summer and Smoke.
There were leading roles in the musical State Fair and the comedy Come Fly with Me. She co-starred with Burt Lancaster in the 1965 western The Hallelujah Trail and with Paul Newman in the private-detective film Harper in 1966.
In 1968, she co-starred with Nino Manfredi and Ugo Tognazzi one of most famous italian comedies Straziami, ma di baci saziami by Dino Risi.
The February 1969 issue of Playboy did a photo feature entitled "A Toast to Tiffin". In 1969, Pamela also co-starred as a liberal college student and the love interest to Peter Ustinov in the comedy Viva Max!. From 1965 to 1974 she appeared mainly in European exploitation films before retiring to be with her family. She appeared as herself in a 2003 documentary, Abel Ferrara: Not Guilty, opposite her daughter Echo Danon.
Tiffin starred in two teen films by American International Pictures: For Those Who Think Young with James Darren, Bob Denver, Tina Louise, Nancy Sinatra, Paul Lynde and Ellen Burstyn and The Lively Set with Darren again and Doug McClure, with film music and lyrics by Bobby Darin. Both movies were made around 1964. Tiffin also played an ingenue opposite Tony Franciosa in the film The Pleasure Seekers, which also featured Carol Lynley and Ann-Margret.
Read more...
Personal life
Pamela Tiffin has been married twice. Her first marriage was to Clay Felker, the late American magazine editor, whom she married in 1962 and divorced in 1969. Her second marriage is to Edmondo Danon, a philosopher, who is a son of the Italian movie producer Marcello Danon. They married in 1974 and have two daughters, Echo and Aurora.
Awards and nominations
| Year | Award | Category | Title of work | Result |
| --- | --- | --- | --- | --- |
| 1962 | Golden Globe | Most Promising Female Newcomer | Summer and Smoke | Nominated |
| 1962 | Golden Globe | Best Supporting Actress | One, Two, Three | Nominated |
| 1962 | Laurel Award | Top Female New Personality | | Nominated |
| 1967 | Theatre World Award | | Dinner at Eight | Won |
[ Source: Wikipedia ]