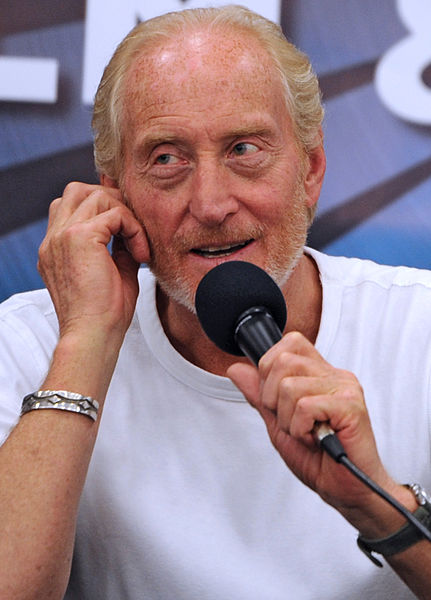 Charles Dance
Birth name:
Walter Charles Dance
Born:
October 10, 1946
Age:
77
Birthplace:
Rednal, West Midlands, England
Popularity:

Please login to contact Charles Dance...
Biography
Walter Charles Dance, OBE (born 10 October 1946) is an English actor, screenwriter, and film director. Some of his most high-profile roles are Tywin Lannister in HBO's Game of Thrones (2011-2015), Guy Perron in The Jewel in the Crown (1984), Sardo Numspa in The Golden Child (1986), Jonathan Clemens in Alien 3 (1992), Benedict in Last Action Hero (1993), the Master Vampire in Dracula Untold (2014), Lord Havelock Vetinari in Terry Pratchett's Going Postal (2010), Alastair Denniston in The Imitation Game (2014), and Emperor Emhyr var Emreis in The Witcher 3: Wild Hunt (2015).
Charles Dance was born in Rednal, West Midlands, the son of Eleanor Marion (née Perks), a cook, and Walter Dance (1874-1949), an electrical engineer who had previously served during the Boer War in South Africa.[1][2] Growing up in Plymouth, he attended Widey Technical School for Boys (it closed when known as Widey High School in 1988) in Crownhill. Dance later attended The Leicester College of Arts (now known as De Montfort University), where he studied Graphic Design and Photography.[3]
When Dance was about 3 years old, his father died. He had always thought that his father had been in his early fifties when this happened, but discovered that Walter was actually born 26 years earlier in 1874. In 2016 during filming of an episode for the genealogical series Who Do You Think You Are?.[4] Dance also discovered that through his maternal line, he is of partial Belgian ancestry, descended from a family whose roots lay in Spa. His immigrant ancestor Charles François Futvoye (1777-1847) had been a pioneer in the art of Japaning during the early half of the 19th century, and a resident of Marylebone in London.
Read more...
Career
Royal Shakespeare Company (RSC)
Dance was a member of the Royal Shakespeare Company during the mid-to-late 1970s and was in many of their productions in London and Stratford-upon-Avon. Later he returned to the RSC to take the title role in Coriolanus at Stratford-upon-Avon and Newcastle in 1989, and at the Barbican Theatre in 1990. He received rave reviews and a Critics' Circle Best Actor award for his performance as the Oxford don C. S. Lewis in William Nicholson's Shadowlands, in the 2007 stage revival.[5]
Television and film
Dance made his screen debut in 1974, in the ITV series Father Brown as Commandant Neil O'Brien in "The Secret Garden", but his big break came ten years later when he played the major role of Guy Perron in The Jewel in the Crown (Granada Television, Christopher Morahan 1984), an adaptation of Paul Scott's novels that also made stars of Geraldine James and Art Malik. He appeared in Paris Connections (2010) as the Russian oligarch Aleksandr Borinski. Dance made one of his earliest big screen appearances in the 1981 James Bond film For Your Eyes Only as evil henchman Claus. Though he turned down the opportunity to screen test for the James Bond role,[6] in 1989 he played Bond creator Ian Fleming in Anglia Television's dramatised biography directed by Don Boyd, Goldeneye (the name of Fleming's estate in Jamaica and a title later used for a James Bond film).
He has also starred in many other British television dramas such as Edward the Seventh (as dissolute Prince Albert Victor, Duke of Clarence and Avondale, Edward VII's oldest son, and heir to the throne), Murder Rooms, Randall and Hopkirk, Rebecca, The Phantom of the Opera, Fingersmith and Bleak House (for which he received an Emmy nomination for Outstanding Lead Actor in a Miniseries or a Movie). He was name-checked in the British comedy series Absolutely Fabulous, as being slated to play the title character in The Life of Jesus Christ 2, which was filming in Morocco at the same time as the main characters of the series were there for a photo shoot. He also played Guy Spencer, the pro-Hitler propagandist, in the second instalment of Foyle's War, and had an ongoing role as Dr. Maltravers in the ITV drama Trinity.[7]
Dance made a guest appearance on the BBC drama series Merlin as the Witchfinder Aredian,[8] and as a vainglorious version of himself in the third series of Jam & Jerusalem. He played Havelock Vetinari in the 2010 Sky adaptation of Terry Pratchett's Going Postal.[9] He played the role of Tywin Lannister in HBO's Game of Thrones, based on the Song of Ice and Fire novels by George R. R. Martin. Dance was wooed for the role by the producers while filming Your Highness in Belfast.[10] Dance also played Conrad Knox on the British television series Strike Back: Vengeance as the primary villain in the series.[11]
On 30 June 2013, Dance appeared with other celebrities in an episode of the BBC's Top Gear as a "Star in a Reasonably Priced Car" for the debut of the Vauxhall Astra.[12]
Dance is represented by Tavistock Wood Management.[13]
Screenwriting and directing
Dance's debut film as a writer and director was Ladies in Lavender (2004), which starred Judi Dench and Maggie Smith. In 2009, he directed his own adaptation of Alice Thomas Ellis's The Inn at the Edge of the World.
Personal life
Dance married Joanna Haythorn in 1970. They have two children.[14][15] Haythorn and Dance divorced in 2004. He and Eleanor Boorman have a daughter, Rose Boorman, though the two subsequently separated.
Dance was appointed an Officer of the Order of the British Empire (OBE) on 17 June 2006.[16]
Filmography
Film
Title
Year
Role
Director(s)
Notes
Ref(s)
For Your Eyes Only
1981
Claus
John Glen
Plenty
1985
Raymond Brock
Fred Schepisi
The Golden Child
1986
Sardo Numspa
Michael Ritchie
White Mischief
1987
Josslyn Hay
Michael Radford
Good Morning, Babylon
1987
D.W. Griffith
Paolo and Vittorio Taviani
Hidden City
1987
James Richards
Stephen Poliakoff
Pascali's Island
1988
Anthony Bowles
James Dearden
Alien 3
1992
Clemens
David Fincher
Kalkstein
1992
Surveyor
Italian film
Last Action Hero
1993
Benedict
John McTiernan
Century
1993
Professor Mandry
Stephen Poliakoff
China Moon
1994
Rupert Munro
John Bailey
Kabloonak
1994
Robert Flaherty
Claude Massot
Paris Film Festival Award for Best Actor
Shortcut to Paradise
1994
Quinn
Spanish film
Space Truckers
1996
Nabel / Macanudo
Stuart Gordon
Michael Collins
1996
Soames
Neil Jordan
The Blood Oranges
1997
Cyril
Philip Haas
What Rats Won't Do
1998
Gerald
Don't Go Breaking My Heart
1998
Frank
Willi Patterson
Hilary and Jackie
1998
Derek Du Pré
Anand Tucker
Gosford Park
2001
Raymond Stockbridge
Robert Altman
The Life and Adventures of Nicholas Nickleby
2001
Ralph Nickleby
Stephen Whittaker
Dark Blue World
2001
Wing Commander Bentley
Jan Svěrák
Black and White
2002
Roderic Chamberlain
Craig Lahiff
Ali G Indahouse
2002
David Carlton
Mark Mylod
Swimming Pool
2003
John Bosload
François Ozon
Dolls
2006
Narrator
Susan Luciani
Voice
Scoop
2006
Mr. Malcolm
Woody Allen
Starter for 10
2006
Michael Harbinson
Tom Vaughan
The Contractor
2007
DCS Andrew Windsor
Josef Rusnak
Direct-to-video
Intervention
2007
Private Investigator
The Commuter
2010
Traffic Warden
Short film to promote Nokia N8
Ironclad
2011
Archbishop Langton
Jonathan English
Your Highness
2011
King Tallious
David Gordon Green
Midnight's Children
2012
William Methwold
Deepa Mehta
Underworld: Awakening
2012
Thomas
Måns Mårlind
Björn Stein
Patrick
2013
Doctor Roget
Mark Hartley
Justin and the Knights of Valour
2013
Legantir
Manuel Sicilia
Voice
Bones of the Buddha
2013
Narrator
Voice
Viy
2013
Lord Dudley
Oleg Stepchenko
Credited as Charlz Dens
Dracula Untold
2014
Master Vampire
Gary Shore
The Imitation Game
2014
Commander Alastair Denniston
Morten Tyldum
Victor Frankenstein
2015
Frankenstein
Paul McGuigan
Michiel de Ruyter
2015
Charles II
Roel Reiné
Woman in Gold
2015
Sherman
Simon Curtis
Child 44
2015
Major Grachev
Daniel Espinosa
Pride and Prejudice and Zombies
2016
Mr. Bennet
Burr Steers
Me Before You
2016
Stephen Traynor
Thea Sharrock
Ghostbusters
2016
Harold Filmore
Paul Feig
Despite the Falling Snow
2016
Old Alexander
Shamim Sarif
Underworld: Blood Wars
2016
Thomas
Anna Foerster
Euphoria
2017
Lisa Langseth
That Good Night
2017
The Visitor
Eric Styles
Fanny Lye Deliver'd
2017
John Lye
Thomas Clay
Post-production
Johnny English Strikes Again
2018
Agent Five
David Kerr
Cameo appearance
Viy 2: Journey to China
2019
Lord Dudley
Oleg Stepchenko
Post-production
Godzilla: King of the Monsters
2019
Michael Dougherty
Filming
[17]
| | |
| --- | --- |
| | Denotes films that have not yet been released |
Television
Title
Year(s)
Role
Network
Notes
Ref.
Father Brown
1974
Commandant Neil O'Brien
ITV
Episode: "The Secret Garden"
Edward the Seventh
1975
Prince Eddy
ITV
2 episodes
The Jewel in the Crown
1984
Guy Perron
ITV
5 episodes
Out on a Limb
1987
Cpt. Truman
BBC
2 episodes
First Born
1988
Edward Forester
BBC
3 episodes
Goldeneye
1989
Ian Fleming
ITV
2 episodes
The Phantom of the Opera
1990
Erik/The Phantom
NBC
2 episodes
Rebecca
1997
Maxim de Winter
ITV
2 episodes
The Real Spartacus
2000
Narrator
Voice
Documentary
A History of Britain
2000
Winston Churchill
BBC
Voice
Episode: "The Two Winstons"
Foyle's War
2002
Guy Spencer
ITV
Episode: "The White Feather"
Henry VIII
2003
Duke of Buckingham
ITV
Television film
Saint John Bosco: Mission to Love
2004
Marquis Clementi
Television film
Fingersmith
2005
Mr. Lilly
BBC
2 episodes
Bleak House
2005
Mr. Tulkinghorn
BBC
12 episodes
To the Ends of the Earth
2005
Sir Henry Somerset
BBC
Episode: "Close Quarters"
Last Rights
2005
Richard Wheeler
Channel 4
3 episodes
Marple: By the Pricking of My Thumbs
2006
Septimus Bligh
ITV
Episode: "By the Pricking of My Thumbs"
Fallen Angel
2007
David Byfield
3 episodes
Consenting Adults
2007
John Wolfenden
BBC
Television film
Merlin
2009
Aredian
BBC
Episode: "The Witchfinder"
Trinity
2009
Dr. Edmund Maltraver
ITV2
8 episodes
Going Postal
2010
Havelock Vetinari
Sky 1
2 episodes
This September
2010
Edmund Aird
2 episodes
Game of Thrones
2011-2015
Tywin Lannister
HBO
27 episodes
[18]
Neverland
2011
Dr. Richard Fludd
Syfy
Episode: "Part 1"
Secret State
2012
John Hodder
Channel 4
4 episodes
Strike Back: Vengeance
2012
Conrad Knox
Sky 1
10 episodes
Was It Something I Said?
2013
Narrator
Channel 4
Guest (one episode)
Rosamunde Pilchers's Shades of Love
2013
Edmund Aird
The Great Fire
2014
Lord Denton
ITV
4 episodes
Childhood's End
2015
Karellen
Syfy
3 episodes
[19]
Deadline Gallipoli
2015
General Ian Hamilton
Showcase
2 episodes
And Then There Were None
2015
Justice Lawrence Wargrave
BBC One
3 episodes
The Woman in White
2018
Mr. Fredrick Fairlie
BBC 1
5 episodes
Hang Ups
2018
Jeremy Pitt
Channel 4
The Little Drummer Girl (miniseries)
2018
Picton
BBC1/AMC
4 episodes
Video games
| Title | Year(s) | Voice role | Notes | Ref. |
| --- | --- | --- | --- | --- |
| The Witcher 3: Wild Hunt | 2015 | Emperor Emhyr var Emreis | English Dub | [20][21] |
Audio Books
| Title | Year(s) | Author | Voice role | ISBN | Notes | Ref. |
| --- | --- | --- | --- | --- | --- | --- |
| The Fourth Protocol | 1985 | Frederick Forsyth | Narrator | 0886461340 | Voice | [22] |
Theatre credits
Stage
Toad of Toad Hall as Badger (1971)
The Beggar's Opera as Wat Dreary (Chichester Festival Theatre, 1972)
The Taming of the Shrew as Philip (Chichester, 1972)
Three Sisters as Soliony (Greenwich Theatre, 1973)
Hans Kohlhaus as Meissen (Greenwich, 1973)
Born Yesterday as Hotel Manager (Greenwich, 1973)
Saint Joan as Baudricourt (Oxford Festival, 1974)
The Sleeping Beauty as Prince (1974)
Travesties as Henry Carr (Leeds Playhouse, 1977)
Hamlet as Fortinbras / Reynaldo / Player (RSC The Other Place 1975; The Roundhouse, 1976)
Perkin Warbeck as Hialas / Astley / Spanish Ambassador (RSC The Other Place, 1975)
Richard III as Catesby / Murderer (RSC The Other Place, 1975)
Henry V as Henry V (RSC Glasgow and New York, 1975)
Henry IV, Part One and Henry IV, Part Two as Prince John of Lancaster (RSC Stratford, 1975; Aldwych Theatre, 1976)
As You Like It as Oliver (RSC Stratford, 1977; Aldwych, 1978)
Henry V as Scroop / Williams (RSC Stratford, 1977)
Henry VI, Part 2 as Buckingham (RSC Stratford, 1977; Aldwych, 1978)
The Jail Diary of Albie Sachs as Whistling Guard / Freeman (RSC Donmar Warehouse, 1978; The Other Place, 1979)
Coriolanus as Volscian Lieutenant (RSC Stratford, 1977)
Coriolanus as Tullus Aufidius (Aldwych, 1978 and 1979)
The Women Pirates as Blackie / Vosquin (RSC Aldwych, 1978)
The Changeling as Tomazo (RSC Aldwych, 1978)
Irma la Douce as Nestor (Shaftesbury Theatre, 1979)
The Heiress as Morris Townsend (1980)
Turning Over as Frank (Bush Theatre, 1983)
Coriolanus as Coriolanus (RSC Stratford and Newcastle upon Tyne, 1989; Barbican Theatre, 1990)
Three Sisters as Vershinin (Birmingham Rep, 1998)
Good as John Halder (Donmar Warehouse, 1999)
Long Day's Journey into Night as James Tyrone (Lyric Theatre, 2000)
The Play What I Wrote as a guest star (Wyndham's Theatre, 2001-2002)
Celebration as Richard (Gate Theatre, Dublin; Albery Theatre, 2005)
The Exonerated (Riverside Studios, Hammersmith, London, 2006)
Eh Joe as Joe (Parade Theatre, Sydney, 2006)
Shadowlands as C. S. Lewis (Wyndham's Theatre, 2007 and Novello Theatre 2007-2008)
Further reading
Who's Who in the Theatre, 16th/17th editions, edited by Ian Herbert, Pitman/Gale 1977/1981
Theatre Record and Theatre Record Indexes
Halliwell's Who's Who in the Movies Fourth edition by John Walker, HarperCollins 2006 ISBN 978-0-00-716957-3
Charles Dance's own CVs in various theatre programmes
[ Source: Wikipedia ]