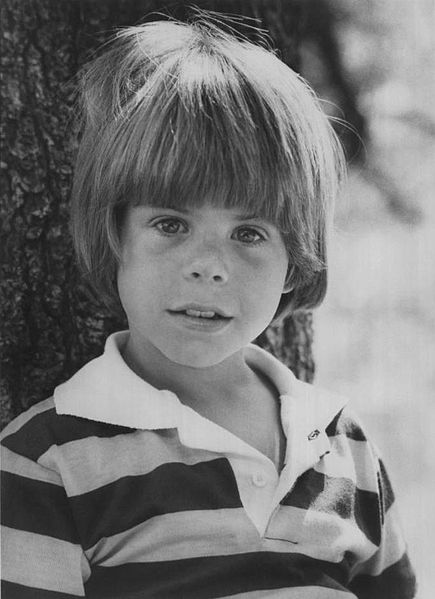 Adam Rich
Born:
October 12, 1968
Age:
55
Popularity:

Please login to contact Adam Rich...
Biography
Adam Rich (born October 12, 1968)[1] is an American actor noted for his role as Nicholas Bradford, the youngest son on the television series Eight Is Enough, which ran for five seasons (1977–1981). A distinctive feature of his appearance during his years as a child actor was his pageboy haircut, which inspired thousands of parents of that era to imitate the look for their young sons.[2] His role on the show led him to be known as "America's little brother."[2]
Growing up as a child actor, Rich lived in Granada Hills, California with his parents and younger brother. He was active in sports, including baseball, football, bicycle riding, skateboarding, and swimming. He also had an interest in drawing. At age 14, he tried smoking marijuana, and at 17, in 1986, he dropped out of high school.[3] He almost died of a Valium overdose in 1989. In 1991 he was arrested and charged with attempted burglary of a pharmacy.[3]
In 1996, there was a media hoax that Rich had been murdered; the story was published in the San Francisco-based magazine Might, with Rich's consent.[3][4]
In 2002, he was arrested for driving under the influence (DUI).[3] He has been in drug rehabilitation at least three times.[3]
He currently occasionally makes personal appearances and is marketing script ideas for TV shows and films.[3]
Read more...
Career
Rich won the role of Nicholas at the age of eight.[5][6] After Eight Is Enough, he had roles in Irwin Allen's short-lived 1981 TV series Code Red on ABC and the 1983 sitcom Gun Shy on CBS.[5]
Rich made guest appearances on television series including The Love Boat, CHiPs, Fantasy Island, The Six Million Dollar Man, St. Elsewhere and Baywatch. He also did voice work on the cartoon series Dungeons & Dragons, along with Eight Is Enough co-star Willie Aames.
Filmography
| Year | Title | Role | Notes |
| --- | --- | --- | --- |
| 1976 | The Six Million Dollar Man | Bob | Episode: "A Bionic Christmas Carol" |
| 1977 | The City | Donnie Collins | Television film |
| 1977-81 | Eight Is Enough | Nicholas Bradford | Main cast (112 episodes) |
| 1978 | Fantasy Island | Herbie Block | Episode: "Instant Family" |
| 1979 | The Love Boat | Brian Phillips | Episode: "Oldies But Goodies" |
| 1979 | CHiPs | Himself | Episode: "Roller Disco: Part 2" |
| 1979 | Tukiki and His Search for a Merry Christmas | Tukiki (voice) | Television special |
| 1980 | 3-2-1 Contact | Nicholas Bradford | Episode: "Crowded/Uncrowded: Human Crowding" |
| 1981 | The Devil and Max Devlin | Toby Hart | Feature film |
| 1981-82 | Code Red | Danny Blake | Main cast (13 episodes) |
| 1982 | CBS Children's Mystery Theatre | Jeffrey Brenner | Episode: "The Zertigo Diamond Caper" |
| 1982 | Fantasy Island | Huck Finn | Episode: "Natchez Bound" |
| 1982 | CHiPs | Louis Hindall | Episode: "Fallout" |
| 1983 | Gun Shy | Clovis | Episodes: "Reading, Writing and Robbing", "Mail Order Mommy" |
| 1983-85 | Dungeons & Dragons | Presto, the Magician | Voice role (27 episodes) |
| 1986 | St. Elsewhere | Louis Appleton | Episode: "Family Affair" |
| 1986 | Small Wonder | Peter Watson | Episode: "Chewed Out" |
| 1986 | Silver Spoons | Scott | Episode: "Rick Moves Out" |
| 1987 | Eight Is Enough: A Family Reunion | Nicholas Bradford | Television film |
| 1988 | Small Wonder | The Beast | Episode: "The Gang's All Here" |
| 1989 | An Eight Is Enough Wedding | Nicholas Bradford | Television film |
| 1993 | Baywatch | Ethan | Episode: "Sky Rider" |
| 2003 | Dickie Roberts: Former Child Star | Himself (cameo) | Feature film |
[ Source: Wikipedia ]