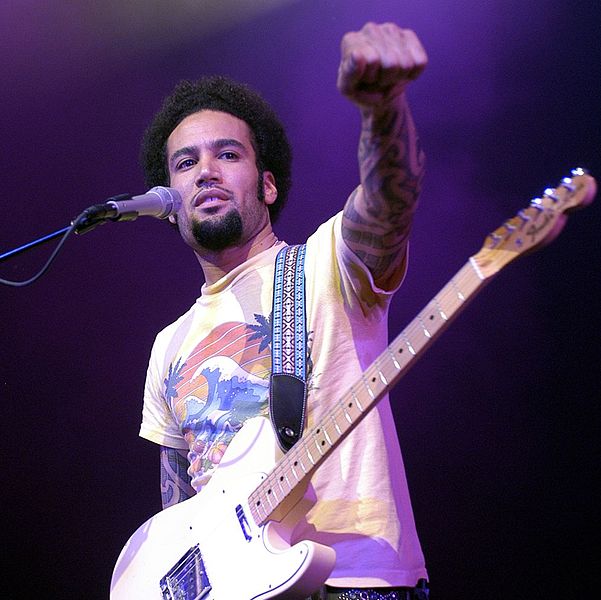 Ben Harper
Born:
October 28, 1969
Age:
54
Popularity:

Please login to contact Ben Harper...
Biography
Benjamin Chase "Ben" Harper (born October 28, 1969) is an American singer-songwriter and multi-instrumentalist. Harper plays an eclectic mix of blues, folk, soul, reggae and rock music and is known for his guitar-playing skills, vocals, live performances, and activism. He has released twelve regular studio albums, mostly through Virgin Records and has toured internationally. Harper is a three-time Grammy Award winner as well, winning awards for Best Pop Instrumental Performance and Best Traditional Soul Gospel Album, in 2005. He also won a Grammy for Best Blues Album in 2014.
Read more...
Early life
Harper was born in Pomona, California. His father, Leonard, was of African-American and possibly Cherokee ancestry, and his mother, Ellen Chase-Verdries, is Jewish. His maternal great-grandmother was a Russian-Lithuanian Jew. His parents divorced when he was five years old, and he grew up with his mother's family. Harper has two brothers, Joel and Peter.
Harper began playing guitar as a child. His maternal grandparents' music store The Folk Music Center and Museum laid a foundation of folk and blues for the artist, complemented by regular patrons Leonard Cohen, Taj Mahal, John Darnielle, and David Lindley and quotes of William Shakespeare and Robert Frost made often by his grandfather.
In 1978, at the age of 9, Harper attended reggae superstar Bob Marley's performance in Burbank, California (Marley was joined by former bandmate Peter Tosh for the encore, making this concert a historic performance), which was, according to Harper, an important influence. At the age of 12, Harper played his first gig. During the 1980s, in his teen years, Harper began to play the slide guitar, mimicking the style of Robert Johnson. Harper refined his style, taking up the Weissenborn slide guitar. Harper broke out of the Inland Empire after being offered an invitation by Taj Mahal to tour with the artist. They recorded Taj Mahal's album Follow the Drinking Gourd, released in November 1990, and toured Hawaii.
Career
In 1992, Harper recorded the LP Pleasure and Pain with Folk multi-instrumentalist Tom Freund. After this limited edition record, Harper secured a lifetime record deal with Virgin Records, which released his debut album, Welcome to the Cruel World in 1994. This allowed him to be invited at the Rencontres Trans Musicales of Rennes in France in December 1993 where he went up for the first time on a large stage. The first album was followed by Fight For Your Mind in 1995, with Juan Nelson on bass, which became a college radio favorite and included several songs that Harper still plays live regularly.
In 1999, at the Santa Barbara Bowl, Harper met Jack Johnson and sent a demo tape of Johnson's songs to his producer, J.P. Plunier, who then produced Johnson's first album.
Early in Harper's career, his music received more attention in Europe and was widely played in Australia (first on Triple J radio). Harper has made comments on a number of occasions that his career was kicked off in Australia. While he was a well-known and respected figure in the United States, he was a star in countries like Australia, New Zealand, France, Portugal, Germany, Switzerland and the Netherlands, receiving a great deal of airplay and critical acclaim. His popularity in Europe is such that he was French Rolling Stone magazine's Artist of the Year (Artiste De L'Année) in 2003, and his Australian tour that year for Diamonds on the Inside was highly successful.
In 2002, Harper was one of the featured singers covering Motown hits by Marvin Gaye in the documentary, Standing in the Shadows of Motown (a history of The Funk Brothers). In October 2004, Harper participated in the Vote for Change concert tour organized to benefit Moveon.org and encourage people in the swing states to vote during the 2004 U.S. presidential election. In the same month, Harper contributed a live recording of the song "Oppression" to For The Lady, a benefit album for jailed Nobel Peace Prize winner and Burmese pro-democracy advocate Aung San Suu Kyi. In 2006, Harper released the double album Both Sides of the Gun which debuted at #7 on the Billboard charts. Though uncredited, he appears briefly in the 2006 David Lynch film Inland Empire, alongside his wife Laura Dern.
Harper is part of the No Nukes group which is against the expansion of nuclear power. In 2007 the group recorded a music video of a new version of the Buffalo Springfield song "For What It's Worth". Harper's collaboration "Boa Sorte/Good Luck" with Brazilian singer Vanessa da Mata peaked at #1 in Brazil and Portugal. In Brazil it also won a highly coveted Prêmio Multishow for "Best Song" in 2008. Also in 2008, Harper participated in the benefit album Songs for Tibet.
On August 27, 2010, it was reported that Ben Harper had formed a band called Fistful of Mercy with Dhani Harrison and Joseph Arthur. Fistful of Mercy released their debut record, As I Call You Down, on October 5, 2010.
On May 17, 2011, Ben Harper's official site posted that his next album was released, entitled Give Till It's Gone. The album is a continuation of recording with Relentless7.
On October 1, 2012, a new album from Ben Harper with Charlie Musselwhite was announced entitled Get Up! on Stax Records / Concord Music Group. The official release date for the album is January 29, 2013. Get Up! was recorded in Los Angeles and produced by Ben Harper. It is Ben's 12th studio album and first new recording since 2011's Give Till It's Gone (Virgin).
In December 2012, it was announced that Ben Harper had co-produced lead vocalist Natalie Maines of the Dixie Chicks first solo rock album Mother. It was released on May 7, 2013.
In early 2015, it was announced that Ben Harper and The Innocent Criminals would perform at the Boston Calling Music Festival in May 2015. It's been confirmed that Ben Harper and The Innocent Criminals will perform at Rock Werchter Festival 2015 on June 28, 2015 .
On 12 February 2016, Ben Harper released (as a YouTube video) his new single "Call It What It Is", first track taken from his upcoming new studio album Call It What It Is due to be released on 8 April 2016.
Personal life
In 1996, Harper married his first wife, Joanna. They have two children together, son Charles (born circa 1997) and daughter Harris (born circa 2000). Harper and Joanna separated in 2000, and were divorced in 2001.
Harper began dating actress Laura Dern after they met at one of his concerts in fall 2000. Harper and Dern married on December 23, 2005 at their home in Los Angeles. They have two children, son Ellery Walker (born August 2001) and daughter Jaya (born November 2004). In October 2010, Harper filed for divorce from Dern, citing irreconcilable differences. They briefly reconciled and attended the 2012 Golden Globe Awards together, but Dern reactivated the divorce by filing a legal response in July 2012. The divorce was finalized in September 2013.
Harper married his third wife, social advocate Jaclyn Matfus, on January 1, 2015.
Harper is also an avid skateboarder, having trained with world renowned skateboarding innovator Rodney Mullen.
Philanthropy
Harper supports Little Kids Rock, a national nonprofit organization that works to restore and revitalize music education in disadvantaged U.S. public schools. In 2013, he donated items to their San Francisco Bay Area benefit concert.
Awards and nominations
| Year | Award Show | Award/Nomination |
| --- | --- | --- |
| 2003 | Rolling Stone (France) | Artist of the Year |
| 2005 | Grammy Award | Grammy Award for Best Pop Instrumental Performance |
| 2005 | Grammy Award | Grammy Award for Best Traditional Soul Gospel Album |
| 2014 | Grammy Award | Grammy Award for Best Blues Album |
Discography
Main article: Ben Harper discography
Studio albums
Welcome to the Cruel World (1994)
Fight for Your Mind (1995)
The Will to Live (1997)
Burn to Shine (with The Innocent Criminals) (1999)
Diamonds on the Inside (2003)
There Will Be a Light (with The Blind Boys of Alabama) (2004)
Both Sides of the Gun (2006)
Lifeline (with The Innocent Criminals) (2007)
White Lies for Dark Times (with Relentless7) (2009)
Give Till It's Gone (2011)
Get Up! (with Charlie Musselwhite) (2013)
Childhood Home (Ben & Ellen Harper) (2014)
Call It What It Is (with The Innocent Criminals) (2016)
Filmography
Year
Title
Notes
1998-2001
Daria
Episode: "See Jane Run" (Song: "Faded")
Episode: "Camp Fear" (Song: "Burn to Shine")
2001
I Am Sam
Song: "Strawberry Fields Forever"
2002
Standing in the Shadows of Motown
Songs: "Ain't Too Proud To Beg"/"I Heard It Through the Grapevine"
Searching for Debra Winger
Song: "The Three of Us"
2003
rage
Episode: "Grinspoon Guest Program Rage"
Song: "Ground on Down"
One Tree Hill
Episode: "Crash Into You"
Song: "Empty Apartment"
Joan of Arcadia
Episode: "Death Be Not Whatever"
Song: "Blessed to Be a Witness"
2004
Saturday Night Live
Episode: "Donald Trump/Toots and the Maytals"
Song: "Love Gonna Walk Out on Me"
Sleepover
Song: "Walk Away"
2005
Trust the Man
Song: "Everything"
2006
Akeelah and the Bee
Song: "Everything"
The O.C.
Episode: "The Dawn Patrol"
Song: "Waiting For You"
CSI: NY
Episode: "And Here's to You, Mrs. Azrael"
Song: "Walk Away"
Ultimate Sessions
Song: "Whipping Boy"
2007
Arctic Tale
Song: "Happy Ever After in Your Eyes"
2008
Henry Poole Is Here
Song: "Morning Yearning"
Wetlands Preserved: The Story of an Activist Nightclub
Song: "People Lead"
Daylight Robbery
Song: "Diamonds On The Inside"
2009
State of Play
Song: "Please Don't Talk About Murder While I'm Eating"
House
Episode: "Brave Heart"
Song: "Faithfully Remain"
2010
Late Night with Jimmy Fallon
Episode: 2.152 (Song: "Father's Song")
Episode: 2.7 (Songs: "With a Little Help from My Friends", "Walk With You")
Les Petits Mouchoirs
Song: "Amen Omen"
Vampire Diaries
Episode: Katerina
Song: "Amen Omen"
The Fighter
Song: "Glory & Consequence"
Close to the Dream
Song: "Better Way"
2010-2011
Conan
Episode: October 11, 2010 (Song: "Father's Son")
Episode: May 25, 2011 (Song: "Rock n' Roll is Free")
2011
Wretches & Jabberers
Song: "More Like You"
2012
The Girl
Song: "Waiting on an Angel"
Redfern Now
Episode: Raymond
Song: "Not Fire Not Ice"
Bones Brigade: An Autobiography
2010-2013
Late Show with David Letterman
Episode February 2, 2012 (Song: "Lay There & Hate Me")
Episode May 18, 2011 (Song: "Rock n' Roll is Free")
Episode April 29, 2013 (Song: "We Can't End This Way")
2011-2013
The Tonight Show with Jay Leno
Episode May 24, 2011 (Song: "Rock n' Roll is Free")
Episode November 18, 2011 (Song: "Save the Hammer for the Man")
January 22, 2013 (Song: "I Don't Believe a Word You Say")
2014
The Late Late Show with Craig Ferguson
Episode: June 13, 2014
Song: "Learn It All Again Tomorrow"
Charities
Ben Harper supports the following charitable causes: AIDS, Pediatric AIDS.
[ Source: Wikipedia ]