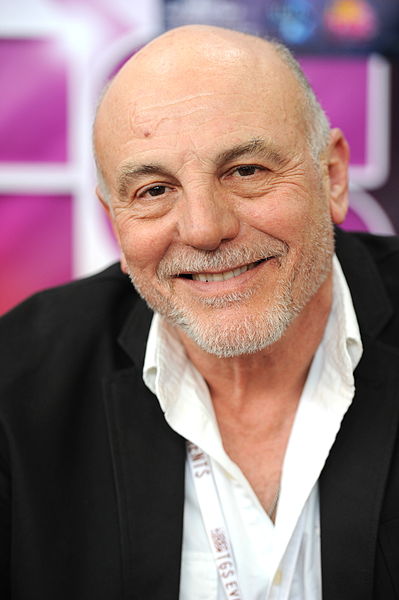 Carmen Argenziano
Birth name:
Carmen Antimo Argenziano
Born:
October 27, 1943
Age:
80
Birthplace:
Sharon, Pennsylvania, U.S.
Popularity:

Please login to contact Carmen Argenziano...
Biography
Carmen Antimo Argenziano (born October 27, 1943) is an American actor who has appeared in over 50 movies and around 100 television movies or episodes.[1][2] He is best known for playing Jacob Carter on Stargate SG-1. He had recurring roles on Booker, L.A. Law, Melrose Place, and The Young and the Restless. He had a small role in The Godfather Part II.
Argenziano was born in Sharon, Pennsylvania and raised in nearby Sharpsville, the son of parents of Italian descent, Elizabeth Stella (née Falvo) and Joseph Guy Argenziano, who was a restaurateur.[3] He has three children: two sons and a step-daughter.
One of Argenziano's best-known roles is as the recurring character Jacob Carter/Selmak in the television series Stargate SG-1. He is also a lifetime member of the Actors Studio and was awarded the Los Angeles Drama Critics' Circle Award for his performance as Jack Delasante in Thomas Babe's A Prayer for My Daughter.[2]
Argenziano is often cast as overbearing authority figures. He was cast in 2007 as one of the potential fellowship candidates in House M.D.—albeit as a fake doctor—but was eliminated. He guest-starred in 2009 in Criminal Minds, in the season 4 episode "Demonology" where he portrayed Father Paul Silvano.[citation needed]
Read more...
Filmography
Film
| Year | Title | Role | Notes |
| --- | --- | --- | --- |
| 1970 | Cover Me Babe | Student #2 | |
| 1971 | Punishment Park | Jay Kaufman, Tribunal Defendant | |
| 1971 | The Jesus Trip | Pinole | |
| 1972 | Night of the Cobra Woman | | Uncredited |
| 1972 | Rio Tigre | | |
| 1972 | The Hot Box | Flavio - the Guerrilla | |
| 1972 | Grave of the Vampire | Sam | |
| 1972 | Hit Man | Huey's White Partner | Uncredited |
| 1972 | The Outside Man | Second Hawk | |
| 1973 | The Slams | Minor Role | |
| 1974 | Caged Heat | Undercover Wrestler | |
| 1974 | The Godfather, Part II | Michael's Buttonman #2 | |
| 1975 | Capone | Jack McGurn | |
| 1975 | Sharks' Treasure | Lieutenant | |
| 1975 | Crazy Mama | Supermarket Manager | |
| 1976 | Vigilante Force | Brian Seldon | |
| 1976 | Two-Minute Warning | The S.W.A.T. Team - Jennings | |
| 1978 | Death Force | Morelli | |
| 1978 | The Boss' Son | Ken | |
| 1979 | When a Stranger Calls | Dr. Mandrakis | |
| 1981 | Graduation Day | Halliday | |
| 1981 | Circle of Power | Tony Annese | |
| 1983 | Sudden Impact | D'Ambrosia | |
| 1984 | Heartbreakers | Ron Bell | |
| 1985 | Into the Night | Stan | |
| 1985 | Starchaser: The Legend of Orin | Dagg Dibrimi | Voice |
| 1985 | Naked Vengeance | Det. Russo | |
| 1986 | Dangerously Close | Molly | |
| 1987 | Under Cover | Lt. James Leonard | |
| 1988 | Stand and Deliver | Principal Molina | |
| 1988 | Big Business | Board Member #2 | |
| 1988 | Remo Williams: The Prophecy | Tony | |
| 1988 | The Accused | D.A. Paul Rudolph | |
| 1988 | Red Scorpion | Col. Zayas | |
| 1990 | The First Power | Lieutenant Grimes | |
| 1992 | Rompecorazones | Ron Ball | |
| 1992 | Unlawful Entry | Jerome Lurie | |
| 1994 | Rave Review | Abe Weinstein | |
| 1994 | Final Combination | Lt. Stein | |
| 1994 | Don Juan DeMarco | Don Alfonzo | |
| 1995 | The Tie That Binds | Phil Hawkes | |
| 1996 | Broken Arrow | General Boone | |
| 1998 | A Murder of Crows | Judge Wiley Banning | |
| 1999 | Blue Streak | Captain Penelli | |
| 1999 | Warm Blooded Killers | Vince Morehouse | |
| 2000 | Gone in 60 Seconds | Detective Mayhew | |
| 2000 | A Better Way to Die | Carlos | |
| 2000 | The Cactus Kid | Addison | |
| 2001 | Swordfish | Agent #1 | |
| 2002 | Dancing at the Harvest Moon | Warren Lucas | |
| 2003 | Identity | Defense Lawyer | |
| 2005 | What's Up, Scarlet? | Mr. Maggiami | |
| 2005 | Angels with Angles | Rico | |
| 2009 | Angels & Demons | Father Silvano Bentivoglio | |
| 2009 | Street Boss | Tony Pro | |
| 2011 | Omerta | Sal | |
| 2011 | Amber Lake | Patrick Thomas | |
| 2013 | Sunny and RayRay | Carmen | |
| 2013 | Duke | Lt. Brannigan | |
| 2014 | The Single Moms Club | Ollie | |
| 2015 | Don Quixote: The Ingenious Gentleman of La Mancha | Don Quixote | |
| 2015 | Sharkskin | Jakie Hooks | |
| 2016 | Mafiosa | Sebastian Lombardo | |
| 2016 | A Winter Rose | Joe | |
| 2017 | The Labyrinth | Vincent | |
| 2017 | The Institute | Apothecary | |
| 2017 | Actors Anonymous | Mr. Smithson | |
| 2017 | Empire of the Heart | | |
| 2017 | The Mad Whale | Dr. Withers | |
| 2017 | Singularity | Damien Walsh | |
| 2018 | Future World | Grandfather | |
| 2018 | Duke | Lt. Brannigan | |
Television
| Year | Title | Role | Notes |
| --- | --- | --- | --- |
| 1975 | Columbo | Coroner Anderson | 1 episode |
| 1976 | Once an Eagle | Adam Brand | 1 episode |
| 1978 | The Bionic Woman | King Kusari | 1 episode |
| 1979 | CHiPs | Officer Borlov | 1 episode |
| 1983 | Quarterback Princess | Ed Ainsworth | TV movie |
| 1984 | Buffalo Bill | | 1 episode |
| 1984 | Cheers | Marvin | 1 episode |
| 1986 | Cagney & Lacey | Ronelli | 1 episode |
| 1986 | Between Two Women | Robert Walker | TV movie |
| 1986-1992 | L.A. Law | Lawyer Neil Robertson | 5 episodes |
| 1989-1990 | Booker | Chick Sterling | 22 episodes |
| 1991 | Knight Rider 2000 | Russell Maddock / K.I.F.T. | TV movie |
| 1992-1994 | Melrose Place | Dr. Stanley Levin | 8 episodes |
| 1992 | A Thousand Heroes | First Officer William R. Records | TV movie |
| 1994-1997 | Walker Texas Ranger | George Vickers / Paco Cruz | 2 episodes |
| 1995 | Babylon 5 | Urza Jaddo | 1 episode |
| 1996 | Andersonville | Hopkins | TV movie |
| 1997 | JAG | Colonel Matthew O'Hara | 1 episode |
| 1998-2005 | Stargate SG-1 | Selmak / General Jacob Carter | 25 episodes |
| 2003 | 24 | General Gratz | 1 episode |
| 2006-2008 | CSI: NY | Insp. Stanton Gerrard | 6 episodes |
| 2007 | House M.D. | Henry Dobson | 3 episodes |
| 2009 | Meteor | Commander Murphy | 2 episodes |
| 2009 | Criminal Minds | Father Paul Silvano | 1 episode |
| 2010 | Castle | Mario Rivera | 1 episode |
| 2011 | Death Interrupted | Saint Peter | TV movie |
| 2014 | Hawaii Five-0 | Albert Bagosa | 1 episode |
[ Source: Wikipedia ]