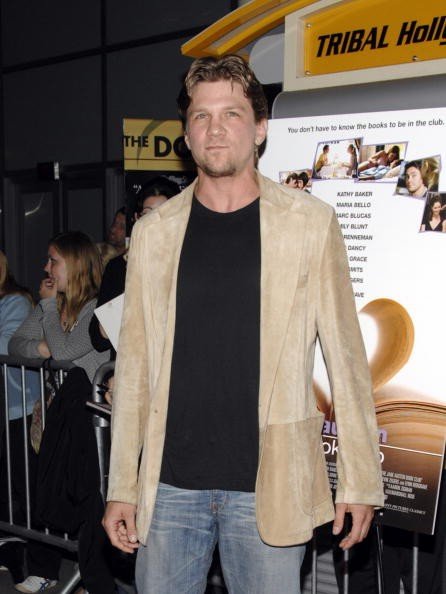 Marc Blucas
Birth name:
Marcus Paul Blucas
Born:
January 11, 1972
Age:
51
Birthplace:
Butler, Pennsylvania, U.S.
Popularity:

Please login to contact Marc Blucas...
Biography
Marcus Paul Blucas (born January 11, 1972) is an American actor, known for playing Riley Finn in Buffy the Vampire Slayer, Matthew Donnelly in Necessary Roughness and recently, abolitionist John Hawkes in Underground. Prior to his acting career, he was known for playing college basketball with the Wake Forest Demon Deacons.
Walter Joseph Blucas married Mary Catherine (née Gordon) on January 10, 1970, shortly before both graduated in education from Indiana University of Pennsylvania (IUP).[2] They are divorced. Their son Marcus Paul Blucas was born in Butler, Pennsylvania on January 11, 1972,[3][4] two years after his sister, Kristen.[5] "A self-confessed square who earned good grades,"[1] Blucas was, like his father, a skilled sportsman.[6] Wally was the quarterback on the undefeated 1968 Big Indians team,[7] competed in the Boardwalk Bowl, and in 1999 was inducted into the IUP Athletics Hall of Fame.[5][8] The family moved to Girard in Erie, Pennsylvania in 1974, where Blucas' father rose from teacher to school principal and ultimately to Superintendent of Schools for the District.[5] Blucas became the star player on the Girard High School basketball team, leading them to the Pennsylvania Boys AA State Championship,[6] in the process earning all-state honors and a sports scholarship to Wake Forest University.[7][8] He played in the Wake Forest Demon Deacons men's basketball team and graduated in 1994 after one season playing on the same court as
Tim Duncan
. He was also a member of the Sigma Phi Epsilon fraternity.[9]
After Blucas failed to make it into the NBA, he moved to England, where he played professional basketball for a year with British Basketball League's Manchester Giants. He later decided to become a lawyer, but changed his mind and went into acting instead.[10]
Read more...
Career
Blucas's first television role was in the television movie Inflammable, made in 1995. From there, he found roles in both television and film. He starred as the Basketball Hero in Gary Ross's Pleasantville (1998). However, Blucas landed his first major role in 1999 as Agent Riley Finn in Buffy the Vampire Slayer. Initially, Blucas was certain that he had blown his audition and had left apologizing for having wasted creator Joss Whedon's time. Whedon asked him to audition again, and he received the part two weeks later.[11] He played Buffy's love interest until 2000.
After Blucas' departure from the series, he went on to act in such films as Summer Catch (2001), We Were Soldiers (2002), alongside Mel Gibson and Chris Klein, and First Daughter (2004), with Katie Holmes. His character in Summer Catch was based on real life Cape League baseball player Michael Macone.
In 2007, Blucas began to land leading roles in films such as Thr3e and The Killing Floor.
In February 2010, Blucas joined the cast of the ABC television drama pilot True Blue.[12]
Blucas was part of the regular cast of the USA Network show Necessary Roughness for the first two seasons, playing Matthew Donnelly. The series premiered on June 29, 2011.
Personal life
On July 25, 2009, Blucas married journalist Ryan Haddon, daughter of Dayle Haddon, and is stepfather to her two children from her first marriage to actor Christian Slater.[13]
Filmography
Film
Year
Film
Role
Notes
1996
Eddie
Bench Knicks
1998
Pleasantville
Basketball Hero
1999
The Mating Habits of the Earthbound Human
The Female's Ex-Boyfriend
House on Haunted Hill
Period Film Actor
Scenes Deleted
2001
Jay and Silent Bob Strike Back
The Guy
Fred Jones look-alike
Summer Catch
Miles Dalrymple
2002
We Were Soldiers
2nd Lt. Henry Herrick
Sunshine State
Scotty Duval
They
Paul
2003
I Capture the Castle
Neil Cotton
Prey for Rock & Roll
Animal
View from the Top
Tommy Boulay
One Flight Stand
Ben
Short film
2004
The Alamo
James Bonham
First Daughter
James Lamson
2006
Thr3e
Kevin Parson
2007
After Sex
Christopher
The Killing Floor
David Lamont
The Jane Austen Book Club
Dean Drummond
2008
Meet Dave
Mark Rhodes
Animals
Jarrett
2009
Deadline
David
Stay Cool
Brad Nelson
Stuntmen
Eligh Supreme
Mother and Child
Steven
2010
Knight & Day
Rodney
2011
Red State
ATF Sniper
2012
Touchback
Hall
2015
Sleeping with Other People
Chris
2016
The Red Maple Leaf
Derek Sampson
Operation Christmas
Scott McGuigan
Television film
2017
Brawl in Cell Block 99
Gil
Television
Year
Title
Role
Notes
1995
Inflammable
Evans
Television film (CBS)
1998
Arliss
McNamara
Episode: The Legacy
1999
The '60s
Buddy Wells
Television film (NBC)
Clueless
Doug Sampson
Episode: "Popularity"
Undressed
Bill
Episode: 1.15
1999-2000, 2002
Buffy the Vampire Slayer
Riley Finn
Main Role; 31 episodes
2007
Judy's Got a Gun
Richard Palm
Television pilot
House
John Kelley
Episode: "Top Secret"
2008
Eleventh Hour
Detective McNeil
Episode: "Resurrection"
2009
Lie to Me
Jack Rader
Episode: Control Factor
Castle
Jeremy Preswick
Episode: "The Fifth Bullet"
2010
True Blue
JD Conlin
Television pilot
Law & Order: Los Angeles
Chip Jarrow
Episode: "Playa Vista"
2011
Revenge
David Clarke
Episode: "Un-aired Pilot"
Body of Proof
Dr. Mark Chandler
Episode: "Dead Man Walking"
2011-2013
Necessary Roughness
Matthew Donnally
Main role; 29 episodes
2013
Blue Bloods
Russell Burke
Episode: "The City That Never Sleeps"
2014
Killer Women
Dan Winston
Series Regular
Stalker
Mark Richards
Episode: "Skin"
2015
Limitless (TV series)
Nick Tanner
Episode: "This is your Brian on Drugs"
2016
Underground
John Hawke
Operation Christmas
Scott Mc Guigan
Television film (Hallmark)
The Irresistible Blueberry Farm
Roy Cumberfield
Television film (Hallmark Movies & Mysteries)
2017
Miss Christmas
Sam McNary
Television film (Hallmark)
2018
Season for Love
Corey Turner
Television film (Hallmark)
2019
The Fix
Riv
Upcoming series
[ Source: Wikipedia ]