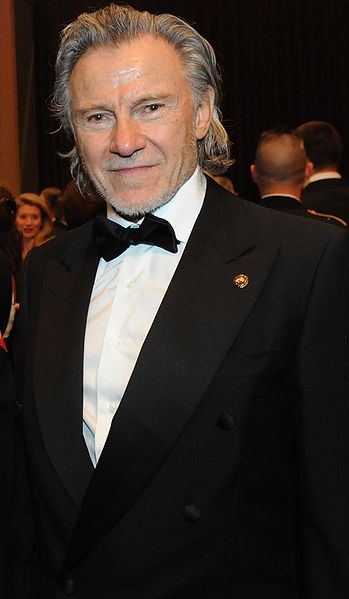 Harvey Keitel
Born:
May 13, 1939
Age:
84
Birthplace:
Brooklyn, New York City, New York, U.S.
Popularity:

Please login to contact Harvey Keitel...
Biography
Harvey Keitel (/kaɪˈtɛl/ ky-TEL; born May 13, 1939)[1] is an American actor and producer. An Oscar and Golden Globe Award nominee, he has appeared in films such as Theo Angelopoulos' Ulysses' Gaze, Martin Scorsese's Mean Streets, Taxi Driver, and The Last Temptation of Christ; Ridley Scott's The Duellists and Thelma & Louise; István Szabó's Taking Sides; Peter Yates' Mother, Jugs & Speed; Quentin Tarantino's Reservoir Dogs and Pulp Fiction; Jane Campion's The Piano; Abel Ferrara's Bad Lieutenant; Robert Rodriguez's From Dusk till Dawn; James Mangold's Cop Land; Wes Anderson's Moonrise Kingdom, The Grand Budapest Hotel, and Isle of Dogs; and Paolo Sorrentino's Youth. Along with actors Al Pacino and Ellen Burstyn, he was a co-president of the Actors Studio from 1995 to 2017.[2]
Keitel was born in the New York City borough of Brooklyn, the son of Miriam (née Klein) and Harry Keitel, who were Jewish emigrants from Romania and Poland, respectively.[3] His parents owned and ran a luncheonette and his father also worked as a hat maker.
Keitel grew up in the Brighton Beach section of Brooklyn,[4] with his sister, Renee, and brother, Jerry. He attended Abraham Lincoln High School. At the age of sixteen, he decided to join the United States Marine Corps,[4] a decision that took him to Lebanon, during Operation Blue Bat. After his return to the United States, he was a court reporter for several years and was able to support himself before beginning his acting career.[4]
Read more...
Career
Harvey Keitel in November 2009
Keitel studied under both Stella Adler and Lee Strasberg and at the HB Studio, eventually landing roles in some Off-Broadway productions.[4] During this time, Keitel auditioned for filmmaker Martin Scorsese and gained a starring role as "J.R.", in Scorsese's first feature film, Who's That Knocking at My Door (1967).[4] Since then, Scorsese and Keitel have worked together on several projects.[4] Keitel had the starring role in Scorsese's Mean Streets, which also proved to be Robert De Niro's breakthrough film. Keitel re-teamed with Scorsese for Alice Doesn't Live Here Anymore (1974), in which he had a villainous supporting role, and appeared with Robert De Niro again in Scorsese's Taxi Driver (1976), playing the role of Jodie Foster's pimp.[4]
In 1977 and 1978, Keitel starred in the directorial debuts of Paul Schrader (Blue Collar, co-starring Richard Pryor and Yaphet Kotto), Ridley Scott (The Duellists, co-starring Keith Carradine), and James Toback (Fingers, in which Keitel played a street hood with aspirations of being a pianist - a role writer/director Toback wrote for Robert De Niro to play).
Cast as Captain Willard in Francis Ford Coppola's Apocalypse Now (1979), Keitel was involved with the first week of principal photography in the Philippines. Coppola was not happy with Keitel's take on Willard, stating that the actor "found it difficult to play him a passive onlooker".[5] After viewing the first week's footage, Coppola replaced Keitel with a casting session favorite, Martin Sheen.
Keitel drifted into obscurity through most of the 1980s.[4] He continued to do work on both stage and screen, but usually in the stereotypical role of a thug. Keitel played a corrupt police officer in the 1983 thriller Copkiller (co-starring musician John Lydon), before taking supporting roles in the romantic drama Falling in Love (1984), starring Robert De Niro and Meryl Streep, and Brian De Palma's mobster comedy Wise Guys (1986), starring Danny DeVito and Joe Piscopo.
Keitel played Judas in Martin Scorsese's controversial The Last Temptation of Christ (1988) and co-starred with Jack Nicholson in the Chinatown sequel The Two Jakes (1990), directed by Jack Nicholson. Ridley Scott cast Keitel as the sympathetic policeman in Thelma & Louise in 1991; that same year, Keitel landed a role in Barry Levinson's Bugsy, for which he received an Academy Award nomination for Best Supporting Actor. The following year, Keitel played another mobster in the Whoopi Goldberg-starring comedy Sister Act.
Keitel starred in Quentin Tarantino's Reservoir Dogs (which he co-produced) in 1992,[4] where his performance as "Mr. White" took his career to a different level. Since then, Keitel has chosen his roles with care, seeking to change his image and show a broader acting range.[4] One of those roles was the title character in Bad Lieutenant, about a self-loathing, drug-addicted police lieutenant trying to redeem himself.[4] He co-starred in the movie The Piano in 1993,[4] and played an efficient cleanup expert, Winston "The Wolf" Wolfe in Quentin Tarantino's Pulp Fiction. Keitel starred as a police detective in Spike Lee's Clockers (an adaptation of Richard Price's novel, co-produced by Martin Scorsese). In 1996, Keitel had a major role in Quentin Tarantino and Robert Rodriguez's film From Dusk till Dawn, and in 1997, he starred in the crime drama Cop Land, which also starred Sylvester Stallone, Ray Liotta and Robert De Niro.
Keitel with singer
Harry Belafonte
in New York, April 2011
His later roles include the fatherly Satan in Little Nicky, a wise Navy man in U-571, diligent FBI Special agent Sadusky in National Treasure and the latter's sequel National Treasure: Book of Secrets. In 1999, Keitel was replaced by Sydney Pollack on the set of Stanley Kubrick's Eyes Wide Shut, due to shooting conflicts, and appeared in Tony Bui's award-winning directorial debut, Three Seasons (which Keitel also executive produced). Keitel also re-teamed with Jane Campion for Holy Smoke! (co-starring Kate Winslet).
In 2002, at the 24th Moscow International Film Festival, Keitel was honored with the Stanislavsky Award for his outstanding achievement in the career of acting and devotion to the principles of Stanislavsky's school.[6]
He also appeared in the Steinlager Pure commercials in New Zealand in 2007. Unlike many American male actors, Keitel has appeared nude in several films, including full frontal nudity in Bad Lieutenant and The Piano.
In January 2008, Keitel played Jerry Springer in the New York City premiere of Jerry Springer: The Opera at Carnegie Hall.[4] In 2008, Keitel was cast in the role of Detective Gene Hunt in ABC's short-lived US remake of the successful British time-travel police drama series Life on Mars.[7]
In June 2009, he made a cameo appearance in the Jay-Z video for "D.O.A. (Death of Auto-Tune)", a nod to his Brooklyn origins. In 2013, he appeared in a music video for "Pretty Hurts" by Beyoncé.[8]
Keitel with wife Daphna Kastner in 2010
In 2013, he starred in the independent film A Farewell to Fools.[9]
Since 2014, he has reprised his role of Winston Wolfe from Pulp Fiction as part of a £40 million television advertising campaign for Direct Line, an insurance company in the United Kingdom.[10][11]
Personal life
Keitel was in a long-term relationship with actress Lorraine Bracco. They met in 1983 but the relationship ended acrimoniously in the early 1990s with a prolonged custody battle over their daughter.[12] He married actress Daphna Kastner in 2001. Keitel is the father of three children: daughter Stella (born 1985) from his relationship with Bracco; son Hudson (born 2001) from his relationship with Lisa Karmazin; and son Roman (born 2004) from his marriage to Kastner. He is a godfather of close friend Michael Madsen's son Max.
Filmography
Film
Year
Film
Role
Notes
1967
Who's That Knocking at My Door
J.R.
1967
Reflections in a Golden Eye
Soldier
Uncredited
1970
Brewster McCloud
Photographer
Uncredited
1973
Mean Streets
Charlie
1974
Alice Doesn't Live Here Anymore
Ben
1975
That's the Way of the World
Coleman Buckmaster
1976
Taxi Driver
Charles "Sport" Rain/"Matthew"
Nominated—National Society of Film Critics Award for Best Supporting Actor
Nominated—New York Film Critics Circle Award for Best Supporting Actor
1976
Buffalo Bill and the Indians
Ed Goodman
1976
Mother, Jugs & Speed
Tony "Speed" Malatesta
1977
The Duellists
Feraud
1978
Blue Collar
Jerry Bartowski
1978
Fingers
Jimmy Fingers
1979
Eagle's Wing
Henry
1980
Death Watch
Roddy
1980
Bad Timing
Inspector Netusil
1980
Saturn 3
Benson
Voice dubbed by Roy Dotrice
1982
That Night in Varennes
Thomas Paine
1982
The Border
Cat
1983
Exposed
Rivas
1983
Copkiller
Lt. Fred O'Connor
1984
Falling in Love
Ed Lasky
1984
Nemo
Mr. Legend
1985
El caballero del dragon (The Knight of the Dragon)
Clever
Spanish film
1985
Camorra (A Story of Streets, Women and Crime)
Frankie
1986
The Inquiry
Pontius Pilate
1986
Off Beat
Mickey
1986
Wise Guys
Bobby DiLea
1986
The Men's Club
Solly Berliner
1987
Blindside
Penfield Gruber
1987
The Pick-up Artist
Alonzo Scolara
1988
The Last Temptation of Christ
Judas Iscariot
Nominated—Golden Raspberry Award for Worst Supporting Actor
1988
Dear Gorbachev
Nikolaj Bucharin
1989
The January Man
Police Commissioner Frank Starkey
1989
Imagining America
1990
Two Evil Eyes
Roderick Usher
Segment: "The Black Cat"
1990
The Two Jakes
Julius "Jake" Berman
1990
Grandi cacciatori
Thomas
1991
Mortal Thoughts
Det. John Woods
National Society of Film Critics Award for Best Supporting Actor
1991
Thelma & Louise
Hal
National Society of Film Critics Award for Best Supporting Actor
1991
Bugsy
Mickey Cohen
Chicago Film Critics Association Award for Best Supporting Actor
National Society of Film Critics Award for Best Supporting Actor
Nominated—Academy Award for Best Supporting Actor
Nominated—Golden Globe Award for Best Supporting Actor - Motion Picture
1992
Reservoir Dogs
"Mr. White" Larry Dimmick
Also co-producer
Sant Jordi Award for Best Foreign Actor
1992
Bad Lieutenant
The Lieutenant
Fantasporto's International Fantasy Film Award for Best Actor
Independent Spirit Award for Best Male Lead
Nominated—New York Film Critics Circle Award for Best Actor
1992
Sister Act
Vince LaRocca
1993
Point of No Return
Victor the Cleaner
1993
The Piano
George Baines
Australian Film Institute Award for Best Actor in a Leading Role
1993
Rising Sun
Lt. Tom Graham
1993
Dangerous Game
Eddie Israel
Venice Film Festival - Golden Ciak for Best Actor
1993
Young Americans
John Harris
1994
Monkey Trouble
Azro
1994
Pulp Fiction
Winston "The Wolf" Wolfe
1994
Imaginary Crimes
Ray Weiler
1995
Smoke
Augustus "Auggie" Wren
Berlin International Film Festival's Special Jury Prize
David di Donatello for Best Foreign Actor
1995
Blue in the Face
Auggie Wren
Also executive producer
1995
Ulysses' Gaze
A
Theo Angelopoulos (Greece)
1995
Clockers
Det. Rocco Klein
1995
Get Shorty
Himself
Uncredited
1996
From Dusk till Dawn
Jacob Fuller
Nominated—Saturn Award for Best Supporting Actor
1996
Head Above Water
George
1997
City of Industry
Roy Egan
1997
Cop Land
Ray Donlan
1997
FairyTale: A True Story
Harry Houdini
1998
Shadrach
Vernon
1998
Lulu on the Bridge
Izzy Maurer
1998
Finding Graceland
Elvis
1998
Sweets of Roses
Hubie
Voice
1998
Gunslinger's Revenge (Il mio West)
Johnny Lowen
1999
Three Seasons
James Hager
Also executive producer
1999
Holy Smoke!
PJ Waters
1999
Presence of Mind
The Master
2000
U-571
CPO Henry Klough
Nominated—Blockbuster Entertainment Award for Favorite Supporting Actor - Action
2000
Prince of Central Park
The Guardian
2000
Little Nicky
Satan
2000
Viper
Leone
2001
Nailed
Tony Romano
2001
The Grey Zone
SS-Oberscharführer Eric Muhsfeldt
Also executive producer
2001
Taking Sides
Major Steve Arnold
2002
Ginostra
Matt Benson
2002
Red Dragon
Jack Crawford
2003
Crime Spree
Frankie Zammeti
2003
The Galindez File
Edward Robards
2003
Dreaming of Julia
Che
Also producer
2004
Puerto Vallarta Squeeze
Walter McGrane
2004
National Treasure
Agent Peter Sadusky
2004
The Bridge of San Luis Rey
Uncle Pio
2005
Be Cool
Nick Carr
2005
Shadows in the Sun
Weldon Parish
2006
One Last Dance
Terrtano
2006
A Crime
Roger Culkin
2006
The Stone Merchant (it)
The Merchant Ludovico Vicedomini
2006
Arthur and the Minimoys
Miro
Voice
2007
My Sexiest Year
Zowie
2007
National Treasure: Book of Secrets
Agent Peter Sadusky
2009
Chaos
2009
Inglourious Basterds
Allied Commanding Officer
Voice
Uncredited
2009
The Ministers
Detective Joseph Bruno
2009
Wrong Turn at Tahoe
Nino
2010
A Beginner's Guide to Endings
Duke White
2010
Little Fockers
Randy Weir
2010
The Last Godfather
Don Carini
2012
Moonrise Kingdom
Commander Pierce
2013
A Farewell to Fools
Father Johanis
2013
The Power Inside
O'Mansky
2013
The Congress
Al
2014
Two Men in Town
Bill Agati
2014
The Grand Budapest Hotel
Ludvig
Nominated—Screen Actors Guild Award for Outstanding Performance by a Cast in a Motion Picture
2014
Rio, I Love You
Himself (as O Ator)
Segment: "O Milagre"
2014
By the Gun[13]
Salvatore Vitaglia
2014
Gandhi of the Month
Edward Baker
Previously titled Against Itself
2015
Youth
Mick Boyle
2015
The Ridiculous 6
Smiley Harris
2016
Chosen
Papi
2016
The Comedian
Mac
2017
Madame
Bob Fredericks
2017
Lies We Tell
Demi
2018
Isle of Dogs
Gondo
Voice
2018
First We Take Brooklyn
Anatoly
2018
The Last Man
Noe
Post-production
2018
See You Soon
Post-production
2019
The Irishman
Angelo Bruno
Post-production
TBA
The Painted Bird
Priest
Filming
Television
| Year | Film | Role | Notes |
| --- | --- | --- | --- |
| 1966 | Hogan's Heroes | German Soldier | Episode: "The Great Impersonation" |
| 1966 | Dark Shadows | Blue Whale customer | 2 episodes |
| 1968 | N.Y.P.D. | Ramby | Episode: "Case of the Shady Lady" |
| 1971 | Great Performances | Jerry | Episode: "A Memory of Two Mondays" |
| 1973 | Kojak | Jerry Talaba | Episode: "Siege of Terror" |
| 1974 | The F.B.I. | Ernie | Episode: "Deadly Ambition" |
| 1974 | A Memory of Two Mondays | Jerry | Television film |
| 1984 | La bella Otero | Ernest Jurgens | Television film |
| 1985 | Amazing Stories | Byron Sullivan | Episode: "Vanessa in the Garden" |
| 1986 | The Ellen Burstyn Show | Frank Tanner | Episode: "Reading Between the Lines" |
| 1988 | The Play on One | Carl | Episode: "Down Where The Buffalo Go" |
| 2000 | Fail Safe | Brig Gen Warren A. Black | Television film |
| 2002 | Saturday Night Live | Siegfried | Episode: "Robert De Niro/Norah Jones" |
| 2006 | The Path to 9/11 | John O'Neill | Miniseries |
| 2008-2009 | Life on Mars (U.S.) | Lieutenant Gene Hunt | Nominated—Satellite Award for Best Supporting Actor - Series, Miniseries or Television Film |
| 2012 | Fatal Honeymoon | Tommy Thomas | Television film |
| 2016 | Inside Amy Schumer | Proposition Man | Episode: "Fame" |
| TBA | Rio Heat | Hubert Humbolt | |
[ Source: Wikipedia ]