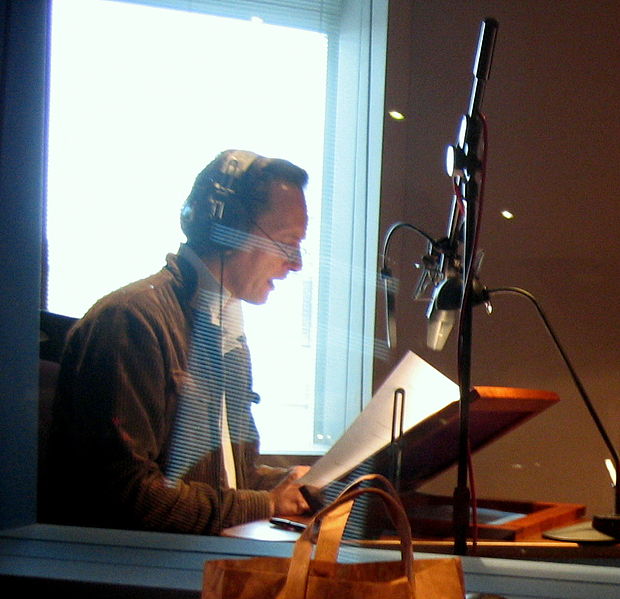 Richard E. Grant
Birth name:
Richard Grant Esterhuysen
Born:
May 5, 1957
Age:
65
Birthplace:
Mbabane, Swaziland
Popularity:

Please login to contact Richard E. Grant...
Biography
Richard E. Grant (born Richard Grant Esterhuysen;[2][3] 5 May 1957) is a Swazi-English actor.[4] He came to public attention in 1987 for playing Withnail in the film Withnail and I, and achieved recognition as John Seward in the 1992 film Bram Stoker's Dracula and Zander Rice in the 2017 superhero film Logan. He played Izembaro in the sixth season of the HBO series Game of Thrones and the Great Intelligence in the seventh series of Doctor Who. He will appear in Star Wars: Episode IX (2019) in a currently undisclosed part.
Grant was born Richard Grant Esterhuysen in Mbabane, Swaziland. His father, Henrik Esterhuysen, was head of education for the British government administration in the British Protectorate of Swaziland.[5][6] He has English, Dutch/Afrikaner, and German ancestry.[7]
As a boy, Grant went to primary school at St Mark's, a local government school in Mbabane that had only recently become racially integrated. When Grant was ten years old, he witnessed his mother commit adultery on the back seat of a car with his father's best friend, which subsequently led to his parents' divorce.[8] This event inspired Grant to keep a daily diary, which he has continued to do ever since.[9] Grant wears a watch on each wrist, one given to him by his dying father, permanently set on Swaziland time.[10] He is a dual citizen of the United Kingdom and Swaziland.[11]
Grant attended secondary school at Waterford Kamhlaba United World College of Southern Africa (UWCSA), an independent school just outside Mbabane, where he was a day scholar. Grant studied English and drama at the University of Cape Town. He adopted his stage name when he moved to Britain as an adult and registered with Equity.
Read more...
Career
Grant was a member of the Space Theatre Company in Cape Town before moving to London in 1982. He later stated, "I grew up in Swaziland when it was mired in a 1960s sensibility. The kind of English spoken where I grew up was a period English sound and when I came to England people said, 'how strange'. Charles Sturridge, who directed Brideshead Revisited for TV, said, 'you speak English like someone from the 1950s'."[12]
Grant's first film role was the perpetually inebriated title character in Withnail and I, which has established a large cult following. Following this film, Grant started appearing in Hollywood films, quickly establishing himself as a powerful character actor in a wide array of films, from blockbuster studio movies to small independent projects. Over the past twenty years, Grant has had strong supporting roles in the films Henry & June, L.A. Story, The Player, The Age of Innocence, The Portrait of a Lady, Spice World, Gosford Park, Bright Young Things, and Penelope.
While filming L.A. Story with Steve Martin, the pair communicated by fax in what became for both a hilarious dialogue: "I kept these faxes, which grew to a stack more than 2in thick, because they entertained me, and because I thought they were valuable aesthetic chunks from a screeching mind, a stream-of-consciousness faucet spewing sentences - sometimes a mile long - none of it rewritten, and bearing just the right amount of acid and alkaline."[13]
In 1995, Grant starred as the titular character in Peter Capaldi's short film Franz Kafka's It's a Wonderful Life. The film won the 1995 Academy Award for Best Live Action Short Film.
He released a single and accompanying video "To be or not to be" with Orpheus in 1997.
Grant has twice portrayed the Doctor from Doctor Who, both outside the main continuity. In the comedy sketch Doctor Who and the Curse of Fatal Death, he portrayed a version of the Tenth Doctor, referred to as the Quite Handsome Doctor. He also voiced a version of the Ninth Doctor for the BBC original animated webcast Scream of the Shalka. The latter had intended to be the official Ninth Doctor prior to the revival of the TV series. In August, 2012, the BBC announced that Grant would join the cast of Doctor Who for "The Snowmen", in which he plays a villain, Walter Simeon.[14] He appeared again in the following episode, "The Bells of Saint John" as the Great Intelligence, one of the Second Doctor's most infamous villains and, prior to "The Snowmen" (played by Ian McKellen), was last seen in The Abominable Snowmen and The Web of Fear. Grant reprises the role in the series 7 finale, "The Name of the Doctor".
Grant as The Voice for
2+2+2
at Heavy Entertainment, London.
On 1 December 2006, Grant turned real life investigator when, with the help of BBC Newsnight, he exposed a $98 million scam to sell a bogus AIDS cure.[15][16]
Grant appeared as "The Voice" in 2+2+2 at American Nights at The King's Head Theatre, from 3 to 29 July 2007, and in 2008 co-starred in the London-based comedy Filth and Wisdom.
On 22 November 2007, he gave a keynote speech at North London Collegiate School in north London as part of their Performing Arts Centre Opening Festival,[17] and presented the 2008 Laurence Olivier Awards.[18]
In 2008, he made his musical theatre debut with Opera Australia, playing the role of Henry Higgins in My Fair Lady, at the Theatre Royal, Sydney, a role he reprised in 2017 at the Lyric Opera of Chicago.
In 2009. he played Alain Reille in Yasmina Reza's one-act play God of Carnage at the Theatre Royal, Bath: and subsequently at Cheltenham, Canterbury, Richmond, Brighton and Milton Keynes.[19]
In 2010 he made an appearance in a music video, when short lived Bristol band The Chemists hired him to appear in their video for "This City"; the band split the same year. This appearance also followed up his previous involvement with the band the year before, in which he spoke the lyrics to "This City" to background music, as part of the intro and outro tracks on their only album Theories of Dr Lovelock.
Grant has written an autobiography and a novel called By Design that is set in Hollywood.
Richard E. Grant was a mentor on the British Airways Great Britons Programme.[20]
In March 2013 Grant starred as intelligence analyst Brian Jones in David Morley's drama The Iraq Dossier, with Peter Firth, Anton Lesser, David Caves, and Lindsay Duncan. It recounted the story of how British Ministry of Defence Intelligence expert Jones had tried to warn that his government's September Dossier on Iraq's Weapons of Mass Destruction was inaccurate.[21]
On 9 May 2015 Grant gave a reading at VE Day 70: A Party to Remember in Horse Guards Parade, London.
In 2016 joined the HBO series Game of Thrones in Season 6 as Izembaro.[22]
In 2017, he starred as Zander Rice, the main antagonist of Logan, opposite Hugh Jackman, in which he gained positive critical reception for his performance.
In July 2018, Lucasfilm announced that Grant would appear in Star Wars: Episode IX.[23]
Wah-Wah
Grant wrote and directed the 2005 film Wah-Wah, loosely based on his own childhood experiences. A screenwriter recommended he write a screenplay, after reading Grant's memoirs of his Withnail and I experience.
The film took him over seven years to complete,[24] and starred Nicholas Hoult in the lead role, with Gabriel Byrne, Miranda Richardson, Julie Walters and Emily Watson.
Grant kept a diary of the experience, later published as a book (The Wah-Wah Diaries). The book received positive reviews from critics, many of whom were impressed by the honesty of the tale, especially in regard to his difficult relationship with the "inexperienced" producer Marie-Castille Mention-Schaar.[25][26][27]
Grant stated in subsequent interviews that she was a "control freak out of control", and that he would "never see her again as long as live."[28][29] In a BBC interview, he again mentioned his "disastrous" relationship with Mention-Schaar. He related that he had received only five emails from her in the last two months of pre-production, and that she rarely turned up on the set at all. She failed to obtain clearance firstly for song rights, and secondly to film in Swaziland. For the last infraction Grant was eventually forced to meet with the King of Swaziland to seek clemency.[30]
During an interview with an Australian chat show, he mentioned that Wah-Wah was not released in France, and as a result, his producer did not make money out of it.[31]
Personal life
Grant married voice coach Joan Washington in 1986 and has one daughter with her (Olivia) and a stepson (Tom).
Grant is a teetotaller. He is intolerant to alcohol, having no enzymes in the blood to metabolise it. If he does drink alcohol, he can keep it down for 10 minutes and is then violently sick for 24 hours afterward.[32] After casting him as the alcoholic Withnail, director Bruce Robinson made Grant drink a bottle of champagne and half a bottle of vodka during the course of a night so that he had experience of the sensation.[31]
He also appeared on BBC1's show Saturday Kitchen on 14 July 2007, where he stated he detests dairy products, while his favourite food is giant prawns on a bed of rice. In October 2008, he told The Times that he is an atheist.[33] He is an avid follower of West Ham United, and appeared on Sky Sports' Soccer AM to show his support for the team on the morning of the 2006 FA Cup Final.
In April 2014, Grant launched his new unisex perfume, JACK, exclusively at Liberty of Regent Street.[34]
Filmography
Film
Year
Title
Role
Notes
1987
Withnail and I
Withnail
1987
Hidden City
Brewster
1989
Warlock
Giles Redferne
1989
How to Get Ahead in Advertising
Denis Dimbleby Bagley
1989
Killing Dad
Ali Berg
1990
Mountains of the Moon
Larry Oliphant
1990
Henry & June
Hugo Guiler
1991
Hudson Hawk
Darwin Mayflower
Nominated – Golden Raspberry Award for Worst Supporting Actor
1991
L.A. Story
Roland Mackey
1992
The Player
Tom Oakley
1992
Bram Stoker's Dracula
Jack Seward
1993
The Age of Innocence
Larry Lefferts
1993
Franz Kafka's It's a Wonderful Life
Franz Kafka
Short film
1994
Prêt-à-Porter
Cort Romney
National Board of Review Award for Best Acting by an Ensemble
1995
Jack and Sarah
Jack
1996
The Portrait of a Lady
Lord Warburton
1996
Twelfth Night: Or What You Will
Sir Andrew Aguecheek
1996
The Cold Light of Day
Victor Marek
1997
The Serpent's Kiss
James Fitzmaurice
1997
Keep the Aspidistra Flying
Gordon Comstock
1997
Spice World
Clifford
1998
St. Ives
Major Farquhar Chevening
1999
The Match
Gorgeous Gus
2000
The Little Vampire
Frederick Sackville-Bagg
2000
The Miracle Maker
John the Baptist
Voice
2001
Hildegarde
Wolf
2001
Gosford Park
George
Broadcast Film Critics Association Award for Best Cast
Florida Film Critics Circle Award for Best Cast
Online Film Critics Society Award for Best Cast
Satellite Special Achievement Award - Ensemble Cast
Screen Actors Guild Award for Outstanding Performance by a Cast in a Motion Picture
Nominated - Phoenix Film Critics Society Award for Best Cast
2003
Monsieur N.
Hudson Lowe
2003
Bright Young Things
Father Rothschild
2004
The Story of an African Farm
Bonaparte Blenkins
2004
Tooth
Jarvis Jarvis
2005
Wah-Wah
Writer and director
2005
Corpse Bride
Lord Barkis Bittern
Voice
2005
Colour Me Kubrick
Jasper
2006
Garfield: A Tail of Two Kitties
Preston
Voice
2007
Always Crashing in the Same Car
James Booth
2008
Penelope
Franklin Wilhern
2008
The Garden of Eden
Colonel Philip Boyle
2008
Filth and Wisdom
Professor Flynn
2009
Love Hurts
Ben Bingham
2009
Cuckoo
Professor Julius Greengrass
2010
First Night
Adam
2010
Jackboots on Whitehall
Campbell Babbitt
Voice
2010
The Nutcracker in 3D
Father
2011
Horrid Henry: The Movie
Vic Van Wrinkle
2011
The Iron Lady
Michael Heseltine
2011
Foster (a.k.a. Angel in the House)
Mr Potts
2012
Kath & Kimderella
Alain
2012
Zambezia
Cecil
Voice
2013
Khumba
Bradley
Voice
2013
Dom Hemingway
Dickie
2013
About Time
Lawyer in Play
Uncredited
2014
Queen and Country
Major Cross
2016
Jackie
William Walton
2016
Their Finest
Roger Swain
2017
Logan
Zander Rice
2017
The Hitman's Bodyguard
Seifert
2018
Can You Ever Forgive Me?
Jack Hock
Pending - Gotham Independent Film Award for Best Actor
2018
The Nutcracker and the Four Realms
Snow Realm King Shiver
2019
Star Wars: Episode IX
Filming
Television
Year
Title
Role
Notes
1983
Sweet Sixteen
Anton
Episode: "Episode Six"
1985
Screen Two
Moonee Livingstone
Episode: "Honest, Decent & True"
1988
Codename: Kyril
Sculby
4 episodes
1993
The Legends of Treasure Island
Long John Silver (voice)
8 episodes
1994
Absolutely Fabulous
Justin
Episode: "Hospital"
1994
Hard Times
James Harthouse
3 episodes
1996
Karaoke
Nick Balmer
4 episodes
1996
A Royal Scandal
King George IV
Television film
1997
Captain Star
Captain Jim Star
Voice
4 episodes
1999-2000
The Scarlet Pimpernel
Sir Percy Blakeney / The Scarlet Pimpernel
6 episodes
1999
Trial & Retribution III
Stephen Warrington
2 episodes
1999
Let Them Eat Cake
Monsieur Vigée-Lebrun
Episode: "The Portrait"
1999
Doctor Who and the Curse of Fatal Death
The Conceited Doctor
Television special
1999
A Christmas Carol
Bob Cratchit
Television film
2002
Sherlock: Case of Evil
Mycroft Holmes
Television film
2002
The Hound of the Baskervilles
Jack Stapleton
Television film
2004
Posh Nosh
Simon Marchmont
8 episodes
2004
Frasier
Stephen Moon
Episode: "Goodnight, Seattle"
2004
90 Days in Hollywood
Narrator
Documentary
2004
The Story of Bohemian Rhapsody
Narrator
Documentary
2005
Home Farm Twins
Paul Baker
2006
Above and Beyond
Don Bennett
2 episodes
2006
That'll Teach 'Em
Narrator
Season 3 (2006)
2007
Dalziel and Pascoe
Lee Knight
2 episodes
2007
Mumbai Calling
Benedict T. Harlow
Episode: "Good Sellers"
2007
Agatha Christie's Marple
Raymond West
Episode: "Nemesis"
2011
The Crimson Petal and the White
Dr Curlew
4 episodes
2011
Rab C Nesbitt
Chingford Steel
Episode: "Broke"
2012-2014
Richard E. Grant's Hotel Secrets
Himself (host)[35][36]
14 episodes
2012
The Fear
Seb Whiting
3 episodes
2012
The History of Safari With Richard E Grant
Himself (host)
Documentary
2012-2013
Doctor Who
Dr Simeon / The Great Intelligence
3 episodes
2014
Girls
Jasper
4 episodes
2014
Downton Abbey
Simon Bricker
4 episodes
2015
Dig
Ian Margrove
10 episodes
2015
Wellington: The Iron Duke Unmasked
Wellington
Documentary
2015
Jekyll and Hyde
Sir Roger Bulstrode
9 episodes
2016
Game of Thrones
Izembaro
3 episodes
Other
Year
Title
Role
Notes
2003
Doctor Who: Scream of the Shalka
The Doctor
2010
"This City" (The Chemists music video)
Human cyborg
2013
Fuck: An Irreverent History of the F-Word
Narrator
Audiobook
2013
The Pillars of the Earth
Narrator
Audiobook
World Without End
Narrator
Audiobook
Pinocchio's Daring Journey
Stromboli
Coachman
2017
My Fair Lady
Henry Higgins
Lyric Opera of Chicago
Bibliography
The Wah-Wah Diaries: The Making of a Film. 2006. ISBN 0-330-44196-5 (hardcover).
With Nails: The Film Diaries of Richard E. Grant. ISBN 0-87951-828-6 (hardcover). ISBN 0-87951-935-5 (paperback).
By Design: A Hollywood Novel. Picador, 1999. ISBN 0-330-36829-X (10). ISBN 978-0-330-36829-2 (13).
[ Source: Wikipedia ]