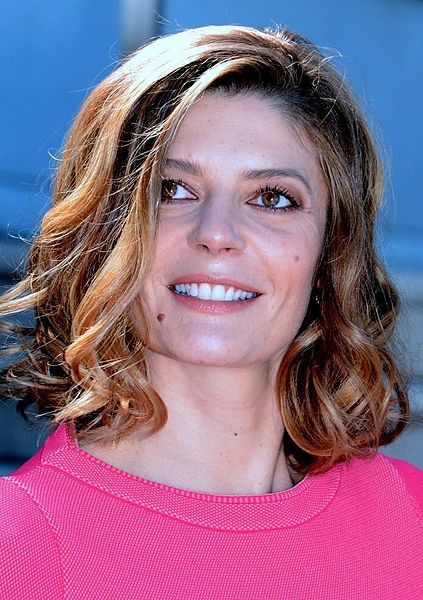 Chiara Mastroianni
Birth name:
Chiara Charlotte Mastroianni
Born:
May 28, 1972
Age:
51
Birthplace:
Paris, France
Popularity:

Please login to contact Chiara Mastroianni...
Biography
Chiara Charlotte Mastroianni (born 28 May 1972) is a French actress and singer. She is the daughter of Marcello Mastroianni and Catherine Deneuve.
Mastroianni earned a César Award nomination for her first feature film appearance in André Téchiné's
My Favorite Season
(1993), starring her mother in the lead role. The next year she appeared in
Robert Altman
's
Prêt-à-Porter
. Her first starring role came in 1995, opposite Melvil Poupaud in
Le Journal du séducteur
, a romantic comedy inspired by "The Seducer's Diary" chapter from Søren Kierkegaard's
Either/Or
. She worked with Poupaud again in
Three Lives and Only One Death
(1996), playing the daughter to her real-life father, and in
Time Regained
(1999), also starring her mother.
Along with a few supporting performances in French films, she appeared in Gregg Araki's Nowhere (1997) and took time off to have her first child with sculptor Pierre Thoretton. She returned to filmmaking to star in the leading role of Manoel de Oliveira's The Letter (1999), based on the novel La Princesse de Clèves by Madame de La Fayette.
After appearances in Mike Figgis' Hotel (2001) and shooting in Italy for Le parole di mio padre (2001), she played the lead in Delphine Gleize's interconnected drama Carnages (2002), a winner at several international film festivals. In 2003, she starred in the comedy drama Il est plus facile pour un chameau....
In July 2016 she was named as a member of the main competition jury for the 73rd Venice International Film Festival.[1]
Read more...
Personal life
Christian Vadim
Maurice Dorléac
Renée Simonot
Françoise Dorléac
Ruggero Mastroianni
In 2002, Mastroianni married Benjamin Biolay; the couple divorced in 2005.
Filmography
| Title | Year | Role | Notes |
| --- | --- | --- | --- |
| Saint-Amour | 2016 | | |
| Three Hearts | 2014 | Sophie | |
| La Rançon de la gloire | 2014 | Rosa | |
| Bastards | 2013 | Raphaëlle | |
| Lines of Wellington | 2012 | Hussar | |
| Americano | 2011 | Claire | |
| The Beloved | 2011 | Véra Passer | |
| Chicken with Plums[2] | 2011 | Lili (adult) | |
| Man at Bath | 2010 | Actress | |
| Making Plans For Lena | 2009 | Lena | |
| Park Benches | 2009 | Marianne's mother | |
| Un chat un chat | 2009 | Nathalie/Célimène | |
| Le crime est notre affaire | 2008 | Emma Charpentier | |
| La Belle Personne | 2008 | La jeune femme dans le café | |
| A Christmas Tale | 2008 | Silvia | |
| Les Chansons d'amour | 2007 | Jeanne | |
| Persepolis | 2007 | Marjane Satrapi | Voice |
| L'Heure zéro | 2007 | Audrey Neuville | |
| Akoibon | 2005 | Barbara | |
| Il est plus facile pour un chameau... | 2003 | Bianca | |
| Carnages | 2002 | Carlotta | |
| Le parole di mio padre | 2001 | Ada Malfenti | |
| Hotel | 2001 | Infirmière de l'hotel | |
| Six-Pack | 2000 | Marine | |
| La Lettre | 1999 | Madame de Clèves | |
| Libero Burro | 1999 | Rosa Agnello | |
| Le temps retrouvé | 1999 | Albertine | |
| À vendre | 1998 | Mireille | |
| On a très peu d'amis | 1998 | Vivianne | |
| Nowhere | 1997 | Kriss | |
| Cameleone | 1996 | Léa | |
| Three Lives and Only One Death | 1996 | Cécile | |
| Comment je me suis disputé... (ma vie sexuelle) | 1996 | Patricia | |
| Don't Forget You're Going to Die | 1995 | Claudia | |
| Le Journal du séducteur | 1995 | Claire Conti | |
| All Men are Mortal | 1995 | Françoise | |
| Prêt-à-Porter | 1994 | Sophie Choiset | |
| Rêveuse jeunesse | 1994 | Brigitte | |
| A la belle étoile | 1993 | Claire | |
| Ma saison préférée | 1993 | Anne | |
[ Source: Wikipedia ]