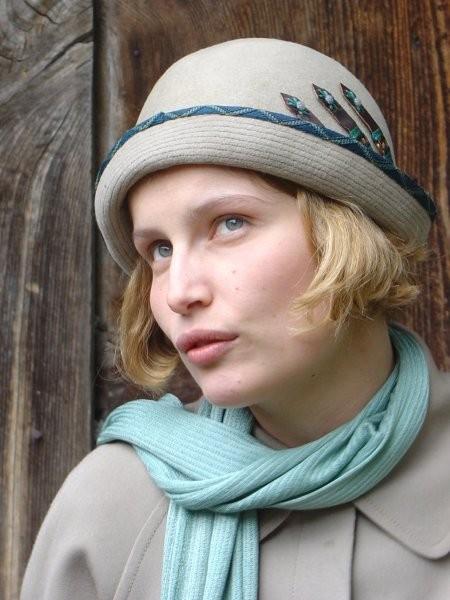 Laetitia Casta
Birth name:
Laetitia Marie Laure Casta
Born:
May 11, 1978
Age:
44
Birthplace:
Pont-Audemer, France
Popularity:

Please login to contact Laetitia Casta...
Biography
Laetitia Marie Laure Casta (born 11 May 1978)[3] is a French actress and supermodel.
Casta became a "GUESS? Girl" in 1993 and gained further recognition as a Victoria's Secret Angel from 1998 to 2000 and as a spokesperson for cosmetics company L'Oréal. She has appeared on over 100 covers of such popular magazines as Cosmopolitan, Vogue, Rolling Stone, Elle and Glamour, and has modeled for designers such as Yves Saint Laurent, Jean-Paul Gaultier, Chanel, Ralph Lauren, Tommy Hilfiger, J. Crew, Louis Vuitton, Givenchy, Roberto Cavalli, Lolita Lempicka, and Vivienne Westwood.
Casta became an established actress, appearing in the films Gainsbourg: A Heroic Life (2010), in which she portrayed sex symbol Brigitte Bardot, Face (2009) and The Blue Bicycle (2000), as well as the play Ondine at the theatre Antoine.
Laetitia Casta was born in Pont-Audemer, Normandy, France. Her mother, Line Blin, is from Normandy. Her father, Dominique Casta, is from Corsica. Casta has an older brother, Jean-Baptiste, and a younger sister, Marie-Ange. She spent her childhood in Normandy and Corsica.[4]
Read more...
Career
Casta's modeling career reportedly began when she was discovered by the photographer Frederic Cresseaux,[5] during a family holiday in her father's native Corsica, at age 15.[6] After her unexpected registration by Jeeby, Casta was elected Miss Lumio 93.[7]
Casta has been the L'Oréal Paris brand ambassador since 1998.[8] She has been featured in Guess? Jeans, Tommy Hilfiger, Miu Miu, Pepe Jeans, Alberta Ferretti and XOXO ad campaigns. Casta has appeared on more than 100 magazine covers including Victoria's Secret catalogs, Harper's Bazaar,[9] ELLE magazine, and Vogue magazine. She walked down the annual Victoria's Secret Fashion Show in 1997, 1998, 1999, and 2000. Caste was one of the company's signature Victoria' Secret Angels from 1998 to 2000. She claims that her career with Victoria's Secret ended because she was "too much of rebel".[10] She also appeared in Sports Illustrated Swimsuit Issue three consecutive times, Rolling Stone, and the Pirelli Calendar 1999 by Herb Ritts and 2000 by Annie Leibovitz.
In 1999, Casta was ranked first in a national survey ordered by the French Mayors Association to decide who should be the new model for the bust of Marianne, an allegorical symbol of the French Republic, which stands inside every French town hall.[11]
Casta became the focus of a controversy[12] when, after being selected to be Marianne, newspapers in Britain and France[13] reported that she had relocated to London where taxes on high earners are lower. Casta's father said she went to London for professional reasons; on a TV show, she also said that she rented a flat in London to be near her boyfriend.[14] The French minister of the interior spoke about Casta on the radio;[15][16] comparing the advantages of living in France with regard to the drawbacks of London[17] after political opponents used Casta's relocation to London as an opportunity to criticise the government.[18][19]
She is the face of fragrances Chanel's Allure, Givenchy's Forbidden flower, Cacharel's Promise, Bulgari's BLV II, Ralph Lauren's Notorious, and on 15 June 2012 D&G's Pour Femme shot in Erice by Mario Testino.[20] The Parisians could follow her Adventures in the Galeries Lafayette by Jean-Paul Goude.[21] For Christmas 2011, Peter Lindbergh shot True Love, the very thought of Casta at the summit of Manhattan and between the snowy lions of marble of the New York Public Library for Tiffany & Co.[22] On 10 March 2010, in Paris, she opened the Louis Vuitton Fall/Winter 2010 fashion show.[23] On 27 September 2010, she closed the Roberto Cavalli SS 2011 fashion show in Milan.[24]
For her first movie, Casta has made forays into the blockbuster Asterix & Obelix Take On Caesar directed by Claude Zidi, a live-action film of the comic book Asterix; in which Obelix, portrayed by Gérard Depardieu, plays a love interest for Falbala.[25] Casta appeared in Les Ames Fortes, a dramatic film directed by Raul Ruiz.[26] Her interpretation of Brigitte Bardot in the movie Gainsbourg (Vie heroique) revealed the actress[27] who received her first nomination at the Cesar Award. Casta served as a jury member at the 69th Venice International Film Festival in 2012.[28]
Political involvement
On 6 April 2008, Casta demonstrated in a White March of nonviolent protest to ask for the immediate release of Ingrid Betancourt, presidential candidate kidnapped since 2002 by the FARC.[29] On 30 April 2002, she attended the demonstration Vive la République after the first round election of the 2002 presidential election.[30]
She was appointed as a UNICEF Goodwill Ambassador on 9 December 2016, committed to help the 250 million children living in conflict areas.[31]
Personal life
On 19 October 2001, Casta gave birth to her daughter Sahteene, whose father is the photographer Stephane Sednaoui. Casta was engaged to Italian actor Stefano Accorsi. The couple has two children: a son named Orlando, born on 21 September 2006, and a daughter named Athena, born on 29 August 2009.[32] In June 2017, Casta married her then-boyfriend, French actor Louis Garrel.[33]
Filmography
Director, screenwriter, producer
| Year | Title | Role | Notes | Box office |
| --- | --- | --- | --- | --- |
| 2016 | En Moi | Director, Writer, Producer | Cannes Critics' Week closing short[34] | |
Actress
Year
Title
Role
Director
Notes
1999
Asterix et Obelix contre Cesar

(Asterix & Obelix Take On Caesar)
Falbala
Claude Zidi
2000
La Bicyclette Bleue

(The Blue Bicycle)
Lea Delmas
Thierry Binisti
TV film for France2
Gitano
Lucia Junco
Manuel Palacios
2001
Les ames fortes

(Savage Souls)
Therese
Raoul Ruiz
2002
Rue des plaisirs

(Love Street)
Marion
Patrice Leconte
Performs on the soundtrack
2003
Errance

(Wandering)
Lou
Damien Odoul
2004
Luisa Sanfelice
Luisa Sanfelice
Paolo Taviani

Vittorio Taviani
TV film for France2, RAI Uno
2006
Le grand appartement

(The Big Apartment)
Francesca Cigalone
Pascal Thomas
La Deraison du Louvre

(The Irrationality of the Louvre)
The young woman
Ange Leccia
Short film without dialog shot in the Louvre museum[35] for which Casta was for the first time in cover of Les Cahiers du Cinema.[36][37]
Nymphea

(Nymphaea)
The naiad
Ange Leccia
Short film
2007
Le Petit Monde de Charlotte

(Charlotte's Web)
Charlotte A. Cavatica
Gary Winick
2008
Nes en 68

(Born in 68)
Catherine
Olivier Ducastel

Jacques Martineau
Cabourg: Golden Swann of the Best Actress
La jeune fille et les loups

(The Maiden and the Wolves)
Angele Amblard
Gilles Legrand
2009
Visage

(Face) ? (in Chinese)
Salome
Tsai Ming-Liang
Fleurs dans le miroir,
lune dans l'eau

(Flowers in the mirror,
moon in the water)
herself, Salome
Francois Lunel
2010
Gainsbourg (Vie heroique)

(Gainsbourg: A Heroic Life)
Brigitte Bardot
Joann Sfar
Nominated for the Cesar Award for Best Supporting Actress
Performs Gainsbourg's songs on the soundtrack
2011
La nouvelle guerre des boutons

(The War of the Buttons)
Simone
Christophe Barratier
Derriere les murs

(Behind the Walls)
Suzanne
Julien Lacombe

Pascal Sid
Островът (Ostrovat)

(The Island)
Sophie
Kamen Kalev
First film with English dialogue
Rio
Perla (Jewel)
Carlos Saldanha
2012
Arbitrage
Julie Cote
Nicholas Jarecki
First American film
Do Not Disturb
Anna
Yvan Attal
2013
Une histoire d'amour[28]

(Tied)
The young woman
Helene Fillieres
2014
Rio 2
Perla (Jewel)
Carlos Saldanha
First sequel
A Woman as a Friend
Claudia
Giovanni Veronesi
Des lendemains qui chantent
Noemie Archambault
Nicolas Castro
Sous les jupes des filles
Agathe
Audrey Dana
2018
A Faithful Man
Marianne
Louis Garrel
Completed
Music videos
Year
Singer
Song
Director
2010
Rihanna
Te Amo
Anthony Mandler
1999
Chris Isaak
Baby Did a Bad Bad Thing
Herb Ritts
1998
I Muvrini

Sting
Terre d'Oru(in English)(in Corsican)(in Greek)
Stefano Salvati
DVD and Blu-ray
| Year | Title | Distribution | Language | Region | Notes |
| --- | --- | --- | --- | --- | --- |
| 2007 | Laetitia Casta | StudioCanal | French | 2 | with Yves Saint Laurent, Pierre Berge, Jean-Paul Gaultier, Dominique Issermann, Sylvie Lancrenon, Jamel Debbouze, Omar Sy & Fred Testot, Frederic Lopez, Jean-Paul Goude, Jacques Weber, Claude Zidi |
Theatre
Year
Play
Role
Playwright
Stage director
Theatre
City
Review
2017
Scenes from a Marriage
Marianne
Ingmar Bergman
Safy Nebbou
Théâtre de l'Œuvre
Paris 9th
L'Express[38]
2008
Elle t'attend

(She is waiting for you)
Anna[39]
Florian Zeller
Florian Zeller
Théâtre de la Madeleine
Paris 8th
Madame Figaro[40]
2005

2004
Ondine
Ondine[39]
Jean Giraudoux
Jacques Weber
Tour in regions

Théâtre Antoine-Simone Berriau
Ludwigshafen[41]

Paris 10th
L'Humanité[42]
Humanitarian action
Year
Association
Comment
2010
Porteurs d'Eau[permanent dead link] (in French)
Water-carrier is an initiative of France Libertes - Danielle-Mitterrand foundation (in French)
2006
Rose Marie Claire[permanent dead link] (in French)
Casta among Claire Chazal, Isabelle Adjani, Axelle Red, Monica Bellucci and Tina Kieffer with the Rose Marie Claire (in French) are shot by Jeff Manzetti for the association Toutes a l'ecole (in French)
2005
Action Innocence
She belongs to the Committee of support of Action Innocence[43] to protect the children from the dangers of the Internet.
2004
Action Contre la Faim
Casta drew a winged blue heart on a plate for the bidding of 19 November 2004 to help Action against Hunger
2002
Occi, paese rinascitu (in Corsican)
In the headquarters of the association Occi recovered village at the Caffe di a Mossa of Lumio in Corsica, Casta helped to reconstruct the old chapel of Annunziata in the abandoned village of Occi.[44]
Watch the Occi video on YouTube by official Korsika.fr
Awards and recognition
| Year | Award | By | Result |
| --- | --- | --- | --- |
| 2012 | Chevalier dans l'Ordre des Arts et des Lettres(in French)(Knight in Order of Arts and of Letters) | France Minister of Culture and of Communication | |
| 2011 | Nominated for the Cesar Award of the Best Supporting Actressas Brigitte Bardot in Gainsbourg (Vie heroique) | Cesar Awards | Nominated |
| 2008 | Golden Swann of the Best Actressas Catherine in Born in 68 | Cabourg Film Festival (in French) | Won |
| 2001 | Ranked No. 1 Top 50 Most Beautiful Women[45] | Askmen.com | |
| 1999 | Marianne for the 21st century[11] | 82nd congress of AMF, the French Mayors Association | Won |
[ Source: Wikipedia ]