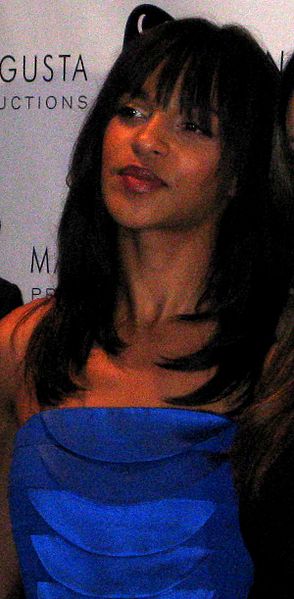 Megalyn Echikunwoke
Born:
May 28, 1983
Age:
40
Birthplace:
Spokane, Washington, United States
Popularity:

Please login to contact Megalyn Echikunwoke...
Biography
Megalyn Echikunwoke (/ˈmɛɡəlɪn ɛˌtʃɪkənˈwoʊki/ MEG-ə-lin eh-CHEE-kən-WOH-kee; born May 28, 1983[citation needed]) is an American actress. She has appeared on television as Tara Price in CSI: Miami, Isabelle Tyler in The 4400 and as Mari McCabe / Vixen in the Arrowverse.
Echikunwoke was born in Spokane, Washington to an Igbo Nigerian father and an English, Irish and German mother. After the death of her father, her mother raised her along her three brothers on a Navajo Indian reservation in Chinle, Arizona. [1][2]
She was a series regular on the science fiction television series The 4400, as the adult version of the mysterious Isabelle Tyler. Echikunwoke left the show in 2007. Echikunwoke has also been seen in the MTV soap opera, Spyder Games, as Cherish Pardee, a coffee house singer, and in Like Family as Danika. She also has a recurring role in the first season of 24 as David Palmer's daughter, Nicole. In season 7 of CSI: Miami, Echikunwoke joined the cast as the new medical examiner, Dr. Tara Price. She appeared on the show for one season.
She appeared on Fox's That 70's Show as Hyde's half sister, Angie Barnett, and had a recurring role on TNT's Raising the Bar where she played the love interest of attorney Marcus McGrath, played by J. August Richards.[3] In 2011, Echikunwoke played Holly in the fourth season of 90210.[4]
She played April on Showtime's House of Lies and Riley Parker in the legal drama Made in Jersey on CBS.[5] In 2014, she co-starred in the drama series Mind Games on ABC.
She also appeared on the CW's Arrow as the DC Comics superhero Vixen for an episode, as well as providing her voice for the character in a short animated series. Due to prior commitments, she was unavailable to play the character in Legends of Tomorrow, resulting in the introduction of a new Vixen played by Maisie Richardson-Sellers, who is the time-displaced grandmother of Echikunwoke's character.
Read more...
Political activism
In 2007, Echikunwoke, Justin Long, Olivia Wilde, and Kal Penn campaigned for the 2008 Democratic Presidential nominee Barack Obama. This included a winter tour of college campuses and bars in Iowa, known as the All-Actor All-Iowa All-Star Voter Education Tour, to register new college-age voters prior to the 2008 election.[6][7]
Personal life
Echikunwoke is in a relationship with comedian Chris Rock.[8]
Filmography
Film
| Year | Title | Role | Notes |
| --- | --- | --- | --- |
| 1999 | Funny Valentines | Lauren | |
| 2004 | Great Lengths | Elena | Short film |
| 2006 | Camjackers | Sista Strada Cast | |
| 2008 | Fix | Carmen | |
| 2008 | Who Do You Love? | Ivy Mills | |
| 2011 | Damsels in Distress | Rose | |
| 2011 | Free Hugs | Megan | Short film |
| 2013 | A Good Day to Die Hard | Pretty Reporter | |
| 2014 | Electric Slide | Jean | |
| 2014 | Night Swim | Eve | Short film |
| 2015 | The Meddler | Elise | |
| 2017 | CHiPs | Patricia Eerly | |
| 2018 | Step Sisters | Jamilah | |
| 2018 | An Actor Prepares | Clementine | |
| 2018 | Night School | Lisa | |
| 2019 | Late Night | | Post-production |
Television
| Year | Title | Role | Notes |
| --- | --- | --- | --- |
| 1998 | Creature | Elizabeth Gibson | TV miniseries |
| 1998 | The Steve Harvey Show | Allison Hightower | "Uncle Steve" |
| 2000 | Malibu, CA | Randy | "Three Dudes and a Baby" |
| 2001 | Spyder Games | Cherish Pardee | Regular role |
| 2001-02 | 24 | Nicole Palmer | Recurring role |
| 2002 | Sheena | Janel | "Coming to Africa" |
| 2002 | ER | Terry Welch | "Bygones" |
| 2002 | For the People | Claudia Gibson | TV series |
| 2002 | What I Like About You | Karen | "The Parrot Trap" |
| 2002 | B.S. | Shannon Cross | TV film |
| 2003 | Buffy the Vampire Slayer | Vaughne | "The Killer in Me" |
| 2003-04 | Like Family | Danika Ward | Main role |
| 2004 | Veronica Mars | Rain | "Drinking the Kool-Aid" |
| 2004-05 | That '70s Show | Angie Barnett | Recurring role |
| 2005 | Hitched | Christina | TV film |
| 2006 | Supernatural | Cassie Robinson | "Route 666" |
| 2006-07 | The 4400 | Isabelle Tyler | Main role |
| 2008 | The Game | Cheyenne | "Take These Vows and Shove 'Em!" |
| 2008-09 | CSI: Miami | Dr. Tara Price | Main role |
| 2009 | Raising the Bar | Amelia Mkali | "Hair Apparent", "Rules of Engagement", "The Curious Case of Kellerman's Button" |
| 2009 | Law & Order: Special Victims Unit | Nicole Gleason | "Anchor" |
| 2011-12 | 90210 | Holly Strickler | Recurring role |
| 2012 | House of Lies | April | Recurring role |
| 2012 | Beautiful People | Monica | TV film |
| 2012 | Made in Jersey | Riley Parker | Main role |
| 2014 | American Dad! | Angie (voice) | "Introducing the Naughty Stewardess" |
| 2014 | Mind Games | Megan Shane | Main role |
| 2015 | The Following | Penny | "Evermore", "Demons", "The Edge", "A Simple Trade" |
| 2016 | Arrow | Mari McCabe / Vixen | "Taken" |
| 2016 | Damien | Simone Baptiste | Main role |
| 2017 | Ghosted | Natalie | "Whispers" |
Web
| Year | Title | Role | Notes |
| --- | --- | --- | --- |
| 2015-2016 | Vixen | Mari McCabe / Vixen | Lead role (voice)[9] |
| 2018 | Freedom Fighters: The Ray | Mari McCabe / Vixen | Voice[10] |
Video Games
| Year | Title | Role | Notes |
| --- | --- | --- | --- |
| 2017 | Injustice 2 | Mari McCabe / Vixen | Voice |
[ Source: Wikipedia ]