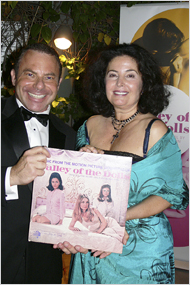 Barbara Parkins
Born:
May 22, 1942
Age:
81
Birthplace:
Vancouver, British Columbia, Canada
Popularity:

Please login to contact Barbara Parkins...
Biography
Barbara Parkins (born May 22, 1942) is a Canadian-American former actress, singer, and dancer.
Parkins was born in Vancouver, British Columbia.[1] At the age of 16, her adoptive mother and she moved to Los Angeles, where she enrolled at Hollywood High School and began to study acting, tap, ballet, and fencing at the Falcon School, where her mother played the piano.[2] Her earliest employment was as a backup singer and dancer in the nightclub acts of major stars, including comedian
George Burns
. She made her film debut in a 1961 low-budget crime caper,
20,000 Eyes
, and also guest-starred in a number of television series, including
Leave It to Beaver
,
The Untouchables
,
Perry Mason
, and
The Wide Country
.
Shortly before gaining nationwide fame, Parkins worked as an usher in a cinema to pay for drama lessons.[3]
Read more...
Peyton Place and Valley of the Dolls
Parkins in a promotional photo for
Peyton Place
Parkins was involved in two of the most highly publicized projects of the 1960s—the ABC primetime serial, Peyton Place, and the film adaptation of Jacqueline Susann's best-selling novel, Valley of the Dolls.
In Peyton Place, Parkins received lead billing for her role as small-town bad girl Betty Anderson. As initially conceived, the character was scheduled to die in a car crash six weeks into the season, but audience reaction to Parkins was overwhelmingly favorable, and it was decided to keep her in the story line. In a late 1965 interview, the actress said about her role:
I'm lucky in the role I have. Mine was the big story when the series started off. I haven't had much to do lately, but when I do have scenes, they are important to the plot. You might say I'm the salt and pepper in the stew.[3]
She was the only female star to remain with the series through its entire run (1964-1969). In 1966, she was nominated for an Emmy Award as Best Actress in a Lead Role in a Dramatic Series, but lost to Barbara Stanwyck for The Big Valley. About losing the award on her 24th birthday, Parkins told the press:
I was hurt, but if I had to lose I was glad it was to Barbara Stanwyck, who is a grand lady and fine actress. I would have hated to lose to Anne Francis. I don't care much for her work. A woman should be feminine and not go around hitting people with judo chops the way she does in that Honey West show.[4]
Eventually shedding her "other side of the tracks" image, Betty endured many of the trials and tribulations of soap-opera life. The character achieved such popularity that when the show ended its run, producer Paul Monash developed a spin-off series, The Girl from Peyton Place, for Parkins. However, when co-star Ryan O'Neal, who played her husband, declined to participate, the project was shelved. Nevertheless, Parkins insisted she often felt very insecure on the set, saying
Sometimes I think I hold myself in too tightly. I would watch Lee Grant do those wild things when she played Stella Chernak and think I should try something like that, but when I did I was pathetic. I'm very critical of what I see of myself, but I did get an Emmy nomination, didn't I?.[4]
In Valley of the Dolls, Parkins played Anne Welles, the naive small-town girl described as "the good girl with a million-dollar face and all the bad breaks"—a character based on author Susann. The film was trashed by the critics, although Parkins was one of the few to emerge unscathed. However, the movie was a huge commercial success and eventually became a campy cult classic. "Jackie was... taken with Barbara, who she felt resembled an earlier Jackie Susann, dark and intense and with a distinctive voice."[5]
In the late 1960s, Parkins was linked to several men, but she insisted most of the stories were made up by gossip magazines. Some of the men included Omar Sharif, Adam West, David Hedison, and Marcel Marceau.[6] In a 1965 interview Parkins said:
I get calls now, from young actors I used to have crushes on. They'll ask me out now, when they wouldn't a year ago. And I love to say "No" to them. I'd have liked it once, but now I don't need them.[7]
Later life and career
After visiting London in 1968, when she served as a bridesmaid at the wedding of Valley of the Dolls co-star Sharon Tate and director Roman Polanski,[8] Parkins decided to move to England, where she starred in several productions. Among them: Puppet on a Chain, Shout at the Devil, with Lee Marvin and Roger Moore, and The Mephisto Waltz, with Alan Alda and Jacqueline Bisset. Parkins explained why she moved to London by saying: "It's more relaxed; there's a simplicity; I love the traditions."[6]
Parkins posed for nude pictorials in the May 1967, February 1970 and May 1976 editions of Playboy magazine. She spent most of the mid-1970s appearing on American television in several miniseries, including Jennie: Lady Randolph Churchill with Lee Remick, Captains and the Kings alongside her Dolls co-star, Patty Duke, and The Testimony of Two Men with William Shatner. She also appeared in guest spots on Fantasy Island, The Love Boat, Hotel, and Vega$.
In the late 1970s, Parkins moved to France and married, and in the late 1980s, she adopted her only child, daughter Christina.
In the 1980s, she continued to work in television movies, including To Catch a King, in which she portrayed the Duchess of Windsor, and opposite Sharon Stone in The Calendar Girl Murders. She also auditioned for the title role in the James Bond film Octopussy (1983), but lost to Maud Adams. She returned to the role of Betty Anderson in Peyton Place: The Next Generation (1985), a one-shot sequel to her popular series.
In 1991, she starred in a Canadian mystery series entitled Scene of the Crime, then spent most of the remainder of the decade in semiretirement. She emerged in the late 1990s to participate in two Susann-inspired projects, the biography Scandalous Me and a segment of the Lifetime series Intimate Portrait. In 1995, she was chosen by Empire magazine as number 81 on their list of 100 Sexiest Stars in film history.[citation needed]
In 2006, she participated with Ted Casablanca on the audio commentary for the DVD release of Valley of the Dolls and attended the release party on June 13, 2006.
Filmography
Sources:[1][9][10][11]
Films
Year
Title
Role
Notes
1961
20,000 Eyes
High School Girl
1967
Valley of the Dolls
Anne Welles
1970
The Kremlin Letter
B.A.
1971
The Mephisto Waltz
Roxanne Delancey
The Deadly Trap
Cynthia
Puppet on a Chain
Maggie
A Taste of Evil
Susan Wilcox
TV movie
1972
Asylum
Bonnie
1973
Snatched
Barbara Maxvill
TV movie
1974
Christina
Christina/Kay
1976
Law of the Land
Jane Adams
TV movie
Shout at the Devil
Rosa O'Flynn/Oldsmith
Captains and the Kings
Martinique
TV miniseries
1977
Testimony of Two Men
Marjorie Ferrier/Hilda Eaton
TV miniseries
Young Joe, the Forgotten Kennedy
Vanessa Hunt
TV movie
1978
Ziegfeld: The Man and His Women
Anna Held
TV movie
The Critical List
Angela Adams
TV movie
1979
Bear Island
Judith Rubin
1981
The Manions of America
Charlotte Kent
TV miniseries
1982
Breakfast in Paris
Jackie Wyatt
1983
Uncommon Valor
Dr. Margaret Houghton
TV movie
1984
To Catch a King
Duchess of Windsor
TV movie
Calendar Girl Murders
Cleo Banks
TV movie
Katy
Narrator
Voice
1985
Peyton Place: The Next Generation
Betty Anderson
TV movie
1986
Perry Mason: The Case of the Notorious Nun
Ellen Cartwright
TV movie
1998
Scandalous Me: The Jacqueline Susann Story
Annie Laurie Williams
TV movie
TV series
| Year(s) | Title | Role | Seasons | Notes |
| --- | --- | --- | --- | --- |
| 1964-69 | Peyton Place | Betty Anderson | 1-5 | Nominated for an Emmy Award |
| 1974 | Jennie: Lady Randolph Churchill | Leonie | 1 | |
| 1991 | Scene of the Crime | Various characters | 1 | |
TV appearances
| Title | Season | Year | Role | Episode title | Notes |
| --- | --- | --- | --- | --- | --- |
| The Untouchables | 2 | 1961 | Girl (uncredited) | The Lily Dallas Story | Episode 21 |
| The Tall Man | 2 | 1961 | Sue Wiley | Shadow of the Past | Episode 5 |
| Leave It to Beaver | 5 | 1961 | Judy Walker | No Time for Babysitters | Episode 2 |
| 87th Precinct | 1 | 1961 | Mary | Lady Killer | Episode 3 |
| Wagon Train | 5 | 1961 | Eve | The Mark Miner Story | Episode 6 |
| General Electric Theater | 10 | 1961 | Betty | We're Holding Your Son | Episode 11 |
| General Electric Theater | 10 | 1961 | Ruth | A Friendly Tribe | Episode 15 |
| My Three Sons | 2 | 1962 | Bobbie | Coincidence | Episode 30 |
| The Wide Country | 1 | 1962 | Sharon Crosley | Our Ernie Kills People | Episode 7 |
| Perry Mason | 6 | 1962 | Paula Durham | The Case of the Unsuitable Uncle | Episode 7 |
| Dr. Kildare | 2 | 1962 | Annie | The Soul Killer | Episode 9 |
| Laramie | 4 | 1963 | Marilee Bishop | The Wedding Party | Episode 17 |
| The Wide Country | 1 | 1963 | Billie Kidwell | The Lucky Punch | Episode 2 |
| Ghost Story (TV series) (a.k.a.Circle of Fear) | 1 | 1972 | Eileen Travis | The New House | Pilot episode |
| Born Free | 1 | 1974 | Opal Vanek | | Episode 13 |
| Gibbsville | 1 | 1976 | Jenny | "All the Young Girls" | Episode 4 |
| Vega$ | 3 | 1980 | Lani | "Aloha, You're Dead" (Part 1 & Part 2) | Episode 1 & 2 |
| Fantasy Island | 4 | 1980 | Lorna Hendricks | The Love Doctor/Pleasure Palace/Possessed | Episode 5 |
| Hotel | 1 | 1983 | Eileen Weston | Faith, Hope & Charity | Episode 8 |
| The Love Boat | 8 | 1984 | - | Only the Good Die Young/The Light of Another Day/Honey Beats the Odds | Episode 5 |
| Jake and the Fatman | 1 | 1988 | Candace Morgan | But Not for Me | Episode 14 |
| Murder, She Wrote | 6 | 1989 | Kay Weber | The Error of Her Ways | Episode 4 |
| Picket Fences | 4 | 1996 | Lucy Wanamaker | Forget Selma | Episode 20 |
| Superman: The Animated Series | 2 | 1998 | Mother Box (voice) | "Apokolips... Now!" (Part 1 & Part 2) | Episode 25 & 26 |
[ Source: Wikipedia ]