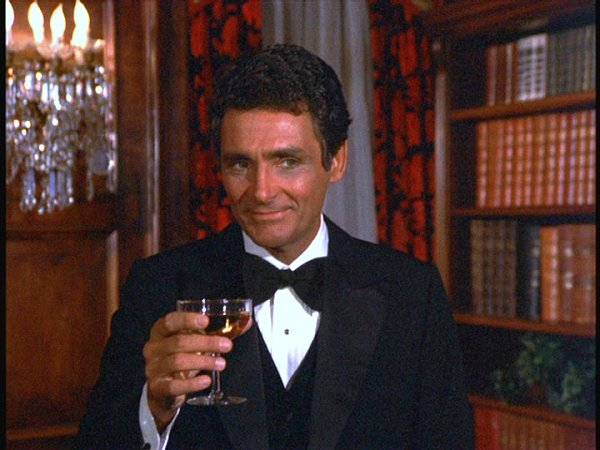 David Hedison
Birth name:
Albert David Hedison, Jr.
Born:
May 20, 1927
Age:
96
Birthplace:
Providence, Rhode Island, U.S.
Popularity:

Please login to contact David Hedison...
Biography
Albert David Hedison, Jr. (born May 20, 1927) is an American film, television, and stage actor.[1] He was billed as Al Hedison in his early film work. In 1959, when he was cast in the role of Victor Sebastian in the short-lived espionage television series Five Fingers, NBC insisted that he change his name. He proposed that he use his middle name and he has been billed as David Hedison ever since. He is known for his role as Captain Lee Crane in Irwin Allen's television series Voyage to the Bottom of the Sea and as CIA agent Felix Leiter in two James Bond films, Live and Let Die and Licence to Kill.
Hedison decided he wanted to be an actor after he saw
Tyrone Power
in the film
Blood and Sand
.
Hedison enlisted in the United States Navy in 1945, but the war ended before he completed basic training. He served 18 months, then mustered out.
He began his acting career with the Sock and Buskin Players at Brown University before moving to New York to study with Sanford Meisner and Martha Graham at The Neighborhood Playhouse School of the Theatre and with Lee Strasberg at the Actors Studio.[2][3]
Read more...
Theatre
He acted at Newport Casino Theatre. In 1951 he won a Barter Theatre Award for most promising young actor, entitling him to work at a theatre in Virginia.[4] He did radio in North Carolina and worked on stage in Pittsburgh.[3]
His work on the New York stage includes an appearance in Much Ado About Nothing (1952). He was studying with Uta Hagen who recommended him for a role in the Broadway production of A Month in the Country (1956), directed by Michael Redgrave.[5] It ran for 48 performances on Broadway. The Theatre World declared Hedison as one of the most promising theatre personalities of the 1955-56 season.[6]
Hedison also appeared on TV in Kraft Theatre and Star Tonight.
20th Century Fox
After his role in A Month in the Country, Hedison signed a film contract with 20th Century-Fox in May 1957. His first movie with them was the classic war film The Enemy Below (1957), which also starred Robert Mitchum.[7]
He followed that up with the lead role in the horror classic The Fly (1958), after Rick Jason turned it down. This was very successful at the box office.
Hedison went to England to play the lead role in Son of Robin Hood (1958).[8]
David Hedison
Hedison was cast in the lead of a TV series made by Fox for NBC, Five Fingers (1959). He was reluctant to make it, especially when NBC insisted he change his first name to "David". The series only lasted one season.[9][3]
Hedison had the lead role in an adventure film The Lost World (1960), directed by Irwin Allen. Allen liked Hedison and offered him the lead in the film Voyage to the Bottom of the Sea (1961) but the actor turned it down.
Hedison guest starred on some Fox shows, Hong Kong and Bus Stop. He co-starred with Tom Tryon in Marines, Let's Go (1961).[10]
Hedison worked regularly on TV, guest starring in Perry Mason, The Saint (starring Roger Moore who became a great friend), and The Farmer's Daughter. He was one of many stars in The Greatest Story Ever Told (1965).
Voyage to the Bottom of the Sea
Allen offered Hedison the lead role in the TV series of Voyage to the Bottom of the Sea, co-starring with Richard Basehart, which ran from 1964 to 1968.[11][12]
London
When the series ended Hedison moved to London. "I liked London very much," he later said. "I just wanted to go and spend a couple years there.... It's two years I'm not sorry for. The problem was, when I came back to the U.S., it was more difficult getting work then."[13]
Hedison guest starred on Journey to the Unknown, Love, American Style, ITV Sunday Night Theatre, BBC Play of the Month, The F.B.I., and The New Perry Mason. He could be seen in Kemek (1970), A Kiss Is Just a Kiss (1971), Crime Club (1973), The Cat Creature, and The Man in the Wood. He was most proud of doing an adaptation of Summer and Smoke with Lee Remick.[13]
James Bond and Television
Hedison played Felix Leiter in Live and Let Die (1973). He later said the film "didn't really do much for my career. I got some wonderful fan mail, sent my pictures out, but it didn't lead to any work at all."[13]
He mostly guested on TV shows - Shaft, Medical Center, The Manhunter, Cannon, Bronk, Ellery Queen, Family, Barnaby Jones, Wonder Woman, Gibbsville, The Bob Newhart Show,Project U.F.O., Flying High, Benson, Greatest Heroes of the Bible - or did TV movies - The Wide World of Mystery (1974), The Compliment (1974), For the Use of the Hall (1975), Adventures of the Queen (1975), The Lives of Jenny Dolan (1975), The Art of Crime (1975), Murder in Peyton Place (1977), Colorado C.I. (1978) The Power Within (1979).
1980s
Hedison toured with Barbara Anderson and Anita Gillette in Neil Simon's Chapter Two in 1979 and 1980.[14]
He could be see in North Sea Hijack (1980), episode of Charlie's Angels, Nero Wolfe, Hart to Hart, T.J. Hooker, Matt Houston, Amanda's, Dynasty, Fantasy Island, Partners in Crime ,The Fall Guy, The Love Boat, Simon & Simon, Double Trouble, Finder of Lost Loves, Knight Rider, Crazy Like a Fox, The A-Team, Trapper John, M.D., Hotel, The Colbys, Who's the Boss?, The Law and Harry McGraw, and Murder, She Wrote.
He was in The Awakening of Cassie for Romance Theatre, Kenny Rogers as The Gambler: The Adventure Continues and The Naked Face (1984) with Moore.
Hedison appeared in the West Coast premiere of Forty Deuce in 1985.[15] He was in the mini series A.D.. He toured with Elizabeth Ashley in Come into My Parlour in 1988, and was in the world premiere run of Bernard Slade's Return Engagements that same year.
Hedison was the first actor to play James Bond's ally Felix Leiter in more than one film when he reprised the role in Licence to Kill (1989).[1] Hedison thought he was asked back because "there was much more to do in the film than in the past, and they were afraid of using an unknown or someone they were not quite sure of."[13]
"I think in this kind of film, it won't lead to other work unless you do something stand-out with a really wonderfully written scene," added Hedison." Otherwise you're just doing a job, part of the ensemble. And in this case, I have lots of action scenes, but no one scene that is memorable... Felix is a fairly one-dimensional character, you never get into any depth. You do what you can. There's not much to play. All you can do is perform it with a simple reality.... It was running around, bang bang, getting wet, screaming and yelling, and all kinds of fun, but not serious acting"[13]
He appeared at the Cape Playhouse in 1998 in Alone Together with Anita Gillette.
Later career
Hedison's later performances include Fugitive Mind (1999), Mach 2 (2000), Megiddo: The Omega Code 2 (2002), and Spectres (2004).
He also starred in the New York City premiere of First Love with Lois Nettleton in 1999. He returned to the Cape Playhouse to appear in Tale of the Allergist's Wife (2002), and at Monmouth University's Pollak Theatre, in Love Letters with Nancy Dussault in 2007.[16]
He had a role in The Young and the Restless and could be seen in The Reality Trap (2005).[17]
In 2006, he acted in The Scent of Jasmine at the Fountain Theatre in Los Angeles on November 13. In 2008, David performed Uncle Vanya at the Actor's Studio West. He also participated in performances of The Cherry Orchard and I Never Sang for my Father in Los Angeles in 2009. David most recently appeared in The Marriage Play by Edward Albee.[18]
He was in Superman and the Secret Planet and Confessions of a Teenage Jesus Jerk .
He then wrote an introduction to the James Bond comic The Paradise Plot that was released in the United States on July 8.
Books
In 2006 and 2007, Hedison worked on four audio books. The first, McKnight's Memory, was first released in October 2007. The second, The King, McQueen and the Love Machine, was released June 15, 2008. The third project was a 12-minute introduction to the reissue of The James Bond Lifestyle that came out June 7, 2007. His fourth audio book project, The Casino Caper, was released in August 2007.
A book on Hedison's 1959 television series, Five Fingers, was published by BearManor Media in 2015. The book was written by Diane Kachmar.
Personal life
His parents were Albert David Hedison (Heditisian), Sr. and Rose Boghosian; they were Armenian. He and his wife Bridget were married in London on June 29, 1968. Bridget Hedison died of breast cancer on 22 February 2016.[19] They had two daughters, actress/director/photographer Alexandra Hedison and editor/producer Serena Hedison. Alexandra Hedison has appeared in L.A. Firefighters and The L Word and is married to actress and director Jodie Foster.
Filmography
The Enemy Below (1957) ... Lt. Ware
The Fly (1958) ... Andre Delambre
The Son of Robin Hood (1958) ... Jamie
Rally Round the Flag, Boys! (1958) ... Narrator (voice, uncredited)
The Lost World (1960) ... Ed Malone
Marines, Let's Go! (1961) ... Pfc. Dave Chatfield
The Greatest Story Ever Told (1965) ... Philip
Kemek (1970) ... Nick
Live and Let Die (1973) ... Felix Leiter
North Sea Hijack (1980) ... King
The Naked Face (1984) ... Dr. Peter Hadley
Smart Alec (1986) ... Frank Wheeler
Licence to Kill (1989) ... Felix Leiter
Sheng zhan feng yun (1990) ... US Ambassador
Mach 2 (2000) ... Stuart Davis
Megido (2001) ... Daniel Alexander
Spectres (2004) ... William
The Reality Trap (2005) ... Morgan Jameson
Confessions of a Teenage Jesus Jerk (2017) ... Interviewee #2
[ Source: Wikipedia ]