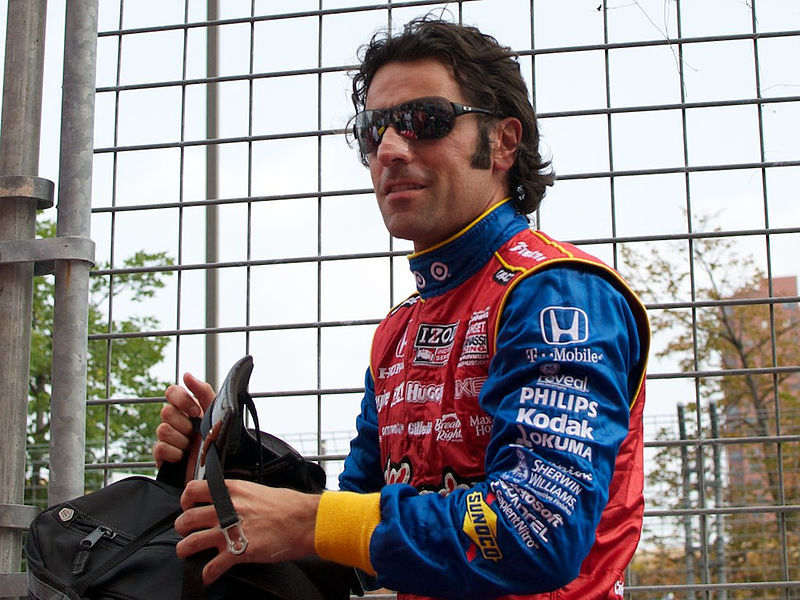 Dario Franchitti
Born:
May 19, 1973
Age:
50
Popularity:

Please login to contact Dario Franchitti...
Biography
George Dario Marino Franchitti,[1] MBE (born 19 May 1973) is a retired British racing driver from Scotland. He is a four time IndyCar Series champion (2007, 2009, 2010, 2011), a three-time winner of the Indianapolis 500 (2007, 2010, 2012) as well as a winner of the 24 Hours of Daytona (2008).
Franchitti started his career in his native United Kingdom in the early 1990s, competing in Formula Vauxhall and Formula Three and was also the winner of the McLaren Autosport BRDC Award in 1992. After Franchitti did not secure a single-seater drive in 1995, he was contracted by the AMG team to compete in touring cars in the DTM and its successor — the International Touring Car Championship. Despite 2 seasons with relative success, the series folded at the end of the 1996 season, again leaving Franchitti without a drive. Mercedes placed Franchitti in CART in 1997 with the Hogan Racing team.
Franchitti spent 6 seasons in CART, where he won 10 races with the Team Green squad that he joined in 1998; he failed to win a championship title, with a best final position of 2nd-place in 1999, behind Juan Pablo Montoya in a tie-breaker. Team Green moved to the IndyCar Series for the 2003 campaign, with Franchitti remaining in the team. Franchitti's first season for IndyCar was disrupted by an injury, but won his first races the following season. His breakout year came in 2007, when he won the rain-shortened Indianapolis 500 as one of 4 victories in his route to a first career championship title in a final-race title decider with Scott Dixon. At the end of the season, Franchitti was named as BBC Scotland's Sports Personality of the Year.
After an ill-fated move to NASCAR in 2008 (which ended after half a season)[2] Franchitti returned to IndyCar in 2009, driving for Chip Ganassi Racing.[3] Franchitti won on his 2nd start back in the series, and eventually took 5 wins as he won a 2nd championship, again in a final race championship decider against Dixon and Team Penske's Ryan Briscoe.[4] He retained the title in 2010,[5] again with a final race championship win over Penske's Will Power; Franchitti's strong form on ovals - including a 2nd Indianapolis 500 victory - allowed him to overhaul Power by 5 points at the final race. His 3rd consecutive and 4th overall title came in 2011, in which he battled Power for the championship the second time but the championship win ultimately was decided in favour of Franchitti, after the season's final race was abandoned due to a serious crash that resulted in the death of his close friend and former teammate Dan Wheldon.[6] A new car was introduced for the 2012 season, in which Franchitti only scored 1 victory - in the Indianapolis 500 - to become the 10th driver to win at least 3 Indianapolis 500's during a career.[7]
On 6 October 2013, Franchitti was involved in a serious crash in the Grand Prix of Houston, when his car flew into catch-fencing after contact with the cars of Takuma Sato and EJ Viso.[8] Franchitti suffered 2 fractured vertebrae, a broken ankle, and a concussion in the crash. Later he would learn that he had forgotten some of his past. A month later, on November 14, Franchitti announced his immediate retirement from motor racing on medical advice; he retired with 31 victories from 265 starts in his American open-wheel racing career,[9] a tally which put him in a tie for ninth on the all-time wins list with Paul Tracy.[10]
Franchitti was born in Bathgate, West Lothian, Scotland. While attending Stewart's Melville College in Edinburgh, he became interested in karting. Allan McNish credited a large part of the start given to himself, Franchitti and
David Coulthard
as being down to David Leslie senior and junior.[11] Franchitti won the Karting Scottish Junior Championship in 1984, the British Junior Championships in 1985 and 1986 and the Scottish senior title in 1988. He progressed to Formula Vauxhall Junior where he won the championship with four victories in 1991.
He moved up to Formula Vauxhall Lotus in 1992, where he joined Paul Stewart Racing. In his first year, he finished fourth in the overall championship, and was named the McLaren/Autosport Young Driver of the Year. Staying with the team for the next season, he won the championship in 1993.
He graduated to the British Formula 3 Championship in 1994, where he finished fourth and won one race in his first year. However, he was not retained for 1995 which was his final year in single-seaters in Europe.
Instead, Franchitti was contracted by AMG Racing to drive a works Mercedes C-Class in the German Touring Car Championship and the related International Touring Car Championship, where he finished fifth and third respectively. He continued in the ITC in 1996, finishing fourth overall with one race win.
In 1997, Franchitti was offered a deal to become McLaren's test driver which would have seen him flying to Europe to test during the week, returning to America to race in CART. He ultimately turned this down, preferring instead to pour his energies into racing in CART for the Hogan team.
Franchitti tested for the Jaguar F1 team at Silverstone in 2000, but the car proved to be problematic. These troubles combined with him still recovering from neck discs ruptured in a crash at Homestead earlier that year. The test was ultimately a disappointment and the door to racing for Jaguar effectively closed.
Read more...
CART
Franchitti's car being pushed up to qualify for the 2006 Indianapolis 500.
With the demise of the ITC, Mercedes placed Franchitti in Hogan Racing in 1997, making his US debut in the CART Championship Series where his best finish was a ninth at Surfers Paradise. In 1998 he joined Team Green (forerunner to Andretti Green Racing and the current Andretti Autosport), finishing third in the season standings with three wins (his first coming at Road America) and a season-high five pole positions.
Franchitti finished runner-up in the 1999 CART season behind rookie Juan Pablo Montoya. Both drivers scored 212 points, but Montoya had seven wins to Franchitti's three and was crowned champion. Franchitti's close friend Greg Moore died in a crash during the final race of the year at California Speedway in Fontana, California.
A heavy crash in pre-season testing the next year ruined Franchitti's 2000 season, and he only won once at Cleveland in 2001. In 2002 he won the Vancouver Molson Indy. He dedicated his win to Greg Moore, who was killed in 1999 and was from nearby Maple Ridge, British Columbia. He finished fourth in Champ Car in 2002.
IndyCar Series
Franchitti waiting to qualify on 12 May 2007, at Indianapolis. Practicing for the 2007 Indy 500.
2003
Franchitti missed most of the year, and his place was taken by Dan Wheldon at Motegi,[12] Robby Gordon at Indianapolis,[13] and Bryan Herta for the remainder of the year (with Wheldon taking over a regular role from retiring team boss Michael Andretti).
2004
Franchitti returned to the cockpit in 2004, and won his first IRL IndyCar Series race on 25 July at the Milwaukee Mile.[14] He followed this win up with a win at Pikes Peak on 22 August.[15]
2005
Franchitti returned to Andretti Green Racing again, and had 2 wins. The first win came at Nashville.[16] His last win of the year came at the 2005 season finale at California.[17]
2007
On 3 January 2007, Andretti Green Racing announced that Franchitti had re-signed for the IRL team for a tenth consecutive season in American Open Wheel racing.[18] That year he also undertook a limited programme in the American Le Mans Series driving an Acura ARX-01, teaming up with his younger brother, Marino Franchitti and long-time AGR teammate Bryan Herta.[19] On 27 May 2007, Franchitti won a rain-shortened Indianapolis 500, finishing under a yellow flag after an accident involving Dan Wheldon and Marco Andretti following lap 163. The race was halted due to rain three laps later. His prize money of $1.6m was equal to the entire purse for the 1982 race.
During the 2007 season, Franchitti survived two huge crashes which saw his car flip upside down both times. The first at Michigan saw him tangle with Dan Wheldon resulting in his car flipping before being hit again by Scott Dixon. The contact with Dixon was only inches away from his head and the accident saw seven cars (including Franchitti) retire from the race. The second flip came a week later at Kentucky. As Franchitti crossed the start/finish line to finish the race, he did not realise that the chequered flag had been waved and continued to race. He crashed into the back of Kosuke Matsuura flipping yet again and hitting the outside wall. Franchitti took full responsibility for the incident.
Franchitti won the IndyCar Championship with four wins finishing ahead of Scott Dixon by just 13 points. Dixon ran out of fuel on the last lap of the season-ending race, allowing Franchitti to take the win and the championship, his first championship win since Formula Vauxhall Lotus in 1993.
Franchitti returned to the IndyCar series for 2009 in the Target Chip Ganassi Racing #10 car, replacing Dan Wheldon who moved to Panther Racing. He debuted for the team in the non points race at Surfers Paradise in Australia on 25 October 2008. He qualified 4th of 24 drivers and was running third when he spun and stalled the car, resulting in a lap-down finish of 16th. He led 2 laps and set the fastest lap of the race.
2008
Franchitti missed the 2008 Indianapolis 500 as he pursued a NASCAR career. He raced several races in the NNS for Chip Ganassi Racing's NASCAR team and only had a few top ten finishes; his best finish was 5th at the 2008 Zippo 200. He decided that IndyCar was his favorite to race in and so he rejoined the IndyCar Series in 2009 with Target Ganassi Racing and went on to win his second, third and fourth IndyCar titles in 2009, 2010 and 2011 as well as the 2010 and 2012 Indy 500.
2009
2009 marked a successful return to IndyCar for Franchitti scooping five wins, two second and two third placings and taking the series championship in his second consecutive attempt over teammate Scott Dixon by 11 points.
2010
Franchitti got off to a steady if unspectacular start; through the first 5 races, Dario had 1 pole, 3 Top 5 finishes and 4 Top 10s. However, at the 94th running of the Indianapolis 500, it all came together for him. Starting on the outside of the first row (#3), Franchitti had the best car of the day, leading over 150 laps to take his 2nd win in the past four years. This is also his 24th win in American Open-wheel driving, placing him in the top 20 all-time. The win also makes him the 18th multiple-win driver in the history of the Indianapolis 500.[20]
In October, Franchitti will travel to Australia to compete in a special round of the V8 Supercar championship in which he and 17 other international drivers will pair up with regular V8 drivers in two 300 km (186 mi) endurance races at the Gold Coast Street Circuit, a former venue for Indycar. He will drive for Jim Beam Racing with Steve Johnson.
By finishing eighth in the 2010 IZOD IndyCar Series championship final at the Homestead Miami Speedway, and leading the most laps on top of qualifying in pole position, Dario overhauled Will Power's 12 points lead and took the 2010 IZOD IndyCar championship. In effect Dario had won all of the past three championships he entered when his 2008 absence is accounted for.
2011
Franchitti, again driving for Target Chip Ganassi Racing, won the season opening road race at St. Petersburg, Florida. He followed that win with additional wins at Texas Motor Speedway (28th victory). He took the pole and the win in the Milwaukee 225 for his 29th victory, tying him with Rick Mears for 9th all-time in American Open Wheel racing. In the final race of the season at Las Vegas, Franchitti had an 18-point lead over Will Power in the points standings. However, a 15-car crash on lap 11 caused the race to be red flagged. After a two-hour delay, IndyCar CEO Randy Bernard announced that Dan Wheldon had died from the crash and the race was formally abandoned. The drivers who were not involved did a five-lap tribute to Wheldon 10 minutes after the announcement.[21] Because the race was canceled and Power was also involved in the crash, Franchitti won his third consecutive and fourth overall IndyCar championship. Since Power suffered severe damage, Franchitti would have won the championship if the race had continued; therefore, the early stoppage of the race had no effect on the championship points.
2012
Franchitti, again driving for Target Chip Ganassi Racing, had a slow start in the first four races. On 27 May, he had an emotional win of the 2012 Indianapolis 500. In reference to Dan Wheldon, Franchitti said in an interview after the race, "I think D-Dub would have been proud of that one." [22] The 500 would end up being his only win of the season and the last of his career, as Franchitti struggled against both Andretti and Penske's teams.
2013
In 2013 Franchitti improved on his 2012 season. At the Indy 500, Franchitti was running in the top ten for the final restart, but got loose in turn 1 and scraped across the turn 1 wall in a similar style to Takuma Sato's 2012 accident on the final lap. This brought out a final caution that found one of Franchitti's closest friends off the track, Tony Kanaan winning his first Indy 500 and his first win in a few years. After climbing out of his car, Franchitti was led to the infield hospital. Franchitti was cleared uninjured; and he walked to victory lane to hug Kanaan just before the broadcasting ended.
Career-ending crash
In the second Houston race, Franchitti collided with Takuma Sato and EJ Viso on the final lap, causing Franchitti to become airborne and fly into the turn 5 catchfence in a similar manner to Kenny Bräck's crash at Texas Motor Speedway in 2003. 13 fans were injured by flying debris, and Franchitti suffered a spinal fracture, right ankle fracture, and a concussion.[23] Due to these injuries, as well as injuries caused by previous crashes, doctors told Franchitti that he risked permanent paralysis if he continued to race.[24] Franchitti then retired from competitive driving, but maintained his affiliation with Ganassi Racing by becoming a competition director.
NASCAR
Franchitti racing in the 2007 Ford 300 at the Homestead-Miami Speedway. Franchitti at Daytona in 2008
On 3 October 2007, it was announced that Franchitti would move to NASCAR to replace David Stremme in the No. 40 Dodge.[25] He made his stock car debut in the ARCA RE/MAX Series on 5 October at Talladega Superspeedway, qualifying 6th and finishing 17th in the No. 42 Dodge Charger for Chip Ganassi Racing.[26] His move to stock cars had similarities to former CART rival Juan Pablo Montoya's move from Formula One to NASCAR in 2006.
Franchitti made his first NASCAR start on 20 October 2007 in the Craftsman Truck Series race at Martinsville Speedway.[27] He drove the No. 41 Dodge Ram truck, owned by Cunningham Motorsports, with Brian Pattie from Chip Ganassi Racing serving as crew chief.[28] He would finish 33rd after being plagued by problems with the rear of the truck during the race.
2008 Sprint Cup car
On 26 April 2008, Franchitti suffered a slight left ankle fracture in a hard crash with Larry Gunselman while competing in the Nationwide Series Aaron's 312 race.[29] David Stremme, Ken Schrader, Jeremy Mayfield, and Sterling Marlin all filled in for him.[30][31][32]
On 1 July 2008, Franchitti's No. 40 Sprint Cup team was disbanded by co-owner Chip Ganassi because of a lack of sponsorship. Franchitti was running 41st in points in the Sprint Cup Series at the time, and Ganassi had been funding the team out of his own pocket. The entire No. 40 team was shut down, and 71 employees were released.[33] Franchitti would continue to drive for Ganassi in the Nationwide Series for the remainder of the season following the disbanding of the Cup team.
On 9 August 2008 Franchitti won his first career Nationwide pole at Watkins Glen.[34] Starting alongside Robby Gordon, Franchitti led 13 laps and came close to the win. He battled Jimmie Johnson throughout the day, but was overtaken by some drivers late in the race. Franchitti finished 5th while Johnson ran out of gas.
Sports car racing
Franchitti is well known for combining partial Sports Car racing schedules during his IndyCar and NASCAR career.
At the 2007 12 Hours of Sebring he finished 1st in LMP2 class with Andretti Green Racing teammates Bryan Herta and Tony Kanaan. They finished 2nd overall. He also participated in the 2007 ALMS Grand Prix of Long Beach with Bryan Herta and they finished 6th.[35] He placed 18th in LMP2 class in the 2007 American Le Mans Series season standings with 32 points.
Prior to the 2008 NASCAR Sprint Cup Series, he joined Chip Ganassi Racing teammate Juan Pablo Montoya, Scott Pruett and Memo Rojas and won the Rolex 24 at Daytona in a Lexus-Riley.[36] That was the only race he participated in during the 2008 Rolex Sports Car Series season and finished 42nd overall in Daytona Prototype class with 35 points.
In the 2008 Petit Le Mans he was a driver for Highcroft Racing with Scott Sharp and David Brabham.[37] They were the first retirement after only 16 laps.
For the 2009 Rolex 24 At Daytona he once again drove for Chip Ganassi Racing in a Lexus-Riley. He finished 5th overall with Scott Dixon and Alex Lloyd.
He participated in the 2009 12 Hours of Sebring for Highcroft Racing with Scott Sharp and David Brabham.[38] They finished 15th overall and were the first non-finishers.
He returned to Highcroft Racing with Scott Sharp and David Brabham for the 2009 Petit Le Mans.[39]
Personal life
Franchitti is the son of Marina and George Franchitti,[40] both born in Scotland.[41] Most of his ancestry is Italian, with some Scottish.[42] Originally from Bathgate, his family moved to nearby Whitburn when he was eight years old. He is a former pupil of Stewart's Melville College and he supports Celtic Football Club.[43] Franchitti married American actress Ashley Judd in December 2001[44] at Skibo Castle near Dornoch, Scotland.[45] They divorced in 2013.[46]
Franchitti has since married Eleanor Robb, an Englishwoman; their daughter Sofia was born in 2015.
He lists some of his favourite television shows as Gavin & Stacey, Shameless and Rab C. Nesbitt.[47]
Franchitti was appointed Member of the Order of the British Empire (MBE) in the 2014 Birthday Honours for services to motor racing.[48][49][50]
He is the older brother of Scottish racing driver Marino Franchitti. He is the cousin of former Formula One driver Paul di Resta.
Media appearances
Dario Franchitti in the Silverstone pit lane for the 2014 British Grand Prix
Franchitti has appeared on several television shows. The list includes The Morning Show with Mike & Juliet, Larry King Live, Pardon the Interruption, Late Show with David Letterman, Live with Regis and Kelly, Jim Rome Is Burning, and three times on The Late Late Show with Craig Ferguson.[51] He also appeared as a Scottish news anchor in the animated film Turbo. He is the world feed co-commentator (alongside Jack Nicholls) for the FIA Formula E Championship as of the 2015-16 season.
Simraceway game design
On 13 October 2011, 3 days before Franchitti's bid for a fourth IZOD IndyCar Series title and the death of his friend and fellow driver Dan Wheldon, it was announced that he would be joining Wheldon in developing the vehicle physics on Ignite Game Technologies' online auto racing game, Simraceway. A vintage car racing enthusiast, Franchitti will be focusing on ensuring the authenticity of the game's historic and vintage cars "It's almost impossible to describe the feeling you get inside when you're behind the wheel of an old race car but what I hope to be able to do is use my knowledge and experience to help the team at Simraceway replicate how it feels to drive,".[52]
Motorsports career results
Touring Car racing
Deutsche Tourenwagen Meisterschaft
(key) (Races in bold indicate pole position) (Races in italics indicate fastest lap)
Deutsche Tourenwagen Meisterschaft results
Year
Team
Car
1
2
3
4
5
6
7
8
9
10
11
12
13
14
Pos.
Pts
1995
D2 Privat-Team AMG Mercedes
Mercedes C-Class V6
HOC
1
3
HOC
2
DNS
AVU
1
Ret
AVU
2
Ret
NOR
1
6
NOR
2
2
DIE
1
2
DIE
2
4
NÜR
1
Ret
NÜR
2
Ret
ALE
1
2
ALE
2
10
HOC
1
Ret
HOC
2
DNS
5th
74
International Touring Car Championship
(key) (Races in bold indicate pole position) (Races in italics indicate fastest lap)
International Touring Car Championship results
Year
Team
Car
1
2
3
4
5
6
7
8
9
10
11
12
13
14
15
16
17
18
19
20
21
22
23
24
25
26
Pos.
Pts
1995
D2 Privat-Team AMG Mercedes
Mercedes C-Class V6
MUG
1
4
MUG
2
1
HEL
1
12†
HEL
2
DNS
DON
1
2
DON
2
2
EST
1
5
EST
2
3
MAG
1
Ret
MAG
2
DNS
3rd
80
1996
D2 Privat-Team AMG Mercedes
Mercedes C-Class V6
HOC
1
3
HOC
2
4
NÜR
1
2
NÜR
2
8
EST
1
9
EST
2
10
HEL
1
17†
HEL
2
DNS
NOR
1
5
NOR
2
Ret
DIE
1
2
DIE
2
2
SIL
1
21†
SIL
2
14
NÜR
1
3
NÜR
2
3
MAG
1
6
MAG
2
4
MUG
1
4
MUG
2
2
HOC
1
Ret
HOC
2
7
INT
1
13
INT
2
10
SUZ
1
1
SUZ
2
Ret
4th
171
† — Retired, but was classified as he completed 90% of the winner's race distance.
International V8 Supercar results
(key) (Races in bold indicate pole position) (Races in italics indicate fastest lap)
V8 Supercar results
Year
Team
Car
1
2
3
4
5
6
7
8
9
10
11
12
13
14
15
16
17
18
19
20
21
22
23
24
25
26
27
Pos.
Pts
2010
Dick Johnson Racing
Ford FG Falcon
YMC
R1
YMC
R2
BHR
R3
BHR
R4
ADE
R5
ADE
R6
HAM
R7
HAM
R8
QLD
R9
QLD
R10
WIN
R11
WIN
R12
HDV
R13
HDV
R14
TOW
R15
TOW
R16
PHI
Q
PHI
R17
BAT
R18
SUR
R19
16
SUR
R20
Ret
SYM
R21
SYM
R22
SAN
R23
SAN
R24
SYD
R25
SYD
R26
NC
0
American open-wheel racing results
(key)
CART
CART Championship Series results
Year
Team
Chassis
Engine
1
2
3
4
5
6
7
8
9
10
11
12
13
14
15
16
17
18
19
20
21
Rank
Points
1997
Hogan Racing
Reynard 97i
Mercedes-Benz IC108D V8t
MIA
25
SRF
9
LBH
12
NZR
13
RIO
27
STL
17
MIL
16
DET
13
POR
26
CLE
11
TOR
26
MIS
19
MDO
11
ROA
25
VAN
13
LS
13
FON
22nd
10
1998
Team Green
Reynard 98i
Honda HRK V8t
MIA
9
MOT
8
LBH
2
NZR
21
RIO
19
STL
27
MIL
4
DET
4
POR
21
CLE
3
TOR
20*
MIS
21
MDO
26
ROA
1*
VAN
1*
LS
4
HOU
1*
SRF
2
FON
22
3rd
160
1999
Team Green
Reynard 99i
Honda HRS V8t
MIA
3
MOT
22
LBH
2
NZR
8
RIO
2
STL
3
MIL
7
POR
3
CLE
25
ROA
18
TOR
1*
MIS
5
DET
1
MDO
3*
CHI
2
VAN
10
LS
25
HOU
2
SRF
1*
FON
10
2nd*
212*
2000
Team Green
Reynard 2Ki
Honda HR-0 V8t
MIA
11
LBH
23
RIO
11
MOT
2
NZR
23
MIL
6
DET
4
POR
9
CLE
13
TOR
25
MIS
3
CHI
20
MDO
22
ROA
12
VAN
2*
LS
3
STL
24
HOU
25
SRF
25
FON
23
13th
92
2001
Team Green
Reynard 01i
Honda HR-1 V8t
MTY
9
LBH
6
TXS
NH
NZR
8
MOT
17
MIL
9
DET
2
POR
6
CLE
1
TOR
24
MIS
2
CHI
15
MDO
16
ROA
19
VAN
9
LAU
25
ROC
9
HOU
2
LS
19
SRF
23
FON
23
7th
105
2002
Team Green
Reynard 02i
Honda HR-2 V8t
MTY
2
LBH
9
MOT
3
4th
148
Lola B02/00
MIL
12
LS
19
POR
3
CHI
3
TOR
13
CLE
14
VAN
1
MDO
17
ROA
12
MTL
1*
DEN
18
ROC
1
MIA
10
SRF
7
FON
10
MXC
5
* Franchitti and Juan Pablo Montoya tied on points in the championship, but Montoya was crowned champion because he won 7 races to Franchitti's 3.
IndyCar Series
IndyCar Series results
Year
Team
Chassis
Engine
1
2
3
4
5
6
7
8
9
10
11
12
13
14
15
16
17
18
19
Rank
Points
2002
Team Green
Dallara
IR-02
Chevrolet
HMS
PHX
FON
NZR
INDY
19
TXS
PPIR
RIR
KAN
NSH
MIS
KTY
STL
CHI
TX2
44th
11
2003
Andretti Green Racing
Dallara
IR-03
Honda
HMS
7
PHX
16
MOT
INDY
TXS
PPIR
4
RIR
KAN
NSH
MIS
STL
KTY
NZR
CHI
FON
TX2
25th
72
2004
HMS
17
PHX
17
MOT
7
INDY
14
TXS
2
RIR
12
KAN
4
NSH
20
MIL
1
MIS
22
KTY
6
PPIR
1
NZR
3
CHI
20
FON
6
TX2
15
6th
409
2005
Dallara
IR-05
HMS
22
PHX
4
STP
3
MOT
17
INDY
6
TXS
8
RIR
2
KAN
4
NSH
1
MIL
2
MIS
8
KTY
18
PPIR
7
SNM
8
CHI
12
WGL
3
FON
1
4th
498
2006
HMS
4
STP
19
MOT
11
INDY
7
WGL
14
TXS
13
RIR
3
KAN
12
NSH
6
MIL
6
MIS
12
KTY
9
SNM
2
CHI
8th
311
2007
HMS
7
STP
5
MOT
3
KAN
2
INDY
1
MIL
2
TXS
4
IOW
1
RIR
1
WGL
3
NSH
2
MDO
2
MIS
13
KTY
8
SNM
3
DET
6
CHI
1
1st
637
2008
Chip Ganassi Racing
HMS
STP
MOT
LBH
KAN
INDY
MIL
TXS
IOW
RIR
WGL
NSH
MDO
EDM
KTY
SNM
DET
CHI
SRF1
16
NC
-
2009
STP
4
LBH
1
KAN
18
INDY
7
MIL
3
TXS
5
IOW
1
RIR
2
WGL
15
TOR
1
EDM
5
KTY
6
MDO
3
SNM
1
CHI
4
MOT
2
HMS
1
1st
616
2010
SAO
7
STP
5
ALA
3
LBH
12
KAN
2
INDY
1
TXS
5
IOW
18
WGL
3
TOR
2
EDM
3
MDO
1
SNM
3
CHI
1
KTY
5
MOT
2
HMS
8
1st
602
2011
STP
1
ALA
3
LBH
3
SAO
4
INDY
12
TXS1
1
TXS2
7
MIL
1
IOW
5
TOR
1
EDM
3
MDO
2
NHM
20
SNM
4
BAL
4
MOT
8
KTY
2
LVS2
C
1st
573
2012
Dallara DW12
STP
13
ALA
10
LBH
15
SAO
5
INDY
1
DET
2
TXS
14
MIL
19
IOW
25
TOR
17
EDM
6
MDO
17
SNM
3
BAL
13
FON
2
7th
363
2013
STP
25
ALA
25
LBH
4
SAO
7
INDY
23
DET
6
DET
5
TXS
6
MIL
8
IOW
20
POC
3
TOR
3
TOR
4
MDO
3
SNM
3
BAL
21
HOU
15
HOU
15
FON
10th
418
Years
Teams
Races
Poles
Wins
Podiums
(Non-win)**
Top 10s
(Non-podium)***
Indianapolis 500
Wins
Championships
11
2
147
23
21
37
50
3 (2007, 2010 & 2012)
4 (2007, 2009, 2010 & 2011)
** Podium (Non-win) indicates 2nd or 3rd place finishes.
*** Top 10s (Non-podium) indicates 4th through 10th place finishes.
Indianapolis 500
Franchitti en route to winning
the 2007 Indianapolis 500
Year
Chassis
Engine
Start
Finish
Team
2002
Dallara
Chevrolet
28
19
Team Green
2003
Dallara
Honda
DNP3
Andretti Green
2004
Dallara
Honda
3
14
Andretti Green
2005
Dallara
Honda
6
6
Andretti Green
2006
Dallara
Honda
17
7
Andretti Green
2007
Dallara
Honda
3
1
Andretti Green
2009
Dallara
Honda
3
7
Chip Ganassi Racing
2010
Dallara
Honda
3
1
Chip Ganassi Racing
2011
Dallara
Honda
9
12
Chip Ganassi Racing
2012
Dallara
Honda
16
1
Chip Ganassi Racing
2013
Dallara
Honda
17
23
Chip Ganassi Racing
1 Non-points-paying, exhibition race.
2 Cancelled due to death of Dan Wheldon.
3 Sat out of race due to injury
Sports Car racing
American Le Mans Series results
(key) (Races in bold indicate pole position, Results are overall/class)
American Le Mans Series results
Year
Team
Make
Class
1
2
3
4
5
6
7
8
9
10
11
12
Points
2007
Andretti Green Racing
Acura
LMP2
SEB
2 / 1
STP
LBH
6 / 6
LS
UTH
NEG
MOH
RA
MOS
DSC
PLM
MSC
32
2008
Highcroft Racing
Acura
LMP2
SEB

STP
LBH
UTH
NEG
MOH
RA
MOS
DSC
PLM
Ret
MSC
0
2009
Highcroft Racing
Acura
LMP1
SEB
Ret
STP
LBH
UTH
NEG
MOH
RA
MOS
PLM
6 / 6
MSC
34
Year
Starts
Wins
(Overall/Class)
Top Fives
Top Tens
Poles
DNF
Finish
Start
Rank
2007
2
0 / 1
1 / 1
2 / 2
2 / 2
0
4 / 3.5
1 / 1
18
Totals
2
0 / 1
1 / 1
3 / 3
2 / 2
2
4 / 3.5
1 / 1
Rolex Sports Car Series results
(key) (Races in bold indicate pole position, Results are overall/class)
Rolex Sports Car Series results
Year
Team
Make
Class
1
2
3
4
5
6
7
8
9
10
11
12
13
14
15
Points
2008
Ganassi Racing
Riley
DP
DAY
1 / 1
HOM
MEX
VIR
LAG
LRP
WAT
MDO
DAY2
BAR
CGV
WAT2
INF
NJ
MIL
35
2009
Ganassi Racing
Riley
DP
DAY
5 / 5
VIR
NJ
LAG
WAT
MDO
DAY2
BAR
WAT2
CGV
MIL
HOM
26
2010
Ganassi Racing
Riley
DP
DAY
37/15
HOM
BAR
VIR
LRP
LAG
WAT1
MDO
DAY2
NJ
WAT2
CGV
MIL
16
2011
Ganassi Racing
Riley
DP
DAY
2/2
HOM
BAR
VIR
LRP
LAG
WAT1
MDO
DAY2
NJ
WAT2
CGV
MIL
32
2012
Ganassi Racing
Riley
DP
DAY
4 / 4
BAR
HMS
NJ
DET
MDO
RA
WAT1
IMS
WAT2
CGV
LAG
LRP
28
2013
Ganassi Racing
Riley
DP
DAY
37/11
AUS
BAR
ATL
DET
MDO
S6H
IMS
RA
KAN
LAG
LRP
20
NASCAR
(key) (Bold - Pole position awarded by qualifying time. Italics - Pole position earned by points standings or practice time. * - Most laps led.)
Sprint Cup Series
NASCAR Sprint Cup Series results
Year
Team
No.
Make
1
2
3
4
5
6
7
8
9
10
11
12
13
14
15
16
17
18
19
20
21
22
23
24
25
26
27
28
29
30
31
32
33
34
35
36
NSCC
Pts
2008
Chip Ganassi Racing
40
Dodge
DAY
33
CAL
32
LVS
33
ATL
33
BRI
36
MAR
22
TEX
DNQ
PHO
32
TAL

RCH
DAR
CLT
DOV
POC
41
MCH

SON
DNQ
NHA
38
DAY
CHI
IND
POC
GLN
MCH
BRI
CAL
RCH
NHA
DOV
KAN
TAL
CLT
MAR
ATL
TEX
PHO
HOM
49th
606
Daytona 500 results
| Year | Team | Manufacturer | Start | Finish |
| --- | --- | --- | --- | --- |
| 2008 | Chip Ganassi Racing | Dodge | 40 | 33 |
Nationwide Series
NASCAR Nationwide Series results
Year
Team
No.
Make
1
2
3
4
5
6
7
8
9
10
11
12
13
14
15
16
17
18
19
20
21
22
23
24
25
26
27
28
29
30
31
32
33
34
35
NNSC
Pts
2007
Chip Ganassi Racing
42
Dodge
DAY
CAL
MXC
LVS
ATL
BRI
NSH
TEX
PHO
TAL
RCH
DAR
CLT
DOV
NSH
KEN
MLW
NHA
DAY
CHI
GTY
IRP
CGV
GLN
MCH
BRI
CAL
RCH
DOV
KAN
CLT
MEM
32
TEX
25
PHO
29
HOM
39
95th
277
2008
40
DAY
20
CAL
24
LVS
6
ATL
28
BRI
22
NSH
TEX
11
PHO
11
MXC
TAL
41
RCH
DAR
CLT
DOV
15
NSH
KEN
MLW
NHA
13
DAY
CHI
26
GTY
IRP
CGV
GLN
5
MCH
13
BRI
11
CAL
RCH
DOV
KAN
CLT
MEM
TEX
PHO
HOM
35th
1571
Craftsman Truck Series
NASCAR Craftsman Truck Series results
Year
Team
No.
Make
1
2
3
4
5
6
7
8
9
10
11
12
13
14
15
16
17
18
19
20
21
22
23
24
25
NCTC
Pts
2007
Cunningham Motorsports
41
Dodge
DAY
CAL
ATL
MAR
KAN
CLT
MFD
DOV
TEX
MCH
MLW
MEM
KEN
IRP
NSH
BRI
GTW
NHA
LVS
TAL
MAR
33
ATL
TEX
PHO
HOM
107th
64
ARCA Racing Series
(key) (Bold - Pole position awarded by qualifying time. Italics - Pole position earned by points standings or practice time. * - Most laps led.)
ARCA Racing Series results
Year
Team
No.
Make
1
2
3
4
5
6
7
8
9
10
11
12
13
14
15
16
17
18
19
20
21
22
23
ARSC
Pts
2007
Chip Ganassi Racing
42
Dodge
DAY
USA
NSH
SLM
KAN
WIN
KEN
TOL
IOW
POC
MCH
BLN
KEN
POC
NSH
ISF
MIL
GTW
DSF
CHI
SLM
TAL
17
TOL
135th
145
2008
40
DAY
10
SLM
IOW
KEN
CAR
KEN
TOL
POC
MCH
CAY
KEN
BLN
POC
NSH
ISF
DSF
CHI
SLM
NJE
TAL
TOL
102nd
180
[ Source: Wikipedia ]