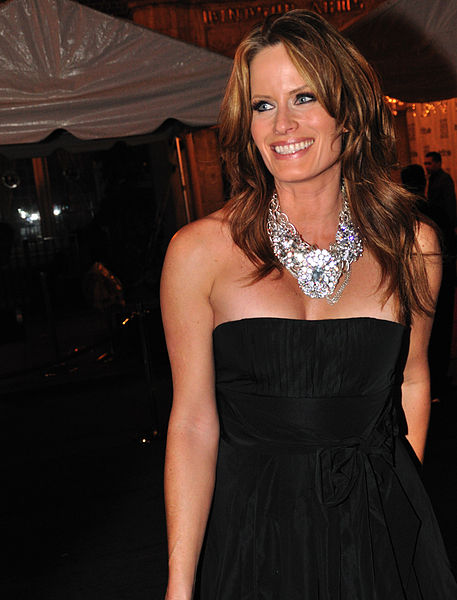 Monika Schnarre
Born:
May 27, 1971
Age:
52
Birthplace:
Scarborough, Ontario, Canada
Popularity:

Please login to contact Monika Schnarre...
Biography
Monika Schnarre (born May 27, 1971) is a Canadian model, actress and television host. She is reportedly 6'2" tall.
In 1986, at age 14, Schnarre won the Ford Models "Supermodel of the World" contest, becoming the youngest model to ever win. She appeared on the cover of American Vogue at 14 and in the Sports Illustrated Swimsuit Issue at 15.
In 1989, she wrote a book about her modeling experiences titled Monika: Between You and Me.
She became an actress, appearing in over 50 film and television roles including The Bold and the Beautiful and Beastmaster, and made guest appearances on Beverly Hills 90210, Andromeda, Caroline in the City, The King of Queens and Cracked.[1] Schnarre has also made a number of movies, with roles in Love on the Side, Waxwork II: Lost in Time and Junior. She played Oxanna Kristos in the video game Command & Conquer: Tiberian Sun.
Schnarre went on to study television broadcast journalism at University of California, Los Angeles, and was co-host of Celebrity RSVP, a Canadian entertainment news program. She also was a guest correspondent on etalk and ET Canada.
In 2007, Schnarre became a volunteer Ambassador for Habitat for Humanity Toronto's Women Build program. Schnarre resides in Toronto and Muskoka, Ontario.[2]
In 2014, Monika launched her line of natural anti-aging skincare products.
She married Storey Badger in 2010, [3] and their son, Bode, was born on May 8, 2013.[4]
Read more...
Filmography
Film
| Year | Title | Role | Notes |
| --- | --- | --- | --- |
| 1991 | The Death Merchant | Amanda | |
| 1991 | Fearless Tiger | Ashley | Video |
| 1992 | Waxwork II: Lost in Time | Sarah Brightman | |
| 1993 | Warlock: The Armageddon | Model | |
| 1994 | Bulletproof Heart (aka Killer) | Laura | |
| 1994 | Junior | Angelic Nurse | |
| 1997 | The Peacekeeper | Jane | |
| 1998 | Sanctuary | Colette Fortier | |
| 2001 | Turbulence 3: Heavy Metal | Erica Black | Video |
| 2001 | Vegas, City of Dreams | Jessica Garrett | |
| 2001 | Snowbound | Liz Bartlett | |
| 2004 | Love on the Side | Linda Avery | |
Television
| Year | Title | Role | Notes |
| --- | --- | --- | --- |
| 1989 | Friday the 13th: The Series | Sandy Thomerson | Episode: "Face of Evil" |
| 1990 | Friday the 13th: The Series | Lisa Caldwell | Episode: "Epitaph for a Lonely Soul" |
| 1991 | Designing Women | Lady | Episode: "Fore!" |
| 1991 | DEA | Model | Episode: "White Lies" |
| 1991 | Tropical Heat | Jenny Shipman | Episode: "This Year's Model" |
| 1994 | Boogies Diner | Zoya | TV series |
| 1994 | The Bold and the Beautiful | Ivana Vanderveld | TV series |
| 1996 | Ed McBain's 87th Precinct: Ice | Augusta Blair | TV film |
| 1995-1996 | Beverly Hills, 90210 | Elle | Recurring role (4 episodes) |
| 1997 | The Adventures of Sinbad | Alana | Episode: "Isle of Bliss" |
| 1997 | Silk Stalkings | Kristin Campbell | Episode: "Pretty in Black" |
| 1997 | Dead Fire | Kendall Black | TV film |
| 1997 | Breaker High | Paprika | Episode: "Silence of the Lamborghini" |
| 1997 | Team Knight Rider | Dr. Magda Matleonski | Episode: "The 'A' List" |
| 1998 | Dead Man's Gun | Ann Talbot | Episode: "The Gambler" |
| 1998 | The New Addams Family | Melinda Carver | Episode: "Fester's Punctured Romance" |
| 1998 | Welcome to Paradox | Bio-Rob; Dorothy Duncan | Episode: "Acute Triangle" |
| 1998 | Night Man | Zentare | Episode: "It Came from Out of the Sky" |
| 1999 | Night Man | Zentare | Episode: "Scent of a Woman" |
| 1999 | Earth: Final Conflict | Pearl Bell | Episode: "Second Chances" |
| 1999 | Total Recall 2070 | Marissa Lett / Rachel Vespers | Episode: "Allure" |
| 1999 | Command & Conquer: Tiberian Sun | Oxanna Kristos | Video game |
| 1999 | The New Addams Family | Rocket Woman | Episode: "Fester the Marriage Counselor" |
| 1999 | First Wave | Harlie Daniels | Episode: "The Heist" |
| 1999-2002 | BeastMaster | The Sorceress | Recurring role (29 episodes) |
| 2000 | Caroline in the City | Lisa | Episode: "Caroline and Joanie and the Stick" |
| 2000 | Code Name: Eternity | Claire Lloyd | Episode: "Making Love" |
| 2000 | Hollywood Off-Ramp | | Episode: "Model Behavior" |
| 2001 | Andromeda | Lt. Jill Pearce | Episode: "The Mathematics of Tears" |
| 2002 | Just Cause | Devin | Episode: "Making News" |
| 2003 | Charmed | Jenna | Episode: "Lucky Charmed" |
| 2003 | The King of Queens | Uli | Episode: "Clothes Encounter" |
| 2004 | Mutant X | Riley Morgan | Episode: "The Prophecy" |
| 2005 | Andromeda | Marida | Episode: "The Opposites of Attraction" |
| 2006 | Underfunded | Juliette Glickman | TV film |
| 2016 | Saving Hope | Caroline | Episode: Can't You Hear Me Knocking? |
[ Source: Wikipedia ]