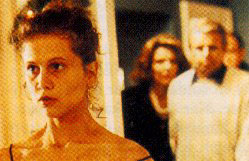 Tracey Gold
Birth name:
Tracey Claire Fisher
Born:
May 16, 1969
Age:
54
Birthplace:
New York City, New York, U.S.
Popularity:

Please login to contact Tracey Gold...
Biography
Tracey Gold (born Tracey Claire Fisher; May 16, 1969) is an American actress and former child star best known for playing Carol Seaver on the 1980s sitcom Growing Pains.
Gold was born in New York City. Her younger sister is fellow actress
Missy Gold
, who appeared on the sitcom
Benson
from 1979 to 1986; their mother, Bonnie Fisher, was an advertising executive.[1]
The name "Gold" is a shortened form of the name acquired by Tracey and Missy when they were adopted by Harry Goldstein, who married Fisher when Tracey was a preschooler; an actor in his own right (he had supporting roles in Carrie and on The Secrets of Isis), he later became a Hollywood agent. Missy and Tracey have three younger sisters, Brandy, Jessica (Jessie), and Cassandra (Cassie) Gold. Both Brandy and Jessie are actresses.[citation needed]
Read more...
Acting career
Gold has been an actress since the age of four, first appearing in a Pepsi print ad. She appeared in two canceled series, Shirley with Shirley Jones in 1979, and Goodnight Beantown, starring Bill Bixby in 1983. Gold was originally cast as the youngest daughter in the original pilot series of the sitcom Gimme A Break! starring Nell Carter, but was replaced by actress Lara Jill Miller when the show went to series. She played one of Albert Finney and Diane Keaton's four daughters in the feature film Shoot the Moon (1982). Gold also guest starred on her sister Missy's series Benson in 1985, playing the cousin of Missy's character, Katie Gatling.
In 1985, Gold auditioned for the role of Carol Seaver on Growing Pains, but was not initially cast. The actress chosen for the pilot was Elizabeth Ward, who had starred alongside Gold in The Hand-Me-Down Kid, a 1983 ABC Afterschool Special. However, test audiences did not favor Ward in the role of Carol, and she was promptly replaced by Gold. Growing Pains ran from 1985 until 1992. During this time, Gold became a famous teen star and battled anorexia. In 1988, Gold also starred as Angela Strull in the teen film Dance 'til Dawn.
After the end of the series, Gold continued to work as an actress. Over the next decade, Gold starred in several television movies.
Battle with anorexia
Gold is also famous for her battle with anorexia nervosa, which almost killed her.[2] From about the age of seven, she says that she thought about dieting, having learned the word and the concept on the many television sets she worked on as a very busy child actress. She became preoccupied with the television movie The Best Little Girl in the World, starring actress Jennifer Jason Leigh, about an anorexic teenager. In her autobiography, Gold says that in an attempt to control her development into a woman, she began restricting what she ate. When she was 11, she was diagnosed with the early stages of anorexia by her family pediatrician after a weight loss that accompanied a growth spurt. After some counseling, she eventually returned to a more normal weight for most of her teenage years. In 1988 at age 19, Gold gained some weight over the Growing Pains series hiatus. That season, the sitcom's scripts called for her to be the brunt of fat jokes from her television brothers for many episodes in a row.
Beginning in October 1988, Gold dieted from 133 pounds to about 110 pounds on a medically supervised 500-calorie-a-day (2,100 kJ) diet, but still occasionally the scripts included fat jokes at her expense. In her autobiography, she says that between 1989 and 1991, she became increasingly obsessed with food and her weight and continued to slowly and steadily lose weight. In 1990 Gold began group therapy in an eating disorder program, but only learned more ways to lose weight. That season, her problem with weight loss was touched upon slightly on her television series, when Gold is seen looking at her body in a carnival mirror, and describes to another character the distorted image in her head. In 1991, she started starving herself more than ever and vomiting, and lost a massive amount of weight, to the point that she was admitted to a hospital in early 1992. Her lowest weight is estimated to have been near 80 pounds. She was suspended from the show for her skeletal appearance. Photos of Gold's emaciated body were plastered all over tabloid magazines, and she was one of the first celebrities ever to be formally outed for anorexia. She last appeared in the 1991 episode, "Menage a Luke" after missing the two prior episodes where her problem is very obvious in some scenes, and did not return until the last two episodes of the series in the late spring of 1992, although she was not nearly recovered at this point.
After a several year struggle, Gold eventually recovered, and starred in the television movie For the Love of Nancy (1994) with Jill Clayburgh. The film explored a young woman's battle with anorexia and its effects on her family. Although she was warned of the possibility that she had done damage to her reproductive organs by the years of anorexia, Gold was later able to bear four children. As she entered her thirties, she maintained a normal weight for a woman her age, and often held speaking engagements warning young women about the dangers of eating disorders, all the while continuing work as an actress.[3]
Personal life and post-Growing Pains
Gold met her husband Roby Marshall through Growing Pains co-star Joanna Kerns, who portrayed Marshall's mother in the TV miniseries adaptation of the 1989 true crime book Blind Faith by Joe McGinniss. Marshall had served as a consultant on the miniseries, which dramatized the 1984 case in which his father, Toms River, New Jersey businessman Robert O. Marshall, was charged with (and later convicted of) the contract killing of his wife (and Roby's mother) Maria.[4]
Gold and Marshall married on October 8, 1994, and have four sons: Sage Gold (b. February 16, 1997), Bailey Vincent (b. March 4, 1999), Aiden Michael (b. May 9, 2004), and Dylan Christopher (b. April 1, 2008).[5]
In 2003, Gold wrote the book Room to Grow: An Appetite for Life with Julie McCarron.
Arrest
In 2004, Gold was arrested for drunk driving after rolling her SUV down a California freeway embankment.[6]
Gold was arrested by California Highway Patrol officers and charged with a felony count of driving under the influence causing injury. According to a CHP spokesman, Gold was driving a 2001 GMC Yukon on Route 118 on September 3 when she lost control of the vehicle. While Gold's husband and two of her sons (ages five and five months) were not seriously injured in the late-night crash, the actress's oldest child, 7-year-old Sage, suffered a broken clavicle and a head laceration. After CHP officers administered sobriety tests, Gold was arrested on the DUI charge, said CHP spokesman Steve Reid. Booked under her married name, Tracey Gold Marshall, she spent five hours in the Ventura lockup before being released on $50,000 bail.[7]
Present day
In 2003, Gold appeared in an episode of the TV show The Dead Zone as the character Penny Barton. Gold was a contestant on the program Celebrity Mole 2: Yucatán in 2004, and starred in the movie Safe Harbor in 2006. She is currently hosting the TV Guide Channel mini-show Trapped in TV Guide. In addition, she is the host of the TLC series The Secret Life of a Soccer Mom, which debuted on March 3, 2008.[8] Recently, Gold appeared as the spokesperson in "Baby Sleeps Safe", a national television infomercial for Baby Guardian.[9] On January 2, 2012, she appeared on the ABC network's reality series, Celebrity Wife Swap, trading places with singer Carnie Wilson for a week. On July 24, 2013, Gold returned to sitcoms with an appearance on the Melissa & Joey episode, "Something Happened," as one half of a lesbian couple with a home-schooled daughter.[10] Gold starred in the first episode of "Heartbreakers" called "Shot Through The Heart" on ID on August 13, 2014.
Filmography
Film
Year
Title
Role
Notes
1978
A Rainy Day
Stephanie as a Child
Short film
1982
Shoot the Moon
Marianne Dunlap
1986
The Best of Times
Jaki's Friend (uncredited)
1988
The Girl Next Door
Annie
1990
The Willies
Carol Seaver
1998
Wanted
Sue Bentley
2001
What's the Worst That Could Happen?
Woman at Auction (uncredited)
2008
Solar Flare
Dr. Joanna Clark
2011
Your Love Never Fails
Samantha Pierce
Video
2014
My Dad's a Soccer Mom
Lori Brookstone
2016
All Hallows' Eve
Didi Hallow
Television
Year
Title
Role
Notes
1976
Captains and the Kings
Rosemary Armagh
TV miniseries
1977
Roots
Young Missy Reynolds
TV miniseries
1978
The Dark Secret of Harvest Home
Missy Penrose
TV miniseries
1978
Night Cries
Donna Blankenship
TV movie
1978
Little Mo
Cindy Brinker
TV movie
1978
Quincy, M.E.
Lisa Carson
Episode: "A Test for Living"
1979
The Incredible Journey of Doctor Meg Laurel
Laurie Mae Moon
TV movie
1979
Eight Is Enough
Tracey Kappleton
Episode: "Best of Friends"
1979
Jennifer: A Woman's Story
Emma Prince
TV movie
1979
The Child Stealer
Pam
TV movie
1979
CHiPs
Linda/Donna
Episode: "Drive, Lady, Drive: Part 1"
Episode: "Drive, Lady, Drive: Part 2"
1979
Fantasy Island
Monica
Episode: "Amusement Park/Rock Stars"
1979-1980
Shirley
Michelle Miller
13 episodes
1980
Here's Boomer
Laurie
Episode: "Overboard"
1980
Trapper John, M.D.
Ellie
Episode: "Girl Under Glass: Part 1"
Episode: "Girl Under Glass: Part 2"
1980
Marilyn: The Untold Story
Young Norma Jean
TV movie
1981
CBS Afternoon Playhouse
Carrie
Episode: "I Think I'm Having a Baby"
1981
A Few Days in Weasel Creek
Buddy
TV movie
1981
CBS Library
Jane
Episode: "A Tale of Four Wishes"
1982
Father Murphy
Jenny
Episode: "Eight-Eight Keys to Happiness"
1982
Beyond Witch Mountain
Tia
TV movie
1982
The Phoenix
Jan
Episode: "The Fire Within"
1983
Another Woman's Child
Lisa
TV movie
1983
ABC Afterschool Special
Ari Jacobs
Episode: "The Hand Me Down Kid"
1983
Thursday's Child
Alix
TV movie
1983
Who Will Love My Children?
Pauline Fray
TV movie
1983
Fantasy Island
Michelle Robbins
Episode: "Three's a Crowd/Second Time Around"
1983-1984
Goodnight, Beantown
Susan Barnes
18 episodes
1984
Trapper John, M.D.
Jennifer Robins
Episode: "Where There's a Will"
1985
A Reason to Live
Ellen Maynes
TV movie
1985
Lots of Luck
Cindy Maris
TV movie
1985
Benson
Laura
Episode: "Katie's Cousin"
1985-1992
Growing Pains
Carol Seaver
166 episodes
1986
The Blinkins
Shady (voice)
TV movie
1988
Dance 'til Dawn
Angela Strull
TV movie
1990
DuckTales: The Movie Special
Hostess
TV movie
1990
ABC Afterschool Special
Shauna Kelly
Episode: "A Question About Sex"
1993
Labor of Love: The Arlette Schweitzer Story
Christa Uchytil
TV movie
1994
For the Love of Nancy
Nancy Walsh
TV movie
1995
Sleep, Baby, Sleep
Sylvie Pierson
TV movie
1995
Lady Killer
Sharon
TV movie
1995
Beauty's Revenge
Beth
TV movie
1995
Stolen Innocence
Stacy
TV movie
1996
A Kidnapping in the Family
Sarah Landers Taylor
TV movie
1996
Face of Evil
Darcy Palmer / Barbara Richards
TV movie
1996
The Perfect Daughter
Alexandra Michaelson
TV movie
1996
Diagnosis: Murder
Amy
Episode: "An Explosive Murder"
1996
To Face Her Past
Lori Molina
TV movie
1998
Dirty Little Secret
Sarah Wheetley
TV movie
1998
Touched by an Angel
Darlene Jones
Episode: "Vengeance Is Mine: Part 1"
1998
Promised Land
Darlene Jones
Episode: "Vengeance Is Mine: Part 2"
1998
The Girl Next Door
Anne 'Annie' Nolan
TV movie
1999
A Crime of Passion
Alyssa Pierce
TV movie
2000
Chicken Soup for the Soul
Anita
1 episode
2000
Stolen from the Heart
Leslie Wagner
TV movie
2000
Twice in a Lifetime
Blair Wilson / Polly Murtaugh
Episode: "Party Girls"
2000
The Growing Pains Movie
Carol Seaver
TV movie
2001
She's No Angel
Liddy Carlyle
TV movie
2002
Wildfire 7: The Inferno
Nell Swanson
TV movie
2003
Stephen King's Dead Zone
Penny Barton
Episode: "Misbegotten"
2004
Growing Pains: Return of the Seavers
Carol Seaver
TV movie
2005
Captive Hearts
Elizabeth Sorenson
TV movie
2006
Safe Harbor
Carly Segan
TV movie
2006
Trapped in TV Guide
Host
TV series
2007
Final Approach
Lina Howren
TV movie
2009
Sight Unseen
Molly
TV movie
2012
Arachnoquake
Katelynn
TV movie
2013
Melissa & Joey
Polly
Episode: "Something Happened"
2016
I Know Where Lizzie Is
Judith
TV movie
2017
Battle of the Network Stars
Herself
Episode: "Competition 20"
2017
Daily Blast Live
Herself
Host
Charities
Tracey Gold supports the following charitable cause: Dyslexia.
[ Source: Wikipedia ]