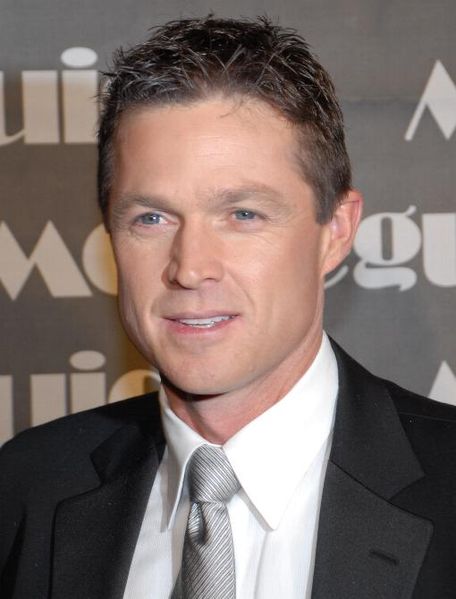 Eric Close
Birth name:
Eric Randolph Close
Born:
May 24, 1967
Age:
56
Birthplace:
Staten Island, New York, United States
Popularity:

Please login to contact Eric Close...
Biography
Eric Randolph Close (born May 24, 1967) is an American actor, best known for his roles in television series, particularly as FBI agent Martin Fitzgerald in the CBS mystery drama Without a Trace (2002–2009) and Teddy Conrad in the ABC musical drama Nashville (2012–2017).
Close was born in Staten Island, New York. Close's father is an orthopedic surgeon. Close is the eldest of three brothers. His family moved to Indiana, then to Michigan, and finally settled in San Diego when Close was seven years old.
Close was a member of the Sigma Chi fraternity and graduated with a B.A. in communications from the University of Southern California in 1989.[1]
Read more...
Career
Close was interested in acting from an early age and had some stage experience in school, but did not decide to pursue an acting career until after college. His first role was in a theater production Rat Songs in L.A., after which he was offered parts in the crime drama American Me (1992) and the TV movie Safe House directed by Elena Mannus. He had a brief stint in daytime television when he played Sawyer Walker on the NBC daytime soap opera Santa Barbara from 1992 to 1993. He received a Soap Opera Digest Award nomination for Outstanding Male Newcomer for his role as Sawyer Walker on Santa Barbara.[1] Close later starred on short-lived primetime shows such as McKenna (1994-1995), Dark Skies (1996-1997), The Magnificent Seven (1998-1999), Now and Again (1999-2000), and the Steven Spielberg miniseries production, Taken (2002).
Close is best known for his role as FBI agent Martin Fitzgerald on the CBS mystery drama Without a Trace. The show ran for seven seasons from September 26, 2002 to May 19, 2009.[1] From 2011 to 2015, Close had recurring role as Travis Tanner in the USA legal drama Suits, and starred as Michael Dorset in the short-lived CBS comedy-drama Chaos.[2] In 2012, Close began co-starring with Connie Britton in the ABC musical drama Nashville as Teddy Conrad, initially the husband of country singer Rayna Jaymes (Britton) and later the mayor of Nashville.[3][4]
Personal life
Close married his wife Keri in 1995. They have two daughters Katie (born October 1998) and Ella (born April 2001). They are members of the Brentwood Presbyterian Church.[5]
Filmography
Film
| Year | Title | Role | Notes |
| --- | --- | --- | --- |
| 1991 | Keeping Secrets | Young Michael (uncredited) | Television film |
| 1992 | American Me | Juvie Hall Attacker | |
| 1993 | Taking Liberty | Adam | |
| 1994 | Hercules and the Lost Kingdom | Telamon | Television movie |
| 1994 | Without Consent | David Mills | Television movie |
| 1995 | Long Island Fever | Scott Parks | Television movie |
| 1995 | The Stranger Beside Me | Chris Gallagher | Television movie |
| 2001 | Follow the Stars Home | Mark McCune | Television movie |
| 2001 | Liberty, Maine | Unknown | |
| 2001 | The Sky Is Falling | Mike | |
| 2003 | Alvarez & Cruz | Charlie | |
| 2004 | NTSB: The Crash of Flight 323 | N'Tom Price | Television movie |
| 2007 | Saving Angelo | Dad | Short film |
| 2010 | Unanswered Prayers | Ben Beck | Television movie |
| 2014 | American Sniper | DIA Agent Snead | |
| 2017 | Christmas Eve | Randal Edwards | |
| 2017 | Christmas in the Air | Robert Trent | Television Movie |
Television
Year
Title
Role
Notes
1991
MacGyver
Guard
Episode: "The Prometheus Syndrome"
1992
Major Dad
Jim
Episode: "The 'L' Word"
1992-93
Santa Barbara
Sawyer Walker
25 episodes
1994-95
McKenna
Brick McKenna
13 episodes (5 aired)
1995-96
Sisters
William 'Billy' Griffin
12 episodes
1996-1997
Dark Skies
John Loengard
19 episodes
Nominated—Saturn Award for Best Actor on Television
1998-2000
The Magnificent Seven
Vin Tanner
22 episodes
1999-2000
Now and Again
Michael Wiseman
22 episodes
Nominated—Saturn Award for Best Actor on Television
2002
Taken
John
4 episodes
2002-09
Without a Trace
Martin Fitzgerald
160 episodes
Nominated—Screen Actors Guild Award for Outstanding Performance by an Ensemble in a Drama Series
2005
Kim Possible
Crash Cranston (voice)
Episode: "Team Impossible"
2010
Seven Deadly Sins
Jack Powell
2 episodes
2010
Criminal Minds
Det. Matt Spicer
Episode: "Our Darkest Hour"
2011
Chaos
Michael Dorset
13 episodes
2011-15
Suits
Travis Tanner
7[6] episodes
2011
American Horror Story: Murder House
Hugo Langdon
2 episodes
2012
Law & Order: Special Victims Unit
Colin Barnes
Episode: "Father Dearest"
2012-18
Nashville
Teddy Conrad
65 episodes; Main Role (Seasons 1-3), Guest (Season 4)
2017
12 Days
Robert Trent
Hallmark
[ Source: Wikipedia ]