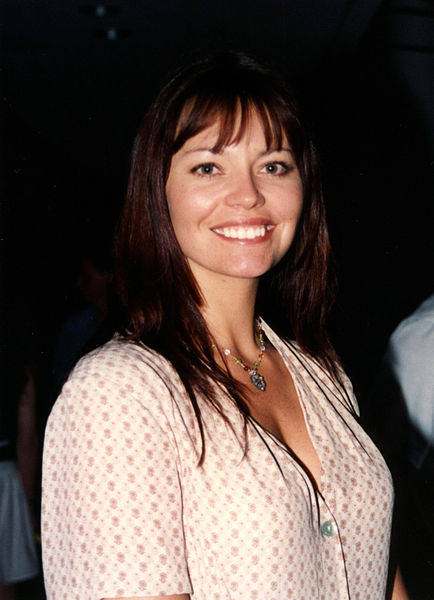 Musetta Vander
Birth name:
Musetta van der Merwe
Born:
May 26, 1963
Age:
60
Birthplace:
Durban, South Africa
Popularity:

Please login to contact Musetta Vander...
Biography
Musetta Vander (born Musetta van der Merwe; 26 May 1963)[1] is a South African actress and model.[citation needed]
Vander's first notable role was as Zander Tyler in the action-adventure TV series
Super Force
. In 1997, Vander portrayed Sindel in
Mortal Kombat: Annihilation
, the sequel to the original video game adaptation
Mortal Kombat
.
In 1998, Vander starred as Lady Elara, one of the lead characters in Dune 2000, a real-time strategy video game. In 2002, Vander reprised her role for the sequel, Emperor: Battle for Dune. Her theater credits include The Bourgeois Gentleman and Soweto's Burning. Vander has made national commercials for Lancôme, Sanyo, McDonald's, Diet Coke, Mercedes, Heineken, Skittles, Yoplait and many others. She played Agent 24-7 for Prudential Real Estate. She has also been featured in a number of magazines, including a pictoral in Maxim[2] and a cover on Details.[citation needed]
In 1999, Vander had a supporting role in Barry Sonnenfeld's film Wild Wild West in which she played an assistant to Kenneth Branagh's character, Dr. Loveless.
In 2000, Vander played a seductive Siren in the critically acclaimed O Brother, Where Art Thou? directed by the Coen brothers. The same year, she had a role in The Cell alongside Jennifer Lopez and Vince Vaughn.
Vander has also appeared in a wide variety of TV shows, primarily science fiction and fantasy series, including Buffy the Vampire Slayer (as an alluring teacher who turns out to be a giant praying mantis), Stargate SG-1, Star Trek: Voyager (an alluring alien), Babylon 5, Xena: Warrior Princess, and Highlander: The Series. Her most recent TV credits include guest appearances on NCIS, Criminal Minds: Beyond Borders, and Hawaii Five-0.
In 2006, Vander was cast for a role in the movie Alpha Dog, but the filming schedule kept changing, and because she was working on another project at the time she was unable to play the part in the end.[3]
Vander played Robert Duvall's character's wife in the comedy Kicking & Screaming and co-starred alongside Rade Serbedzija and Faye Dunaway in Say It in Russian. She played the lead female character in Breaking Point, a thriller with Tom Berenger and Busta Rhymes.[4] Vander can also be seen in the spoof/comedy Transylmania.
Musetta starred in a Christian movie called Johnny with Lee Majors and played the stepmother of Gattlin Griffith in the horror movie Under the Bed, directed by Steven C. Miller. Most recently, Vander played a part in the psychological thriller Spreading Darkness with John Savage and Eric Roberts; she also played Tom Sizemore's love interest in the indie film 5 Hour Friends, directed by Theo Davies.
Read more...
Filmography
Film
Year
Title
Role
Notes
1989
The Endangered
Christine Pickering
Crimes of Crimes
Sheri Cutler
The Revenger
Marissa
1993
Monolith
Katya Pavlova
Direct-to-video
1994
I'll Do Anything
Dancer
Scene deleted
Dickwad
Juicy
Short film
Oblivion
Lash
1995
Project Metalbeast
Debbie
The Secret Force
Nurse
Project Shadowchaser III
Rea Astov
Direct-to-video
Under the Hula Moon
Maya Gundinger
1996
The Lord Protector: The Riddle of the Chosen
Lady Beryl
Oblivion 2: Backlash
Lash
1997
American Hero
Gipsy
Unreleased
Elissa
Elissa
Short film
Mortal Kombat: Annihilation
Sindel
1998
Gunshy
Grace
1999
Molly
Maxine
Wild Wild West
Munitia
2000
O Brother, Where Art Thou?
Siren
The Cell
Ella Baines
2004
Forbidden Warrior
Reza
2005
Mansquito
Dr. Jennifer Allen
TV movie
Kicking & Screaming
Janice Weston
What's Up Scarlet?
Sabrina Fisser
2006
Spymate
Dr. Claudette Amour
Monster Night
Miss Morticia
Direct-to-video
2007
Say It in Russian
Natalia
Planet Raptor
Sgt. Jacqueline 'Jack' Moore
TV movie
2009
Transylmania
Teodora Van Sloan
Breaking Point
Celia Hernandez
Napoleonic
Dr. Barbara Hale
Short film
2010
Johnny
Julia Carter
2012
Under the Bed
Angela Hausman
2013
5 Hour Friends
Candy
2014
Spreading Darkness
Harriet Skelp
2015
The Better Half
Susan
$elfie Shootout
Agent Zoey Miller
2017
The Hatred
Edna
Shine
Corrine Stacker
Television
Year
Title
Role
Notes
1991-92
Super Force
Zander Tyler
Recurring role (7 episodes)
1994
Murder, She Wrote
Sharain Hourani
Episode: "The Dying Game"
1995
Boy Meets World
Dominique
Episode: "Breaking Up Is Really, Really Hard to Do"
1996
Diagnosis: Murder
Carrie
Episode: "Murder by the Book"
Viper
KGB Agent Natalya Marakova
Episode: "MIG-89"
1997
Highlander
Ingrid Henning
Episode: "The Valkyrie"
Buffy the Vampire Slayer
Natalie French/The She-Mantis
Episode: "Teacher's Pet"
Babylon 5
Felicia
Episode: "Between the Darkness and the Light"
Pensacola: Wings of Gold
Elina Zulinova
Episode: "Road Warriors"
1998
The Sentinel
Lila
Episode: "Love Kills"
Soldier of Fortune, Inc.
Kasima Fada
Episode: "Top Event"
1999
Star Trek: Voyager
Derran Tal
Episode: "The Disease"
2000
Pensacola: Wings of Gold
Captain Jill 'Blaze' Trevera
Episode: "Pensacola Shootout"
Xena: Warrior Princess
Ilainus
Episode: "Amphipolis Under Siege"
Secret Agent Man
Prima
Recurring role (3 episodes)
Stargate SG-1
Shan'auc
Episode: "Crossroads"
2001
V.I.P.
Alex Quaid
Episode: "Val's Big Bang"
2002
Son of the Beach
Nutragena
Episode: "Hamm Stroker's Suck My Blood"
2003
Stargate SG-1
Shauna
Episode: "The Changeling"
She Spies
Dr. Weiland
Episode: "Damsels in De-Stress"
Frasier
Natalie Blanc
Episode: "High Holidays"
2004
The Bold and the Beautiful
Princess Guinevere
1 episode
2010
NCIS
Julie Merriweather
Episode: "Broken Arrow"
2016
Criminal Minds: Beyond Borders
Miriam Nell
Episode: "Iqiniso"
Swedish Dicks
Jennifer
Episode #1.4
2017
Hawaii Five-0
Sheriff Alana Smith
Episode "Ka Pa'ani Nui/Big Game"
Other works
Year
Title
Role
Notes
1989
Soweto's Burning
Emma
Theatre
Terry Lin - "Let's Get Busy"
Dancer
Music video
Alice Cooper - "Bed of Nails"
Dancer
Music video
Cats in Boots - "Shotgun Sally"
Dancer/Model
Music video
Paul Carrack - "I Live By the Groove"
Model
Music video
Rod Stewart - "This Old Heart of Mine"
Dancer/Model
Music video
Tina Turner - "I Don't Wanna Lose You"
Model
Music video
Elton John - "Healing Hands"
Model
Music video
1990
Joey B. Ellis - "Thought You Were the One for Me"
Dancer
Music video
Traveling Wilburys - "Wilbury Twist"
Dancer
Music video
King Swamp - "Wiseblood"
Model
Music video
Terry Steele - "If I Told You Once"
Model
Music video
Desiree Coleman - "Romance"
Model
Music video
Debbie Gibson - "Anything Is Possible"
Model
Music video
Colin James - "Keep On Lovin' Me Baby"
Model
Music video
1991
Amy Grant - "Every Heartbeat"
Model
Music video
1992
Rock Video Girls 2
Herself
Music videos collection
It Came from the Desert
Fantasy Girl
Video game
1993
Voyeur
Chantal Pousette
Video game
1995
Chris Isaak - "Go Walking Down There"
Dancer
Music video
American Hero
Gipsy
Video game (unreleased)
1997
Movies, For Guys Who Like Movies
Herself/Guest
TBS program
1998
Dune 2000
Lady Elara
Video game
1999
Loveless' Ladies
Herself
Documentary featured on the DVD for Wild Wild West
2002
Emperor: Battle for Dune
Lady Elara
Video game
2003
Le Bourgeois gentilhomme
Countess Dorimene
Theatre
2005
Making of "Mosquito Man"
Herself
Documentary featured on the DVD for Mansquito
2005
Kicking & Screaming: Behind the Net
Herself
Documentary featured on the DVD for Kicking & Screaming
2006
Behind the scenes of '"Spymate"
Herself
Documentary featured on the DVD for Spymate
2007
Prudential Real Estate
Agent 24/7
Commercial
Yoplait
Model
Commercial
2009
Live From the Future
Herself/Guest
Talk show
2017
DSW The Daughter Situation
Mother
Commercial
Amazon Echo
Actress
Commercial
Rhofade - Less Red and More You
Actress
Commercial
Radio and podcasts
Vander appeared on Ken Reid's TV Guidance Counselor podcast on August 31, 2016.
[ Source: Wikipedia ]