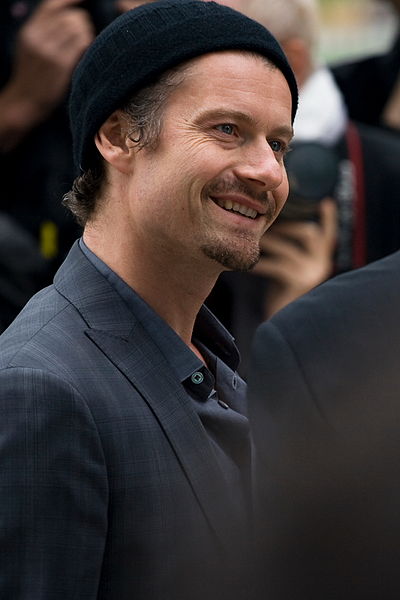 James Badge Dale
Birth name:
James Badgett Dale
Born:
May 1, 1978
Age:
45
Birthplace:
Manhattan, New York City, U.S.
Popularity:

Please login to contact James Badge Dale...
Biography
James Badgett Dale (born May 1, 1978), known professionally as James Badge Dale, is an American actor. He is known for playing Simon in Lord of the Flies, Chase Edmunds in 24, State Trooper Barrigan in Martin Scorsese's The Departed, Robert Leckie in The Pacific, and Eric Savin in Iron Man 3.
Born in New York City, Dale is the only child of actor, dancer, and choreographer Grover Dale (born 1935) and actress and singer
Anita Morris
(1943-1994). At age 10, he was picked out of his fifth grade class at Wonderland Elementary School in Laurel Canyon, Los Angeles to test for the role of Simon in
Lord of the Flies
, which he was cast in. After five months on location in Jamaica, he returned to his schooling at Wonderland Elementary.
When he was 15, his mother died. He is an alumnus of Manhattanville College, where he played for the hockey team until he suffered a leg injury.[citation needed] Once on a Trip to Alaska, his raft capsized, and he was left on the other side of the river with no shoes and had to walk several miles to safety.[citation needed]
Read more...
Career
Dale in September 2010.
His most notable works to date are in the 1990 film adaptation of Lord of the Flies (in which he played the part of Simon) and the role of Chase Edmunds in the third season of the Fox TV series 24 (which he later reprised in the video game of the same title). He also appeared in CSI: Miami and CSI: NY as serial killer Henry Darius. The storyline originally began in the CSI: Miami Season 4 episode "Felony" and ended in the CSI: NY Season 2 episode "Manhattan Manhunt", resulting in a crossover between the two shows.[citation needed]
In 2006, he was cast in the pivotal supporting role of Trooper Barrigan in The Departed. He then was cast as the lead in AMC's political thriller Rubicon which revolves around a secret society that pulls the strings on the world political stage like the alleged Illuminati and the Council on Foreign Relations. It centers on brilliant analyst Will Travers (Dale) discovering that his employers are not who they seem to be. He also stars as one of the three leads in the big-budget HBO miniseries The Pacific from executive producers Tom Hanks and Steven Spielberg.[1]
In 2013, Dale played Eric Savin in the Marvel Comics-based Iron Man 3, Captain Speke in the science fiction thriller World War Z, Dan Reid (the title character's brother) in Disney's The Lone Ranger, and the brother of Lee Harvey Oswald in Parkland.
Filmography
Film
| Year | Title | Role | Notes |
| --- | --- | --- | --- |
| 1990 | Lord of the Flies | Simon | |
| 2003 | Nola | Ben | |
| 2004 | Cross Bronx | Rob-O | |
| 2005 | The Naked Brothers Band | Romantic Newlywed | |
| 2006 | The Departed | Barrigan | |
| 2010 | NoNAMES | Kevin | |
| 2010 | Polish Bar | Tommy | |
| 2011 | Shame | David | |
| 2011 | The Conspirator | William Hamilton | |
| 2012 | The Grey | Lewenden | |
| 2012 | Flight | Gaunt Young Man | |
| 2013 | Iron Man 3 | Eric Savin[2] | |
| 2013 | World War Z | Captain Speke | |
| 2013 | The Lone Ranger | Dan Reid | |
| 2013 | Parkland | Robert Oswald | |
| 2014 | Miss Meadows | Sheriff | |
| 2014 | Stretch | Laurent | |
| 2015 | Echoes of War | Wade | |
| 2015 | The Walk | Jean-Pierre | |
| 2016 | 13 Hours: The Secret Soldiers of Benghazi | Tyrone S. "Rone" Woods | |
| 2016 | Spectral | Dr. Mark Clyne | |
| 2017 | Only the Brave | Jesse Steed | |
| 2018 | Little Woods | Ian | |
| 2018 | Donnybrook | Whalen | |
| 2018 | Hold the Dark | Donald Marium | |
| 2019 | Into the Ashes | Sal Porter | Post-production |
| 2019 | The Empty Man | James Lasombra | Post-production |
| 2019 | The Kitchen | Kevin O'Carroll | Post-production |
| 2019 | The Incident at Sparrow Creek Lumber | Gannon | Post-production |
Television
| Year | Title | Role | Notes |
| --- | --- | --- | --- |
| 2002 | Law & Order: Special Victims Unit | Danny Jordan | |
| 2003 | Hack | Billy Ryan | |
| 2003 - 2004 | 24 | Chase Edmunds | 24 episodes |
| 2004 | Rescue Me | Timo Gavin | |
| 2005 | CSI: Crime Scene Investigation | Adam Trent | |
| 2005 | CSI: Miami | Henry Darius | |
| 2005 | CSI: NY | Henry Darius | |
| 2007 | The Black Donnellys | Samson Dawlish | |
| 2007 | Fort Pit | Bobby Bonelli | |
| 2010 | The Pacific | Robert Leckie | |
| 2010 | Rubicon | Will Travers | |
Awards and nominations
Year
Award
Result
Category
Film
1990
Young Artist Award[3]
Nominated
Best Young Actor Supporting Role in a Motion Picture
Lord of the Flies
1990
Nominated
Outstanding Young Ensemble Cast in a Motion Picture for
Lord of the Flies
[ Source: Wikipedia ]