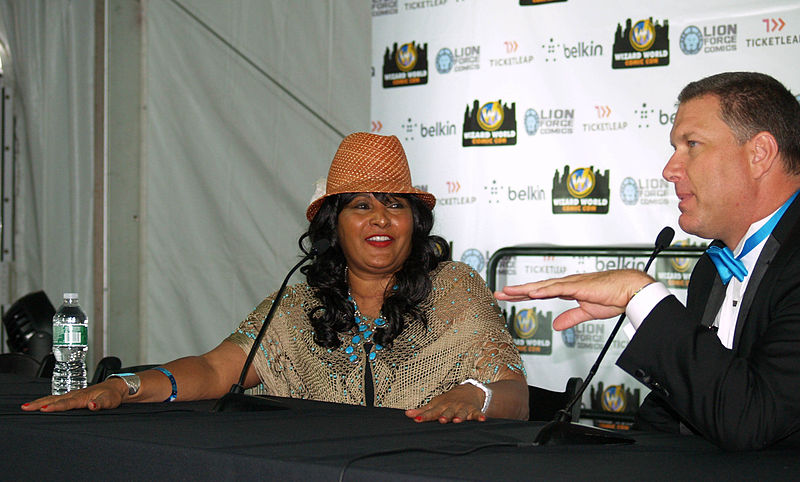 Pam Grier
Birth name:
Pamela Suzette Grier
Born:
May 26, 1949
Age:
74
Birthplace:
Winston-Salem, North Carolina, U.S.
Popularity:

Please login to contact Pam Grier...
Biography
Pamela Suzette Grier (born May 26, 1949) is an American actress. Grier became known in the early 1970s for starring in a string of 1970s women in prison and blaxploitation films such as The Big Bird Cage, Coffy, Foxy Brown, and Sheba, Baby. She starred in Quentin Tarantino's 1997 film Jackie Brown, for which she received a Satellite Award and a Golden Globe nomination for Best Actress. She has also been nominated for a SAG Award.
For six seasons, Grier portrayed Kate "Kit" Porter on the television series The L Word, which ran from 2004. She received an Emmy nomination for her work in the animated program Happily Ever After: Fairy Tales for Every Child. Tarantino said that she may have been cinema's first female action star.[3]
Grier was born on May 26, 1949, in Winston-Salem, North Carolina, the daughter of Gwendolyn Sylvia (née Samuels), a homemaker and nurse, and Clarence Ransom Grier, Jr., who worked as a mechanic and technical sergeant in the United States Air Force. She has one sister and one brother.[4] Grier has stated that she is of mixed ancestry consisting of African-American, Hispanic, Chinese, Filipino, and Cheyenne Indian heritage.[5]
At age 6, Grier was raped by two boys when she was left unattended at her aunt's house. "It took so long to deal with the pain of that," she says, "You try to deal with it, but you never really get over it," she adds. "And not just me; my family endured so much guilt and anger that something like that happened to me."[5] Because of her father's military career, her family moved frequently during her childhood, to various places such as England, and eventually settled in Denver, where she attended East High School. While in Denver, she appeared in a number of stage productions, and participated in beauty contests to raise money for college tuition at Metropolitan State College.
Read more...
Career
Grier moved to Los Angeles, California, in 1967, where she was initially hired as a receptionist at American International Pictures (AIP).[citation needed] She is believed to have been discovered by director Jack Hill,[citation needed] who cast her in his women-in-prison films The Big Doll House (1971) and The Big Bird Cage (1972). While under contract at AIP, she became a staple of early 1970s blaxploitation movies, playing big, bold, assertive women, beginning with Jack Hill's Coffy (1973), in which she plays a nurse who seeks revenge on drug dealers. Her character was advertised in the trailer as the "baddest one-chick hit-squad that ever hit town!" The film, which was filled with sexual and violent elements typical of the genre, was a box-office hit. Grier is considered to be the first African-American female to headline an action film, as protagonists of previous blaxploitation films were males. In his review of Coffy, critic Roger Ebert praised the film for its believable female lead. He noted that Grier was an actress of "beautiful face and astonishing form" and that she possessed a kind of "physical life" missing from many other attractive actresses.[6] Grier subsequently played similar characters in the AIP films Foxy Brown (1974), Sheba, Baby, and Friday Foster, (both 1975).
With the demise of blaxploitation later in the 1970s, Grier appeared in smaller roles for many years. She acquired progressively larger character roles in the 1980s, including a druggie prostitute in Fort Apache, The Bronx (1981), a witch in Something Wicked this Way Comes (1983), and Steven Seagal's detective partner in Above the Law (1988). She had a recurring role on Miami Vice from 1985 to 1989 and made guest appearances on Martin, Night Court, and The Fresh Prince of Bel Air. She had a recurring role in the TV series Crime Story between 1986 and 1988. Her role in Rocket Gibraltar (1988) was cut due to fears by the film's director, Daniel Petrie, of "repercussions from interracial love scenes".[7] She appeared on Sinbad, Preston Chronicles, The Cosby Show, The Wayans Brothers Show, and Mad TV. In 1994, Grier appeared in Snoop Dogg's video for "Doggy Dogg World".
Grier with moderator Jarrett Crippen during a Q&A session at the 2013 Wizard World New York Experience
In the late 1990s, Grier was a cast member of the Showtime series Linc's. She appeared in 1996 in John Carpenter's Escape from L.A. and 1997 with the title role in Quentin Tarantino's Jackie Brown, films that partly paid homage to her 1970s blaxploitation movies. She was nominated for numerous awards for her work in the Tarantino film. Grier appeared on Showtime's The L Word, in which she played Kit Porter. The series ran for six seasons and ended in March 2009. Grier occasionally guest-stars in such television series as Law & Order: Special Victims Unit (where she is a recurring character).
In 2010, Grier began appearing in a recurring role on the hit science-fiction series Smallville as the villain Amanda Waller, also known as White Queen, head agent of Checkmate, a covert operations agency. She appeared as a friend and colleague to Julia Roberts' college professor in 2011's Larry Crowne.
In 2010, Grier wrote her memoir, Foxy: My Life in Three Acts, with Andrea Cagan.[8] In January 2018, Grier revealed a biopic based on her book is in the works titled, Pam.[9]
Grier received an honorary Doctorate of Humane Letters from the University of Maryland Eastern Shore in 2011. That same year, she received an honorary Doctorate of Science from Langston University.[10]
She started the Pam Grier Community Garden and Education Center with the National Multicultural Western Heritage Museum. The purpose is to teach people about organic gardening, health and nutrition among other things.[11]
Personal life
Grier has never been married and has no children but she has had a few high profile relationships.
Grier met basketball player Kareem Abdul-Jabbar before he became a Muslim. Soon after they began dating, he converted to Islam. Abdul-Jabbar proposed to Grier, but gave her an ultimatum to convert to Islam. He said, "If you don't commit to me today, I'm getting married at 2 this afternoon. She's a converted Muslim, and she's been prepared for me," adding, "once you become Muslim, you might appreciate another wife." Grier declined, and he got married that day.[12]
Grier met comedian Freddie Prinze while promoting her film Coffy in 1973. They fell in love and considered marriage.[12] Prinze wanted her to have his baby[13] but she did not want to bring a child into the world while he was unstable.[14] Prinze suffered from depression and drug addiction. They remained in touch after she broke up with him. She was one of the last people Prinze spoke to before he fatally shot himself in 1977.[9]
Grier met comedian Richard Pryor through her relationship with Prinze. They did not begin dating until they were both cast in Greased Lightning.[12] She helped Pryor learn to read[9] and wanted to help him with his drug addiction.[13] After six months sober, he relapsed.[12] In her memoir she revealed her sexual relationship with Pryor caused cocaine to enter her system. Her doctor informed her that she had a "buildup of cocaine residue" around her cervix and vagina which he called an "epidemic" in Beverly Hills. He asked if perhaps Pryor put cocaine on his penis to sustain his erection but she was unsure.[15] The doctor then asked her if her mouth went numb while performing oral sex on Pryor, she said it did and he linked it the Novocaine-like effects of cocaine. Grier confronted Pryor about protecting her health, but he refused to use a condom.[14] Pryor later got engaged to another woman while he was dating Grier in 1977.
Grier was diagnosed with stage-four cervical cancer in 1988, and was told she had 18 months to live. Through vigorous treatment she made a recovery and has been in remission.[16]
Grier was formerly romantically linked to Soul Train host Don Cornelius[17] and basketball player Wilt Chamberlain.[18][19]
In 1998, Grier was engaged to music executive Kevin Evans, but the engagement ended in 1999. From 2000 to 2008, she dated marketing executive Peter Hempel.[citation needed]
Filmography
Film
Year
Title
Role
Notes
1970
Beyond the Valley of the Dolls
Partygoer
1971
The Big Doll House
Grear
Women in Cages
Alabama
1972
The Twilight People
Ayesa
Cool Breeze
Mona
The Big Bird Cage
Blossom
Hit Man
Gozelda
1973
Black Mama White Mama
Lee Daniels
Coffy
Coffy
Scream Blacula Scream
Lisa Fortier
1974
The Arena
Mamawi
Foxy Brown
Foxy Brown
1975
Sheba, Baby
Sheba Shayne
Bucktown
Aretha
Friday Foster
Friday Foster
1976
Drum
Regine
1977
Greased Lightning
Mary Jones
Twilight of Love
Sandra
1981
Fort Apache, The Bronx
Charlotte
1983
Something Wicked This Way Comes
Dust Witch
Tough Enough
Myra
1985
Stand Alone
Cathryn Bolan
1986
The Vindicator
Hunter
On the Edge
Cora
1987
The Allnighter
Sgt. McLeesh
1988
Above the Law
Delores 'Jacks' Jackson
1989
The Package
Ruth Butler
1990
Class of 1999
Ms. Connors
1991
Bill & Ted's Bogus Journey
Ms. Wardroe
1993
Posse
Phoebe
1996
Original Gangstas
Laurie Thompson
Escape from L.A.
Hershe Las Palmas
Mars Attacks!
Louise Williams
1997
Fakin' da Funk
Annabelle Lee
Jackie Brown
Jackie Brown
San Diego Film Critics Society Award for Best Actress
Nominated — Empire Award for Best Actress
Nominated — Golden Globe Award for Best Actress - Motion Picture Musical or Comedy
Nominated — NAACP Image Award for Outstanding Actress in a Motion Picture
Nominated — Satellite Award for Best Actress - Motion Picture Musical or Comedy
Nominated — Saturn Award for Best Actress
Nominated — Screen Actors Guild Award for Outstanding Performance by a Female Actor in a Leading Role
1999
Jawbreaker
Detective Vera Cruz
In Too Deep
Det. Angela Wilson
Holy Smoke!
Carol
2000
Snow Day
Tina
Fortress 2: Re-Entry
Susan Mendenhall
Wilder
Detective Della Wilder
2001
Ghosts of Mars
Commander Helena Braddock
Bones
Pearl
Nominated — Black Reel Award for Best Actress in a Motion Picture
2002
The Adventures of Pluto Nash
Flura Nash
2005
Back in the Day
Mrs. Cooper
2010
The Invited
Zelda
Just Wright
Janice Wright
2011
Larry Crowne
Frances
2012
Woman Thou Art Loosed: On the 7th Day
Detective Barrick
Mafia
James Womack
The Man with the Iron Fists
Jane
2017
Bad Grandmas
Coralee
Rose
Lily
2019
Poms
Post-production
Television
Year
Title
Role
Notes
1979
Roots: The Next Generations
Francey
Miniseries
Episode: "Part IV (1917-1921)"
1980
The Love Boat
Cynthia Wilbur
2 episodes
1985
Badge of the Assassin
Alexandra Horn
Television film
1985-1990
Miami Vice
Valerie Gordon
3 episodes
1986
Night Court
Benet Collins
2 episodes
1986-1988
Crime Story
Suzanne Terry
Recurring role
7 episodes
1987
The Cosby Show
Samantha
Episode: "Planning Parenthood"
1988
Frank's Place
Neema Sharone
Episode: "Frank's Place - The Movie"
1989
Midnight Caller
Susan Province
Episode: "Blood Red"
1990
Knots Landing
Lieutenant Guthrie
2 episodes
1991
Monsters
Matilde
Episode: "Hostile Takeover"
1992
Pacific Station
Grace Ballard
Episode: "My Favorite Dad"
A Mother's Right: The Elizabeth Morgan Story
Linda Holman
Television film
1994
In Living Color
Herself
Episode: "Mrs. Ikefire"
The Sinbad Show
Lynn Montgomery
2 episodes
The Fresh Prince of Bel-Air
Janice Robertson
Episode: "M is for the Many Things She Gave Me"
1995
The Marshal
Marshal Vanetta Brown
Episode: "Rainbow Comix"
Martin
Herself
Episode: "All the Players Came"
1996
Sparks
Ms. Grayson
Episode: "Pillow Talk"
The Wayans Bros.
Erica
Episodes: "Goin' to the Net"
1998
Mad TV
Host
Episode #3.25
Pinky and the Brain
Julie Auburn
Voice role
Episode: "Inherit the Wheeze"
Family Blessings
Mrs. Quincy
Television film
1998-2000
Linc's
Eleanor Winthrop
Series regular
35 episodes
Nominated — NAACP Image Award for Outstanding Actress in a Comedy Series
1999
The Wild Thornberrys
Mother Springbok
Voice role
Episode: "Stick Your Neck Out"
Happily Ever After: Fairy Tales for Every Child
The Empress' Nightingale
Voice role
Episode: "The Empress' Nightingale"
Nominated — Daytime Emmy Award for Outstanding Performer in an Animated Program
Hayley Wagner, Star
Sam
Television film
For Your Love
Brenda
Episode: "The Sins of the Mother and... the Boyfriend"
2001
The Feast of All Saints
Suzzette Lermontant
Television film
3 A.M.
George
Television movie
Nominated — Black Reel Award for Best Actress in Network/Cable Series
Nominated — NAACP Image Award for Outstanding Actress in a Television Movie, Mini-Series or Dramatic Special
2002
Night Visions
Dr. Lewis
Episode: "Switch"
Justice League
My'ria'h
Voice role
2 episodes
2002-2003
Law & Order: Special Victims Unit
Asst. US Attorney Claudia Williams
2 episodes
Nominated — NAACP Image Award for Outstanding Supporting Actress in a Drama Series
2003
First to Die
Claire Washburn
Television film
2004-2009
The L Word
Kit Porter
Series regular
70 episodes
Nominated — NAACP Image Award for Outstanding Supporting Actress in a Drama Series
2008
Ladies of the House
Roberta "Birdie" Marchand
Television film
2010
Smallville
Amanda Waller
3 episodes
2015
Cleveland Abduction
Nurse Carla
Television film
2018
This Is Us
Grandma
Episode: "This Big, Amazing, Beautiful Life"
Video games
| Year | Title | Role | Notes |
| --- | --- | --- | --- |
| 2013 | Grand Theft Auto V | Radio Presenter | DJ on in-game radio station 'The Lowdown 91.1' |
| 2017 | Call of Duty: Infinite Warfare | Herself | |
Discography
"Long Time Woman" (1971, from the film The Big Doll House)
"Communication" by Bobby Womack (1971, backing vocals)
"Understanding" by Bobby Womack (1972, backing vocals)
[ Source: Wikipedia ]