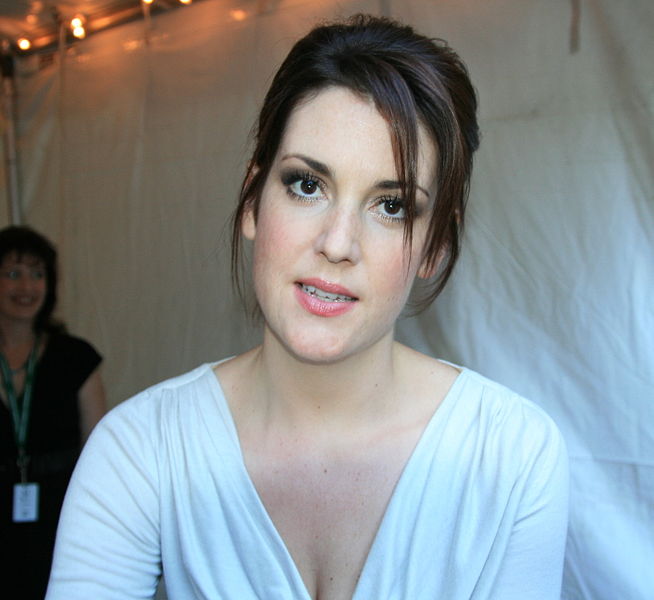 Melanie Lynskey
Birth name:
Melanie Jayne Lynskey
Born:
May 16, 1977
Age:
46
Birthplace:
New Plymouth, New Zealand
Popularity:

Please login to contact Melanie Lynskey...
Biography
Melanie Jayne Lynskey (born 16 May 1977) is a New Zealand actress and voice actress. She is known for her portrayals of soft-spoken, yet quirky and often flawed women.[1][2][3] She is the recipient of several accolades, including a New Zealand Film Award, a Hollywood Film Award, and a Sundance Special Jury Award, as well as Critics' Choice Award, Gotham Award and Golden Nymph Award nominations.
Lynskey made her film debut at age 16, starring as a teenage murderess in Heavenly Creatures (1994). After moving to the United States, she built a career playing various supporting parts, in films such as Ever After (1998), Coyote Ugly (2000), Sweet Home Alabama (2002), Shattered Glass (2003), Flags of Our Fathers (2006), Away We Go, Up in the Air, The Informant! (all 2009), Win Win (2011), and The Perks of Being a Wallflower (2012).
Lynskey received critical acclaim for her leading role in Hello I Must Be Going (2012), which proved to be a turning point in her career.[4] She has since starred in Happy Christmas (2014), The Intervention (2016), I Don't Feel at Home in This World Anymore (2017), and Sadie (2018). These and other roles have established Lynskey as a prominent force on the American independent film scene.[5]
Outside of film, Lynskey achieved fame with her portrayal of Rose on the CBS sitcom Two and a Half Men (2003-15). From 2015 to 2016, she starred as Michelle Pierson on the HBO series Togetherness. She provided the voice of Beatrice in the Cartoon Network miniseries Over the Garden Wall (2014), and Megan on the Disney XD series Future-Worm! (2016-18). In 2018, she starred as Molly Strand on the Hulu series Castle Rock.
Lynskey was born in New Plymouth, New Zealand, to Kay Lynskey, a former nurse, and Tim Lynskey, an orthopedic surgeon.[6] She is the oldest of five children, and has three brothers and one sister.[6] Her surname is Irish.[6]
During her childhood, Lynskey's family moved to England for one year before returning to New Zealand.[6] She attended New Plymouth Girls' High School, where she was involved in the drama department and school plays.[6] After high school, Lynskey studied at Victoria University of Wellington.[7]
Read more...
Career
1994-2002: Film debut and early work
Peter Jackson
gave Lynskey her first film role in
Heavenly Creatures
(1994)
Lynskey made her professional acting debut at age 16, starring as Pauline Parker in Heavenly Creatures, a psychological drama based on the notorious Parker-Hulme murder case. She auditioned for the role of Pauline when a casting director visited her high school.[8] Prior to this, 500 girls had been considered for the part, but "none were right".[9] Fran Walsh, the film's co-writer, admired Lynskey's "quiet intensity", and said "we knew immediately that she was right for the role".[9] The film, which was directed by Peter Jackson and co-starred Kate Winslet, was met with critical acclaim upon its release in 1994.[10][11] Roger Ebert praised Jackson for casting "the right two actresses", noting that "there is a way Lynskey has of looking up from beneath glowering eyebrows that lets you know her insides are churning".[12] Entertainment Weekly's Owen Gleiberman described Lynskey as "extraordinary",[13] while Richard Corliss wrote in his review for Time, "The film's serendipitous stroke was to find Winslet and, especially, Lynskey, a first-time actress. They are perfect, fearless in embodying teenage hysteria".[14] Heavenly Creatures received a nomination for the Academy Award for Best Original Screenplay,[15] and is considered to be one of the best New Zealand films of all time.[16][17][18] Lynskey was named Best Actress at the 1995 New Zealand Film and Television Awards.[4] She regards working with Jackson and Winslet as an important learning experience.[19][20]
After a two-year gap, during which she finished high school and auditoned opposite Daniel Day-Lewis for a role in The Crucible (1996),[20] Lynskey returned to acting in 1997 with the independent drama Foreign Correspondents, which gained attention for being the first film in history to use crowdfunding.[21] The following year, she broke into the mainstream when she appeared as Drew Barrymore's "nice" stepsister in Ever After, a re-imagining of the Cinderella story.[22] The film was a commercial and critical success.[23][24]
In 1999, she appeared in four features: Detroit Rock City, with Edward Furlong; The Cherry Orchard, with Charlotte Rampling; Shooters, with Gerard Butler; and the cult hit But I'm a Cheerleader, which is often cited as a favorite among fans of LGBT cinema.[25][26] Next, she played a key role in the romantic comedy Coyote Ugly (2000), alongside John Goodman, and starred as an intrepid thrill seeker in the award-winning New Zealand film Snakeskin (2001). For the latter, she received strong reviews[27][28] and a nomination for Best Actress at the Nokia New Zealand Film Awards.[29]
In 2002, Lynskey played the childhood best friend of Reese Witherspoon in Sweet Home Alabama, which had a record-breaking opening weekend in North America.[30] She then appeared opposite Katie Holmes in the psychological thriller Abandon, and made her television debut in Rose Red, a miniseries scripted by Stephen King. The series was a ratings hit with an average of 18.5 million viewers over three consecutive nights.[31]
2003-2011: Supporting film roles, and Two and a Half Men
In 2003, Lynskey played a writer for The New Republic in Shattered Glass, a film based on the career of former journalist Stephen Glass (played by Hayden Christensen). Jeff Otto of IGN called it "a tension-filled drama with great performances".[32] Later that year, she landed the part of Rose, the devious—but lovable—neighbor of Charlie Harper (played by Charlie Sheen) on the CBS sitcom Two and a Half Men. After initially appearing in the pilot episode as a guest character, Lynskey was invited to become a series regular, and went on to appear frequently throughout the show's first two seasons.[1] Despite leaving the main cast in 2005 to concentrate on film work,[33] she continued to make guest appearances on the show up until its final episode, which aired in February 2015.[34]
Honestly, doing three or four episodes a year enabled me to pay my mortgage and do independent films. I had this double life: I had this whole indie side of my career, and people in that world didn't know I was on this huge sitcom. Then, people would recognize me from Two and a Half Men and think that I never had another job. But I couldn't have done one without the other.
— Lynskey, IndieWire, November 2016[35]
In 2006, she had a supporting role in Clint Eastwood's epic war drama Flags of Our Fathers, based on the book of the same name about the 1945 Battle of Iwo Jima. Next, she appeared as a principal character on the FOX series Drive (2007), co-starred in the miniseries Comanche Moon (2008), and returned to New Zealand to star in Show of Hands (also 2008), which earned Lynskey a nomination for Best Actress at the Qantas Film and Television Awards.[36]
In 2009, Lynskey was praised for her performance in Away We Go, directed by Sam Mendes, playing an adoptive parent who has suffered a series of miscarriages. Wesley Morris of The Boston Globe called it "the best performance in the movie".[37] She then co-starred opposite Matt Damon in Steven Soderbergh's The Informant!, a dark comedy based on the true story of ADM whistleblower Mark Whitacre. The film was described as "devilish fun" by Rolling Stone's Peter Travers.[38] In his review for The Independent, Geoffrey Macnab wrote, "Sterling support comes from Melanie Lynskey, as Whitacre's ever-loyal wife".[39] Soderbergh told The Los Angeles Times, "She is so watchable. You never quite know what you're going to get, you just know it's going to be good. Her rhythms are really unusual, like her cadence and her reaction times to things, and the way she sort of lays out a sentence. It's just really, really interesting".[40] Lynskey counts her time working on The Informant! as one of her favorite experiences.[41]
Lynskey promoting
Up in the Air
(2009) at the Toronto International Film Festival
Also in 2009, she appeared as Edward Norton's pregnant fiancée in Leaves of Grass, and as George Clooney's younger sister in Up in the Air. The latter was nominated for six Academy Awards, including Best Picture.[42] The film's director, Jason Reitman, had never cast a foreign actor to play an American in any of his previous films,[40] but Lynskey said that she "tricked" him into giving her the part by not speaking to him during her audition, therefore concealing her real accent. Reitman said he was "thrilled" by this.[43] In October 2009, Lynskey was presented with a Spotlight Award at the Hollywood Film Festival.[44]
In 2010, Lynskey appeared in the independent drama Helena from the Wedding, alongside Gillian Jacobs. In his review of the film, Jon Frosch of The Hollywood Reporter noted that "it feels full of both the ache and the joy of real life", and singled out Lynskey's performance as a highlight.[45] The following year, she received praise for her portrayal of a recovering drug addict in Win Win, opposite Paul Giamatti.[46][47] Writing for Time, Mary Pols said, " has become one of the most reliably intriguing supporting actresses in film she had small parts in Away We Go, The Informant! and Up in the Air she was wonderful in all three. In Win Win she gives a very different kind of performance and is even better".[48]
2012-2016: Transition to lead roles and greater success
In 2012, Lynskey appeared in Seeking a Friend for the End of the World with Steve Carell, and starred in the romantic comedy Putzel.[49] She also had a key role in the film adaptation of Stephen Chbosky's novel The Perks of Being a Wallflower, playing the mentally disturbed Aunt Helen.[50] Due to the nature of the character, Lynskey said it had been a difficult decision to take the part.[51]
Lynskey's performance in Hello I Must Be Going (2012), where she played Amy, a dispirited 30-something who finds herself having to move back in with her parents, was particularly well received by critics.[52][53] It was a landmark film for Lynskey because, for the first time in her career, she appeared in every single scene.[54] She described the experience as "a lot of pressure", and said she initially assumed that the part would be given to Michelle Williams or Maggie Gyllenhaal.[54] Speaking of his decision to cast Lynskey, director Todd Louiso said, "I knew if I cast her, the film had the potential to resonate on a thousand different levels".[54] Kenneth Turan of The Los Angeles Times wrote, "If you know the name Melanie Lynskey, you're already planning to see her in Hello I Must Be Going. If you don't, this film will have you making up for lost time. That's how good an actress she is".[55] USA Today called the film "a funny, well-written, involving and emotionally honest tale", while noting that "Lynskey brings dimension and intelligence to a role that might have come off as unsympathetic".[56] The performance earned her a nomination for the Gotham Independent Film Award for Breakthrough Actor.[57] In 2015, Screen Rant placed Lynskey's portrayal of Amy at #6 on their list of the 20 Best Acting Performances of The Last 5 Years.[58]
In 2013, she co-starred with David Krumholtz in The Big Ask. The film received mixed reviews, but Lynskey's performance was considered to be one of its high points.[59][60][61] She next starred in the comedy-drama Happy Christmas (2014), directed by Joe Swanberg. Lynskey was praised for her portrayal of Kelly, an aspiring novelist whose passion for writing is rekindled when her sister-in-law (played by Anna Kendrick) comes to visit.[62][63] The film drew attention for being almost entirely improvised.[64] Stephen Holden of The New York Times commented, "The performances in Happy Christmas are so natural that the actors melt into their characters".[65] That same year, she appeared with Amy Poehler in David Wain's satirical romantic comedy They Came Together, and played the female leads in We'll Never Have Paris,[66] opposite Simon Helberg, and Goodbye to All That, opposite Paul Schneider. In his review of the latter, Bilge Ebiri called the film "charming, beautiful, and sad", and described Lynskey as "fantastic".[67] In April 2014, she was named an Emerging Master honoree at the RiverRun International Film Festival.[68]
Also in 2014, Lynskey was the voice of Beatrice, an ill-tempered bluebird, in Cartoon Network's ten-part miniseries Over the Garden Wall. Kevin Johnson of The A.V. Club described Beatrice as "the series' standout character", noting that "Lynskey steals the show with her amazing putdowns and passive-aggressiveness, smartly avoiding overdone sass or sarcasm".[69] The series went on to receive three Creative Arts Emmy Awards, including Outstanding Animated Program.[70]
From 2015 to 2016, Lynskey played Michelle Pierson on the HBO series Togetherness, which focused on the lives of two couples living under the same roof. The show—which was created, written and directed by the Duplass brothers—ran for two seasons, and was praised for its intimate storytelling and the performances of its cast.[71][72] Robert Lloyd of The Los Angeles Times wrote, " is all deep waters and live wires; soft and steely, trying on new personas for size, her Michelle becomes the series' gravitational center. You can feel her feeling".[73] The performance earned her a nomination for the 2015 Critics' Choice Television Award for Best Supporting Actress in a Comedy Series.[74] Despite missing out on a Primetime Emmy Award nomination in 2016, Lynskey was singled out as a worthy candidate in the run-up to that year's ceremony.[75][76][77] In March 2016, it was announced that HBO had decided not to renew Togetherness for a third season.[78] Lynskey later compared this to having her "heart broken by someone I'm still in love with".[79]
For her role in The Intervention (2016), Lynskey received the U.S. Dramatic Special Jury Award for Individual Performance at the Sundance Film Festival.[80] In his review for IndieWire, Russ Fischer pointed out Lynskey's "tremendously good comic timing",[81] while Ethan Anderton of /Film noted, "Lynskey is the standout, delivering a performance that is genuine, funny and touching all at the same time".[82] The film was the directional debut of Clea DuVall, who wrote the character of Annie, an uptight alcoholic, specifically for Lynskey.[83] She attended therapy before the film went into production to prepare herself for working with DuVall—her close friend of several years—and later said, "I didn't want anything to happen to our friendship and a big challenge was being able to stick up for myself and my perspective in regard to the script and this character".[83] Also that year, she starred in the independent features Rainbow Time, Little Boxes, and The Great & The Small,[84] and co-starred with Robert Webb in the BBC Two comedy Our Ex-Wife.[85]
2017-present: Continued success
Lynskey accepting her Special Jury Award for
The Intervention
(2016) at the Sundance Film Festival
Lynskey received praise for her portrayal of Ruth, a downtrodden vigilante, in the comedic thriller I Don't Feel at Home in This World Anymore (2017).[86][87][88] The film's director, Macon Blair, wrote the character with Lynskey in mind.[89] The role was physically challenging for her, as it involved several stunts and the use of prosthetics.[89][90] Peter Debruge of Variety felt that Lynskey's performance was her "best work yet",[91] while Time Out's Joshua Rothkopf described her as "seething and magnetic".[92] The film—which also starred Elijah Wood—was awarded the Grand Jury Prize at Sundance,[93] while Lynskey received a nomination for the Gotham Independent Film Award for Best Actress.[94] Later that year, she starred as the parent of a troubled teenager in the controversial drama And Then I Go,[95] opposite Justin Long; as a defense lawyer in the Australian miniseries Sunshine, opposite Anthony LaPaglia; as the mother of a girl with supernatural powers in the New Zealand thriller The Changeover, opposite Timothy Spall; and in the anthology horror film XX, in which her character tries to hide her husband's body after finding him dead. In her review of the latter, Stephanie Zacharek of Time wrote, "The picture has a wry, comic charge, and Lynskey, terrific as always, brings a grace note of pathos to the wicked proceedings".[96]
Next, she starred in the independent drama Sadie (2018); Variety's Joe Leydon described it as "equal parts coming-of-age story and slow-burn thriller quietly absorbing and methodically disquieting", adding that Lynskey's work was "strong" and "compelling".[97] Writing for Birth.Movies.Death, Jacob Knight commented, "Lynskey reminds us of what a treasure she is in any movie, creating this ball of raw concern in Sadie's mom, Rae It's an incredibly nuanced performance".[98]
Between July and September 2018, Lynskey starred on the first season of Castle Rock, a psychological horror series set in the Stephen King multiverse. She played Molly Strand, "a woman with a rare medical condition who's barely scraping by as a real estate agent in a town where every third property is the site of someone's worst nightmare".[99] Castle Rock premiered on Hulu on 25 July 2018,[100] receiving positive reviews from critics. Jacob Oller of Paste called it a "compellingly sketched mystery", adding that "so delicately complex that you're drawn physically closer to the screen trying to suss out how she's really feeling",[101] while Rolling Stone's Alan Sepinwall felt the season's first few episodes were "the latest example of how much humanity and grounding Melanie Lynskey can bring to the most surreal and macabre of stories — it's a tradition that goes back to when she was a teenager in Heavenly Creatures".[102] In August 2018, it was announced that the series had been renewed;[103] however, Lynskey has said that the next season will feature an entirely new cast.[104]
Acting style
Lynskey describes herself as a character actress.[54] "Even when I'm reading a script where I'm supposed to be looking at the lead role, I'll find myself gravitating toward some small weirdo in a few scenes instead".[105] Regarding her acting technique, Lynskey has said, "I don't have any training so the only thing I have to go on is my own instinct. So if a director gives me a note that doesn't feel like it's in line with my instinct, it's very hard for me to do something that sort of feels like a lie. So, I'll argue it, and I can get kind of feisty because I feel it in my body, I know what is right".[106]
Asked by an interviewer in 2012 on how she felt about typically being cast—up to that point—as a supporting player rather than a lead, Lynskey said it was something she had thought about a lot, and that the "meaty" parts are written for men, or Meryl Streep.[54] "For a while, I was only being sent fat-girl parts", she said. "Seriously? Sometimes I feel like I'm making some kind of radical statement because I'm a size 6".[54] She has subsequently taken on leading roles in numerous independent productions and has been labelled an "indie queen".[107][108][109][110]
Speaking in 2017 about taking risks in her film work, she said, "I want to tell stories about women who are interesting and complicated and not like people you've seen before There aren't that many opportunities except in the independent film world. I've made films that have cost $50,000 for the entire film. If you're willing to work like that, you get chances to do really creative, interesting stuff".[5]
Lynskey is often complimented on her ability to perform an American accent.[111][112][113][114]
Other work
In 2012, Lynskey starred as an animated version of herself in an airline safety video for Air New Zealand.[115]
In February 2013, she participated in a Live Read performance of David Mamet's screenplay for the 1992 film Glengarry Glen Ross. The performance was directed by Jason Reitman, who assembled a cast of women (Robin Wright, Catherine O'Hara, Maria Bello, Lynskey, Mae Whitman and Carla Gugino) to read the all-male script. Lynskey portrayed the role of George Aaronow, which was originally played by Alan Arkin.[116][117]
She appeared on several occasions as part of The Thrilling Adventure Hour, a staged production and podcast in the style of old-time radio that was held monthly in Los Angeles. The show ran from March 2005 to April 2015.[118]
In 2015, she featured in the music video for the song "Waiting on Love" by Nicki Bluhm and The Gramblers. The video "tells the story of a world under attack by an unlikely villain—a couple (Lynskey and Jason Ritter) blinded by love and oblivious to the threat they pose to the world around them".[119]
In August 2016, it was revealed that Lynskey was attached to star in a television series written by Pamela Ribon.[120] Based on the memoir Drunk Mom by Jowita Bydlowska,[121] the series was reported to be in the early stages of development. Lynskey described it as a "dream" part.[120] However, the project has yet to materialize.
In June 2018, Lynskey was invited to become a member of the Academy of Motion Picture Arts and Sciences.[122]
Personal life
In 2001, Lynskey met American actor Jimmi Simpson during the filming of Rose Red, in which they both appeared.[123] They became engaged in 2005 and married on 14 April 2007, in a chapel on Lake Hayes, near Queenstown, New Zealand.[124] Lynskey filed for divorce from Simpson on 25 September 2012, citing irreconcilable differences.[125] The divorce was finalized on 23 May 2014.[126] In February 2017, she became engaged to actor Jason Ritter after four years of dating.[127]
Lynskey lives in Los Angeles.[128] She is best friends with Clea DuVall, whom she met when they appeared together in But I'm a Cheerleader.[120] She has been a vegetarian since age 10,[6] and suffers from misophonia.[19]
Filmography
Film
| Year | Title | Role | Notes |
| --- | --- | --- | --- |
| 1994 | Heavenly Creatures | Pauline Parker | |
| 1996 | The Frighteners | Deputy | |
| 1998 | Ever After | Jacqueline | |
| 1999 | Foreign Correspondents | Melody | |
| 1999 | Detroit Rock City | Beth | |
| 1999 | But I'm a Cheerleader | Hilary | |
| 1999 | The Cherry Orchard | Dunyasha | |
| 1999 | Measureless to Man | | Short film |
| 2000 | Coyote Ugly | Gloria | |
| 2001 | Snakeskin | Alice | |
| 2002 | Shooters | Marie | |
| 2002 | Abandon | Mousy Julie | Credited as Melanie Jayne Lynskey |
| 2002 | Sweet Home Alabama | Lurlynn | |
| 2003 | Claustrophobia | Lauren | |
| 2003 | Shattered Glass | Amy Brand | |
| 2004 | The Nearly Unadventurous Life of Zoe Cadwaulder | Zoe Cadwaulder | Short film |
| 2005 | Say Uncle | Susan | |
| 2007 | Park | Sheryl | |
| 2006 | Flags of Our Fathers | Pauline Harnois | |
| 2007 | Itty Bitty Titty Committee | Plastic Surgery Lady | Uncredited |
| 2008 | Show of Hands | Jess | |
| 2008 | A Quiet Little Marriage | Monique | |
| 2009 | Away We Go | Munch | |
| 2009 | Up in the Air | Julie Bingham | |
| 2009 | The Informant! | Ginger Whitacre | |
| 2009 | Leaves of Grass | Colleen | |
| 2010 | Helena from the Wedding | Alice | |
| 2011 | Win Win | Cindy | |
| 2011 | Touchback | Macy | |
| 2012 | Hello I Must Be Going | Amy | |
| 2012 | Eye of the Hurricane | Amelia Kyte | |
| 2012 | Seeking a Friend for the End of the World | Karen | |
| 2012 | The Perks of Being a Wallflower | Aunt Helen | |
| 2012 | Putzel | Sally | |
| 2013 | The Big Ask | Hannah | |
| 2014 | Happy Christmas | Kelly | |
| 2014 | They Came Together | Brenda | |
| 2014 | Chu and Blossom | Miss Shoemaker | |
| 2014 | We'll Never Have Paris | Devon | |
| 2014 | Goodbye to All That | Annie Wall | |
| 2015 | Digging for Fire | Squiggy | |
| 2016 | The Intervention | Annie | |
| 2016 | Rainbow Time | Lindsay | |
| 2016 | The Great & The Small | Margaret | |
| 2016 | Little Boxes | Gina McNulty-Burns | |
| 2016 | Folk Hero & Funny Guy | Becky | |
| 2017 | I Don't Feel at Home in This World Anymore | Ruth | |
| 2017 | XX | Mary | Segment: "The Birthday Party" |
| 2017 | 1 Mile to You | Coach Rowan | |
| 2017 | And Then I Go | Janice | |
| 2017 | The Changeover | Kate Chant | |
| 2018 | Sadie | Rae | |
Television
| Year | Title | Role | Notes |
| --- | --- | --- | --- |
| 2002 | Rose Red | Rachel Wheaton | Miniseries; main cast |
| 2003 | The Shield | Marcy | 2 episodes |
| 2003-2015 | Two and a Half Men | Rose | Series regular (2003-05); recurring thereafter |
| 2007 | Drive | Wendy Patrakas | Main cast |
| 2008 | Comanche Moon | Pearl Coleman | Miniseries; main cast |
| 2008 | Psych | Emily Bloom | Episode: "Black and Tan: A Crime of Fashion" |
| 2008 | The L Word | Clea Mason | 2 episodes |
| 2009 | It's Always Sunny in Philadelphia | Kate | Episode: "The Gang Exploits the Mortgage Crisis" |
| 2010 | Memphis Beat | Annaliese Jones | Episode: "Polk Salad Annie" |
| 2010-2012 | The Life & Times of Tim | Becky (voice) | 6 episodes |
| 2012 | House | Natalie Tavares | Episode: "Better Half" |
| 2014 | Over the Garden Wall | Beatrice (voice) | Miniseries; main cast |
| 2014-2015 | Jake and the Never Land Pirates | Pearl (voice) | 2 episodes |
| 2015-2016 | Togetherness | Michelle Pierson | Main cast |
| 2015 | Key & Peele | Fiance | Episode: "The Job Interview" |
| 2016-2018 | Future-Worm! | Megan / Madeline Madison (voice) | Recurring |
| 2016 | Animals. | Linda (voice) | Episode: "Squirrels" |
| 2016 | Our Ex-Wife | Sara | Episode: "Pilot" |
| 2017 | American Dad! | Sharon (voice) | Episode: "A Whole Slotta Love" |
| 2017 | Girlboss | Gail | 3 episodes |
| 2017 | Wet Hot American Summer: Ten Years Later | Laura | 2 episodes |
| 2017 | Sunshine | Zara Skelton | Miniseries; main cast |
| 2018 | Summer Camp Island | Sun (voice) | 3 episodes |
| 2018 | Castle Rock | Molly Strand | Main cast |
Awards and nominations
Year
Association
Category
Work
Result
Ref
1995
New Zealand Film and Television Awards
Best Actress
Heavenly Creatures
Won
[129]
1999
Chicago Alt.Film Fest
Best Actress
Foreign Correspondents
Nominated
[129]
2001
Nokia New Zealand Film Awards
Best Actress
Snakeskin
Nominated
[129]
2009
Qantas Film and Television Awards
Best Lead Actress in a Feature Film
Show of Hands
Nominated
[129]
Hollywood Film Awards
Spotlight Award
Won
[44]
Washington D.C. Area Film Critics Association Awards
Best Ensemble
Up in the Air
Nominated
[129]
Awards Circuit Community Awards
Best Cast Ensemble
Up in the Air
Runner-up
[130]
2010
Central Ohio Film Critics Association
Best Ensemble
Up in the Air
Nominated
[129]
Denver Film Critics Society
Best Acting Ensemble
Up in the Air
Nominated
[129]
Gold Derby Awards
Ensemble Cast
Up in the Air
Nominated
[131]
Visa Entertainment Screen Awards
Best Actress
The Informant!
Nominated
[132]
Visa Entertainment Screen Awards
Best New Zealand Export
Nominated
[132]
2011
CinEuphoria Awards
Best Supporting Actress - International Competition
Away We Go
Won
[129]
2012
Gotham Independent Film Awards
Breakthrough Actor
Hello I Must Be Going
Nominated
[57]
San Diego Film Critics Society Awards
Best Performance by an Ensemble
The Perks of Being a Wallflower
Won
[129]
Awards Circuit Community Awards
Best Cast Ensemble
The Perks of Being a Wallflower
Nominated
[133]
2014
Fargo Film Festival
Best Actress
Putzel
Won
[129]
RiverRun International Film Festival
Emerging Master
Won
[68]
2015
Critics' Choice Television Awards
Best Supporting Actress in a Comedy Series
Togetherness
Nominated
[74]
Behind the Voice Actors Awards
Best Vocal Ensemble in a New Television Series (People's Choice)
Over the Garden Wall
Won
[129]
Behind the Voice Actors Awards
Best Vocal Ensemble in a New Television Series
Over the Garden Wall
Nominated
[129]
Behind the Voice Actors Awards
Best Female Lead Vocal Performance in a Television Series - Comedy/Musical
Over the Garden Wall
Nominated
[129]
2016
Sundance Film Festival
U.S. Dramatic Special Jury Award for Individual Performance
The Intervention
Won
[80]
2017
Gotham Independent Film Awards
Best Actress
I Don't Feel at Home in This World Anymore
Nominated
[94]
2018
Monte-Carlo Television Festival
Golden Nymph Award for Outstanding Actress (Long Fiction Program)
Sunshine
Nominated
[134]
[ Source: Wikipedia ]