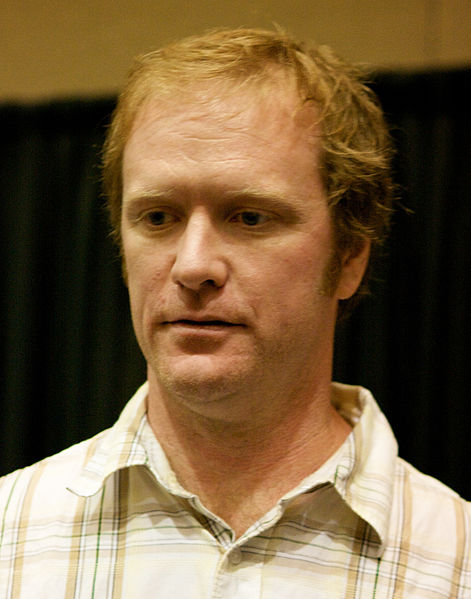 Dave Willis
Born:
May 1, 1970
Age:
53
Birthplace:
Wichita Falls, Texas, U.S.
Popularity:

Please login to contact Dave Willis...
Biography
Dave Willis (born May 1, 1970) is an American voice actor, writer, producer and musician. He is best known as the co-creator of the Adult Swim animated series Aqua Teen Hunger Force and Squidbillies, the former of which he also voices the characters of Meatwad and Carl Brutananadilewski.[1] He is also known for voicing Barry Dylan in the FXX series Archer and Leto Otel in Ballmastrz: 9009.
Willis has worked on various Adult Swim shows that are created primarily by Williams Street, an animation-centered, Atlanta-based production division of Cartoon Network. He first got hired for Williams Street (then Ghost Planet Industries) as a writer for
Cartoon Planet
in 1995 and then as a writer for
Space Ghost Coast to Coast
(
SGC2C
for short) soon after. In early 2000, he helped write and produce the two
Brak Presents the Brak Show Starring Brak
specials.
Willis was working on Space Ghost Coast to Coast where he first met Matt Maiellaro, with whom Willis would later create many independent short films and eventually create the popular Adult Swim cartoon Aqua Teen Hunger Force. Aqua Teen Hunger Force first premiered unannounced in the early hours of December 30, 2000 and later officially debuted on Adult Swim in the Fall of 2001. In 2005, he co-created the show Squidbillies. His works mostly fall into the genre of surreal humour.
In 2010, Willis created Cheyenne Cinnamon and the Fantabulous Unicorn of Sugar Town Candy Fudge, a new television pilot for Adult Swim. The pilot aired on March 29, 2010, and was not picked up for a full series. In 2010, Willis co-wrote "New Kidney in Town", an episode of Family Guy.
Read more...
Personal life
Willis was born in Wichita Falls, Texas and was raised mostly in Conyers, Georgia. He graduated from Wake Forest University and was station manager at Wake Radio. He resides in Atlanta with his wife and two children.
Filmography
Film
| Year | Title | Role | Notes |
| --- | --- | --- | --- |
| 2007 | Aqua Teen Hunger Force Colon Movie Film for Theaters | Meatwad, Carl Brutananadilewski, Ignignokt, Video Game Voice | Also director, writer and producer |
| 2016 | Nerdland | Timmy | |
Television
Year
Title
Role
Notes
1996-2003
Space Ghost Coast to Coast
Various
Also writer
1997-98
Cartoon Planet
N/A
Writer
2000-15
Aqua Teen Hunger Force
Meatwad, Carl Brutananadilewski, Ignignokt, Boxy Brown, Various
Also creator, director, writer and producer
2001-03
Sealab 2021
Meatwad, Bizarro Dr. Quinn, Big Brain, Dolphin Boy Twins
Also writer
2002-03
The Brak Show
George Martinez, Meatwad
3 episodes
2004
Anime Talk Show
Meatwad
Also writer
2004-14
Perfect Hair Forever
Coiffio, Additional Voices
9 episodes
2005
12 oz. Mouse
Rhoda
7 episodes
2005-17
Squidbillies
Narrator, Deputy Denny, Glenn, 8-Bit Pharaoh
Also creator and producer
2006
Minoriteam
Additional Voices
Episode: "Le Black Coq"
2006
Frisky Dingo
Episode: "Flowers for Nearl"
2009
Family Guy
N/A
Writer: "New Kidney in Town"
2010-present
Archer
Barry Dylan
22 episodes
2013-present
Your Pretty Face Is Going to Hell
Krampus
Also creator, director and writer
2014-15
Turbo FAST
Marty
2 episodes
2015-present
Talking Tom and Friends
The Landlord
10 episodes
2016
Atlanta
Cop
Episode: "B.A.N."
2016-17
Steven Universe
Andy DeMayo
2 episodes
2017-present
Welcome to the Wayne
George the Doorman, Pracky, Reau-Bots
4 episodes
2018-present
Ballmastrz: 9009
Leto Otel
10 episodes
Video games
| Year | Title | Role | Notes |
| --- | --- | --- | --- |
| 2007 | Aqua Teen Hunger Force Zombie Ninja Pro-Am | Meatwad, Carl Brutananadilewski, Ignignokt, Satan | |
| 2013 | Grand Theft Auto V | Carl Brutananadilewski | Caller on FlyLo FM |
[ Source: Wikipedia ]