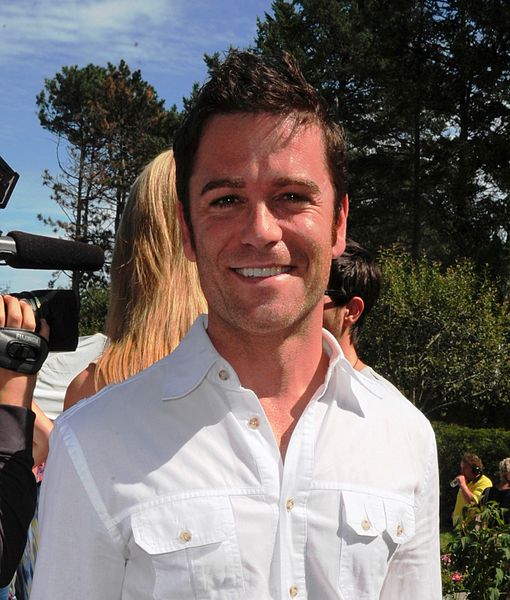 Yannick Bisson
Birth name:
Yannick D. Bisson
Born:
May 16, 1969
Age:
54
Birthplace:
Montreal, Quebec
Popularity:

Please login to contact Yannick Bisson...
Biography
Yannick D. Bisson (born May 16, 1969) is a Canadian film and television actor and director best known to international audiences for playing Detective William Murdoch on the series Murdoch Mysteries.
Bisson was born in Montreal, Quebec, and is of French and English ancestry.[1] He moved to Toronto, Ontario, as a teenager and his acting career began when he was still in high school. His father, noting his son's interest in acting, encouraged him to reply to a newspaper advertisement seeking "child actors".[2]
Read more...
Career
Bisson's first major role was in the CBC's critically acclaimed 1984 movie of the week Hockey Night, alongside Megan Follows and Rick Moranis. He starred in the Canadian television series Learning the Ropes from 1988-89. From 1994-97, he starred in the syndicated action series High Tide, co-starring Rick Springfield. He moved back from Los Angeles to Vancouver, British Columbia in 1998 when he was cast as the lead in CBC'S Nothing Too Good for a Cowboy. From 2000-04, he had a recurring role as attorney Brian Tedrow on the Showtime drama Soul Food.[citation needed]
He starred as the FBI agent Jack Hudson in the PAX TV series Sue Thomas: F.B.Eye[3][4] and in the short-lived CBC drama Nothing Too Good for a Cowboy.[5]
He appeared on Falcon Beach in season two as well as in several Lifetime cable movies, such as Crazy for Christmas and I do (but I don't), and the Disney Channel movie Genius.[6] Bisson was a guest star on Flashpoint[7] and starred in the television movies Brothers by Choice and Keshan. He appeared as Jon in all of the Roxy Hunter movies to date. Bisson is featured in a series of commercials for CIBC. He starred in the 2001 TV movie Loves Music, Loves to Dance based on the book by Mary Higgins Clark. He provided the voice of Ferdie in the children's animated series Maxie's World.[citation needed]
Bisson plays the lead in the CBC Television drama series Murdoch Mysteries[8] and made his directorial debut with the show's fourth-season episode "Buffalo Shuffle".[9]
Starting on December 30, 2013, Bisson starred as a preschool teacher in The Adventures of Napkin Man on CBC Television.[10]
Bisson was awarded the Fan's Choice Award at the 2016 Canadian Screen Awards on March 13, 2016.[11] Murdoch Mysteries was awarded the Canadian Screen Award Golden Screen Award for most watched, highest rated Canadian Drama in 2017 and 2018.[citation needed]
Bisson received the ACTRA Toronto Award of Excellence in 2017 for his lifetime of work.[12][13]
Bisson was host of Discovery Canada Channel's Star Racer reality show.[14][15]
Personal life
Bisson is married to actress Chantal Craig[16][17] a former fitness instructor who currently works as a television content creator and writer.[18] She now goes by the name Shantelle Bisson[citation needed] and has become an author.[citation needed] They met in high school and married when Bisson was 21.[1] They have three daughters: Brianna, Dominique and Mikaela.[19][20]
Craig made guest appearances on two of Bisson's television series, Sue Thomas: F.B.Eye and Murdoch Mysteries. Their daughter played "Penny Renton" in an episode of Murdoch Mysteries entitled "Love and Human Remains." Dominique Bisson had a part as Gloria Abercrombie in an episode of Murdoch Mysteries, season 2, entitled "Snakes and Ladders".[citation needed]
Bisson is also an avid bicycle collector and enjoys cycling in any free time possible. The actor enjoys biking as a way to relax and ground himself when his life starts to get hectic.[21]
Bisson formerly worked as a builder between acting jobs to support his family.[22]
Filmography
Film
Year
Title
Role
Notes
1986
Toby McTeague
Toby
My Pet Monster
Rod
Video
Where's Pete
Pete
Short film
1999
Velocity Trap
Franklin J. Robinson
2004
Some Things That Stay
Dr. Ostrum
2008
Animal 2
Dillen
Nothing Really Matters
Leo
2010
Casino Jack
Oscar Carillo
2012
Your Side of the Bed
Steve
2016
Static
Billy
Short film
Year by the Sea
Cahoon
Another WolfCop
Swallows
2017
Hellmington
Professor Freeborn
Television
Year
Title
Role
Notes
1984
Hockey Night
Spear Kozak
TV film
1986
Brothers by Choice
Scott
TV film
1986-88
Danger Bay
Larry / Todd
2 episodes
1987
First Offender
Jeff
TV film
Night Heat
Regan
Episode: "The Kid"
Maxie's World
Ferdie (voice)
1988
Alfred Hitchcock Presents
Ty
Episode: "Twisted Sisters"
Learning the Ropes
Mark Randall
Main role, 13 episodes
1989
C.B.C.'s Magic Hour
Mike Stanoulis / Corey
2 episodes
Street Legal
Lennie Smith
Episode: "Complex Offer"
1991
Gold: The World's Play
Johnny
TV film
Gold: The Merchants of Venice
Johnny
TV film
Gold: The Dynamiters
Johnny
TV film
Gold: Frenchie's Gold
Johnny
TV film
Gold: A Fistful of Gold
Johnny
TV film
1991-93
The Hidden Room
John / Glenn
2 episodes
1992
Tropical Heat
Harry Jr.
Episode: "Double Fault"
The Ray Bradbury Theater
Roger (ages 18-22)
Episode: "Some Live Like Lazarus"
1993
Matrix
Rick Beals
Episode: "Blindside"
Top Cops
Mike Sheehan
Episode: "Craig Gravel and Jerry Jones/Mike Sheehan and Stephen Davis"
1994
The Forget-Me-Not Murders
Greg Gale
TV film
1994-97
High Tide
Joey Barrett
Main role, 63 episodes
1995
Young at Heart
Joey
TV film
1999
Genius
Mike MacGregor
TV film
Relic Hunter
Stavros Vordalos
Episode: "Myth of the Maze"
1999-00
Nothing Too Good for a Cowboy
Richmond P. Hobson, Jr.
Main role, 26 episodes
2000
The Moving of Sophia Myles
Rev. Young
TV film
2000-04
Soul Food
Brian Tedrow
Recurring role, 14 episodes
2001
The Pretender 2001
NSA Agent Edward Ballinger
TV film
Twice in a Lifetime
Julian Fanshaw
Episode: "Mama Mia"
Mutant X
Richard Saunders
Episode: "Fool for Love"
Undergrads
Crougar / Stoner Dave (voice)
Recurring role, 10 episodes
Loves Music, Loves to Dance
Charley / Paul Nash
TV film
The Day Reagan Was Shot
Buddy Stein
TV film
2002-05
Sue Thomas: F.B.Eye
Jack Hudson
Main role, 56 episodes
2003
See Jane Date
Max Garrett
TV film
Missing
Bruce Skeller
Episode: "Thin Air"
Playmakers
Police Detective
Episode: "Choice: Part 1"
2004
I Do
James "Jay" Corina
TV film
2005
Kevin Hill
Austin Brooks
Episode: "Sacrificial Lambs"
2005
Crazy for Christmas
Peter Archer
TV film
2006
The Secrets of Comfort House
Curtis
TV film
2007
Falcon Beach
Michael Prescott
Recurring role, 4 episodes
The Dresden Files
Sergeant Darren Munzer
Episode: "Second City"
Roxy Hunter and the Mystery of the Moody Ghost
Jon Steadman
TV film
2008
Roxy Hunter and the Secret of the Shaman
Jon Steadman
TV film
Roxy Hunter and the Myth of the Mermaid
Jon Steadman
TV film
Roxy Hunter and the Horrific Halloween
Jon Steadman
TV film
Urban Vermin
No-neck
2 episodes
2008-present
Murdoch Mysteries
Det. William Murdoch
Main role, 155 episodes
Produced 75 episodes
Directed five episodes
Nominated - ACTRA Award for Outstanding Performance - Ensemble (2017)[23]
2009
Too Late to Say Goodbye
Bobby Corbin
TV film
2010
Flashpoint
Philip Sobol
Episode: "Jumping at Shadows"
2011
The Listener
Keith Shelton
Episode: "Vanished"
2012
My Mother's Secret
Dennis Coulson
TV film
Beauty and the Beast
Alex Webster
Episode: "Pilot"
Royal Canadian Air Farce
Det. William Murdoch
Episode: "Air Farce New Year's Eve 2012"
2013
This Hour Has 22 Minutes
Himself
Guest host
Season 20 episode 18
2013-14
The Adventures of Napkin Man!
Mr. Anthony
Main role, 52 episodes
Co-executive produced 14 episodes
Won - Canadian Screen Award for Best Host in a Pre-School, Children's or Youth Program or Series (2015)[24]
2014
Republic of Doyle
Det. Bill Murdoch
Episode: "If the Shoe Fits"
2016
Three Bedrooms, One Corpse: An Aurora Teagarden Mystery
Martin
TV film
The Julius House: An Aurora Teagarden Mystery
Martin
TV film
2017
Dead Over Heels: An Aurora Teagarden Mystery
Martin
TV film
A Bundle of Trouble: An Aurora Teagarden Mystery
Martin
TV film
2018
Last Scene Alive: An Aurora Teagarden Mystery
Martin
TV film
[ Source: Wikipedia ]