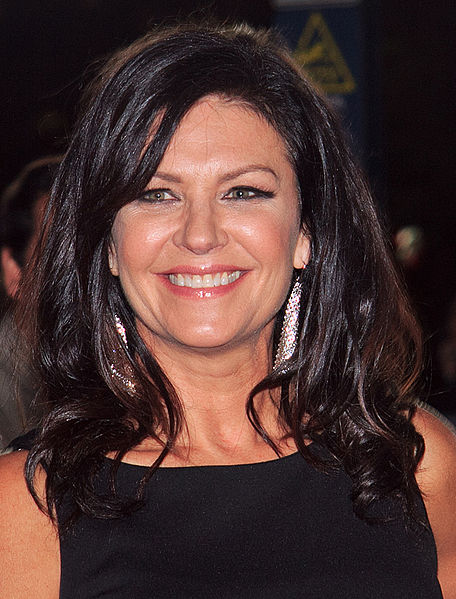 Wendy Crewson
Birth name:
Wendy Jane Crewson
Born:
May 9, 1956
Age:
67
Birthplace:
Hamilton, Ontario, Canada
Popularity:

Please login to contact Wendy Crewson...
Biography
Wendy Jane Crewson (born May 9, 1956) is a Canadian actress and producer. She began her career appearing on the Canadian television, before her breakthrough role in 1991 dramatic film The Doctor.
Crewson has appeared in many Hollywood films, including The Good Son (1993), The Santa Clause (1994) and its sequels The Santa Clause 2 (2002) and The Santa Clause 3: The Escape Clause (2006), as well as Air Force One (1997), Bicentennial Man (1999), What Lies Beneath (2000), The 6th Day (2000), and Eight Below (2006). She also starred in a number of independent movies, such as Better Than Chocolate (1999), Suddenly Naked (2001), Perfect Pie (2002), Away from Her (2006) and Room (2015).
Crewson has won six Gemini Awards and two Canadian Screen Awards for her performances on television. She played leading roles in a number of television films, include playing Joanne Kilbourn in six movies based on novels by Gail Bowen. She had a recurring roles on American television series 24 and Revenge, and from 2012 to 2017 co-starred in the CTV medical drama Saving Hope.[1]
Crewson appeared in many Canadian TV shows in 1980s and in a number of feature films in the early 1990s, like
Night Heat
,
Hard Copy
,
Tanner '88
and
Street Legal
.[2]
In 1991, Crewson appeared in her first breakthrough role in the feature film The Doctor and, in later years, appeared in films, such as The Good Son (1993); The Santa Clause (1994) and its two sequels, The Santa Clause 2 (2002) and The Santa Clause 3: The Escape Clause (2006), as Tim Allen's ex-wife/mother of Eric Lloyd's character; To Gillian on Her 37th Birthday (1996) as Peter Gallagher's unfortunate blind date; and Air Force One (1997) as Grace Marshall, First Lady to President James Marshall (Harrison Ford).[3]
Crewson co-starred in the science fiction films Bicentennial Man (1999) with Robin Williams and The 6th Day (2000) opposite Arnold Schwarzenegger.[3] She has performed numerous other roles including an invasive television newscaster in Room (2015).[4]
On television, Crewson starred in the Canadian series ReGenesis as Dr. Rachel Woods (2007-08) and on Saving Hope as Dr. Dana Kinny (2012). She also guest-starred in the first eight episodes of the third season of 24, playing Dr. Anne Packard, personal physician and love interest to the President.[citation needed]
She also appeared in the second season of ABC's primetime soap opera Revenge (2012-13).[5] In 2016, Crewson had a main role in the television series Slasher.[6]
In 2017, Crewson began appearances in some episodes of the CBC drama Frankie Drake Mysteries, playing the lead character's mother and assisting her in investigations.[7]
Read more...
Awards
In 2013, Crewson won a Canadian Screen Award for her work on the television series Saving Hope.[8]
In 2016, she received the Earle Grey Award, which recognizes actors for their contribution to the international profile of Canadian TV or for their significant body of work.[9]
Personal life
Crewson was born in Hamilton, Ontario, the daughter of June Doreen (née Thomas) and Robert Binnie Crewson. She attended John Rennie High School in Pointe Claire, Québec, as did her younger brother, Brad Crewson.[10]
She attended Queen's University in Kingston, Ontario, where she won the Lorne Greene Award for outstanding work in the theater. She then studied at the Webber Douglas Academy of Dramatic Art in London.[2]
She married actor Michael Murphy in 1988 and they have two children. They divorced in January 2009.
In December 2014, she revealed to the press that she had come out to her family as a lesbian several years earlier.[11]
Crewson resides in Rosedale, Toronto.[12]
Filmography
Film
Year
Title
Role
Notes
1983
Skullduggery
Barbara / Dorigen
1986
Whodunit?
Elizabeth
Video
Mark of Cain
Dale
1991
The Doctor
Dr. Leslie Abbott
1992
Folks!
Audrey Aldrich
I'll Never Get to Heaven
Cassie Stewart
1993
The Good Son
Susan Evans
1994
Corrina, Corrina
Jenny Davis
The Santa Clause
Laura Calvin Miller
1996
To Gillian on Her 37th Birthday
Kevin Dollof
1997
Air Force One
First Lady Grace Marshall
Gang Related
Helen Eden
The Eighteenth Angel
Norah Stanton
1998
Where's Marlowe?
Dr. Ninki Bregman
Sleeping Dogs Lie
Theresa Small
1999
Better Than Chocolate
Lila
Question of Privilege
Gail Sterling
Escape Velocity
Billie
Bicentennial Man
Rachel "Ma'am" Martin
2000
Mercy
Bernadine Mello
What Lies Beneath
Elena
The 6th Day
Natalie Gibson
2001
Suddenly Naked
Jackie York
2002
Between Strangers
Amanda Trent
Perfect Pie
Patsy Willets
The Santa Clause 2
Laura Miller
2004
The Clearing
Louise Miller
A Home at the End of the World
Isabel Morrow
Pigeon
Woman on Train
Short film
2005
Niagara Motel
Lily
2006
Eight Below
Eve McClaren
The Covenant
Evelyn Danvers
Away from Her
Madeleine Montpellier
Who Loves the Sun
Mary Bloom
The Santa Clause 3: The Escape Clause
Laura Miller
2007
The Seeker
Mary Stanton
2009
Formosa Betrayed
Susan Kane
2010
A Beginner's Guide to Endings
Goldie White
2011
Winnie Mandela
Mary Botha
2012
The Vow
Dr. Fishman
Antiviral
Mira Tesser
2014
Fall
Sheila
2015
Into the Forest
Mom
2016
Tomorrow's Shadows
Female G.O.D.
Short film
2018
Death Wish
Dr. Jill Klavens
Kodachrome
Aunt Sarah
Television
Year
Title
Role
Notes
1980
War Brides
Kate
TV film
Home Fires
Terry
Main role
1981
The Littlest Hobo
Jenny
"The Locket"
1982
Hangin' In
Hilary
"Barnum and Baby"
Mazes and Monsters
Kate Finch
TV film
1984
Heartsounds
Judy
The Guardian
Marlee Kramer
1985
Night Heat
Prosecutor Dorothy Fredericks
Recurring role
Murder in Space
Irene Tremayne
TV film
Murder: By Reason of Insanity
My Father, My Rival
Hilah
1986
Adderly
Marge
"Critical Mass"
Perry Mason: The Case of the Shooting Star
Michelle Benti
TV film
1987
Hard Copy
Blake Calisher
CBS Summer Playhouse
Dana
"In the Lion's Den"
A Hobo's Christmas
Laurie
TV film
Covert Action
Jessica
1988
Tanner '88
Joanna Buckley
TV miniseries
Spies, Lies & Naked Thighs
Evelyn
TV film
1989
Studio 5-B
Gail Browning
Main role
1990
Getting Married in Buffalo Jump
Sophie Ware
TV film
Street Legal
Wendy Nelson
"Holy Thursday", "Spare Parts", "Double Agenda"
1994
To Save the Children
Dorsie Young
TV film
Lives of Girls & Women
Ada Jordan
Frostfire
Victoria Renko
Spenser: The Judas Goat
Susan Silverman
1995
Spenser: A Savage Place
Ebbie
Roberta 'Robbie' Cratchet
1997
Due South
Janet Morse
"The Bounty Hunter"
Black Harbour
Carolyn Bedford
"Love's Labours Lost", "High Noon"
1998
From the Earth to the Moon
Faye Stafford
"The Original Wives Club"
At the End of the Day: The Sue Rodriguez Story
Sue Rodriguez
TV film
1999
Summer's End
Virginia Baldwin
2000
Love and Murder
Joanne Kilbourn
Deadly Appearances
2001
The Wandering Soul Murders
A Colder Kind of Death
The Beast
Maggie Steech
The Last Brickmaker in America
Karen
2002
The Many Trials of One Jane Doe
Jane Doe
A Killing Spring
Joanne Kilbourn
Verdict in Blood
The Matthew Shepard Story
Sarah
The Elfkins First Christmas
Grazellda (voice)
2003
An Unexpected Love
McNally 'Mac' Hays
The Piano Man's Daughter
Ede Kilworth
Twelve Mile Road
Angela Landis
24
Dr. Anne Packard
Recurring role
2004
Sex Traffic
Madeleine Harlsburgh
"1.1", "1.2"
Jack
Elaine Burka
TV film
2005
Hunt for Justice
Louise Arbour
The Stranger I Married
Lorraine Evanshen
2006
The Path to 9/11
Valerie James
TV miniseries
Crimes of Passion
Host - Narrator
2007
The Robber Bride
Roz Andrews
TV film
ReGenesis
Rachel Woods
Main role
2008
The Summit
Ellie Bruckner
TV miniseries
2009
Flashpoint
Catherine Graham
"Eagle Two"
2010
The Bridge
Mayor Kennedy
Recurring role
Rookie Blue
Dana Kennedy
"In Blue"
2011
Georgetown
Sen. Caroline Wallace
TV film
Endgame
Vivian Huxley
"The White Queen"
CSI: Crime Scene Investigation
Judy Robbins
"Genetic Disorder"
2012
Beauty and the Beast: A Dark Tale
Mara
TV film
Alcatraz
Helen Campbell
"Sonny Burnett"
Fairly Legal
Warden Sara Wilkes
"Ripple of Hope"
Revenge
Helen Crowley
Recurring role
Saving Hope
Dr. Dana Kinney
Main role
2013
Jack
Anne McGrath
TV film
2014
Murdoch Mysteries
Cassie Chadwick
"The Murdoch Sting"
Working the Engels
Mrs. Guernsey
"Maid Amends", "Jenna vs. Big Pastry Part II"
Ascension
Katherine Warren
TV miniseries
2015
We Are Disorderly
Judy
"Our Leather Jackets"
Defiance
Silora Voske
"When Twilight Dims the Sky Above"
Beauty & the Beast
Helen Ellingsworth
"Unbreakable", "Sins of the Fathers"
Forgive Me
Celeste
"Full of Grace", "Amongst Women", "Pray for Us Sinners"
2016
Slasher
Brenda Merritt
Main role
2017
The Son
Ingrid
"Second Empire"
Good Witch
Olympia
"Not Getting Married Today" Part 2
Frankie Drake Mysteries
Nora
Recurring role
2018
The Detail
Fiona Currie
Main role
Awards and nominations
Gemini Awards

1992 — Gemini Award for Best Performance by an Actress in a Continuing Leading Dramatic Role for Getting Married in Buffalo Jump (Nominated)
1994 — Best Performance by an Actress in a Continuing Leading Dramatic Role for I'll Never Get to Heaven (Nominated)
1998 — Best Performance by an Actress in a Guest Role in a Dramatic Series for Due South
1999 — Best Performance by an Actress in a Continuing Leading Dramatic Role for At the End of the Day: The Sue Rodriguez Story
2002 — Best Performance by an Actress in a Continuing Leading Dramatic Role for A Killing Spring (Nominated)
2002 — Humanitarian Award
2003 — Best Performance by an Actress in a Continuing Leading Dramatic Role for The Many Trials of One Jane Doe
2005 — Best Performance by an Actress in a Continuing Leading Dramatic Role for Sex Traffic (Nominated)
2006 — Best Performance by an Actress in a Continuing Leading Dramatic Role for The Man Who Lost Himself
2007 — Best Performance by an Actress in a Featured Supporting Role in a Dramatic Program or Mini-Series for The Robber Bride (Nominated)
2007 — Best Performance by an Actress in a Featured Supporting Role in a Dramatic Program or Mini-Series for ReGenesis
2008 — Best Performance by an Actress in a Featured Supporting Role in a Dramatic Program or Mini-Series for ReGenesis (Nominated)
2010 — Best Performance by an Actress in a Featured Supporting Role in a Dramatic Program or Mini-Series for The Summit (Nominated)

Canadian Screen Awards

2013 — Best Performance by an Actress in a Featured Supporting Role in a Dramatic Program or Mini-Series for Saving Hope
2017 — Best Performance by an Actress in a Featured Supporting Role in a Dramatic Program or Series for Slasher

ACTRA Award

2007 - ACTRA Toronto Award of Excellence
[ Source: Wikipedia ]