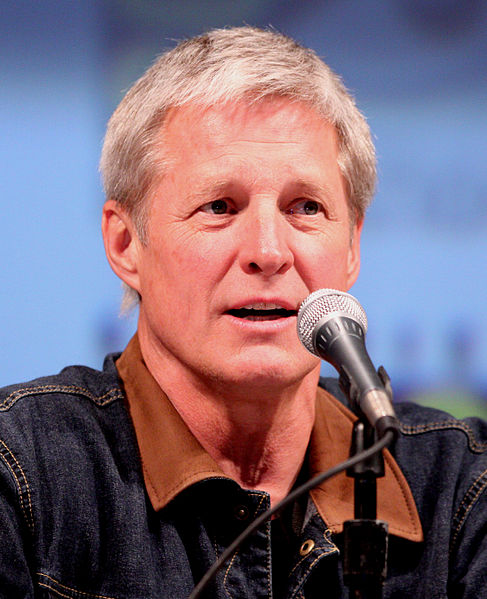 Bruce Boxleitner
Birth name:
Bruce William Boxleitner
Born:
May 12, 1950
Age:
73
Birthplace:
Elgin, Illinois, U.S.
Popularity:

Please login to contact Bruce Boxleitner...
Biography
Bruce William Boxleitner (born May 12, 1950) is an American actor, and science fiction and suspense writer. He is known for his leading roles in the television series How the West Was Won, Bring 'Em Back Alive, Scarecrow and Mrs. King (with Kate Jackson), and Babylon 5 (as John Sheridan in seasons 2-5, 1994-98).
He is also known for his dual role as the characters Alan Bradley and Tron in the 1982 Walt Disney Pictures film Tron, a role which he reprised in the 2003 video game Tron 2.0, the 2006 Square-Enix/Disney crossover game Kingdom Hearts II, the 2010 film sequel, Tron: Legacy[1] and the animated series Tron: Uprising. He co-starred in most of the Gambler films with Kenny Rogers, where his character provides comic relief.
Boxleitner was born in Elgin, Illinois, the son of a certified public accountant.[2] He attended Prospect High School in Mount Prospect, Illinois, and the Goodman Theater School of Drama of the Art Institute of Chicago (later renamed The Theatre School at DePaul University).
Read more...
Career
Television
| | |
| --- | --- |
| | This section of a biography of a living person needs additional citations for verification. Please help by adding reliable sources. Contentious material about living persons that is unsourced or poorly sourced must be removed immediately, especially if potentially libelous or harmful. |
Boxleitner is best known for his leading roles in the television series How the West Was Won, Bring 'Em Back Alive, Scarecrow and Mrs. King (with Kate Jackson and Beverly Garland), and Babylon 5 (as John Sheridan in seasons 2-5, 1994-98).[3]
He also starred in The Gambler (as Billy Montana, alongside Kenny Rogers: 1980, 1983 and 1987) and in such TV movies as Judith Krantz's Till We Meet Again and Danielle Steel's Zoya. In 2005, he co-starred as Captain Martin Duvall in Young Blades. He has also starred in several films within the Babylon 5 universe, including Babylon 5: In the Beginning (TV, 1998), Babylon 5: Thirdspace (TV, 1998), Babylon 5: A Call to Arms (TV, 1999), and the direct-to-DVD Babylon 5: The Lost Tales (2007).
He has appeared in many other TV shows, including an appearance in 1973 as Rick Welsh, a University of Minnesota Track Star, in the season four episode, "I Gave at the Office" in The Mary Tyler Moore Show. Other appearances include Gunsmoke, Tales from the Crypt, Touched by an Angel, The Outer Limits and She Spies, and in 1982, he played Chase Marshall in the TV film Bare Essence, with Genie Francis. He was a member of the cast of Heroes for seasons three and four, playing New York Governor Robert Malden in three episodes. He also appears on the television series Chuck as the father of Devon Woodcomb. He was in such made-for-television films as The Secret, Hope Ranch, Falling in Love with the Girl Next Door, Pandemic, Sharpshooter and Aces 'n Eights.
Boxleitner was a guest-star on NCIS in the fall of 2010. He played Vice Admiral C. Clifford Chase, a high-ranking Navy official.[4] Boxleitner also lends his voice to the animated version of his iconic character Tron in the animated series Tron: Uprising. The series premiered on Disney XD on June 7, 2012. He also reprises the character Alan Bradley/Tron from the films Tron and Tron: Legacy.[5] From 2013-2015, he played Bob Beldon, the owner of the local bed and breakfast, in the Hallmark Channel series Cedar Cove.[6][7]
Film
Bruce Boxleitner at the 2010 San Diego Comic-Con in July 2010.
He has also appeared in several films, including Tron (in which he played the title role) and The Baltimore Bullet (1980) with James Coburn. He reprised his role in the Tron sequel Tron: Legacy and in the video game Tron: Evolution which was released alongside the film Tron: Legacy, as he did for sequel video game named Tron 2.0, and Disney/Square Enix crossover video game Kingdom Hearts II. Boxleitner also voice as Col. John Konrad in video game Spec Ops: The Line. He also starred as Confederate General James Longstreet in the 2003 film Gods and Generals. He provides the voice of Colin Barrow in the animated science fiction horror film Dead Space: Downfall, based on the video game Dead Space. Other films he has been in include Kuffs, The Babe, Brilliant, Snakehead Terror, Legion of the Dead, King of the Lost World, Shadows in Paradise and Transmorphers: Fall of Man.
In 2011, he officially announced that he will reprise his role as Alan Bradley/Tron in Tron 3. July 2015 Boxleitner said that he is done with the franchise, as "it's been too up and down for me. I would rather not just keep going. I don't want to repeat my career anymore."[8]
Modeling
From 1986 to 1989, Boxleitner appeared in advertisements for Estee Lauder's "Lauder For Men".
Novels
Boxleitner has written two science fiction novels with a Western setting, Frontier Earth (1999)[9] and Searcher (2001).[10]
Audio books
Boxleitner played a major role in the audio dramatization of The Great Secret, part of the Golden Age of Fiction series by L. Ron Hubbard. He also played Captain Gavin Blaire in the unabridged version of World War Z.[citation needed]
Personal life
Boxleitner's first marriage (1977-1987) was to American actress Kathryn Holcomb, who co-starred with him on How The West Was Won. They had two sons together: Sam (born 1980) and Lee (born 1985). Holcomb went on to marry English actor Ian Ogilvy.
Boxleitner's second marriage (1995-2011) was to American actress Melissa Gilbert. They had one son together: Michael (born 1995).[11] Gilbert also guest-starred as Boxleitner's on-screen wife, Anna Sheridan, during Season 3 of Babylon 5.[12] On March 1, 2011, Gilbert announced that she and Bruce had separated after 16 years of marriage.[13] On August 25 of the same year the Associated Press reported that, based on court records, Gilbert had filed for divorce.[14]
On February 8, 2016, Boxleitner and his girlfriend of three years, publicist Verena King, announced their engagement.[15] On October 5, 2016, they were married in Kapolei on the island of Oahu, Hawaii.
Other
In 2003, Boxleitner was appointed to the Board of Governors of the National Space Society, a nonprofit, educational space advocacy organization founded by Dr. Wernher von Braun.[16]
He was friends with actress Beverly Garland for nearly 30 years. He met her on an episode of How The West Was Won, and later co-starred alongside her on Scarecrow & Mrs. King, though he had very few scenes with her. Then, in 1986, Boxleitner presented Garland the Golden Boot Award. After the cancellation of Scarecrow, Boxleitner remained close to Garland, contacting her consistently, until her death, on December 5, 2008. He said in an interview, "I used to keep up with Beverly Garland until she passed. There was actually a hotel named after her. She was such a trip. She was a great lady."[17]
Filmography
| Year | Title | Role | Notes |
| --- | --- | --- | --- |
| 1975 | Sixpack Annie | Bobby Joe | |
| 1980 | The Baltimore Bullet | Billie Joe Robbins | |
| 1981 | Fly Away Home | N/A | Uncredited |
| 1982 | Tron | Tron/Alan Bradley | |
| 1982 | Bare Essence | Chase Marshall | |
| 1987 | Angel in Green | Captain William Wicker | |
| 1988 | Red River | Matthew Garth | |
| 1990 | Breakaway | Joey | |
| 1991 | Murderous Vision | Detective Kyle Robeshaw | |
| 1991 | Diplomatic Immunity | Cole Hickel | |
| 1992 | Kuffs | Brad Kuffs | |
| 1992 | The Babe | Jumpin' Joe Dugan | |
| 1992 | The Secret | Patrick Dunmore | |
| 1992 | Perfect Family | Allan Bodine | |
| 1992 | Double Jeopardy | Jack Hart | |
| 1998 | Babylon 5: In the Beginning | Capt. John J. Sheridan | |
| 1998 | Babylon 5: Thirdspace | Capt. John J. Sheridan | |
| 1999 | Babylon 5: A Call to Arms | President John J. Sheridan | |
| 1999 | Free Fall | Mark Ettinger | |
| 2000 | The Perfect Nanny | Dr. Robert Lewis | |
| 2002 | Contagion | President Howard | |
| 2003 | Gods and Generals | James Longstreet | |
| 2004 | Brilliant | Dr. Dietrich | |
| 2004 | Snakehead Terror | Sheriff Patrick James | |
| 2007 | Babylon 5: The Lost Tales | President John J. Sheridan | |
| 2008 | Transmorphers: Fall of Man | Hadley Ryan | |
| 2010 | Tron: Legacy | Tron/Rinzler/Alan Bradley | |
| 2011 | 51 | Col. Martin | |
| 2011 | Tron: The Next Day | Alan Bradley | Short film |
Television films
| Year | Title | Role | Notes |
| --- | --- | --- | --- |
| 1974 | The Chadwick Family | Danny | |
| 1975 | A Cry for Help | Richie Danko | |
| 1976 | The Macahans | Luke Macahan | |
| 1976 | Kiss Me, Kill Me | Douglas Lane | |
| 1977 | Murder at the World Series | Cisco | |
| 1978 | Happily Ever After | Jack | |
| 1979 | The Last Convertible | George Virdon | |
| 1980 | Kenny Rogers as The Gambler | Billy Montana | |
| 1983 | Kenny Rogers as the Gambler: The Adventure Continues | Billy Montana | |
| 1983 | I Married Wyatt Earp | Wyatt Earp | |
| 1986 | Down the Long Hills | Louis L'amour | |
| 1987 | Kenny Rogers as the Gambler, Part III: The Legend Continues | Billy Montana | |
| 1987 | Passion Flower | Larry Janson | |
| 1989 | Road Raiders | Charlie Rhodes | |
| 1994 | The Maharaja's Daughter | Patrick O'Riley | |
| 1994 | Gunsmoke: One Man's Justice | Davis Healy | |
| 1994 | Gambler V: Playing for Keeps | Billy Montana | |
| 2002 | Perilous | Judd | |
| 2002 | Hope Ranch | J.T. Hope | |
| 2003 | Killer Flood: The Day the Dam Broke | Jordan Walker | |
| 2006 | Mystery Woman: Wild West Mystery | Clint Lawson | |
| 2006 | Falling in Love with the Girl Next Door | Frank Lucas | |
| 2007 | Bone Eater | Sheriff Steve Evans | |
| 2007 | Sharpshooter | Sheriff Graham | |
| 2011 | Love's Everlasting Courage | Lloyd Davis | |
| 2013 | Silver Bells | Bruce Dalton | |
| 2015 | So You Said Yes | Nick | |
| 2016 | Wedding Bells | Charlie | |
| 2016 | Double Mommy | Scott | |
Television series
Year
Title
Role
Notes
1973
The Mary Tyler Moore Show
Rick
Episode: "I Gave At the Office"
1974
Hawaii Five-O
Cam Farraday
Episode: "We Hang Our Own"
1975
Gunsmoke
Toby Hogue
Episode: "The Sharecroppers"
1975
Hawaii Five-O
Kevin Caulder
Episode: "And the Horse Jumped Over the Moon"
1975
Police Woman
Ed Krohl
Episode: "Paradise Mall"
1976
Baretta
Tom
Episode: "The Left Hand of the Devil"
1976
Hawaii Five-O
Paul Colburn
Episode: "The Capsule Kidnapping"
1976-79
How the West Was Won
Luke Macahan
25 episodes
1980
Wild Times
Vern Tyree
2 episodes
1981
East of Eden
Charles Trask
Episode: "Part One"
1982-83
Bring 'Em Back Alive
Frank Buck
17 episodes
1983-87
Scarecrow and Mrs. King
Lee Stetson
89 episodes
1989
Judith Krantz's Till We Meet Again
Jock Hampton
2 episodes
1991
Tales from the Crypt
Winton Robbins
Episode: "Top Billing"
1994-98
Babylon 5
Captain John J. Sheridan
87 episodes
Nominated—Saturn Award for Best Actor on Television
1998
Touched by an Angel
Scott Tanner
Episode: "The Peacemaker"
2003
She Spies
The Chairman
3 episodes
2005
Commander in Chief
Tucker Bayes
Episode: "First Choice"
2005
Young Blades
Captain Martin Duvall
13 episodes
2006
American Dad!
Himself
Episode: "Tears of a Clooney"
2008-09
Chuck
Dr. Woody Woodcomb
2 episodes
2008-09
Heroes
Robert Malden
3 episodes
2010-17
NCIS
Vice Admiral C. Clifford Chase
2 episodes
2011
CHAOS
Ray Bishop
Episode: "Glory Days"
2012
GCB
Burl Lourd
4 episodes
2012-13
Tron: Uprising
Tron
17 episodes
2013-15
Cedar Cove
Bob
30 episodes
2018-
Fly
Captain Nathaniel Price, Sr.
16 episodes
2018
Supergirl
Vice President Baker
Recurring role
Video Games

| Year | Title | Role | Notes |
| --- | --- | --- | --- |
| 2003 | Tron 2.0 | Alan Bradley | |
| 2006 | Kingdom Hearts II | Tron | |
| 2012 | Spec Ops: The Line | Colonel John Konrad | |
[ Source: Wikipedia ]