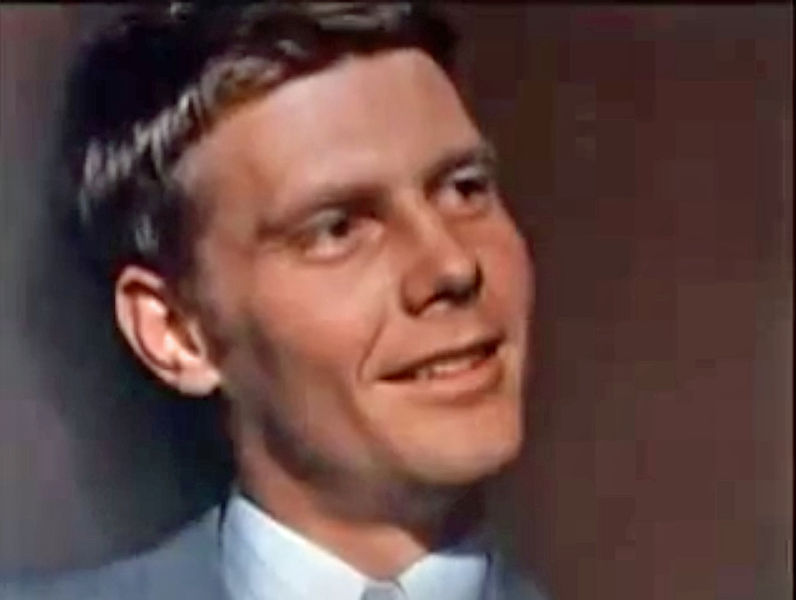 James Fox
Birth name:
William Fox
Born:
May 19, 1939
Age:
84
Birthplace:
London, England
Popularity:

Please login to contact James Fox...
Biography
William Fox (born 19 May 1939), known professionally as James Fox, is an English actor, from a well-known acting family. He appeared in several notable films of the 1960s and early 1970s, including The Servant, Thoroughly Modern Millie and Performance, before quitting the screen for several years to be an evangelical Christian. He has since appeared in a wide range of film and TV productions.
Fox was born in London, the son of theatrical agent Robin Fox and actress Angela Worthington. He is the brother of actor
Edward Fox
and the film producer Robert Fox. His maternal grandfather was playwright Frederick Lonsdale. Like several members of the Fox family, he attended Harrow School. After leaving Harrow Fox took a short service commission in the Coldstream Guards.
Read more...
Career
Early career
Fox first appeared on film in The Miniver Story in 1950. His other early film appearances were made under his birth name, William Fox.
In 1962, Fox was working in a bank when Tony Richardson offered him a minor role in the film The Loneliness of the Long Distance Runner. Fox's father attempted to forbid this, claiming that his son had no talent for acting and that it would disrupt his life for him to give up his job in the bank, nevertheless Fox took the part.[1]
During the 1960s, Fox gained popularity. In 1964, he won a BAFTA Award for Most Promising Newcomer for his role in The Servant (1963).[2] His films included Those Magnificent Men in their Flying Machines (1965), King Rat (1965), The Chase (1966), Thoroughly Modern Millie (1967), Isadora (1968), and Performance (1970).
Spiritual life and break from acting
After finishing work on Performance (1970), Fox suspended his acting career.
In a 2008 interview, he said: "It was just part of my journey...I think my journey was to spend a while away from acting. And I never lost contact with it - watching movies, reading about it ... so I didn't feel I missed it."[3]
He became an evangelical Christian, working with the Navigators and devoting himself to the ministry.[4] During this time, the only film in which Fox appeared was No Longer Alone (1978), the story of Joan Winmill Brown,[5] a suicidal woman who was led to faith in Jesus Christ by Ruth Bell Graham.[5]
Return to acting
After an absence of almost ten years from mainstream cinema, Fox returned to the screen, appearing in Stephen Poliakoff's Runners (1983), A Passage to India (1984), Comrades (1986) and playing Anthony Blunt in the acclaimed BBC play by Alan Bennett, A Question of Attribution (1992). He also portrayed the character of Colonel Ferguson in Farewell to the King and the pro-German aristocrat Lord Darlington in The Remains of the Day (1993).
More recently he has appeared in the 2000 film Sexy Beast, the 2001 adaptation of The Lost World as Prof. Leo Summerlee, Agatha Christie's Poirot - Death on the Nile (2004) as Colonel Race and Charlie and the Chocolate Factory (2005) playing Mr. Salt, Veruca Salt's father. He appeared in the Doctor Who audio drama Shada, and in 2007, he guest-starred in the British television crime series Waking the Dead. He also appeared opposite his son Laurence Fox in "Allegory of Love", an episode in the third series of Lewis. He was part of the cast of Sherlock Holmes, as Sir Thomas, leading member of a freemason-like secret society.
In 2010, he filmed Cleanskin, a terrorist thriller directed by Hadi Hajaig,[6] and in 2011 he played King George V in Madonna's film W.E.[2]
Personal life
He married Mary Elizabeth Piper in 1973, with whom he has five children: actors Laurence, Lydia, and Jack Fox, and sons Robin and Thomas. In 2007, Laurence and Lydia married actors Billie Piper and Richard Ayoade, respectively. Fox is grandfather to Laurence's two sons with Piper and Lydia's two daughters by Ayoade. His niece Emilia Fox is also an actress. Both Emilia and James Fox have portrayed roles in BBC's hit TV series Merlin and Fox has guest-starred in his son Laurence's television series Lewis.
In her 2014 book A Story Lately Told, Anjelica Huston refers to a sexual relationship with Fox when she was a teenager.
Filmography
Film
Year
Title
Role
Notes
1950
The Miniver Story
Toby Miniver
The Magnet
Johnny Brent
1962
The Loneliness of the Long Distance Runner
Gunthorpe
1963
Tamahine
Oliver
The Servant
Tony
1965
King Rat
Flight Lieutenant Peter Marlowe
Those Magnificent Men in their Flying Machines
Richard Mays
1966
The Chase
Jason 'Jake' Rogers
1967
Thoroughly Modern Millie
Jimmy Smith
Arabella
Giorgio
1968
Duffy
Stephane Calvert
Isadora
Gordon Craig
1970
Performance
Chas Devlin
1978
No Longer Alone
Alan Richards
1983
Runners
Tom Lindsay
1984
Greystoke: The Legend of Tarzan, Lord of the Apes
Lord Charles Esker
A Passage to India
Richard Fielding
1986
Absolute Beginners
Henley of Mayfair, Dressmaker to the Queen
The Whistle Blower
Lord
Comrades
Governor William Norfolk
1987
High Season
Patrick
1989
Farewell to the King
Colonel Ferguson
The Mighty Quinn
Thomas Elgin
1990
The Russia House
Ned
1991
Afraid of the Dark
Frank
1992
Patriot Games
Lord William Holmes
1993
The Remains of the Day
Lord Darlington
1997
Anna Karenina
Aleksei Aleksandrovich Karenin
Never Ever
Arthur Trevane
1998
Shadow Run
Landon-Higgins
Jinnah
Mountbatten
1999
Mickey Blue Eyes
Philip Cromwell
2000
Up at the Villa
Sir Edgar Swift
Sexy Beast
Harry
The Golden Bowl
Colonel Bob Assingham
2001
Lover's Prayer
Old Vladimir
Voice
2004
The Prince and Me
King Haraald
2005
Charlie and the Chocolate Factory
Mr. Salt
2007
Mister Lonely
The Pope
2009
Sherlock Holmes
Sir Thomas Rotheram
2010
Wide Blue Yonder
George
2011
W.E.
King George V
2012
Cleanskin
Scott Catesby
2013
Effie Gray
Sir Charles Eastlake
The Double
The Colonel
A Long Way From Home
Joseph
Television
Year
Title
Role
Notes
1983
Anna Pavlova
Victor Dandré
1992
A Question of Attribution
Sir Anthony Blunt
TV movie
1993
Heart of Darkness
Gosse
TV movie
1994
The Dwelling Place
Lord Fischel
TV mini-series, 3 episodes[7]
1994
Doomsday Gun
Sir James Whittington
TV Movie
1995
The Choir
The Dean, Hugh Cavendish
TV mini-series, 5 episodes
1996
Gulliver's Travels
Dr. Bates
TV mini-series
2001
Armadillo
Sir Simon Sherrifmuir
The Lost World
Prof. Leo Summerlee
TV movie
2003
Cambridge Spies
Lord Halifax
1 episode
2004
Agatha Christie's Poirot
Colonel Race
Death on the Nile
2005
Agatha Christie's Marple
Colonel Arthur Bantry
The Body in the Library
Colditz
Lt. Colonel Jimmy Fordham
TV mini-series
Absolute Power
Gerald Thurnham
Episode: Identity Crisis
2006
Suez: A Very British Crisis
Anthony Eden
TV documentary
2007
Waking the Dead
Dr Bruno Rivelli
Episode: Mask of Sanity
2008
New Tricks
Ian Figgis
Episode: Spare Parts
2009
Lewis
Professor Norman Dearing
Episode: Allegory of Love
Margaret
Charles Powell
TV movie
Red Riding 1980
Charles Powell
TV movie
2010
Midsomer Murders
Sir Michael Fielding
Episode: Master Class
2011
Law & Order: UK
Dr. Edward Austen
Episode: The Wrong Man
2012
Merlin
King Rodor
Episode: Another's Sorrow
2013
Utopia
Assistant
6 episodes
The Great Train Robbery
Henry Brooke
TV movie
Downton Abbey: The London Season
Lord Aysgarth
2015
Death in Paradise
Martin Goodman
Episode 4.8
1864
Lord Palmerston
London Spy
James
Episode 3
[ Source: Wikipedia ]