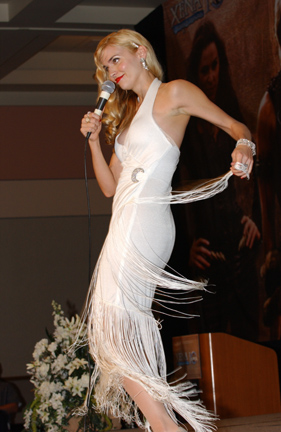 Hudson Leick
Birth name:
Heidi Hudson Leick
Born:
May 9, 1969
Age:
54
Birthplace:
Cincinnati, Ohio, U.S.
Popularity:

Please login to contact Hudson Leick...
Biography
Heidi Hudson Leick (born May 9, 1969) is an American actress, known for her role as villainess Callisto in the television series Xena: Warrior Princess. She is a certified Yoga instructor and intuitive counselor at the Healing Heart Yoga Center.[1]
Leick was born in Cincinnati, Ohio on May 9th 1969 and grew up in Rochester, New York.[2]
Read more...
Career
Leick started her career as a model in Japan, but decided to concentrate on acting. She took courses in drama and diction to improve her voice. In 1992, she appeared in one episode of the series CBS Schoolbreak Special. The following year, Leick appeared in an episode of Law & Order. She played a small role as a "sexpot" in University Hospital as nurse Tracy Stone.[3] In 1994, she appeared as the virtual reality designer Hannah in the television film Knight Rider 2010.[4]
Leick's big break came in 1995 when she won a part on Melrose Place. Leick appeared in ten episodes of the series. After a couple of small roles in Hijacked:Flight 285 and Dangerous Cargo, the director Robert Tapert selected Leick for the role of Callisto on Xena: Warrior Princess. Leick also portrayed Callisto on three episodes of Xena companion TV series Hercules: The Legendary Journeys,[5] as well as portraying screenwriter/producer Liz Friedman in two modern-day episodes.
In 2000, Leick announced at a convention that she would not be in more episodes of Xena: Warrior Princess or Hercules: The Legendary Journeys because she was being offered more and different roles, and felt that she needed to play another character besides Callisto. Beginning in 1999, she appeared in the films Chill Factor,[6] Hallowed Ground,[7] Blood Type, Denial, and After the Game, and had roles in the series 7th Heaven, Touched by an Angel, and Safe Harbor. She performed in A.I. Assault, CSI: Crime Scene Investigation, Lords of Everquest, Tru Calling (in its pilot episode), the voice of Jen in the computer game Primal,[8] Fastlane and Cold Heart.
In 2008, she finished the films One, Two, Many[9] and Unconditional.[10] She played the role of Coco DeVille in the Jackie Collins film, Paris Connections, which was released in 2010.
According to the Healing Heart Yoga Center, Leick, as of 2009, had been studying yoga for over sixteen years and has taught for thirteen. She is a member of the California Yoga Teachers' Association, and part of the staff at the Healing Heart Yoga Center.[1]
Filmography
Film
| Year | Title | Role | Notes |
| --- | --- | --- | --- |
| 1996 | Dangerous Cargo | Carla | |
| 1997 | After the Game | Grace | |
| 1998 | Denial | Deborah | |
| 1999 | Chill Factor | Vaughn | |
| 1999 | Blood Type | Tiffanie | |
| 2001 | Cold Heart | Julia | |
| 2007 | Hallowed Ground | Sarah Austin | Video |
| 2008 | One, Two, Many | Darla | |
| 2008 | Unconditional | Alice | Short film |
| 2010 | Paris Connections | Coco De Ville | |
| 2011 | All It Will Ever Be | | Short film |
| 2013 | Mid Life Gangster | Alexis | |
| 2017 | Blood Type | Tiffanie | Completed |
Television
Year
Title
Role
Notes
1992
CBS Schoolbreak Special
Stephanie
Episode: "Sexual Considerations"
1993
Law & Order
Kathy Rogers
Episode: "Black Tie"
1994
Knight Rider 2010
Hannah Tyrie
TV film
1995
University Hospital
Tracy Stone
Main role (9 episodes)
1995
Melrose Place
Shelly Hanson
Recurring role (10 episodes)
1996
Hijacked: Flight 285
Shayna Loring
TV film
1996-2000
Xena: Warrior Princess
Callisto
Xena
Recurring role (12 episodes)
1997
Touched by an Angel
Celeste
Episodes: "Angel of Death", "Labor of Love"
1997
Hercules: The Legendary Journeys
Callisto
Episode: "Surprise"
1998
Hercules: The Legendary Journeys
Callisto
Liz Friedman
Episodes: "Armageddon Now: Parts 1 & 2"
Episode: "Yes, Virginia, There Is a Hercules"
1998
7th Heaven
Ms. Hunter
Episode: "Homecoming"
1999
Hercules: The Legendary Journeys
Liz Friedman
Episode: "For Those of You Just Joining Us"
1999
Safe Harbor
Delores
Episode: "One More Time: The Great Escape"
2003
Fastlane
Randi
Episode: "101"
2003
Tru Calling
Rebecca Morgan
Episode: "Pilot"
2005
CSI: Crime Scene Investigation
Dr. Jeri "Buffy" Cohen
Episode: "Bite Me"
2007
Nip/Tuck
Fake Wendy
Episode: "Dr. Joshua Lee"
2008
Shark
Cindy Broyles
Episode: "Bar Fight"
2010
Law & Order: LA
Carly's Personal Shopper
Episode: "Playa Vista"
Video games
| Year | Title | Role | Notes |
| --- | --- | --- | --- |
| 2003 | Primal | Jennifer "Jen" Tate | |
| 2003 | Lords of EverQuest | Lady Leisen | |
[ Source: Wikipedia ]