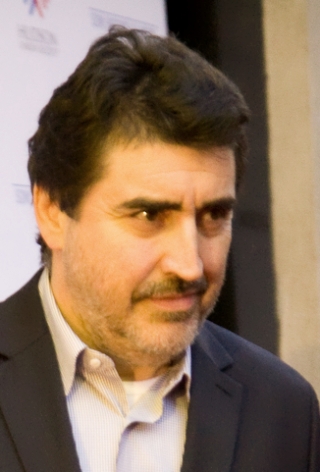 Alfred Molina
Born:
May 24, 1953
Age:
70
Birthplace:
Paddington, London
Popularity:

Please login to contact Alfred Molina...
Biography
Alfredo "Alfred" Molina (born 24 May 1953) is an English actor and voice artist. He is known for his roles in Raiders of the Lost Ark (1981), Prick Up Your Ears (1987), Enchanted April (1992), Maverick (1994), Species (1995), Boogie Nights (1997), Chocolat (2000), Frida (2002), Spider-Man 2 (2004), The Da Vinci Code (2006), An Education (2009), and Love Is Strange (2014).
Molina rose to prominence on the West End, earning a Laurence Olivier Award for Best Newcomer in a Play nomination for his performance in the production of Oklahoma! in 1980. He made his Broadway debut as Yvan in a production of Art from 1998 to 1999. His other Broadway roles include Tevye in the musical Fiddler on the Roof from 2004 to 2005 and Mark Rothko in the play Red from 2009 to 2010.
For his performance as Robert Aldrich in the anthology television series Feud (2017), Molina was nominated for a Golden Globe Award and a Primetime Emmy Award.
Molina was born in Paddington, London. His father, Esteban Molina, was a Spanish immigrant from Madrid who worked as a waiter and chauffeur.[1] His mother, Giovanna (née Bonelli), was an Italian house-keeper who cleaned rooms in a hotel and worked as a cook.[2][3] Molina grew up in a working class district in Notting Hill[4] that was inhabited by many other immigrant families.[5] Molina decided to become an actor after seeing
Spartacus
at the age of nine, and attended the Guildhall School of Music and Drama.[6] He also auditioned and was accepted as a member of National Youth Theatre.
Read more...
Career
Molina appeared with Leonard Rossiter in the sitcom The Losers (1978).[7] Molina made his film debut with a minor role in Raiders of the Lost Ark (1981) as Indiana Jones' ill-fated guide, Satipo, during its iconic opening sequence. However, his big break came with Letter to Brezhnev (1985), which he followed with a starring role in Prick Up Your Ears (1987), playing Joe Orton's lover (and eventual murderer) Kenneth Halliwell. He was originally cast as Arnold Rimmer in the TV sitcom Red Dwarf, but was replaced by Chris Barrie.
In the early 1990s, Molina was a ubiquitous presence on British television, with his highest profile role being the lead in the first two series of El C.I.D. Subsequent film roles included Species, Dudley Do-Right, Chocolat, Not Without My Daughter and Enchanted April. With a midwestern American accent, Molina starred alongside Betty White in the US television series Ladies Man, which ran from 1999-2001.
He has worked twice with Paul Thomas Anderson, first in Boogie Nights (1997) and then in Magnolia (1999). Molina gained wide recognition for his portrayal of Diego Rivera alongside Salma Hayek in the biopic Frida (2002), a role for which he gained BAFTA and SAG award nominations. He played himself alongside Steve Coogan in Coffee and Cigarettes (2003) and gained further commercial recognition when he portrayed the villain Doctor Octopus in Spider-Man 2 (2004), which became one of the highest-grossing films of that year. For the latter, Molina was nominated for a Satellite award as Best Supporting Actor. He reprised his role in the video game adaptation. In 2006, Molina portrayed Touchstone in Kenneth Branagh's film version of Shakespeare's As You Like It and appeared in Ron Howard's adaptation of The Da Vinci Code. Molina provided the voice of the villain Ares in the 2009 animated film Wonder Woman.[8]
Molina's stage work has included two major Royal National Theatre productions, Tennessee Williams' The Night of the Iguana (as Shannon) and David Mamet's Speed-the-Plow (as Fox). In his Broadway debut, Molina performed in Yasmina Reza's Tony Award-winning play 'Art', for which he received a Tony nomination in 1998. In 2004, Molina returned to the stage, starring as Tevye in the Broadway production of Fiddler on the Roof. For his performance he once again received a Tony Award nomination, this time for Best Actor in a Musical. Molina received his third Tony Award nomination for Red in 2010, for Best Performance by a Leading Actor in a Play.
In 2007, Molina narrated a 17-part original audiobook for Audible.com called The Chopin Manuscript. This serialized novel was written by a team of 15 best-selling thriller writers, including Jeffery Deaver, Lee Child, Joseph Finder and Lisa Scottoline. The novel won the 2008 Audiobook Of The Year Award form Audio Publishers Association.[9]
On 1 April 2010, he opened at Broadway's John Golden Theatre in the role of artist Mark Rothko in John Logan's drama Red opposite Eddie Redmayne for a limited engagement through 27 June.[10] He had played the role to much critical success at the Donmar Warehouse in London in December 2009 and revisited that role at the Wyndham's Theatre in the West End in 2018.[11]
In 2010 he starred opposite Dawn French in the six-part BBC sitcom Roger & Val Have Just Got In,[12] with a second series in 2012.
He is one of only two actors (the other being Chris Pratt) to have three Lego Minifigures modelled after him, with them being Doctor Octopus from Spider-Man 2, Satipo from Raiders of the Lost Ark and Sheik Amar from Prince of Persia.[citation needed]
In July 2010, it was announced that Molina had joined the cast of Law & Order: LA as Deputy District Attorney Morales.[13] He previously guest-starred in a two-part crossover in 2005 in two other Law & Order franchise shows, Law & Order: Special Victims Unit and Law & Order: Trial by Jury.
Molina is a patron of the performing arts group Theatretrain. Molina is also a longtime member of the Los Angeles theatre company The New American Theatre, formerly known as Circus Theatricals, where he often teaches Shakespeare and Scene Study along with the company's artistic director Jack Stehlin.
Molina stated in an interview in 2013 that he owes his stage and film career to the Indiana Jones series. "I'm very, very proud of that, I have to admit I didn't think at the time, 'Oh, this is going to go down in movie history.' I'd never been in front of a camera before," Molina said about his short but memorable appearance in Raiders of the Lost Ark. Molina recalls getting the job as a "gift from God" and goes on to say "I've publicly thanked Steven many, many times. That job saved my bacon, in more ways than one." About his now famous line in the film Molina stated that "I've never had a problem with people coming up to me about it. They'll shout that line to me, 'Throw me the idol, I'll throw you the whip!' I'm delighted that people still remember it."[14]
Personal life
He married actress Jill Gascoine in 1986 in Tower Hamlets, London.[15]
Molina resides in Los Angeles, California. In 2004, he announced that he had become a U.S. citizen.[16] He is fluent in English, Spanish and Italian. In 2017, he moved to La Cañada Flintridge.[17]
In addition to acting, Molina is an advocate for people with Acquired Immune Deficiency Syndrome (AIDS). He donates towards AIDS research, participates in the Los Angeles AIDS Walk and appeared as himself in a documentary produced by Joseph Kibler[18] (who has been HIV+ and paraplegic since his birth, c. 1989) about Kibler's life entitled Walk On, first screened in 2013.[19][20]
Molina endorsed Senator Bernie Sanders for President in the 2016 U.S. presidential election.[21]
Filmography
Film
Year
Title
Role
Notes
1979
A Nightingale Sang In Berkeley Square
Port Official
Uncredited
1981
Raiders of the Lost Ark
Satipo
1985
Letter to Brezhnev
Sergei
1985
Ladyhawke
Cezar
1985
Water
Pierre
1985
Eleni
Young Christos
Uncredited
1987
Prick Up Your Ears
Kenneth Halliwell
1988
Manifesto
Avanti
1989
Virtuoso
John Ogdon
1989
Rescuers Speaking
Italian Priest
1991
Hancock
Tony Hancock
1991
Not Without My Daughter
Sayyed Bozorg Mahmoody
1991
American Friends
Oliver Syme
1992
Enchanted April
Mellersh Wilkins
1993
A Year in Provence
Tony Havers
1993
The Trial
Titorelli
1993
When Pigs Fly
Marty
1994
Maverick
Angel
1994
White Fang 2: Myth of the White Wolf
Reverend Leland Drury
1994
Cabin Boy
Nathaniel's History Teacher
Uncredited
1995
Species
Dr. Stephen Arden
1995
The Steal
Cliff
1995
The Perez Family
Juan Raúl Perez
1995
Dead Man
Trading Post Missionary
1995
Scorpion Spring
Denis Brabant
1995
Hideaway
Dr. Jonas Nyebern
1995
Nervous Energy
Ira Moss
1996
Mojave Moon
Sal
1996
Before and After
Panos Demeris
1997
Anna Karenina
Levin
1997
Boogie Nights
Rahad Jackson
1997
The Man Who Knew Too Little
Boris 'The Butcher' Blavasky
1997
A Further Gesture
Tulio
1998
The Impostors
Sir Jeremy Burtom
1998
Rescuers: Stories of Courage: Two Couples
1998
Pete's Meteor
Hugh
1998
The Treat
The Colonel
1999
Dudley Do-Right
Snidely K. 'Whip' Whiplash
1999
Magnolia
Solomon Solomon
2000
The Miracle Maker
Simon the Pharisee
Voice
2000
Chocolat
Comte De Reynaud
2001
Murder on the Orient Express
Hercule Poirot
2001
Texas Rangers
King Fisher
2002
Frida
Diego Rivera
2003
My Life Without Me
Ann's Father
2003
Identity
Dr. Malick
2003
Coffee and Cigarettes
Himself
2003
Luther
Johann Tetzel
2004
Crónicas
Victor Hugo Puente
2004
Spider-Man 2
Dr. Otto Octavius / Doctor Octopus
Visual Effects Society Award for Outstanding Performance by an Actor or Actress in a Visual Effects Film
Nominated — London Film Critics Circle Award for British Supporting Actor of the Year
Nominated — Satellite Award for Best Supporting Actor - Motion Picture
Nominated — Saturn Award for Best Supporting Actor
Nominated — People's Choice Award for Favorite Villain Movie Star
Nominated — Teen Choice Award for Choice Movie Bad Guy
Nominated — MTV Movie Award for Best Villain
2004
Steamboy
James Edward Steam
English dub
2004
Undertaking Betty
Boris Plots
2006
The Da Vinci Code
Bishop Manuel Aringarosa
2006
As You Like It
Touchstone
2006
Orchids
Short film
2007
The Hoax
Dick Suskind
2007
Silk
Baldabiou
2007
The Ten Commandments
Ramesses, the Pharaoh
Voice
2007
The Moon and the Stars
Davide Rieti
2007
The Little Traitor
Sergeant Dunlop
2007
Chill Out, Scooby-Doo!
Professor Jeffries
Voice
Direct-to-video
2008
Nothing like the Holidays
Edy Rodriguez
2009
An Education
Jack Mellor
2009
The Pink Panther 2
Chief Inspector Randall Pepperidge
2009
Angels & Demons
Narrator
Voice
2009
The Lodger
Chandler Manning
2009
Wonder Woman
Ares
Voice
Direct-to-video
2009
Big Guy
Kent
Short film
2010
The Tempest
Stefano
2010
Prince of Persia: The Sands of Time
Sheik Amar
2010
The Sorcerer's Apprentice
Maxim Horvath
2011
Abduction
Frank Burton
2011
Rango
Roadkill
Voice
2012
Loving Miss Hatto
William Barrington-Coupe
2012
The Forger
Everly Campbell
2013
Bless Me, Ultima
Antonio
Voice
2013
The Truth About Emanuel
Dennis
2013
Justin and the Knights of Valour
Reginald
Voice
2013
Monsters University
Professor Knight
Voice
2013
Vivaldi
Tartini
2014
Love Is Strange
George
2014
Return to Zero
Robert Royal
2014
We'll Never Have Paris
Terry Berman
2014
Swelter
Doc
2014
Kahlil Gibran's The Prophet
Sergeant
Voice
2014
Heavenly Sword
King Bohan
Voice
2015
Strange Magic
Fairy King
Voice
2015
The Secret in Their Eyes
Martin Morales
2016
Little Men
Hernán
2016
Donald Trump's The Art of the Deal: The Movie
Jerry Schrager
2016
Whiskey Tango Foxtrot
Ali Massoud Sadiq
2016
Paint It Black
Cal
2016
Message from the King
Preston
2016
A Family Man
Lou Wheeler
2017
Breakable You
Paul Weller
2017
Justice League Dark
Destiny
Voice
Direct-to-video
2018
The Front Runner
Ben Bradlee
2018
Saint Judy
Ray Hernandez
2018
Ralph Breaks the Internet
Double Dan
Post-production; voice
2018
Henchmen
Baron Blackout
Post-production; voice
Television
Year
Title
Role
Notes
1978
The Losers
Nigel
6 episodes
1981
Bognor
Waiter
2 episodes
1982
Anyone for Denis?
Eric
Television film
1983
Meantime
John
Television film
1983
Reilly, Ace of Spies
Yakov Blumkin
Episode: "Gambit"
1985
Number One
D.C. Rogers
Television film
1985
Angels in the Annexe
Mike Brittain
Television film
1985
C.A.T.S. Eyes
Detective Sergeant Cropper
Episode: "Blue for Danger"
1986
Casualty
Harry Horner
Episode: "Jump Start"
1987
Miami Vice
Esther's Attorney
Episode: "The Big Thaw"
1989
The Accountant
Lionel Ellerman
Television film
1989
Saracen
Jose Morazan
Episode: "Proof of Death"
1989-1992
Screen One
Various
4 episodes
1989-1995
Screen Two
Various
4 episodes
1990-1992
El C.I.D.
Bernard Blake
13 episodes
1991
Ashenden
Carmona
Episode: "The Hairless Mexican"
1991
Performance
George Melly
Episode: "The Trials of Oz"
1991
Boon
Mike Hubble
Episode: "The Night Before Christmas"
1994
Requiem Apache
Hamish - Getaway Driver
Television film
1996
Tracey Takes On...
Mr. Dragotti
Episode: "Royalty"
1998
The Wild Thornberrys
Elcio (voice)
Episode: "Only Child"
1999-2001
Ladies Man
Jimmy Stiles
30 episodes; also producer
2001
Murder on the Orient Express
Hercule Poirot
Television film
2002
Bram & Alice
Bram
9 episodes
2003
Justice League
King Gustav (voice)
Episode: "Maid of Honor"
2005
Law & Order: Special Victims Unit
Gabriel Duvall
Episode: "Night"
2005
Law & Order: Trial by Jury
Gabriel Duvall
Episode: "Day"
2007
Monk
Peter Magneri
Episode: "Mr. Monk and the Naked Man"
2007
The Company
Harvey 'The Sorcerer' Torriti
6 episodes
2009
Yes, Virginia
Francis Church (voice)
Television film
2010-2011
Law & Order: LA
Detective Ricardo Morales
16 episodes
2010-2012
Roger & Val Have Just Got In
Roger Stephenson
12 episodes
2010-2012
The Life & Times of Tim
Chairman (voice)
2 episodes
2011
Harry's Law
Eric Sanders
3 episodes
2011
Innocent
Alejando "Sandy" Stern
Television film
2012
Kung Fu Panda: Legends of Awesomeness
Ke-Pa (voice)
Episode: "Enter the Dragon"
2012;
2015-16
Gravity Falls
Multi-Bear (voice)
3 episodes
2012-2018
Robot Chicken
Lex Luthor / Various voices
6 episodes
2012
Loving Miss Hatto
Barrie
Television film
2013
Monday Mornings
Dr. Harding Hooten
10 episodes
2013
Drunk History
Arthur Conan Doyle
Episode: "Detroit"
2014
Rick and Morty
The Devil (voice)
Episode: "Something Ricked This Way Comes"
2014
Cosmos: A Spacetime Odyssey
Alhazen (voice)
Episode: "Hiding in the Light"
2014
The Normal Heart
Ben Weeks
Television film
2014
Matador
Andrés Galan
13 episodes
2014-2017
Penn Zero: Part-Time Hero
Rippen (voice)
55 episodes
2015
Show Me a Hero
Henry J. Spallone
6 episodes
2015
Axe Cop
Vampire Man Baby Kid's Dad / Brilliant Evil Scientist (voices)
2 episodes
2015
Oscar's Hotel for Fantastical Creatures
Norbert (voice)
Episode: "Fishy Business"
2015
Long Live the Royals
Rupert / Neil (voices)
2 episodes
2016-2018
DreamWorks Dragons
Viggo Grimborn (voice)
22 episodes
2016-2017
Angie Tribeca
Dr. Edelweiss
Uncredited
14 episodes
2016
Close to the Enemy
Harold Lindsay-Jones
7 episodes
2016
Sister Cities
Mort
Television film; also executive producer
2016
American Dad!
Tow Truck Driver (voice)
Episode: "Father's Daze"
2017
Feud: Bette and Joan[22]
Robert Aldrich
6 episodes
2017
I'm Dying Up Here
Carl Veisor
Episode: "Pilot"
2017
Hey Arnold!: The Jungle Movie[23]
Lasombra (voice)
Television film
2018
Summer Camp Island
Monster Under The Bed (voice)
4 episodes
Video games
| Year | Title | Voice role |
| --- | --- | --- |
| 2004 | Spider-Man 2 | Otto Octavius/Doctor Octopus |
| 2014 | The Elder Scrolls Online | Abnur Tharn |
| 2017 | Wilson's Heart | Bela Belascó |
Stage
Year
Title
Role
Notes
1980-1981
Oklahoma!
Jud Fry
Palace Theatre (London)
1982
Can't Pay? Won't Pay!
Giovanni
Royal Court Theatre
1989
Speed-the-Plow
Bobby Gould
Royal National Theatre
1991
Henry IV, Part 1
John of Lancaster
The Public Theater
1992
The Night of the Iguana
Reverend T. Lawrence Shannon
Royal National Theatre
1995-1996
Molly Sweeney
Frank Sweeney
Laura Pels Theatre
1998
'Art'
Yvan
Bernard B. Jacobs Theatre
2001
True West
Lee
Skirball Cultural Center
2002
Richard III
Duke of Buckingham
Odyssey Theatre
2004-2005
Fiddler on the Roof
Tevye
Minskoff Theatre
2006
The Cherry Orchard
Lopakhin
Mark Taper Forum
2007
Howard Katz
Howard Katz
Laura Pels Theatre
2009-2010
Red
Mark Rothko
Donmar Warehouse
John Golden Theatre
2017
Long Day's Journey into Night
James Tyrone
Geffen Playhouse
2018
Red
Mark Rothko
Wyndham's Theatre
Awards and nominations
Year
Nominated work
Award
Result
1980
Oklahoma!
Laurence Olivier Award for Best Newcomer in a Play
Nominated
1990
Speed-the-Plow
Laurence Olivier Award for Best Comedy Performance
Nominated
The Accountant
Royal Television Society Award for Best Actor - Male
Won
BAFTA TV Award for Best Actor
Nominated
1996
Molly Sweeney
Theatre World Award
Won
1998
Boogie Nights
Florida Film Critics Circle Award for Best Cast
Won
Screen Actors Guild Award for Outstanding Performance by a Cast in a Motion Picture
Nominated
'Art'
Drama Desk Award for Outstanding Featured Actor in a Play
Won
Tony Award for Best Actor in a Play
Nominated
2000
Magnolia
Florida Film Critics Circle Award for Best Cast
Won
Screen Actors Guild Award for Outstanding Performance by a Cast in a Motion Picture
Nominated
2001
Chocolat
Screen Actors Guild Award for Outstanding Performance by a Cast in a Motion Picture
Nominated
2003
Frida
Imagen Award for Best Actor - Film
Won
Chicago Film Critics Association Award for Best Supporting Actor
Nominated
Critics' Choice Movie Award for Best Supporting Actor
Nominated
Satellite Award for Best Supporting Actor
Nominated
Screen Actors Guild Award for Outstanding Performance by a Male Actor in a Supporting Role
Nominated
BAFTA Award for Best Performance by an Actor in a Supporting Role
Nominated
2004
Fiddler on the Roof
Drama Desk Award for Outstanding Actor in a Musical
Nominated
Tony Award for Best Actor in a Musical
Nominated
2005
Spider-Man 2
Visual Effects Society Award for Outstanding Performance by an Actor or Actress in a Visual Effects Film
Won
London Film Critics' Circle Award for British Supporting Actor of the Year
Nominated
Satellite Award for Best Supporting Actor
Nominated
Saturn Award for Best Supporting Actor
Nominated
Teen Choice Award for Choice Movie Villain
Nominated
MTV Movie Award for Best Villain
Nominated
2008
The Hoax
London Film Critics' Circle Award for British Supporting Actor of the Year
Nominated
2009
The Pink Panther 2
ALMA Award for Best Actor in Film
Nominated
An Education
British Independent Film Award for Best Supporting Actor
Nominated
Dallas-Fort Worth Film Critics Association Award for Best Supporting Actor
Nominated
Satellite Award for Best Supporting Actor - Motion Picture
Nominated
Washington D.C. Area Film Critics Association Award for Best Supporting Actor
Nominated
2010
Vancouver Film Critics Circle Award for Best Supporting Actor
Nominated
Critics' Choice Movie Award for Best Supporting Actor
Nominated
London Film Critics' Circle Award for British Supporting Actor of the Year
Nominated
Screen Actors Guild Award for Outstanding Performance by a Cast in a Motion Picture
Nominated
BAFTA Award for Best Actor in a Supporting Role
Nominated
Red
Drama Desk Award for Outstanding Actor in a Play
Nominated
Drama League Award for Distinguished Performance
Won
Tony Award for Best Actor in a Play
Nominated
2014
The Normal Heart
Primetime Emmy Award for Outstanding Supporting Actor in a Limited Series or a Movie
Nominated
Love Is Strange
Dallas-Fort Worth Film Critics Association Award for Best Supporting Actor
Nominated
2015
Independent Spirit Award for Best Supporting Male
Nominated
2017
Feud: Bette and Joan
Primetime Emmy Award for Outstanding Supporting Actor in a Limited Series or Movie
Nominated
2018
Critics' Choice Television Award for Best Supporting Actor in a Movie/Miniseries
Nominated
Golden Globe Award for Best Supporting Actor - Series, Miniseries or Television Film
Nominated
[ Source: Wikipedia ]