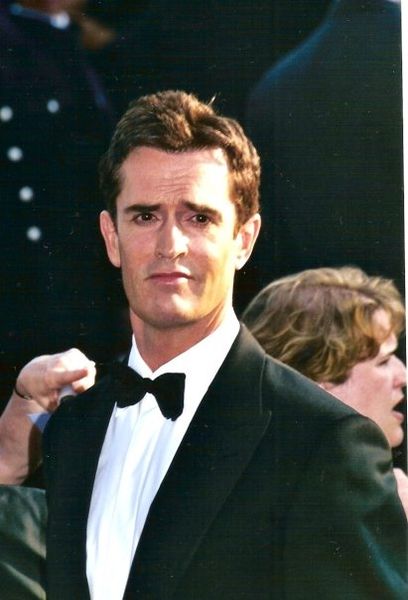 Rupert Everett
Birth name:
Rupert James Hector Everett
Born:
May 29, 1959
Age:
64
Birthplace:
Burnham Deepdale, Norfolk, England
Popularity:

Please login to contact Rupert Everett...
Biography
Rupert James Hector Everett (/ˈɛvərɪt/; born 29 May 1959) is an English actor and writer. He first came to public attention in 1981, when he was cast in Julian Mitchell's play and subsequent film Another Country (1984) as an openly homosexual pupil at an English public school in the 1930s;[1] the role earned him his first BAFTA Award nomination. He went on to receive a second BAFTA Award nomination and his first Golden Globe Award nomination for his role in My Best Friend's Wedding (1997), followed by a second Golden Globe nomination for An Ideal Husband (1999).
Everett has performed in many other prominent films, including The Madness of King George (1994), Shakespeare in Love (1998), Inspector Gadget (1999), A Midsummer Night's Dream (1999), The Next Best Thing (2000), Sherlock Holmes and the Case of the Silk Stocking (2004), Stardust (2007) and the Shrek sequels. He co-starred with Eva Green in Tim Burton's film Miss Peregrine's Home for Peculiar Children (2016).
Everett was born in Burnham Deepdale, Norfolk, to Major Anthony Michael Everett (1921-2009), who worked in business and served in the British Army, and wife Sara (née Maclean).[2] He has a brother, Simon Anthony Cunningham Everett (born 1956). His maternal grandfather, Vice Admiral Sir Hector Charles Donald MacLean, was a nephew of Scottish military man Hector Lachlan Stewart MacLean, who received the Victoria Cross.[3]
His maternal grandmother, Opre Vyvyan, was a descendant of the baronets Vyvyan of Trelowarren and the German Freiherr (Baron) von Schmiedern. He is of English, Irish, Scottish, and more distant German and Dutch, ancestry.[4][5] Everett was brought up as a Roman Catholic.[6]
From the age of seven, Everett was educated at Farleigh School in Andover, Hampshire, and later was educated by Benedictine monks at Ampleforth College, Yorkshire; he left school at 16 and ran away to London to become an actor. In order to support himself during this time, he worked as a prostitute for drugs and money—he disclosed this information in an interview for US magazine in 1997.[7]
After being dismissed from the Central School of Speech and Drama (University of London) for insubordination, he travelled to Scotland and worked at the Citizens Theatre in Glasgow.
Read more...
Career
1980s
Everett's break came in 1981 at the Greenwich Theatre and later West End production of Another Country, playing a gay schoolboy opposite Kenneth Branagh. His first film was the Academy Award-winning short A Shocking Accident (1982), directed by James Scott and based on a Graham Greene story. This was followed by a film version of Another Country in 1984 with Cary Elwes and Colin Firth. Following on with Dance With a Stranger (1985), Everett began to develop a promising film career until he co-starred with Bob Dylan in the huge flop Hearts of Fire (1987). Around the same time, Everett recorded and released an album of pop songs entitled Generation of Loneliness.
Despite being managed by the largely successful pop svengali Simon Napier-Bell (who had steered Wham! to prominence), the public didn't take to his change in direction. The shift was short-lived, and he only returned to pop indirectly by providing backing vocals for his friend Madonna many years later, on her cover of "American Pie" and on the track "They Can't Take That Away from Me" on Robbie Williams' Swing When You're Winning in 2001.
1990s
Rupert Everett at the 2004 Cannes Film Festival.
In 1989, Everett moved to Paris, writing a novel, Hello, Darling, Are You Working?, and coming out as gay, a disclosure which he has said may well have damaged his career.[8] Returning to the public eye in The Comfort of Strangers (1990), several films of variable success followed. The Italian comics character Dylan Dog, created by Tiziano Sclavi in 1986, is graphically inspired by him. Everett, in turn, appeared in an adaptation based on Sclavi's novel, Dellamorte Dellamore (1994). In 1995 he released a second novel, The Hairdressers of St. Tropez.
His career was revitalised by his award-winning performance in My Best Friend's Wedding (1997), playing Julia Roberts's character's gay friend, followed by Madonna's character's best friend in The Next Best Thing (2000). (Everett was a backup vocalist on her cover of "American Pie", which is on the film's soundtrack). Around the same time, he starred as the villainous Sanford Scolex/Dr. Claw in Disney's Inspector Gadget (also 1999) with Matthew Broderick.
2000s
Everett at a speed dating event with
When The Music Stops
, for Channel 4's The Friday Night Project in July 2007
For the 21st century, Everett has decided to write again. He has been a Vanity Fair contributing editor, has written for The Guardian and wrote a film screenplay on playwright Oscar Wilde's final years, for which he sought funding.[9][10]
In 2006 Everett published a memoir, Red Carpets and Other Banana Skins, in which he reveals his six-year affair with British television presenter Paula Yates.[11] Although he is sometimes described as bisexual, as opposed to homosexual, he described his heterosexual affairs during a radio show with Jonathan Ross as the result of adventurousness: "I was basically adventurous, I think I wanted to try everything".[12]
Since the revelation of his sexuality, Everett has participated in public activities (leading the 2007 Sydney Gay and Lesbian Mardi Gras), played a double role in the film St. Trinian's, and has appeared on TV several times (as a contestant in the special Comic Relief Does The Apprentice; as a presenter for Live Earth; and as a guest host on the Channel 4 show The Friday Night Project, among others). He has also garnered media attention for his shocking comments and remarks during interviews that have caused public outrage.[13][14][15][16]
In May 2007, he delivered one of the eulogies at the funeral of fashion director Isabella Blow, his friend since they were teenagers, who had committed suicide. He asked as part of his speech: "Have you gotten what you wanted, Issie? Life was a relationship that you rejected."[17] During this time he also voiced the nefarious, but handsome mama's boy Prince Charming in the first two Shrek sequels.
Everett's documentary on Sir Richard Francis Burton (1821-1890) in which he retraces the travels of Burton through countries such as India and Egypt, aired on the BBC in 2008. In the documentary, titled The Victorian Sex Explorer, Everett explores the life of a man who investigated a male brothel frequented by British soldiers in Bombay in disguise; who introduced The Koran, One Thousand And One Nights and the Kama Sutra in their first English translations; who travelled to the city of Mecca, and kissed the Holy Stone of Kaaba in disguise as an Arab; and was able to converse in more than 20 languages. Everett explained in 2008: "I've been interested in him for years. So many contradictions. Such a riveting, showbusiness character. The godfather of the sexual revolution."[18]
In 2009, Everett told British newspaper The Observer that he wished he had never revealed his sexuality, as he feels that it hurt his career and advised younger actors against such candour:
| | | |
| --- | --- | --- |
| " | The fact is that you could not be, and still cannot be, a 25-year-old homosexual trying to make it in the British film business or the American film business or even the Italian film business. It just doesn't work and you're going to hit a brick wall at some point. You're going to manage to make it roll for a certain amount of time, but at the first sign of failure they'll cut you right off... Honestly, I would not advise any actor necessarily, if he was really thinking of his career, to come out.[19] | " |
Also in 2009, Everett presented two Channel 4 documentaries: one on the travels of Lord Byron, the Romantic poet, broadcast in July 2009,[20][21] and another on British explorer Sir Richard Burton.[22][23]
Everett then returned to his acting roots, appearing in several theatre productions: his Broadway debut in 2009 at the Shubert Theatre received positive critical reviews; he performed in a Noël Coward play, Blithe Spirit, starring alongside Angela Lansbury, Christine Ebersole and Jayne Atkinson, under the direction of Michael Blakemore.[24][25] and he was expected to tour several Italian cities during the 2008-09 winter season in another Coward play, Private Lives (performed in Italian, which he speaks fluently)[26]—playing Elyot to Italian actress Asia Argento's Amanda—but the production was cancelled.[27]
2010s
Rupert Everett at Munich Film Festival, 2015
During the summer of 2010, Everett performed as Professor Henry Higgins, with English actress Honeysuckle Weeks and Stephanie Cole, in a revival of Pygmalion at the Chichester Festival Theatre.[28] He reprised the role in May 2011 at the Garrick Theatre in London's West End, starring alongside Diana Rigg and Kara Tointon.[29]
In July 2010, Everett was featured in the popular family history programme Who Do You Think You Are?[30] Released in late 2010, the comedy film Wild Target featured Everett as an art-loving gangster, and also starred Bill Nighy and Emily Blunt.[31]
In 2012 Everett starred in the television adaptation of Parade's End with Benedict Cumberbatch. The five-part drama was adapted by Sir Tom Stoppard from the novels of Ford Madox Ford, and Everett appears as the brother of protagonist Christopher Tietjens.[32]
Everett then starred as Oscar Wilde in The Judas Kiss, a stage play which was revived at London's Hampstead Theatre[33] beginning 6 September 2012, co-starring Freddie Fox as Bosie, and directed by Neil Armfield. The play ran at the Hampstead through 13 October 2012,[34] toured the UK and Dublin,[35][36][37] and then transferred to the West End at the Duke of York's Theatre on 9 January 2013 in a limited run through 6 April 2013.[38][39][40]
Everett won the WhatsOnStage Award for Best Actor in a Play,[41] and was nominated for the Olivier Award for Best Actor.[42] In 2016 the production, still starring Everett and with Charlie Rowe as Bosie, ran in North America for seven weeks in Toronto[43] and five weeks at BAM in New York City.[44]
In early 2013, Everett began working on a film portraying the final period of Wilde's life, stating in the media that he has had a fascination with the playwright since he was a child, as his mother read him Wilde's children's story The Happy Prince before he slept.[45] Everett explained in November 2013:
The book made me feel mystical at a very early age, there's a line in it which I didn't really understand and I still don't when the happy prince says to the swallow, 'there is no mystery as great as suffering'. I certainly didn't understand what it meant and I'm sure my mother reading it to me hadn't got a clue what it meant, but that was interesting and mysterious and a deep thought.[45]
Rupert Everett at Sofia International Film Festival, March 2017.
The subsequent film, The Happy Prince, written and directed by Everett, was released in 2018. [33]
In 2015 it was announced that he would play the part of Philippe Achille, Marquis de Feron, the corrupt Governor of Paris, Head of the Red Guard and illegitimate brother to Louis XIII in the third series of the BBC One drama The Musketeers.[46]
In 2017 Everett appeared as a recurring character in the BBC2 comedy Quacks. He plays Dr Hendricks, the paranoid principal of the medical school.
Writing
In addition to his two memoirs and the screenplay for the Wilde biopic, Everett has written several books, such as The Hairdressers of St. Tropez. In November 2010, Everett stated: "... I'm busy writing a TV series called 'Boy Band,' about a boy band, and the second part of my autobiography, titled 'Goodwood, Pinewood, Hollywood and Bollywood' ..."[31]
Personal life
Everett is openly gay. Between 2006 and 2010, he lived in New York City, U.S., but returned to London, because of his father's poor health.[31] In 2008, Everett purchased a home in the West London district of Belgravia.[47]
Political views
Everett is a patron of the British Monarchist Society and Foundation.[48]
In 2006, as a homeowner in the Central London area of Bloomsbury, Everett passionately supported a campaign to prevent the establishment of a local Starbucks branch and referred to the global chain as a "cancer". Everett protested alongside one thousand other residents and the group compiled a signed petition.[49][50]
During 2013, Everett worked on the production of a documentary on sex work for Channel 4 that includes the issue of criminalisation. Both during and after the filming of the documentary, Everett contributed to the discourse on prostitution legislation in the UK. In October 2013, Everett signed an open letter by the English Collective of Prostitutes and Queer Strike—alongside groups and organisations such as the Association of Trade Union Councils, Sex Worker Open University, Left Front Art - Radical Progressive Queers, Queer Resistance and Queers Against the Cuts—to oppose the adoption of the "Swedish model", whereby only the clients of sex workers, but not the sex workers themselves, are criminalised.[51]
Everett continued his participation in the sex work legislation debate in 2014, writing a long form piece for The Guardian and appearing on the BBC One programme This Week.[52] Everett's January Guardian article was published in the wake of police human trafficking raids in the Soho area of London and he wrote:
There is a land grab going on in Soho under the banner of morality. That night ... 200 of our boys in blue raided more than 20 models' flats, arresting 30 girls and confiscating their earnings ... They broke down doors, intimidated girls into accepting cautions (ie criminal records) and served civil-eviction papers that, unless you were a lawyer, you would not know had hidden in their depths (20-odd pages) the time and date you were to appear in court if you wanted to appeal. All this in the name of human trafficking ... But while even the police say that more than 90% of prostitutes work of their own accord, trafficking has become one of the new "it" words in the bankrupt moral vernacular, craftily used by puritans, property developers and rogue feminists to combat the sex trade in general. Sections 52 and 53 of the Sexual Offences Act ... shelter under the anti-trafficking umbrella. These laws are created to protect women. In reality, they are putting working girls on to the street and into great danger.[53]
Everett also joined protesters in a demonstration outside the offices of Soho Estates, a major property company that owns properties on Soho's Walkers Court, where many sex workers are based. Everett informs the reader that Soho Estates received approval to demolish properties on Walkers Court to create space for the construction of "two hideous towers replete with heliports". Everett concludes the article by declaring that Soho is "being reduced to a giant waxwork in a museum, nothing more than the set for a foreign film."[53]
In his appearance on BBC One's This Week, Everett engaged in a debate with regular panellists Michael Portillo and Diane Abbott. Portillo agreed with Everett, while Abbott supported the Swedish model.[52]
Everett has been an outspoken critic of the introduction of same-sex marriage, stating: '"I loathe heterosexual weddings. The wedding cake, the party, the champagne, the inevitable divorce two years later. It's just a waste of time in the heterosexual world, and in the homosexual world I find it personally beyond tragic that we want to ape this institution that is so clearly a disaster."'[54]
Filmography
Film
Year
Title
Role
Notes
1982
A Shocking Accident
Jerome and Mr. Weathersby
Short film
1983
Princess Daisy
Ram Valenski
TV miniseries
1984
Another Country
Guy Bennett
based on the young Guy Burgess
Nominated - BAFTA Award for Best Newcomer
1985
Dance with a Stranger
David Blakeley
1986
Duet for One
Constantine Kassanis
1987
The Gold Rimmed Glasses
Davide Lattes
aka Gli occhiali d'oro
1987
Hearts of Fire
James Colt
1987
Chronicle of a Death Foretold
Bayardo San Román
1987
The Right-Hand Man
Lord Harry Ironminster
Australian film, based on the book of the same name
1990
The Comfort of Strangers
Colin
1994
Prêt-à-Porter
Jack Lowenthal
aka Ready to Wear (Prêt-à-Porter)
1994
The Madness of King George
George, Prince of Wales
1994
Cemetery Man
Francesco Dellamorte
aka Dellamorte Dellamore
1996
Dunston Checks In
Lord Rutledge
1997
My Best Friend's Wedding
George Downes
American Comedy Award for Funniest Supporting Actor in a Motion Picture
Florida Film Critics Circle Award for Best Supporting Actor
Satellite Award for Best Supporting Actor - Motion Picture
Nominated - Golden Globe Award for Best Supporting Actor - Motion Picture
Nominated - BAFTA Award for Best Actor in a Supporting Role
Nominated - MTV Movie Award for Best Comedic Performance
Nominated - MTV Movie Award for Best Breakthrough Performance
Nominated - Online Film Critics Society Award for Best Supporting Actor
1998
Shakespeare in Love
Christopher Marlowe
Uncredited
1998
B. Monkey
Paul Neville
1999
An Ideal Husband
Lord Goring
Nominated - Golden Globe Award for Best Actor - Motion Picture Musical or Comedy
Nominated - European Film Award for Best Actor
Nominated - Satellite Award for Best Actor - Motion Picture Musical or Comedy
1999
Inspector Gadget
Sanford Scolex/Dr. Claw
1999
A Midsummer Night's Dream
Oberon
2000
Paragraph 175
Narrator
Documentary film
2000
The Next Best Thing
Robert Whittaker
2002
The Importance of Being Earnest
Algernon / "Bunbury"
2002
The Wild Thornberrys Movie
Sloan Blackburn
voice role
2003
Unconditional Love
Dirk Simpson
2003
To Kill a King
King Charles I
2004
Stage Beauty
King Charles II
2004
Shrek 2
Prince Charming
voice role
2004
A Different Loyalty
Leo Cauffield
2005
Separate Lies
William "Bill" Bule
2005
The Chronicles of Narnia: The Lion, the Witch and the Wardrobe
Mr. Fox
voice role
2007
Stardust
Prince Secundus
2007
Shrek the Third
Prince Charming
voice role
2007
St. Trinian's
Headmistress Camilla Fritton/Carnaby Fritton
2009
St Trinian's 2: The Legend of Fritton's Gold
Headmistress Camilla Fritton
2010
Wild Target
Ferguson
2011
Hysteria
Lord Edmund St. John-Smythe
2013
Justin and the Knights of Valour
Sota
voice role
2015
A Royal Night Out
King George VI
2016
Miss Peregrine's Home for Peculiar Children
John Lamont/Mr. Barron
2018
The Happy Prince
Oscar Wilde
2018
Swords and Sceptres
Sir Hugh Rose
filming
Selected television roles
The Manhood of Edward Robinson (1981) - guy
Soft Targets (1982) - Actor
Princess Daisy (1983) - Ram Valenski
The Far Pavilions (1984) - George Garforth
Arthur the King (1985) - Lancelot
Victoria's Secret Fashion Show (2001) - Host
Les Liaisons dangereuses (2003) - Vicomte Sébastien de Valmont (in French)
Mr. Ambassador (2003) - Ambassador Ronnie Childers
To Kill a King (2003) - King Charles I
Sherlock Holmes and the Case of the Silk Stocking (2004) - Sherlock Holmes
Boston Legal (2005) - Malcolm Holmes
The Friday Night Project (2006) - Guest host, himself
Comic Relief Does The Apprentice (2007) - Celebrity contestant (walked out during first episode)
The Friday Night Project (2007) - Guest host
Katie & Peter: Unleashed (2007) - Celebrity guest
The Victorian Sex Explorer[55] (2008) - Presenter
The Paul O'Grady Show (2009) - Guest
Who Do You Think You Are? (2010) - the subject, himself
The Chris Moyles Show (2010) - Guest
Black Mirror: Fifteen Million Merits (2011) - Judge Hope
Parade's End (2012)
Loose Women (2013)
The Musketeers - Philippe Achille, Marquis de Feron (2016)
50 Shades of Gay (2017) - Himself
Quacks (2017) - Doctor Hendricks
Bibliography
1992: Hello, Darling, Are You Working? (novel)
1995: The Hairdressers of St. Tropez (novel)
2006: Red Carpets and Other Banana Skins (memoir)
2012: Vanished Years (memoir)
[ Source: Wikipedia ]