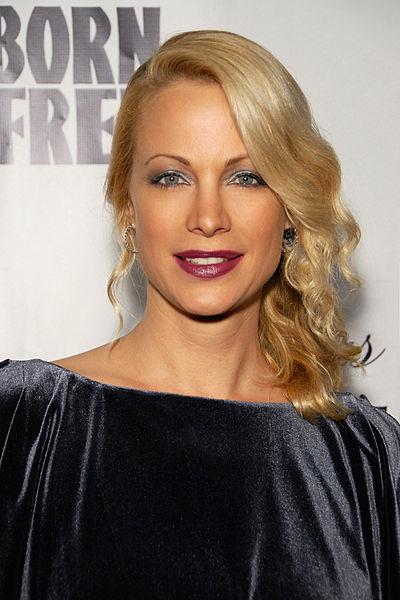 Alison Eastwood
Born:
May 22, 1972
Age:
51
Birthplace:
Carmel, California,[1][2][3][4][5] U.S.
Popularity:

Please login to contact Alison Eastwood...
Biography
Alison Eastwood (born May 22, 1972) is an American actress, director, producer, fashion model, and fashion designer.
Eastwood was born in Carmel, California,[1][2][3][4][5] the daughter of Maggie Johnson and movie star
Clint Eastwood
. She has a brother,
Kyle Eastwood
, and six half-siblings, including Kimber, Scott, Kathryn, Francesca, and
Morgan Eastwood
.
Eastwood attended Santa Catalina School in Monterey, California, and Stevenson School in Pebble Beach. When she was eighteen, in 1990, Eastwood enrolled at UC Santa Barbara (did not graduate) to study acting.[6]
Read more...
Career
Eastwood landed some professional acting roles during her childhood and preadolescent years, making her (uncredited) film debut at the age of seven in Bronco Billy. At the age of eleven, she had a major role in the thriller Tightrope (1984). She has also worked as a runway and magazine model in Paris, posing for several European fashion magazines and Vogue (U.S. edition). In February 2003, she posed nude for Playboy.[7]
More recently, Eastwood has again appeared onscreen. Her film credits include Midnight in the Garden of Good and Evil (1997), Just a Little Harmless Sex (1998), Black and White (1999), Friends & Lovers (1999), If You Only Knew (2000), Power Play (2002), Poolhall Junkies (2003), I'll Be Seeing You (2004), and Once Fallen (2010).
Eastwood made her directorial debut with Rails & Ties (2007), starring Kevin Bacon and Marcia Gay Harden.[4][8]
She has her own clothing line, called the Eastwood Ranch Apparel.[citation needed]
She is the founder of the Eastwood Ranch Foundation, a non-profit animal welfare organization.[citation needed]
On the small screen, she appeared in the Nat Geo Wild TV program Animal Intervention.[9] She has also been featured on the reality TV series Chainsaw Gang as one of the sculptor's girlfriends.[10] The sculptor is her now husband, Stacy Poitras, whom she married on March 15, 2013.[11]
Filmography
| Year | Title | Role | Notes |
| --- | --- | --- | --- |
| 1980 | Bronco Billy | Child at orphanage | Uncredited |
| 1980 | Any Which Way You Can | Kid | Uncredited |
| 1984 | Tightrope | Amanda Block | |
| 1997 | Absolute Power | Art Student | |
| 1997 | Midnight in the Garden of Good and Evil | Mandy Nicholls | |
| 1998 | Just a Little Harmless Sex | Laura | |
| 1998 | Suicide, the Comedy | Amanda | |
| 1999 | Breakfast of Champions | Maria Maritimo | |
| 1999 | Friends & Lovers | Lisa | |
| 1999 | Black and White | Lynn Dombrowsky | TV film |
| 2000 | The Spring | Sophie Weston | TV film |
| 2000 | If You Only Knew | Samantha | |
| 2002 | Poolhall Junkies | Tara | |
| 2002 | The Bend | Sue Morris | Short |
| 2002 | Power Play | Gabriella St. John | |
| 2004 | I'll Be Seeing You | Patricia Collins | TV film |
| 2004 | They Are Among Us | Finley | TV film |
| 2005 | Flatbush | Shellman | Short |
| 2005 | The Lost Angel | Detective Billie Palmer | |
| 2005 | Don't Tell | Raphael | |
| 2006 | Lesser Evil | Karen Max | TV film |
| 2006 | How to Go Out on a Date in Queens | Karen | |
| 2006 | Waitin' to Live | Harriett Williams | |
| 2007 | One Long Night | Wendy | |
| 2010 | Once Fallen | Kat | |
| 2011 | Henry | Laura | Short |
| 2012 | Animal Intervention | Herself | Docoseries |
| 2013 | Shadow People | Sophie Lacombe | |
| 2014 | Finding Harmony | Sam Colter | |
| 2014 | C.R.U. | Allison Doyle-Ewansiha | |
| 2015 | Unity[12] | Narrator | Documentary |
| 2018 | The Mule | Iris | Post-production |
[ Source: Wikipedia ]