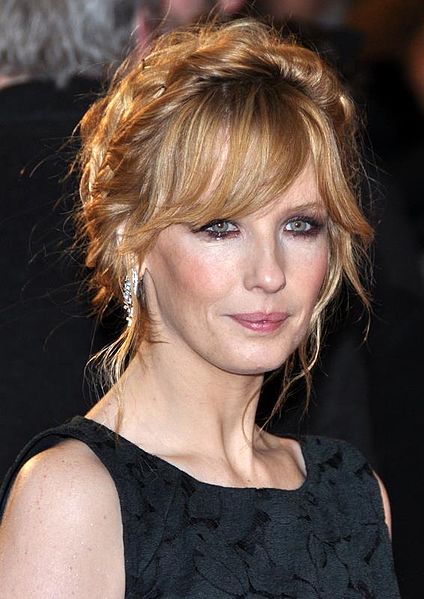 Kelly Reilly
Birth name:
Jessica Kelly Siobhán Reilly
Born:
July 18, 1977
Age:
45
Birthplace:
Surrey, England
Popularity:

Please login to contact Kelly Reilly...
Biography
Jessica Kelly Siobhán Reilly[1] (born 18 July 1977), better known by the stage name Kelly Reilly, is an English actress. Her performance in After Miss Julie at the Donmar Warehouse made her a star of the London stage and earned her a nomination for a Laurence Olivier Award for Best Actress of 2003. Débuting 20 June 2018, Reilly is the female lead in the new American Paramount Network's cowboy-themed drama series, Yellowstone.
Reilly was born and brought up in Chessington, Surrey, England, the daughter of a hospital receptionist mother, and Jack Reilly, a police officer. She attended Tolworth Girls' School in Kingston, where she studied drama for GCSE.[2][3] Her grandparents are Irish.[4]
Read more...
Career
Reilly wrote to the producers of the television drama Prime Suspect to ask for work, and six months later she auditioned for a role in an episode of Prime Suspect 4: Inner Circle, which was broadcast on ITV on 7 May 1995. Six years later, she again appeared alongside Helen Mirren in the film Last Orders.[5]
Her first professional role was followed by a series of parts on the English stage. She worked with Terry Johnson in four productions: Elton John's Glasses (1997), The London Cuckolds (1998), The Graduate (2000) and Piano/Forte (2006).[6] Johnson wrote Piano/Forte for her and said, "Kelly is possibly the most natural, dyed-in-the-wool, deep-in-the-bone actress I've ever worked with."[7] Reilly has stated that she learned the most as an actor from Karel Reisz, who directed her in The Yalta Game in Dublin in 2001. She said, "He was my masterclass. There is no way I would have been able to do Miss Julie if I hadn't done that play."[8]
By 2000, Reilly felt she was being typecast in comedy roles, and actively sought out a role as the young Amy in Last Orders, directed by Fred Schepisi.[5] This was followed by a role in the Royal Court's 2001 rerun of Sarah Kane's Blasted. The Times called her "theatrical Viagra".[9] In 2002, Reilly starred alongside Audrey Tautou and Romain Duris as Wendy, an English Erasmus student, in the French comedy L'Auberge espagnole (The Spanish Apartment). She reprised her role in the 2005 sequel, Les Poupées russes (The Russian Dolls) and the 2013 follow-up, Casse-tête chinois (Chinese Puzzle). Also in 2005, Reilly had roles in such films as Mrs Henderson Presents and Pride & Prejudice.
Reilly's first lead role came in 2008 in the horror film Eden Lake and, in 2009, she had a high-profile role on prime-time British television in Above Suspicion. Reilly also appeared in three major films: Sherlock Holmes, Triage, and Me and Orson Welles.
In 2011, Reilly reprised her role as Mary Watson in Sherlock Holmes: A Game of Shadows. In 2012, Reilly appeared opposite Sam Rockwell in A Single Shot and had a leading role in Robert Zemeckis' Flight opposite Denzel Washington. In 2014, Reilly starred with Greg Kinnear in the film Heaven is for Real and in the John Michael McDonagh film Calvary. The same year Reilly starred in the short-lived ABC series Black Box, as Catherine Black, a famed neuroscientist who explores and solves the mysteries of the brain (the black box) while hiding her own bipolar disorder from the world.
In 2015, Reilly starred in the second season of HBO's True Detective as Jordan Semyon, the wife of Vince Vaughn's character Frank Semyon. The same year, Reilly made her Broadway debut opposite Clive Owen and Eve Best in Harold Pinter's play Old Times at the American Airlines Theatre.[10][11]
Kelly now stars in the leading female role in the sweeping "Western"-style U.S. series Yellowstone, the Paramount Network's new drama that débuted on 20 June 2018. Reilly plays Beth Dutton, the hard-as-nails financial arm of the Dutton pursestrings, and daughter to John Dutton, played by Academy Award™-winning screen legend Kevin Costner. For dramatic licence only, the Duttons own the largest ranch in Montana, where the series is set (and mostly filmed, on location), as well as the biggest ranch in the contiguous 48 states. Reilly's and Costner's characters are constantly at war with several outside parties who want from parcels to enormous chunks of the Duttons' family land. But John won't hear any of it, and understandably, conflict ensues.
Awards and nominations
Reilly's performance in After Miss Julie at the Donmar Warehouse made her a star of the London stage and earned her a nomination for a Laurence Olivier Theatre Award for Best Actress of 2003. Aged 26, she was the youngest person ever nominated for that award.[7] In 2005, she won Best Newcomer Award at the Cannes Film Festival for her role as Wendy in The Russian Dolls (Les Poupées Russes).[7] In 2006, Reilly won the Empire Award for Best Newcomer for her role in the British comedy film, Mrs Henderson Presents. She was nominated once again for an Olivier Award for her performance as Desdemona in the acclaimed production of Othello at the Donmar Warehouse in 2009. Reilly was nominated for Best Actress at the British Independent Film Awards for Eden Lake in 2010. She won the Spotlight Award at the 2012 Hollywood Film Festival, for her performance as Nicole in Flight.
Personal life
Reilly was previously engaged to actor Jonah Lotan. Reilly married Kyle Baugher, a financier, in 2012.[12]
Filmography
Film
Year
Title
Role
Notes
2000
Maybe Baby
Nimnh
Peaches
Cherry
2001
Last Orders
Young Amy
Starched
Maid
Short film
2002
Pot Luck
Wendy
2003
Dead Bodies
Viv McCormack
2004
The Libertine
Jane
2005
Russian Dolls
Wendy
Pride & Prejudice
Caroline Bingley
Mrs Henderson Presents
Maureen
2007
Puffball
Liffey
2008
Eden Lake
Jenny
Me and Orson Welles
Muriel Brassler
2009
Sherlock Holmes
Mary Morstan
Shell Shock
Diane
2010
Meant to Be
Amanda
Ti presento un amico
Sarah
2011
Gangster
Doreen Boyd
Sherlock Holmes: A Game of Shadows
Mary Watson
2012
Flight
Nicole
2013
A Single Shot
Jess
Chinese Puzzle
Wendy
2014
Calvary
Fiona Lavelle
Heaven Is for Real
Sonja Burpo
Set Fire to the Stars
Caitlin
Innocence
Pamela Hamilton
2016
Bastille Day
Karen Dacre
2018
10x10
Cathy
2019
Eli
Post-production
Television
Year
Title
Role
Notes
1995
Prime Suspect: Inner Circles
Polly Henry
TV film
The Biz
Laura
1996
Bramwell
Kathleen Le Saux
1 episode
Poldark
Clowance Poldark
TV film
Sharman
Sophie Bright
1 episode
The Ruth Rendell Mysteries
Kimberly
2 episodes
1997
Rebecca
Clarice
Pie in the Sky
Tina
1 episode
The History of Tom Jones, a Foundling
Nancy Miller
3 episodes
1998
The Children of the New Forest
Patience Heatherstone
TV film
1999
Wonderful You
Nancy
5 episodes
Sex 'n' Death
Julie
TV film
2002
The Safe House
Fiona "Finn" MacKenzie
2003
Agatha Christie's Poirot
Mary Gerrard
1 episode
2006
A for Andromeda
Christine Jones / Andromeda
TV film
2007
Joe's Palace
Charlotte
2008
He Kills Coppers
Jeannie
2009
Above Suspicion
DC / DI Anna Travis
Main role; 11 episodes
2010
Above Suspicion: The Red Dahlia
2011
Above Suspicion: Deadly Intent
2012
Above Suspicion: Silent Scream
2014
Black Box
Dr. Catherine Black
Main role; 13 episodes
2015
True Detective
Jordan Semyon
Main role; 8 episodes
2018
Britannia
Kerra
Main role; 9 episodes
2018-present
Yellowstone
Beth Dutton
Lead female role; 10 episodes
Awards and nominations
Year
Award
Category
Nominated work
Result
2005
César Award for Best Supporting Actress
Best Actress

Russian Dolls

Nominated
Empire Awards
Empire Award for Best Newcomer

Mrs Henderson Presents

Won
London Film Critics' Circle
London Film Critics' Circle for British Newcomer of the Year
Won
National Board of Review
National Board of Review Award for Best Cast
Won
[ Source: Wikipedia ]