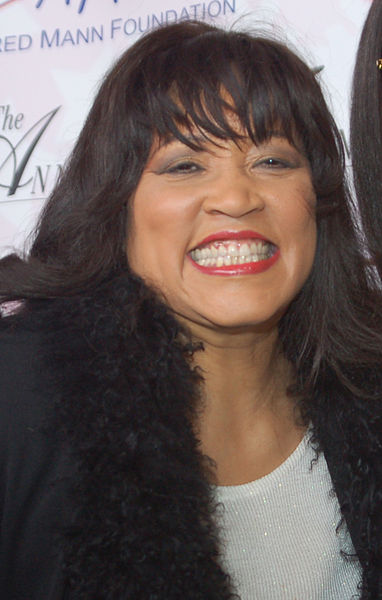 Jackee Harry
Birth name:
Jacqueline Yvonne Harry
Born:
August 14, 1956
Age:
65
Birthplace:
Winston-Salem, North Carolina, U.S.
Popularity:

Please login to contact Jackee Harry...
Biography
Jacqueline Yvonne Harry (born August 14, 1956), better known by her mononymous stage name Jackée, is an American actress, singer, comedian, director, and television personality.[1] She is best known for her roles as Sandra Clark, the sexy nemesis of Mary Jenkins (played by Marla Gibbs), on the NBC TV series 227 (1985-90), and as Lisa Landry on the ABC/The WB sitcom Sister, Sister (1994-99). She is noted for being the first and currently only African-American to win an Emmy Award for Outstanding Supporting Actress in a Comedy Series.
Harry was born in Winston-Salem, North Carolina, in 1956, and raised in Harlem, New York,[2] to an Afro-Trinidadian mother and African-American father. Harry began studying acting at the High School of the Performing Arts in Midtown Manhattan in New York City.[2] Harry graduated from Long Island University with a Bachelor of Arts in education. She worked as an American History teacher at Brooklyn Technical High School for two years before beginning a career on the New York stage.[3][4][5]
Read more...
Career
Theater
In 1978, Harry made her Broadway debut in A Broadway Musical.[5] Throughout the 1980s she starred in numerous productions both on and off Broadway, and in national touring productions. In 1994, Harry made her return to the theater by starring as Billie Holiday in the play Lady Day at Emerson's Bar and Grill. Following that stage production, she fulfilled the role of "madam who runs a bordello" in the Broadway musical The Boys from Syracuse. In the mid-2000s, she appeared in stage productions of The Sunshine Boys, Damn Yankees, and A Christmas Carol. She also toured nationally in JD Lawrence's The Clean Up Woman.[6]
Television
Harry in 1988
In 1983, Harry made her acting debut in Another World as Lily Mason, a role she continued until 1986.[5] In 2003, she was a surprise guest on the Another World Reunion that SOAPnet coordinated and aired.[citation needed] In 1985, Harry began a co-starring role as Sandra Clark, on the NBC sitcom 227.[5][7] Her mother, Flossie, celebrated her getting the role but died before the show started airing. During the series run, Harry and Marla Gibbs began feuding privately over who was the series' lead. They have since reconciled and collaborated on a number of projects.[8] Her performance on 227 inspired NBC producers to create a television pilot for her entitled Jackée. Although the pilot episode was a success with audiences, the series did not last and the episode is now shown as an episode of 227.
After leaving 227 in 1989, Harry starred opposite Oprah Winfrey in The Women of Brewster Place, an adaptation of Gloria Naylor's novel of the same name.[9] In 1990, she headlined an NBC comedy pilot from Witt/Thomas titled We'll Take Manhattan; it aired as a summer special that year, but did not make it to series. In late 1991, she joined the cast of The Royal Family after the star, Redd Foxx, unexpectedly died.[10] She starred opposite two-time 227 guest-star Della Reese. In 1992, she starred as the assistant coach in Ladybugs.[11] Harry served as a guest panelist on the 2000 revival of To Tell the Truth and appeared on the second season of VH1's Celebrity Fit Club 2 in 2005.[12][13] From 1994 until 1999, Harry played Lisa Landry, the adoptive mother of Tia Mowry's character, on the sitcom Sister, Sister.[14]
She had a recurring role as Vanessa on the UPN/The CW series Everybody Hates Chris and had a recurring role on the BET Series Let's Stay Together.[11][15] She is starring in Byron Allen's syndicated sitcom The First Family, which also features Marla Gibbs in a recurring role. On April 12, 2013, it was announced that she was cast in the episodes "Girl Meets Crazy Hat" and the pilot of Disney sitcom Girl Meets World. Later, she also appeared in "Girl Meets Demolition". That same year, she also joined Gibbs in the movie Forbidden Woman. In 2014, she made a guest appearance on Instant Mom as her character Lisa Landry.[16] She appeared in the 2 Broke Girls episode "And the Sax Problem" in 2016, as Earl's ex and lounge owner.
Awards
Harry became the first African American to win an Emmy Award for Outstanding Supporting Actress in a Comedy Series for 227 in 1987.[17] She won NAACP Image Awards for Outstanding Supporting Actress in a Comedy Series for Sister, Sister two consecutive years in 1999 and 2000.[18][19]
Personal life
Harry was married to Elgin Charles Williams from 1996 to 2003.[20] They adopted their son, Frank, in 1997.[21]
Filmography
Film
| Year | Film | Role | Notes |
| --- | --- | --- | --- |
| 1984 | Moscow on the Hudson | Woman | Uncredited |
| 1984 | The Cotton Club | Dancer | |
| 1986 | Alvin Goes Back to School | Gina Lipman | TV movie |
| 1987 | Alf Loves a Mystery | Countess | TV Movie |
| 1987 | The Incredible Ida Early | Ida Early | TV Movie |
| 1988 | Crash Course | Edna Savage | TV Movie |
| 1988 | The Cheech Show | Sheila | TV Movie |
| 1989 | Double Your Pleasure | Linda Cavanaugh / Sharlene Cavanaugh | TV Movie |
| 1989 | Jackée | Sandra Clark | TV Movie |
| 1989 | The Women of Brewster Place | Etta Mae Johnson | TV Movie |
| 1990 | We'll Take Manhattan | Yvonne | |
| 1992 | Ladybugs | Julie Benson | |
| 1993 | Living and Working in Space: The Countdown Has Begun | Charmayne | Direct-to-video |
| 2003 | The Nick at Nite Holiday Special | Jackée / The Baker | TV movie |
| 2004 | You Got Served | Mama | |
| 2006 | All You've Got | Butt shorts salesman | TV movie |
| 2007 | The Last Day of Summer | Lola the Lobster | |
| 2009 | Man of Her Dreams | Louise Smith | Stage play |
| 2009 | G.E.D. | Mama | |
| 2010 | Christmas Cupid | Vivian | TV movie |
| 2010 | The Clean Up Woman | Jasmine | Stage play |
| 2010 | Knight to D7 | Nurse Hamilton | Short film |
| 2011 | The Ideal Husband | Vivian Peterson | TV movie |
| 2011 | Nurse Jackée | Nurse Jackée | Short film |
| 2012 | Brother White | Veena | TV movie |
| 2012 | Switchin' the Script | Mrs. Shepard | |
| 2013 | The Coalition | Grandmother Hathaway | Direct-to-video |
| 2013 | The Sins of Deacon Whyles | Mom | |
| 2013 | The Love Letter | Josephine | TV movie |
| 2013 | Forbidden Woman | Sheila | |
| 2014 | Knock 'Em Dead | Savannah | |
| 2014 | The Dirty 30 | Linda | |
| 2015 | The Man in 3B | Miss Bertha | |
Television
Year
Title
Role
Notes
1983-1986
Another World
Lily Mason
Main role
1985-1989
227
Sandra Clark
Main role (Seasons 1-4); recurring role (season 5)
1988-1989
Amen
Roxanne Farley / Florence Hawkins
3 episodes
1990
TGIF
Lisa
1991-1992
The Royal Family
Ruth 'CoCo' Royal
Main role, 8 episodes
1992
Designing Women
Vanessa Chamberlain
Episode: "Shades of Vanessa"
1994
Dave's World
Estelle
Episode: "Saved by Estelle"
1994-1999
Sister, Sister
Lisa Landry
Main role, 120 episodes
1995-1997
Happily Ever After: Fairy Tales for Every Child
Giant's Wife / Little Bo Peep
Voice; episodes: "Jack and the Beanstalk", "Mother Goose"
1996
Married... with Children
Lady on show
Episode: "The Hood, the Bud and the Kelly"
2000
Twice in a Lifetime
Darcy Green / Louise Lutrelle
Episode: "Used Hearts"
2003
7th Heaven
Ms. Beane
Episode: "It's Not Always About You"
2005
That's So Raven
Dava
Episode: "Goin' Hollywood"
One on One
Sherri St. Croix
Episode: "Waiting for Huffman"
2006-2009
Everybody Hates Chris
Vanessa
Recurring role, 26 episodes
2008
The Mighty B!
Nurse (voice)
Episode: "Bee Patients"
2010
Friends & Lovers
Omar's Mother
2 episodes
2011
She's Still Not Our Sister
Connie
2011-2013
Let's Stay Together
Delores Whitmore
Recurring role, 5 episodes
2012-2015
The First Family
Pauletta Birdsong
Main role, 36 episodes
2012
For Richer or Poorer
Mrs. Henderson
Episodes: "Ex Files", "The Switch"
Are We There Yet?
Jackée
Episode: "The Ghost Dog Episode"
2013
Celebrity Ghost Stories
Herself
(Season 4)
American Dad!
Shonteeva's Assistant (voice)
Episode: "For Black Eyes Only"
How to Live with Your Parents (For the Rest of Your Life)
Jessoka
Episode: "How to Help the Needy"
Wanda Sykes Presents Herlarious
Mrs. Jordan
2014
Glee
Herself
Episode: "City of Angels"
Instant Mom
Lisa Landry
Episode: "Not Your Mother's Day"
One Love
Nurse Beverly
Episode: "Tea-Ball"
2014-2015
Girl Meets World
Evelyn Rand
Recurring role, 3 episodes
2015
In the Cut
Nadine
Main role, 4 episodes
2015
Family Time
Gladys
Episode: "Hospitality"
Baby Daddy
Judge Johnson
3 episodes
Transformers: Robots in Disguise
Zizza
Episode: "The Buzz on Windblade"
Young & Hungry
JoJo
Episode: "Young & Christmas"
2016
2 Broke Girls
Ruby
Episode: "And the Sax Problem"
2017
The Thundermans
Officer Bosco
Episode: "Orange Is the New Max"
2018
K.C. Undercover
Betty/Midge Turner
Episode: "The Gammy Files"
2018-present
Tyler Perry's The Paynes
JoAnn Payne
Lead role
[ Source: Wikipedia ]