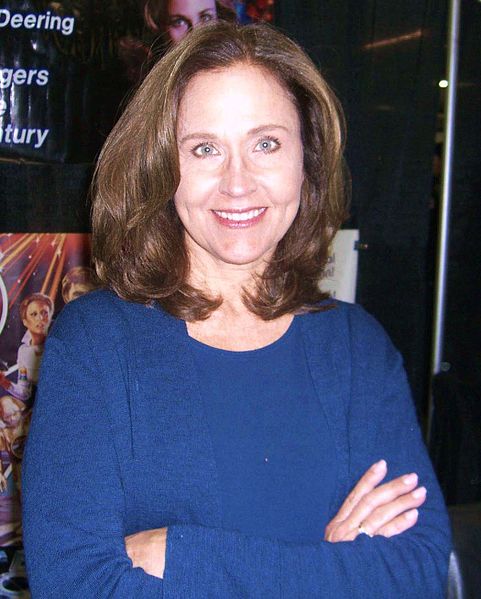 Erin Gray
Born:
January 7, 1950
Age:
73
Birthplace:
Honolulu, Territory of Hawaii
Popularity:

Please login to contact Erin Gray...
Biography
Erin Gray (born January 7, 1950) is an American actress, perhaps best known for her roles as Colonel Wilma Deering in the science fiction television series Buck Rogers in the 25th Century and as Kate Summers-Stratton in the situation comedy Silver Spoons.
Gray was born on January 7, 1950, in Honolulu, Territory of Hawaii (now, the state of Hawaii), the daughter of Diane and Daniel Gray.[1] When Gray was eight, her parents separated.[2] Gray lived with her grandparents in Palm Springs for a few years. Eventually she and her mother moved to Larkspur, California. Gray attended Redwood High School[2] and then attended and graduated from Pacific Palisades High School. She briefly attended college at UCLA, focusing on math,[2] but she left school to pursue her career.
Read more...
Career
In 1965, at age 15, Gray had a chance meeting with Nina Blanchard, head of one of Hollywood's top modelling agencies and became convinced to pursue a career in modelling.[citation needed] Within a few years Gray was considered one of the top models in New York City.[citation needed] During this period, she worked as spokeswoman for several accounts including L'Oréal, Max Factor and Bloomingdale's. "By 1975 Gray was one of the nation's top TV models, earning $100,000 a year."[2]
She developed an interest in acting, so she moved to Los Angeles, California, to pursue her Hollywood career.[3][4][5][6] Her first appearance on television had been in 1967 as a dancer in the variety series, Malibu U. In 1978, shortly after moving to California, she landed her first starring role, on the miniseries Evening in Byzantium. Following good notices, in 1978, Gray was put on a seven-year contract at Universal Studios, which led directly to her taking the role of Colonel Wilma Deering in Buck Rogers in the 25th Century, at first for a theatrically released movie, then for a weekly TV series.[7] Gray's trim, shapely figure, augmented by a tight one-piece jumpsuit uniform, was popular with the show's predominantly young male audience. Gray commented that she was aware of the sexiness of her uniform which was so tight that she had to be sewn into it. Her character was also high-profile within the show, being the female lead and second only to Gil Gerard in the starring role, thus representing one of the early examples of a strong female character in a science fiction setting. Because of this Gray was seen as an important role model for female viewers. She once told an interviewer:
I was the first female colonel. I enjoyed being that kind of role model for young women watching the show. A woman can be a colonel! A woman can be in charge! Those were new ideas then.[8]
Gray at the 2005 Dragon Con in Atlanta.
Shortly after Buck Rogers, Gray appeared in the first season Magnum, P.I. episode, "J. 'Digger' Doyle", in which she played security expert, Joy 'Digger' Doyle. The role was planned to become recurring, even possibly a spin-off series,[citation needed] but neither occurred, and it was the character's only appearance in the series. In 1982, she played the role of Lilah in the summer movie Six Pack as a love interest opposite Kenny Rogers. Gray's role as Kate Summers in the TV sitcom Silver Spoons lasted for several years in the 1980s.[7] When that show ended, she took regular film and TV work; she appeared in an episode of Superboy and Murder, She Wrote. In 1993, she had a featured role in Jason Goes to Hell: The Final Friday, the ninth entry in the Friday the 13th series. In 2005, she appeared in the film, Siren.
In 2010, Gray and Gil Gerard returned to Buck Rogers by playing the characters' parents in the pilot episode of Buck Rogers web series.[9] She has also worked in commercials,[10] including a 2010 spot for Pup-Peroni dog treats.[11]
Gray is also a casting agent.[10][12] Her agency, Heroes for Hire, specializes in booking sci-fi and fantasy stars for personal appearances, speaking engagements, and charity events.[7][13] Gray also teaches T'ai chi.[10][14][15]
In 1998, Gray wrote a book Act Right with Mara Purl which contains advice for novice television and movie actors.[16] A revised edition was published in 2002.[17]
Gray starred in the 2011 film Dreams Awake (with "Alien Nation" co-star Gary Graham). She also plays the role of Madeline Twain on the webseries The Guild.
Gray has also guest-starred in the 2014 webisode "Lolani" from the web series Star Trek Continues as Commodore Gray, an episode that also starred Lou Ferrigno. She reprised the role in the episode "Embrace The Winds."
Filmography
Movies
Year
Title
Role[citation needed]
Notes
1979
Buck Rogers in the 25th Century
Col. Wilma Deering
Winter Kills
Beautiful Woman Three
1982
Six Pack
Lilah
1989
The Princess and the Dwarf
1993
Jason Goes to Hell: The Final Friday
Diana Kimble
1994
A Dangerous Place
Audrey
T-Force
Mayor Pendleton
2000
The Last Producer
Dee Freeman
Woman's Story
Laurel Warner
Delicate Instruments
Jessica Livingston
Short
2001
Serial Intentions
Virginia Madden
Touched by a Killer
Liza Collins
Social Misfits
Sharon Cox (Mitsy's mom)
2002
Clover Bend
Betty Clayton
Special Weapons and Tactics
The Mayor
Short
2003
Manfast
Gloria Day
2005
Caught in the Headlights
Mrs. Jones
2006
Siren
Sharon Cox
2007
Jane Doe: How to Fire Your Boss
Laura Sands
The Wedding Video
Carol
2008
Loaded
Susan Price
My True Self
Mrs. Ellen Fields
2009
Hunter Prey
Clea
2011
Dreams Awake
Hope Emrys
2012
Nesting
Mrs. Deegan
2014
Christmas in Palm Springs
Mayor Tomlin
2017
In-World War
Mother
Television
Year
Title
Role[citation needed]
Notes
1976
Maude
Model (uncredited)
1 episode: The Game Show
1978
Police Story
Laurie Tice
1 episode: Day of Terror... Night of Fear
Evening in Byzantium
Gail McKinnon
TV movie
1979
The Rockford Files
Margaret 'Alta' Hatch
1 episode: With the French Heel Back, Can the Nehru Jacket Be Far Behind?
The Ultimate Impostor
Beatrice 'Bucky' Tate
TV movie
B.J. and the Bear
Dr. Samantha Evans
1 episode: Cain's Cruiser
1979-81
Buck Rogers in the 25th Century
Colonel Wilma Deering
Female lead, entire run (32 episodes)
1980
Vega$
Jennifer Stallings
1 episode: Black Cat Killer
Coach of the Year
Paula DeFalco
TV movie
1980, 1982
Fantasy Island
Laura Jensen / Carla Marco
2 episodes: Face of Love/Image of Celeste, Skater's Edge/Concerto of Death/The Last Great Race
1981
Magnum, P.I.
Joy "Digger" Doyle
1 episode: J."Digger" Doyle
1982
The Fall Guy
Bonnie Carlson
2 episodes: License to Kill: Parts 1 & 2
Simon & Simon
Vicki Whittaker
1 episode: Matchmaker
Born Beautiful
Betsy Forrest
TV movie
1982-87
Silver Spoons
Kate Summers-Stratton
5 seasons; 116 episodes
1985
Code of Vengeance
Nadine Flowers
1 episode: Code of Vengeance
1986
Hotel
Vanessa Clark
1 episode: Façades
1987
Starman
Jenny Hayden
2 episodes: Starscape: Parts 1 & 2
Breaking Home Ties
Carol
TV movie
1988
Perry Mason: The Case of the Avenging Ace
Captain Terry O'Malley
TV movie
Addicted to His Love
Jenny Barrett
TV movie
Murder, She Wrote
Andrea Dean
1 episode: Wearing of the Green
1989
The Hitchhiker
Leslie
1 episode: Together Forever
Hunter
Kate Lawson
1 episode: On Air
1990
L.A. Law
Rochelle Peters
1 episode: Ex-Wives and Videotape
Laker Girls
Julie Lawrence
TV movie
Jake and the Fatman
Jill Crockett
1 episode: I Know that You Know
1991
Evening Shade
Madeline Hall
1 episode: Wood and Ava and Gil and Madeline
The New Lassie
Maggie Sullivan
1 episode: Leeds, the Judge
1992
Superboy
Dr. Samantha Meyers
1 episode: Cat and Mouse
Dark Justice
1 episode: The Specialist
Les Danseurs du Mozambique
Kathryn Saint
TV movie
1993
Almost Home
Jennifer
1 episode: Sleeping with the Enemy
Bonkers
Shirley
1 episode: Quibbling Rivalry
Official Denial
Annie Corliss
TV movie
1993, 1996
Silk Stalkings
Connie Bayliss / Jillian Borson
2 episodes: Dead Weight, Exit Dying
1994
Honor Thy Father and Mother: The True Story of the Menendez Murders
Pamela Bozanich
TV movie
Burke's Law
Brenda Palmer
1 episode: Who Killed the Anchorman?
Heaven Help Us
1 episode: The Belle's Farewell
1995
Crowfoot
Nora
TV movie
Renegade
Donna MacKenzie
1 episode: Dead Heat
1997-98
Baywatch
Chief Monica Johnson
5 episodes
1999-2000
Port Charles
Nicole Devlin
2000
Profiler
Congresswoman Karen Archer
3 episodes: Paradise Lost, The Long Way Home, Mea Culpa
2007
The Wedding Bells
Candy Heller
1 episode: Wedding from Hell
Nuclear Hurricane
Jane
TV movie
2008
Ghouls
Liz
TV movie
2010
Elf Sparkle and the Special Red Dress
Josette Peacock
TV movie
2011
The Guild
Madeleine Twain
5 episodes
2012
I Married Who?
Ethel Swift
TV movie
2013
TableTop
Herself
1 episode: "Unspeakable Words"
2014
Star Trek Continues
Commodore Gray
2 episodes: Lolani, Embracing the Winds
2016
A Perfect Christmas
Patricia
TV movie
2017
Mystery Science Theater 3000
Martha Masters
1 episode: Reptilicus
Video game
| Year | Title | Role | class |
| --- | --- | --- | --- |
| 2009 | Ghostbusters: The Video Game | Spider Witch / Additional Voices | |
Personal life
Gray has been married twice. She met her first husband, Ken Schwartz, in high school.[2] Although Schwartz was a successful real estate executive, he eventually became her manager after her acting career became significant.[2] The marriage lasted from 1968 to 1990. They had one son, Kevan Ray Schwartz, born in 1976.
Gray married Richard Hissong in 1991, and their daughter Samantha was born the same year. Samantha plays Buck Rogers' girlfriend, Maddy, in the pilot episode of James Cawley's Buck Rogers Internet video series.[18]
[ Source: Wikipedia ]