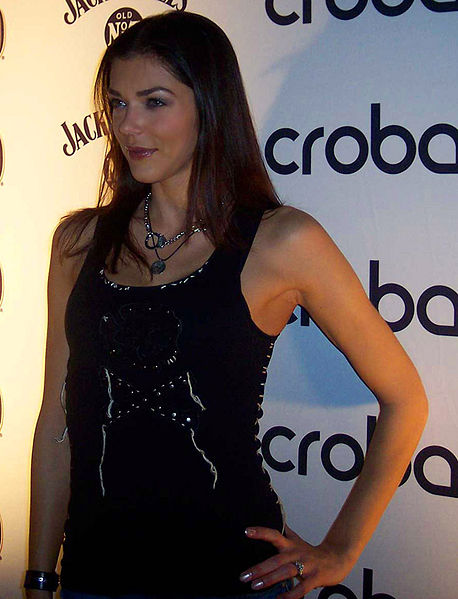 Adrianne Curry
Born:
August 6, 1982
Age:
40
Birthplace:
Joliet, Illinois, U.S.
Popularity:

Please login to contact Adrianne Curry...
Biography
Adrianne Marie Curry-Rhode (born August 6, 1982)[1] is an American model and reality television personality.
Curry won the first cycle of
America's Next Top Model
.[1][2] She was signed to Wilhelmina Models in New York City. She has modeled for several magazines, including
Life & Style Weekly
,
Us Weekly
,
Star
,
OK!
,
Stuff
,
People
,
Maxim
(and made the Maxim Hot 100 list in 2005),
Spanish Marie Claire
, Von Dutch, Von Dutch Watches, Salon City,
Macy's
, Famous Stars and Straps,
Lucky
, Ed Hardy, Kinis Bikinis, Beverly Hills Choppers, and Merit Diamonds.[2] Curry's runway shows include Anne Bowen Spring 2005,
Jaime Pressly
,
Pamela Anderson
's line, Ed Hardy, Von Dutch, and Christopher Deane. She has appeared in a commercial for the Merit Diamonds Sirena Collection[1] that ran from November 2004 to January 2006. She appeared on the cover and in a nude pictorial for the American edition
Playboy
in February 2006. She returned for a second cover and nude pictorial in the January 2008 issue. Curry made
Playboy's
2008 top 25 sexiest women, along with the top 100
Playboy
spreads 2008 edition.[2] In late 2006, Curry modeled for a technological demo created by Nvidia to showcase their video cards.[3] She is a spokesmodel for The Flex Belt with
Denise Richards
.
Read more...
Television and film
Curry was a co-host on the television game show Ballbreakers. In 2006, she appeared on Gameshow Marathon as a celebrity panelist on the Match Game episode. She starred in "Rock Me Baby" (2004) and Half & Half (2003) on UPN. Curry also appeared on Dirt starring Courteney Cox,[2] with whom she shared scenes. She appeared in rock band's The Click Five music video "Just the Girl", along with husband Christopher Knight. Curry appeared on VH1's celeb science fiction reality show Celebrity Paranormal Project in 2006, along with her husband, and on WE TV's From Russia with Love that documented her trip to Russia and aired November 2007. She has also starred in the films Fallen Angels, Light Years Away and "Jack Rio."[2]
Curry during the filming of
My Fair Brady
In early 2005, Curry appeared on VH1's fourth season of The Surreal Life. After the season ended, Curry and fellow house guest Knight began dating, and later moved in together. On September 11, 2005, VH1 began airing My Fair Brady, a show that documented their life together[2] and paid her an estimated US$450,000. The show led her to being featured in Maxim's Hot 100, a list of the "hottest" women on earth[4] and ranked #100 on the Maxim Hot 100 Women of 2005.[5]
Curry at Crobar Nightclub Chicago in October 2008
Season 3 of My Fair Brady began airing on January 21, 2008 and focused on Curry's breast enhancement surgery and Knight's competing (and contrary) desire to start a family.[2] In June, 2008, Curry and her family and friends appeared on NBC's Celebrity Family Feud. Between November and December 2010, Curry worked as the "Resident Celebrity Gamer" panelist judge on the second series of The Tester, a reality program on the PlayStation Network. She has returned to the panel in the third series which began on the 7th February 2012. Curry hosted live coverage of Blizzcon for Direct TV in 2011, as well as Hosting live from E3 for Namco Bandai in both 2011 and 2012. Most recently, Curry has teamed up with comic book legend Stan Lee to create her show "Superfans" for his new YouTube channel, Stan Lee's World of Heroes. "Superfans" began airing each week on YouTube in October 2012.
Personal life
Christopher Knight proposed to Curry on the season finale of My Fair Brady, on VH1, which aired on November 6, 2005. The show was renewed for a second season that began in June 2006, and focused on the couple's wedding preparations. The couple wed in Curry's hometown of Joliet, Illinois on May 29, 2006, in a gothic-style wedding. Says Curry of the goth-themed ceremony, "I wanted to go as Gothic as I could and as traditional as I could without ruffling anyone's feathers. ... I wanted to have a black dress ... but I knew it would break my grandmother's heart."[6] In 2007, Curry and Knight appeared on the Dr. Phil Show to discuss their marital issues on an episode dealing with large age gaps in relationships. Dr. Phil predicted that their style of arguing, particularly Knight's hurtful comments, was a strong predictor of impending divorce in couples.[7] The couple announced their separation on May 29, 2011.[8] The couple filed for divorce on August 19, 2011 and it became final in 2013.[9]
At the 2014 San Diego Comic Con, when a friend was sexually assaulted, Curry (who was costumed as Catwoman) defended the victim by counter-attacking the assailant, hitting him with the hilt of her bullwhip. She quickly drove the attacker away.[10] Curry was named one of the top ten most popular cosplayers in 2014.[11]
Curry announced her engagement to movie trailer-voice actor Matthew Rhode on August 5, 2017.[citation needed] Curry left Hollywood for good to pursue a normal "rural" life.[12] Curry now runs her own lifestyle blog from her remote location.[13] She and Rhode moved to Whitefish, Montana. They eloped in Glacier National Park in Montana on September 15, 2018.[14][15]
She is of Italian descent through her maternal grandmother.[16]
Filmography
America's Next Top Model (Reality Series) (2003) As herself (Won)
Half & Half (TV series) (2003) as Roberta
Hot Properties (TV series) (2005) as Danushka
E! True Hollywood Story (2006) as herself
Jack Rio (2008) as Lisa
The Tester (Reality Series) (2010-2012) as herself (judge)
Bridalplasty (2010) as herself
Tales of Halloween (2015) as herself (cameo)
Producer
My Fair Brady (co-producer) (5 episodes, 2008)
Chris & Adrianne Do Russia (2007) (TV) (co-executive producer)
My Antonio (2009) (TV) (associate producer)
Adrianne Curry's Superfans (2012) (executive producer, co-creator, host)
[ Source: Wikipedia ]