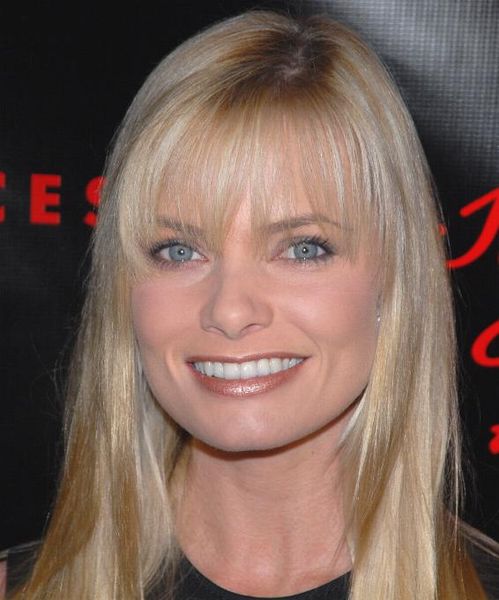 Jaime Pressly
Birth name:
Jaime Elizabeth Pressly
Born:
July 30, 1977
Age:
45
Birthplace:
Kinston, North Carolina, U.S.
Popularity:

Please login to contact Jaime Pressly...
Biography
Jaime Elizabeth Pressly (born July 30, 1977)[1][2] is an American actress and model. She is best known for playing Lola Sombrero in The Oogieloves in the Big Balloon Adventure and Joy Turner on the NBC sitcom My Name Is Earl, for which she was nominated for two Emmy Awards (winning one) as well as a Golden Globe Award and a Screen Actors Guild Award. She has also appeared in films such as Poison Ivy: The New Seduction (1997), Joe Dirt (2001), The Oogieloves (2012), DOA: Dead or Alive (2006), and I Love You, Man (2009).
Pressly was born in Kinston, North Carolina,[2] the daughter of Brenda Sue (née Smith), a dance instructor, and James Liston Pressly, a car salesman. She was raised in a Christian family. [3] In 1992, she moved with her family to Costa Mesa, California, where she spent the first semester of her high school sophomore year.[4] She spent her childhood and early teenage years training as a gymnast, which led her to modeling jobs.[5]
Read more...
Career
Modeling and early roles
At age fourteen, Pressly appeared on her first cover, Teen Magazine,[6] and became the official spokesmodel for the International Cover Model Search.[7] At fifteen, she left school and went to Japan on a modeling contract.[4] She succeeded in having herself legally emancipated from her parents at the age of fifteen so she could travel to Japan, as neither of her parents could make the trip.[4]
Pressly starred as Violet in the 1997 film Poison Ivy: The New Seduction. In 1998 she starred as Nikki on the short-lived TV series Push, and also played a recurring role as the undead assassin Mika in the TV action series Mortal Kombat: Conquest. From 1999-2001, she played "Audrey" on the drama series Jack and Jill. Pressly starred in the independent film Poor White Trash, playing scheming gold-digger Sandy Lake. Pressly appeared in a number of films in 2001, including Not Another Teen Movie (playing Priscilla, a high school cheerleader) and Torque, as a crazed, motorcycle-riding criminal; and as a Southern love interest in the comedy Joe Dirt, opposite David Spade.[8]
In 2001, she was made the new spokesmodel for Liz Claiborne Cosmetics and its fragrance Lucky You. In 2002, she was ranked #8 in Stuff magazine's "102 Sexiest Women in the World". In 2003, she launched a lingerie line, J'Aime, which later became a full sleepwear and ready-to-wear line. In 2006, Maxim magazine named her #34 on its annual list;[9] she is also featured in its gallery.[10] Pressly posed nude for the March 1998 and February 2004 issues of Playboy. She also appeared nude in the May 2006 issue of Allure.[11]
Film and television
Pressly at the 2009 premiere of
I Love You, Man
Pressly guest-starred in episodes of several TV shows. In an episode of the WB series Charmed, she played Mylie, a mermaid trying to find love; (Alyssa Milano, who played Phoebe, later guest-starred on My Name is Earl.[12]) Other series on which she made guest appearances were The Twilight Zone, Fastlane, Las Vegas, Becker, Night Man, Silk Stalkings, and others. She appeared in an episode of the prank series Punk'd.[13]
In 2005, Pressly was cast in the NBC sitcom My Name Is Earl, as Joy Turner. In 2007, she won an Emmy Award[14] for Outstanding Supporting Actress in a Comedy Series for her work on the show.[15]
Pressly sang "Fever" in an appearance with the band The Pussycat Dolls.[16] She has appeared in a number of music videos, including "The Space Between" by Dave Matthews Band, "Girls of Summer" by Aerosmith, and the Marilyn Manson cover of "Tainted Love". On May 31, 2006, she hosted the first annual VH1 Rock Honors.[17]
Pressly was a producer, as well as a star, in the 2005 movie Death to the Supermodels. She hosted the October 7, 2006, episode of Saturday Night Live. She guest-starred on an episode of MADtv (season 11), playing Hillary Clinton in a parody of My Name Is Earl, "My Name Is Dubya", in which George W. Bush (Frank Caliendo) makes a list of all the bad things he has done in the past and rectifies them one by one.[18]
On December 3, 2009, it was announced that she would guest-star on an upcoming episode (series 4, episode 10) of the CBS comedy, Rules of Engagement. She would play a possible surrogate mother for Jeff and Audrey (Patrick Warburton and Megyn Price).[19] She reprised her role in the fifth-season premiere (series 5, episode 1). She appeared in the Fox sitcom I Hate My Teenage Daughter, which aired from November 30, 2011 to March 20, 2012. In July 2012, Pressly starred in Jimbo Lee's Abby in the Summer.[20]
In 2013, TV Land announced that Pressly was cast in the lead role for Jennifer Falls as Jennifer Doyle, a mother of a teenaged daughter, who must move in with Doyle's mother after being fired from a high-paying job. Doyle becomes a waitress in her brother's bar.[21]
Personal life
Pressly has revealed in interviews that she briefly struggled with bulimia as a teenager.[8] In 1996, she met DJ Eric Calvo (DJ Eric Cubeechee), and started dating in 2004. After Pressly became pregnant, the two were engaged in October 2006. Pressly gave birth on May 11, 2007, in Cedars-Sinai Medical Center to their child, Dezi James Calvo.[22] In a February 2007 interview on The Tonight Show with Jay Leno, Pressly said she wanted the child to be bilingual (English/Spanish) to reflect Calvo's Cuban heritage. Pressly told People that Dezi's name is part of a running joke, as Calvo would do a Desi Arnaz impersonation, calling Pressly "Luuucy" when he came home each night.[23] In November 2008, the couple announced their separation.[24]
Nine months later, in July 2009, Pressly announced her engagement to entertainment lawyer Simran Singh.[25] They wed on September 26, 2009, at the Dick Clark estate, on a bluff overlooking the Pacific Ocean.[26] On January 21, 2011, Pressly filed for divorce from Singh, citing irreconcilable differences.[27][28]
On January 5, 2011, two weeks before filing for divorce, Pressly was arrested in Santa Monica, California for suspicion of driving under the influence.[29] She eventually pleaded no contest and received three years of informal probation.[29]
Pressly said in a 2006 interview with Esquire that she almost purchased a ticket for a flight on one of the planes that crashed into the World Trade Center on September 11, 2001, but decided not to take the flight, because she felt it left too early in the morning.[30]
On June 7, 2017, Pressly announced she was expecting twins with longtime boyfriend Hamzi Hijazi.[31][32] The couple welcomed their twin sons, Leo and Lenon, on October 16, 2017.[33]
Filmography
Film
Year
Title
Role
Notes
1996
Mercenary
Pre-teen American Girl
1997
Poison Ivy: The New Seduction
Violet
The Journey: Absolution
Allison
Against the Law
Sally
1998
Can't Hardly Wait
Beth
Credited as "Jamie Pressly"
Ringmaster
Angel Zorzak
1999
Inferno
Dottie Matthews
2000
100 Girls
Cynthia
Poor White Trash
Sandy Lake
2001
Not Another Teen Movie
Priscilla
Nominated - MTV Movie Award for Best Line
Ticker
Claire Manning
Joe Dirt
Jill
Tomcats
Tricia
2002
Demon Island
Tina
2004
Torque
China
2005
Death to the Supermodels
Tiffany Courtney
Producer
2006
Bachelor Party Vegas
Herself
DOA: Dead or Alive
Tina Armstrong
2008
Horton Hears a Who!
Mrs. Quilligan
Voice
2009
I Love You, Man
Denise McLean
2010
Beauty & the Briefcase
Kate White
6 Month Rule
Claire
2012
The Oogieloves in the Big Balloon Adventure
Lola Sombrero
2014
Finders Keepers
Alyson Simon
A Haunted House 2
Megan
Making the Rules
Abby
Executive producer
2017
Austin Found
Crystal Clemens
Television
Year
Title
Role
Notes
1998
Push
Nikki Lang
Main cast
Silk Stalkings
Kara Delaney
Episode: "Teacher's Pet"
Night Man
Yvette
Episode: "Double Vision"
1998-99
Mortal Kombat: Conquest
Mika
3 episodes
1999-01
Jack & Jill
Audrey Griffin
Main cast
2000
Best Actress
Karen Kroll
TV movie
2001
Going to California
Kylie Guartz
Episode: "This Year's Model"
2002
Charmed
Mylie
Episode: "A Witch's Tail, Part 1"
The Twilight Zone
Cindy
Episode: "Sensuous Cindy"
The Johnny Chronicles
Charlie
TV movie
2003
Fastlane
Sara Matthews
Episode: "Strap On"
Becker
Grace
Episode: "Sister Spoils the Turkey"
2004
Happy Family
Alex
Recurring
The Karate Dog
Ashley Wilkenson
TV movie
Evel Knievel
Linda Bork
TV movie
2005
Entourage
Herself
Episode: "My Maserati Does 185"
2005-09
My Name Is Earl
Joy Turner
Main cast (96 episodes)
Primetime Emmy Award for Outstanding Supporting Actress - Comedy Series
Nominated - Golden Globe Award for Best Supporting Actress - Series, Miniseries or Television Film
Nominated - Primetime Emmy Award for Outstanding Supporting Actress - Comedy Series
Nominated - Satellite Award for Best Supporting Actress - Series, Miniseries or Television Film
Nominated - Screen Actors Guild Award for Outstanding Performance by a Female Actor in a Comedy Series
2006
Mad TV
Herself
Episode: "11.13"
Las Vegas
Kerry Kowalski
Episode: "Coyote Ugly"
Saturday Night Live
Herself/Host
Episode: "Jaime Pressly/Corrine Bailey Rae"
2009
Rex
Jaime
TV movie
2010
Rules of Engagement [34]
Pam Milton
2 episodes
Smoke Screen
Britt Shelley
TV movie
Livin' on a Prayer
Steph
TV movie
2011-13
Raising Hope
Donna
3 episodes
2011-12
I Hate My Teenage Daughter
Annie Watson
Main cast (13 episodes)
2012
Bad Girls
Melinda
TV movie
The Greatest Footie Ads Ever
Deneice
TV movie
2013
Two and a Half Men
Tammy
2 episodes
Phineas and Ferb
Rosie
Voice, Episode: "Mind Share"
Melissa & Joey
Meredith
Episode: "A New Kind of Christmas"[35]
2014
Hollywood Game Night
Herself
Episode: "50 Charades of Grey"
RuPaul's Drag Race
Herself (Guest Judge)
Episode: "Drag Queens of Comedy"
Hot in Cleveland
Kelly
Episode: "Surprise!"
Jennifer Falls
Jennifer Doyle
Main cast
2014-present
Mom
Jill Kendall
57 episodes
Recurring role (season 2)
Main cast (season 3-present)
2017
The Guest Book
Christy
Episode: "Story Four"
2018
BoJack Horseman
Sadie
2 episodes
Music videos
Year
Artist
Song
2001
Dave Matthews Band
The Space Between
2002
Aerosmith
Girls of Summer
Marilyn Manson
Tainted Love
2003
Youngbloodz
Lean Low
2010
Jaron Lowenstein
Pray For You
2013
Michael Bublé
It's A Beautiful Day
Video games
| Year | Title | Role | Notes |
| --- | --- | --- | --- |
| 2008 | Saints Row 2 | Jessica Parish | Voice |
Charities
Jaime Pressly supports the following charitable cause: AIDS.
[ Source: Wikipedia ]