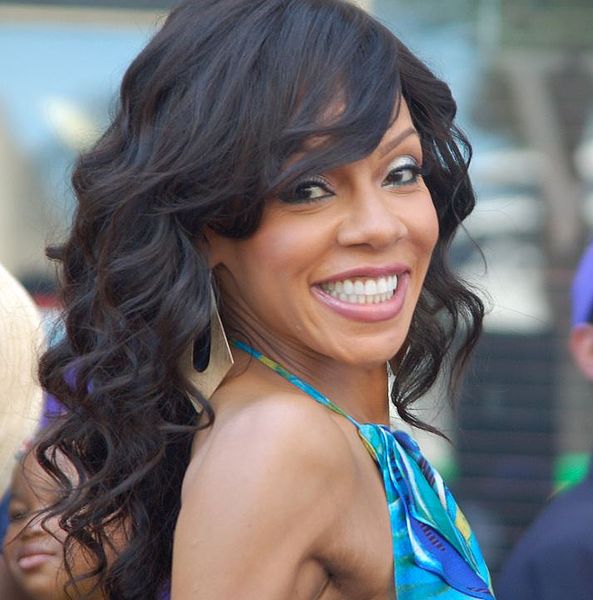 Wendy Raquel Robinson
Born:
July 25, 1967
Age:
55
Birthplace:
Los Angeles, California, U.S.
Popularity:

Please login to contact Wendy Raquel Robinson...
Biography
Wendy Raquel Robinson (born July 25, 1967) is an American actress. Robinson is best known for her roles as high school principal Regina "Piggy" Grier on The WB comedy sitcom The Steve Harvey Show (1996–2002), and as sports agent Tasha Mack on The CW/BET sitcom The Game (2006–15).
Robinson was born in Los Angeles. She attended Howard University where she graduated
cum laude
with a Bachelor of Fine Arts in drama.[1][2] She made her acting debut in 1993 on an episode of
Martin
. That same year she guest starred on episodes of
Thea
and
The Sinbad Show
. From 1995 to 1996, Robinson co-starred on the short-lived NBC sitcom
Minor Adjustments
, starring
Rondell Sheridan
. The following year she won the role of Regina "Piggy" Grier in The WB sitcom
The Steve Harvey Show
which aired for six seasons. After the series ended its run in 2002, she appeared on the short-lived sketch comedy series
Cedric the Entertainer Presents
with her former
Steve Harvey
co-star
Cedric the Entertainer
. Robinson also made guest appearances on
The Parkers
,
All of Us
, and
The New Adventures of Old Christine
. Robinson has also appeared in several films including
The Walking Dead
, followed by roles in
A Thin Line Between Love and Hate
(1996),
Ringmaster
(1998),
Two Can Play That Game
(2001), and
Rebound
(2005). In 2000, she played Miss California in the film
Miss Congeniality
.
In 2006, Robinson began portraying the role of Tasha Mack, in the comedy The Game.[3] After three seasons, the series was canceled by The CW in May 2008.[4] BET struck a deal with The Game's parent company CBS to develop new episodes of the series, relocating taping of the show from Los Angeles to Atlanta,[5] and announcing its renewal at the April 2010 upfronts.[6] The Game returned to the air for a fourth season on January 11, 2011,[7] The series ended in 2015. She also appeared on Shonda Rhimes' Grey's Anatomy in 2010. In 2014, she was cast as Cruella de Vil in the Disney's Descendants.[8][9] In 2017, she has appeared in the film Flatliners, and had a recurring role on the short-lived ABC comedy series, The Mayor.
In 2018, Robinson was cast in the ABC comedy-drama series Grand Hotel opposite Demián Bichir and Roselyn Sánchez.[10][11]
Read more...
Philanthropy
In 1996, Robinson co-founded the Amazing Grace Conservatory,[12] a school that predominately serves children from 8 to 18 years old from disadvantaged socioeconomic backgrounds in the fields of the arts and media production.[13][14] Robinson has served as the school's Executive Director since its inception. The school has provided a safe heaven and training for thousands of young people. Some of the most notable members are: Rhyon Nicole Brown,[15][16][17] Elle Varner,[18][19][20] and Selena Thurmond (Disney correspondent).[21]
Filmography
Film
| Year | Title | Role | Notes |
| --- | --- | --- | --- |
| 1994 | M.A.N.T.I.S. | Ndiaye, Hawkins' Assistant | Television film |
| 1995 | The Walking Dead | Celeste | |
| 1996 | A Thin Line Between Love and Hate | Gwen | |
| 1998 | Ringmaster | Starletta | |
| 2000 | Miss Congeniality | Leslie Davis, Miss California | |
| 2001 | Two Can Play That Game | Karen | |
| 2003 | With or Without You | Serena | |
| 2003 | Mind Games | Natalie, the Hairstylist | |
| 2004 | Reflections: A Story of Redemption | Maya | Short film |
| 2005 | Squirrel Man | Sonya Wendell | Short film |
| 2005 | Rebound | Jeanie Ellis | |
| 2006 | Something New | Cheryl | |
| 2008 | Peaches | Peaches | |
| 2009 | Contradictions of the Heart | Kim | |
| 2010 | When the Lights Go Out | Sheila | |
| 2011 | He's Mine Not Yours | Sophia | |
| 2011 | 35 and Ticking | Callise | |
| 2014 | Revival! | | |
| 2015 | Descendants | Cruella de Vil | Television film |
| 2015 | Chasing Yesterday | Susan | |
| 2015 | Mysterious Ways | Marilyn | |
| 2016 | A Weekend with the Family | Nip Stankershet | |
| 2016 | Grandma's House | Cynthia | |
| 2016 | Boy Bye | Veronica Love | |
| 2016 | Sugar | Mimi | Short film |
| 2016 | Grandma's House | Cynthia | |
| 2017 | Flatliners | Sophia's Mother | |
Television
| Year | Title | Role | Notes |
| --- | --- | --- | --- |
| 1993 | Martin | Vanessa Tucker | 1 episode |
| 1993 | The Sinbad Show | Yvette | 1 episode |
| 1993 | Thea | Patrice Washington | 1 episode |
| 1994 | Dream On | Tiffany | 1 episode |
| 1994 | Me and the Boys | Amelia | 1 episode |
| 1994 | Sisters | Mannequin #2 | 1 episode |
| 1995 | The Watcher | | 1 episode |
| 1995 | Vanishing Son | Linda | 1 episode |
| 1995–96 | Minor Adjustments | Rachel Aims | Series regular, 20 episodes |
| 1996 | NYPD Blue | Lucy Kinley | 2 episodes |
| 1996-2002 | The Steve Harvey Show | Principal Regina Grier | Series regular, 122 episodes |
| 1998 | Getting Personal | Kaylene | 3 episodes |
| 2000-2002 | Baby Blues | Josie (Voice) | 2 episodes |
| 2002 | A Baby Blues Christmas Special | Josie/Madge (Voice) | Television movie |
| 2002 | Yes, Dear | Andrea | 1 episode |
| 2002 | Cedric the Entertainer Presents | Various characters | Series regular, 18 episodes |
| 2002 | The Proud Family | Leslie Parker (Voice) | 1 episode |
| 2003 | The Parkers | Dr. Shepherd | 1 episode |
| 2004-2005 | All of Us | Sarah Willis | 3 episodes |
| 2005–2010 | The Boondocks | Tanisha Simmons (Voice) | Recurring Role |
| 2006 | The New Adventures of Old Christine | Anita | 1 episode |
| 2006 | Girlfriends | Tasha | 1 episode |
| 2006-2015 | The Game | Tasha Mack | Series regular, 143 episodes |
| 2007 | Family Guy | Bernice (Voice) | 1 episode |
| 2010 | Grey's Anatomy | Officer Gina Thompson | Episode: "Sympathy for the Parents" |
| 2016 | Here We Go Again | Loretta Walker | Series regular, 8 episodes |
| 2017 | The Mayor | Krystal | Recurring role, 3 episodes |
| 2018 | Dear White People | Tina White | Recurring role |
| 2018 | Raven's Home | Dreamweaver | Episode: "Weirder Things" |
| 2018 | In the Cut | | Episode: "Fed Up" |
| 2019 | Grand Hotel | Mrs. P | Series regular |
Awards and nominations
Year
Award
Result
Category
Series
2000
NAACP Image Awards
Nominated
Outstanding Supporting Actress in a Comedy Series
The Steve Harvey Show
2001
Outstanding Actress in a Comedy Series
The Steve Harvey Show
2002
Outstanding Actress in a Comedy Series
The Steve Harvey Show
2003
Outstanding Supporting Actress in a Comedy Series
Cedric the Entertainer Presents
2008
Outstanding Supporting Actress in a Comedy Series
The Game
2009
Outstanding Supporting Actress in a Comedy Series
The Game
2010
Outstanding Supporting Actress in a Comedy Series
The Game
2012
Outstanding Actress in a Comedy Series
The Game
2013
Outstanding Actress in a Comedy Series
The Game
2014
Won
Outstanding Actress in a Comedy Series
The Game
2015
Nominated
Outstanding Actress in a Comedy Series
The Game
[ Source: Wikipedia ]