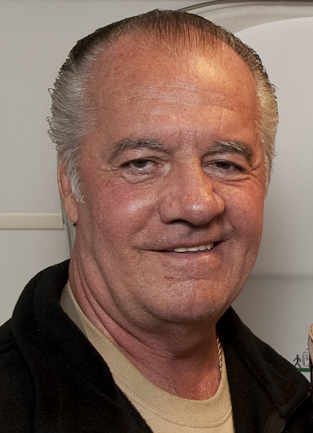 Tony Sirico
Birth name:
Genaro Anthony Sirico Jr.
Born:
July 29, 1942
Age:
80
Birthplace:
New York City, New York, U.S.
Popularity:

Please login to contact Tony Sirico...
Biography
Genaro Anthony Sirico Jr. (born July 29, 1942)[1] is an American actor, best known for his role as Paul "Paulie Walnuts" Gualtieri in The Sopranos and various roles in the films of Woody Allen.
Sirico was born in New York City, New York on July 29, 1942.[1]
As a teenager, Sirico was part of a street gang which had feuds with communities of African-Americans and the Irish. He later recalled that he was shot on the steps of St Brendan's Catholic Church in Brooklyn, by a rival Irish thug.
Before turning to acting, he was convicted of several crimes and had been arrested 28 times.[2][3] In 1967, he was sent to prison for robbing a Brooklyn after-hours club, but was released after serving 13 months. In 1971, he pleaded guilty to felony weapons possession and was sentenced to an "indeterminate" prison term of up to four years, of which he ended up serving 20 months. It is alleged that he was an associate of Colombo crime family captain Jimmy "Green Eyes" Clemenza during the late 1960s to mid 1970s. In a 1989 interview, Sirico has admitted that he has spent prison time within several penitentiaries including Woodbourne, Sing Sing and Wallkill. In 1999, he and Sopranos co-star Vincent Pastore were seen meeting Clemenza and his brother, a Colombo soldier, at a Christmas party in Little Italy; Clemenza was under FBI surveillance at the time.[4] He has said that during his imprisonment, he was visited by an acting troupe composed of ex-convicts, which inspired him to give acting a try.[5] According to a court transcript, at the time of his sentencing, he also had pending charges for drug possession.[6] He appeared in a 1989 documentary about life, The Big Bang, by James Toback, in which he discussed his earlier life.
Read more...
Career
His first confirmed role in film was in Crazy Joe in 1974, with the help of Richard Castellano. Sirico has played gangsters in a number of films, including Goodfellas, Mob Queen, Mighty Aphrodite, Love and Money, Fingers, The One Man Jury, Defiance, The Last Fight, Innocent Blood, Bullets over Broadway, The Pick-up Artist, Gotti, The Search for One-eye Jimmy, Cop Land, Turn of Faith, Hello Again, and Mickey Blue Eyes.
He also played policemen in the films Dead Presidents and Deconstructing Harry. Sirico's most acclaimed acting job was that of Paulie Gualtieri in David Chase's Emmy award winning drama, The Sopranos. He originally auditioned for the role of Uncle Junior with Frank Vincent, but Dominic Chianese landed the role. David Chase instead offered him the role of playing Paulie Gualtieri, Sirico agreed under the condition that his character would not "become a rat".[7]
In late 2013, he voiced the character of Vinny Griffin, who was the family's pet dog in Family Guy (replacing Brian Griffin after his death; Brian would later be saved via time travel two episodes after Vinny's debut).[8] Sirico also made a live-action cameo in the episode "Stewie, Chris, & Brian's Excellent Adventure", where he threatens Stewie, who had insulted Italians, calling them "ridiculous people".
In 2018, he reunited with former Sopranos actors, Federico Castelluccio and Vincent Pastore, in Sarah Q.[9]
Personal life
Sirico and
James Gandolfini
with a member of the U.S. Air Force during a USO visit to Southwest Asia
Sirico's brother, Robert Sirico, is a Catholic priest and co-founder of the free-market Acton Institute.[10]
Filmography
Film
Year
Title
Role
Notes
1974
Crazy Joe
N/A
N/A
1978
Hughes and Harlow: Angels in Hell
Frankie Rio
N/A
Fingers
Riccamonza
N/A
The One Man Jury
Charlie Nuts
N/A
1980
Defiance
Davey
N/A
1981
So Fine
Associate
N/A
1982
Love & Money
Raoul
N/A
1983
Exposed
Thief
N/A
The Last Fight
Frankie
N/A
1987
The Galucci Brothers
Galucci Brother
N/A
The Pick-up Artist
Patsy Cabaluso
N/A
Hello Again
Tough Guy
N/A
1989
White Hot
Luke
N/A
Cookie
Carmine's Wiseguy
N/A
The Big Bang
Himself
Documentary
1990
Catchfire
Greek Guy
N/A
Goodfellas
Tony Stacks
N/A
1991
29th Street
Fortunado
N/A
1992
Innocent Blood
Jacko
N/A
1993
New York Cop
Mr. C
N/A
Romeo Is Bleeding
Malacci
N/A
1994
Men Lie
Porno Witness
N/A
Bullets over Broadway
Rocco
N/A
The Search for One-eye Jimmy
Snake
N/A
1995
Dead Presidents
Officer Spinelli
N/A
Mighty Aphrodite
Boxing Trainer
N/A
Melissa
Jack
N/A
Casino
Extra (Mickey's crew: signal happy gambler)
N/A
Dearly Beloved
Mr. Bedutz
Short film
1996
Everyone Says I Love You
Escaped Convict
N/A
1997
Hoodlum
Driver
N/A
Deconstructing Harry
Police Officer
N/A
Cop Land
Toy Torillo
N/A
The Deli
Tony
N/A
The Good Life
Junior
Never released[11]
1998
Mob Queen
Joey (The Heart) Aorta
N/A
Celebrity
Lou DeMarco
N/A
1999
Mickey Blue Eyes
Risolli Guard
N/A
2000
It Had to Be You
Ricky Valentino
N/A
2001
Smokin' Stogies
Tony Batts
N/A
2002
Turn of Faith
Jimmy
N/A
2008
The Sno Cone Stand Inc
Bob Beasley
N/A
2009
Karma Calling
G
N/A
2010
Skate
Skate
Short film
2012
Jersey Shore Shark Attack
Captain Salie
N/A
2013
Super Athlete
Coach Lou
N/A
Zarra's Law
Tony Zarra
N/A
Family on Board
Rocco
Short film
2014
Friends and Romans
Bobby Musso
N/A
2015
Touched
Anthony
N/A
2016
Café Society
Vito
N/A
2017
Wonder Wheel
Angelo
N/A
2018
Sarah Q
Mr Danny
(post-production)
TBA
Respect the Jux
Bobby
(post-production)
2019
Street Justice
Johnny
(pre-production)
Made in Chinatown
Al Capella
(pre-production)
Television
Year
Title
Role
Notes
1977
Kojak
Greek God
Episode: "Case Without a File"
1982
Police Squad!
Poker Player
Episode: "Ring of Fear (A Dangerous Assignment)"
1989
Miami Vice
Frank Romano
Episode: "Fruit of the Poison Tree"
Perfect Witness
Marco
Television film
1992
In the Shadow of a Killer
Tony Andretti
Television film
1996
Cosby
Teddy
Episode: "Happily Ever Hilton"
Gotti
Joe Dimiglia
Television film
1998
Witness to the Mob
Thomas Gambino
Television film
Vig
Locasso
Television film
1999–2007
The Sopranos
Paul "Paulie Walnuts" Gualtieri
86 episodes
2005
The Fairly OddParents
Big Daddy
2 episodes
2008
A Muppets Christmas: Letters to Santa
Mobster
TV special
2010
Chuck
Matty
Episode: "Chuck Versus the Fake Name"
Medium
Big Daddy
Episode: "Bring Your Daughter to Work Day"
2013–2014
Lilyhammer
Tony Tagliano
Episodes: "2.8: Ghosts" and "3.8: Loose Ends"
2013
Nicky Deuce
Charlie Cement
Television film
2013–2016
Family Guy
Vinny Griffin/Himself
Voice
Episodes: "Life of Brian", "Into Harmony's Way", "Christmas Guy",
"The Boys in the Band", and
"Stewie, Chris & Brian's Excellent Adventure" (Live Action)
2014
Taxi Brooklyn
Tony
Episode: "Revenge"
2016
The Grinder
Sebastian
Episode: "Grinder v Grinder"
2017
American Dad!
Enzo Perotti
Episode: "Garbage Stan"
Video games
| Year | Title | Role | Notes |
| --- | --- | --- | --- |
| 2006 | The Sopranos: Road to Respect | Paulie "Walnuts" Gualtieri | Voice |
Awards and nominations
Year
Award
Category
Title of work
Result
2000
Screen Actors Guild Award
Screen Actors Guild Award for Outstanding Performance by an Ensemble in a Drama Series
The Sopranos
Won
2001
Screen Actors Guild Award
Screen Actors Guild Award for Outstanding Performance by an Ensemble in a Drama Series
Nominated
2002
Screen Actors Guild Award
Screen Actors Guild Award for Outstanding Performance by an Ensemble in a Drama Series
Nominated
2003
Screen Actors Guild Award
Screen Actors Guild Award for Outstanding Performance by an Ensemble in a Drama Series
Nominated
2005
Screen Actors Guild Award
Screen Actors Guild Award for Outstanding Performance by an Ensemble in a Drama Series
Nominated
2007
Screen Actors Guild Award
Screen Actors Guild Award for Outstanding Performance by an Ensemble in a Drama Series
Nominated
2008
Screen Actors Guild Award
Screen Actors Guild Award for Outstanding Performance by an Ensemble in a Drama Series
Won
[ Source: Wikipedia ]